Arcane
Joined

Feb 2, 2008
Messages

6,888
Location
Developer:
http://alien.chaosforge.org/
Which of you poor sods didn't watch the movie Aliens?
I'll do a intro-run of this game; AliensRL is a tactical roguelike game, created in 7 days, inspired by the "Aliens" movie and the "Alien Breed: Tower Assault" computer game.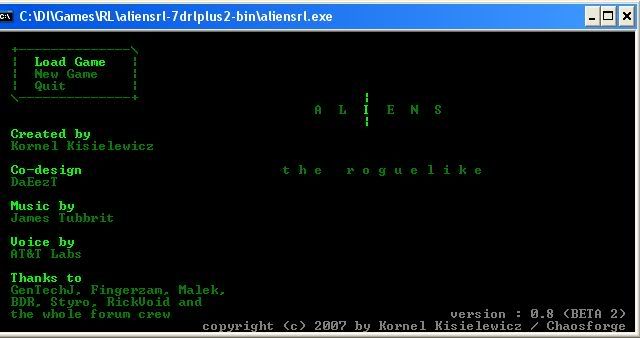 This roguelike comes with music and sound. the newer 0.8 version, only available in the developer forum but its suppose to be a secret. shhh, comes with the feature to save and load.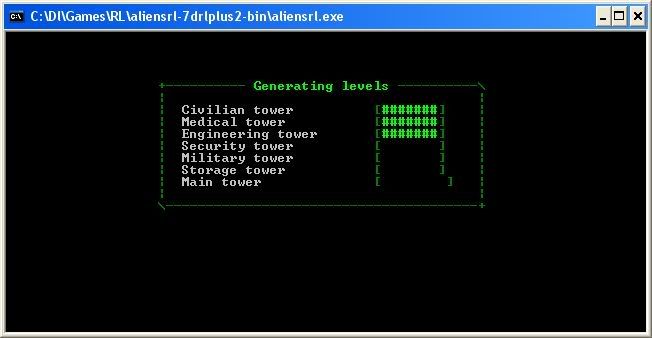 New game and it starts generating the 7 towers.
Scout is the easiest but I'm taking the kinda useless Heavy Weapons Specialist.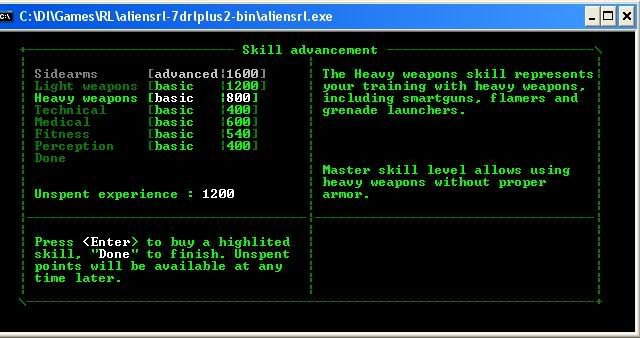 You start with untrained in all skills and it costs 800XP to upgrade heavyweapons to basic. As I'm a HW specialist I get a discount and can reach master level in HW. But HW comes into play late in the game so I'll get sidearms first and save the XP. Better weapon skills = more damage.
On with the epic plot: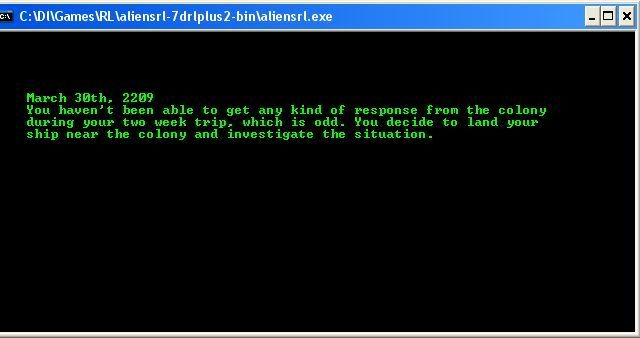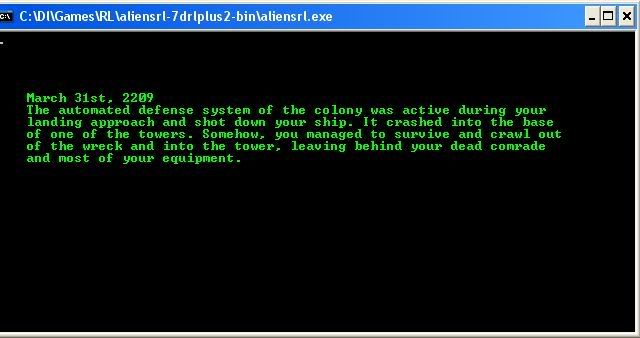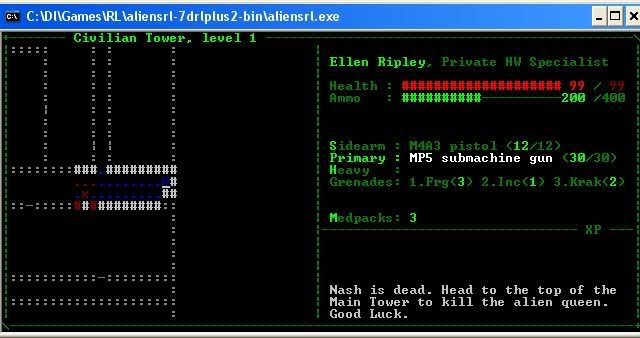 Intro speech straight out of Alien Breed Tower Assault and yes that is the default character name.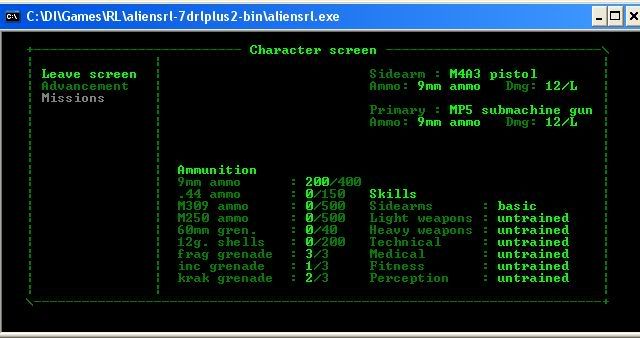 The character sheet.
Missions is greyed out as side missions haven't been implemented yet.
So we start with 2 low armour-piercing 9mm weapons, a couple of hundred 9mm rounds and a few grenades.
This is a survival horror game so its all about resource conservation, aliens, like in the movie, are easily killed by your weapons but your ammo is ...not exactly scarce but aliens are legion.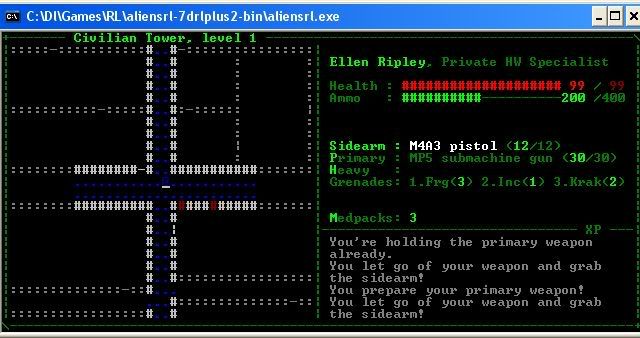 We are at the cross junction of level 1 of the Civilian Tower, all towers have this cross design so you can easily divide each tower into 4 quadrants. Important as you will want to map which quadrant has the stairs and important items. Aliens and items remain where they are found, only aliens respawn.
First thing is to get more ammo so let's go north to the dreaded Storage Tower. Didn't see any aliens yet.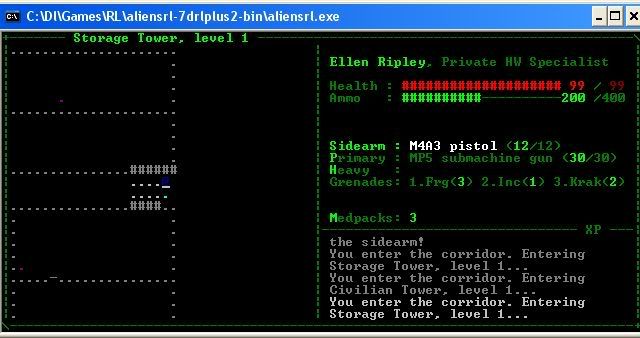 Storage is dark, you can only see 4 steps ahead of you but so do the aliens. As the name suggests this place is filled with items and there are not many aliens. I'm using the 9mm pistol to conserve ammo as the MP5 only shoots in bursts. I can pull it out in emergencies. Grenades are not much use here due to the poor visibility.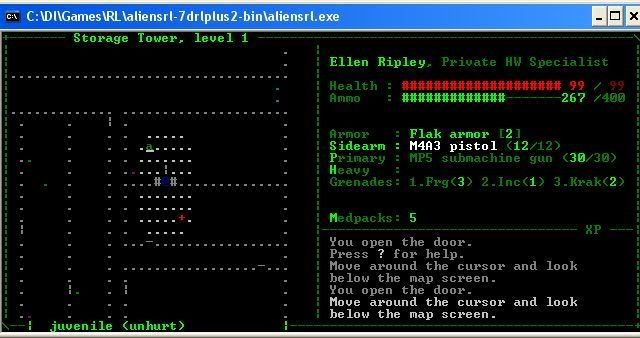 Alien spotted, a juvenile, the weakest of the lot. One interesting feature of the game is that your damage decreases with range so its a choice of waiting till they are closer before shooting to conserve your ammo and risk getting injured using more of your med packs. Since my vision is only 4 squares I shoot on sight.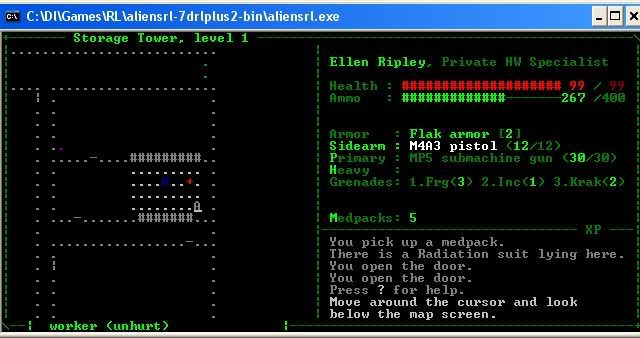 A worker, they only go aggressive when you are 2 paces from them. They are the only aliens slower than you, do little damage, but are heavily armoured. Killing them are a waste of ammo so you should just evade them. If they start chasing you, you can lead them into rooms and trap them behind close doors. Aliens, other than the elites can't open doors.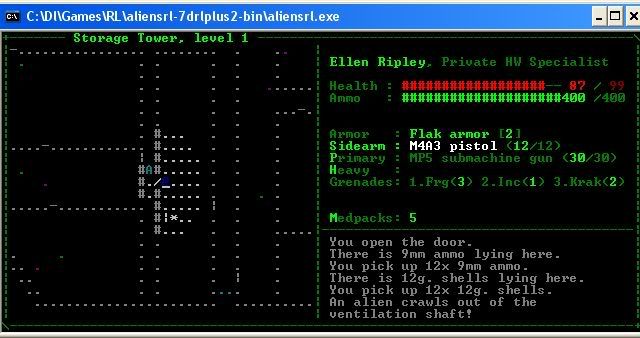 Here we have a random spawn, introduced into the game to increase tension. Switching to MP5 in such situations may be a good idea, hunters are poorly armoured but they are fast. Switching weapons costs time so you have to take that into consideration.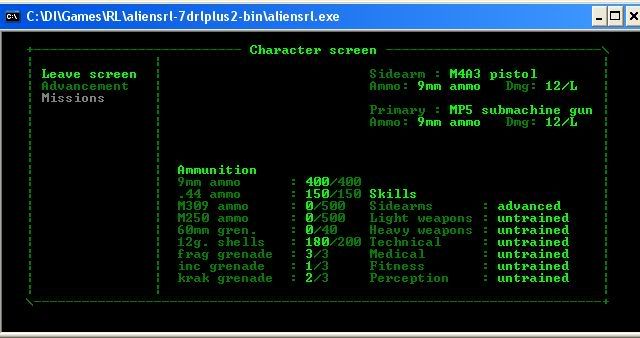 Cleared the level 1 Storage Tower and these are the ammo I have scavenged, also gained enough XP to upgrade sidearms to advanced.
Exit west to Military Tower, that's where you will find better firepower(and tougher aliens).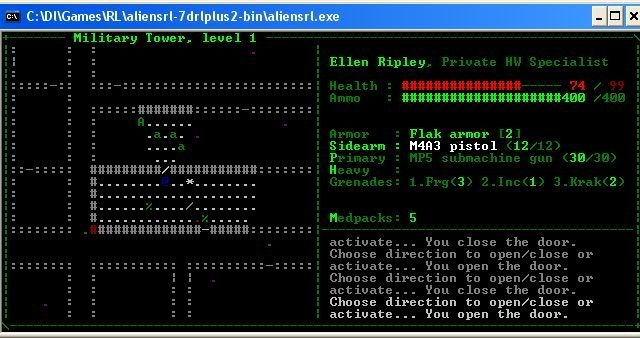 Open a door and be greeted by a swarm. Thing is, opening and closing doors are free actions, the aliens won't react to you opening the door so you can close it and leave or prepare with the correct weapon.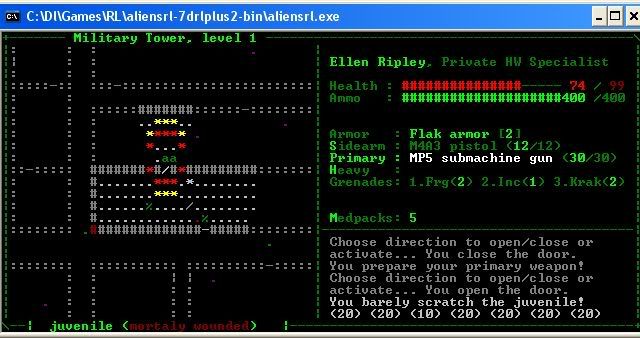 I choose to grenade the crowd and managed to hurt myself. Good thing med packs are plentiful in this game. Its best to keep health above 70 and backtrack to cleared areas to pick up med packs when I'll running low, there isn't much alien respawn so its worth it.
Lookie, a combat shotgun. something for those 12g shells I'll picked up in Storage. But there are 5 aliens in the room.
Should I:
1) Shoot from the door so they queue up and can only attack me one at a time?
2) Use grenades? An incendiary grenade will wipe out all of them as they rush blindly through the flames.
3) Close the door, open it from another direction so only one can see me and attack me.
Pull back from the door before stepping into view giving me more distance for my trusty 9 millimeter.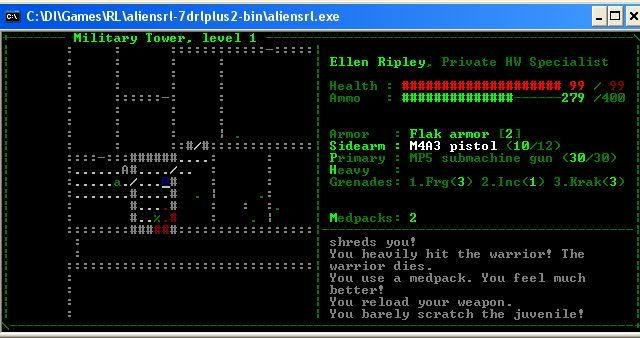 Again.
And again.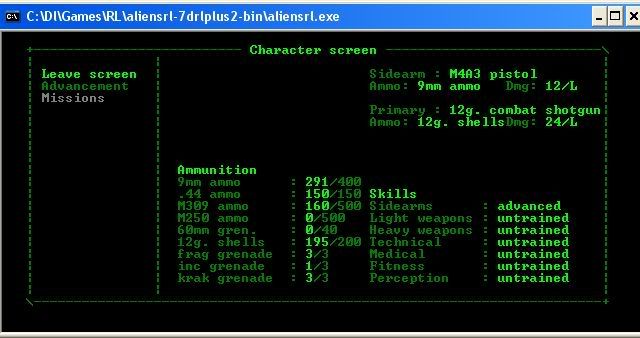 This leaves the worker who didn't react to me as I rush in and claim my price, the combat shotgun. An excellent crowd control weapon, goes BOOM! BOOM! BOOM! and eveything dies in a cone in front of you.
Well everything except for those heavily armoured elites and workers.
You can only carry one sidearm/primary/heavy weapon. Weapons remain where you drop them and weapons are found everywhere so you can easily swap weapons to use different ammo(the key to ammo conservation).
Hmm, that blue thing on the bottom left is the stairs, go up? or clear the rest of the level 1 towers? C&C!
So ends this introduction. Hope this gets you interested in the coffee roguelike.
The developer is currently busy with DoomRL so it will take awhile before this gets updated.
remember to get the beta version from the forums