Wielder of the Huegpenis
Staff Member
Joined

May 29, 2008
Messages

1,876,299
Location
Basic rules and considerations:
1.
To play you'll need Soulstorm 1.2 at the very least (aka current Steam version). Obviously you'll want more races unlocked than just bolter bitches/dark eldar, though.
2.
There will be an actual league structure with playoffs and semis. The ladder will depend on the final player count, but it will most likely be 2 top players from their playoff divisions progressing forward to the (quarter/)semi/finals. Division seeding will be done by drafting, carried out by skilled players singled out for this purpose
3.
"Matches" will be resolved by way of best of 3 games. The player that wins two games against another player wins the match (and gains 1 point for playoffs). Game settings for all matches should be as follows: Annihilate, control area, take and hold victory objectives. Standard starting resources and resource rate, no cheats, insane AI difficulty.
4.
You
must
be able to play at least 1 full match a week. However, keep in mind that Dawn of War is not that much of a time commitment, especially compared to something like Blood Bowl, so a full match will rarely take longer than an hour (although this will depend a lot on the relative skillz of the contestants). For additional considerations, read the following:
- Everyone is expected to play one game a week.
- If you can't play one game a week within reasonable constraints, you shouldn't apply. "I have two hours on one day free during the entire week when I can dow" is not a reasonable constraint.
- If such circumstances would happen that the two playaz really can't get a match going on the week of a given match day, but they can mutually agree to another date and post about it in the thread (preferably this 'another day' is not next saturday when a match day ends on a sunday), then the match day can be extended for them.
- If one playa tries to schedule a game but the other one repeatedly fails to show up, the other guy will be considered to have forfeited. Forfeits give 0 points and count as a worse result than losing 2:0 for purposes of tiebreaking.
- If both playaz are retarded and can't arrange a game, they will both be considered to have forfeited.
- If both playaz are seemingly unable to schedule a match despite their really best intentions and attempts... let's hope that doesn't happen. But in this case I'd consider coin toss to determine the winner.
5.
To prevent spergs being unable to start games due to endless "counterpicking" in lobby, you'll be limited to only 2 races for the entire tournament. 1st race you'll play in your 1st game, 2nd in 2nd game - 3rd game as you see fit (still within the same 2 races). Should this lead to mirror matches, the race orders for one of the players can be changed (because mirror matches are uncool).
6.
First game map will be fixed (as in assigned randomly during league seeding). Second and third game maps will be picked by the losers of the previous games.
7.
Since many 1v1 maps in DOW are not very cool, the following list of halal gudmaps will apply for the entire tournament:
Battle Marshes, Blood River, Fata Morga, Frazier's Demise, Frostbite River, Meeting of Minds, Moonbase, Quest's Triumph, Shrine of Excellion, Titan's Fall, Tranquility's End
8.
Remember
to save all game replays so that they may be inspected if accusations of foul play arise.
9.
Should multiple players be tied on a "winning position" at the end of the playoffs, the following tiebreaker rules will apply:
- If anyone has a skipped match (he didn't play one of his matches and the match day advanced without him), he is automatically disregarded from the tiebreaker,
- If still unresolved, compare all the fellows' performance against one another
- If still unresolved, the person with the most net individual victories wins (i.e. tally up the individual wins and losses for every game played; guy with the best balance goes through)
- If still unresolved, compare the performance of all the fellows against the top guy in the division,
- If still unresolved... I propose an overtime match just to break the tie, even if it's going to be a 3x or 4x FFA. Because it's so retarded we might as well do it, and it's cooler than coin toss. Winner goes through.
10.
Situations not covered by the rules will be dealt with using common sense.
11.
Both veteran and new players are welcome. It is
VERY STRONGLY RECOMMENDED
for all players to arrange warm-up games among each other before the start of the tournament proper, and for new players to ask the more experienced ones for tips and practice sessions.
12.
To apply, provide the following information:
Steam name - timezone (
in GMT format
) - First race/Second race (can be changed before tournament start)
Sign-ups will be open till June 5th.
List of participants:
Codex Name | Steam Name | Timezone | Races
Darth Roxor -
SORRY NOT IN SERVICE
- GMT+2 - Space Marines/Orks
Jaedar -
Jaedar
- CEST (+2) - Tau/IG
whocares -
Zen Trainer
- GMT+2 - Chaos/Eldar
Reject_666_6 -
rej
- GMT-4 - SoB/Orks
Snorkack -
Holoklaus
- GMT+2 - SM/SoB
Nahel -
Nahel
- GMT +2 - SM/Dark Eldar
Sarathiour -
Sakul
- GMT+2 - Space Marines/Tau
Cyberarmy -
Cyberarmy
- GMT+3 - Chaos/Necron
RK47 -
RK47
- GMT+8 - Orks/Tau
hello friend -
( ゚_ゝ゚)
7
- GMT+2 - Orks/IG
Tournament brackets: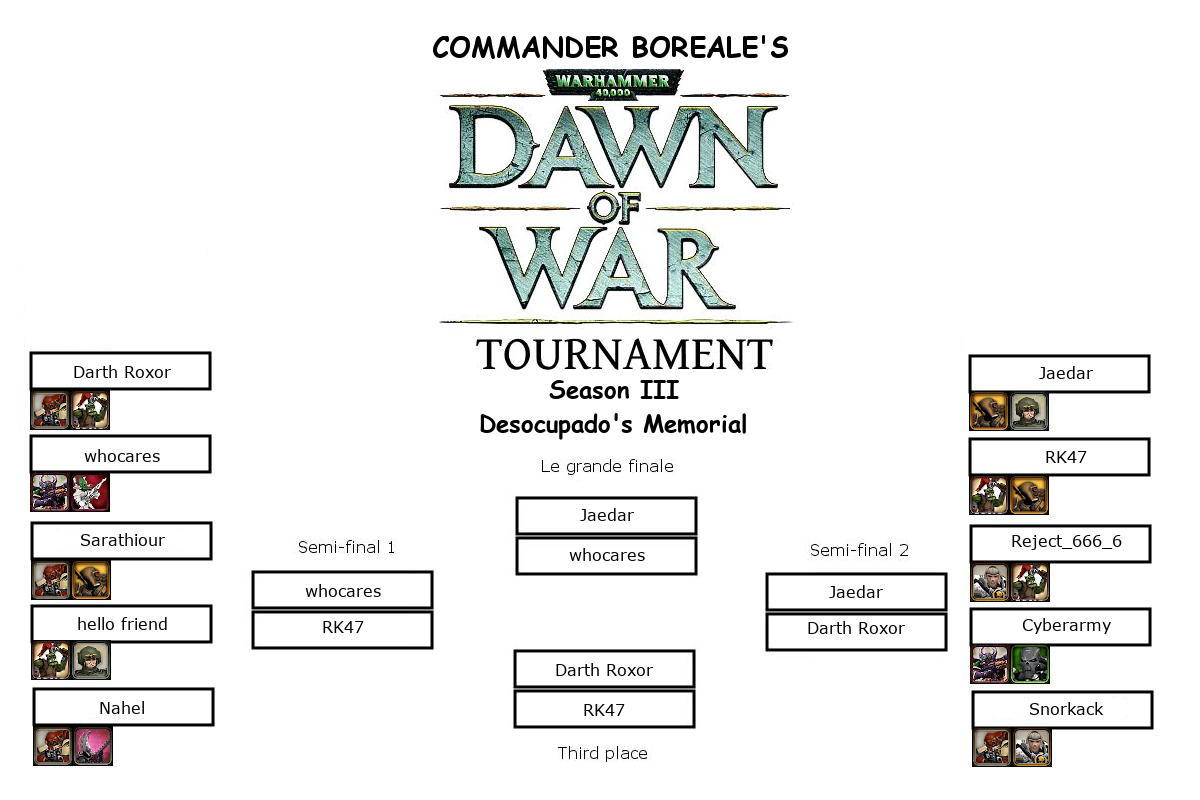 Maps and Matches: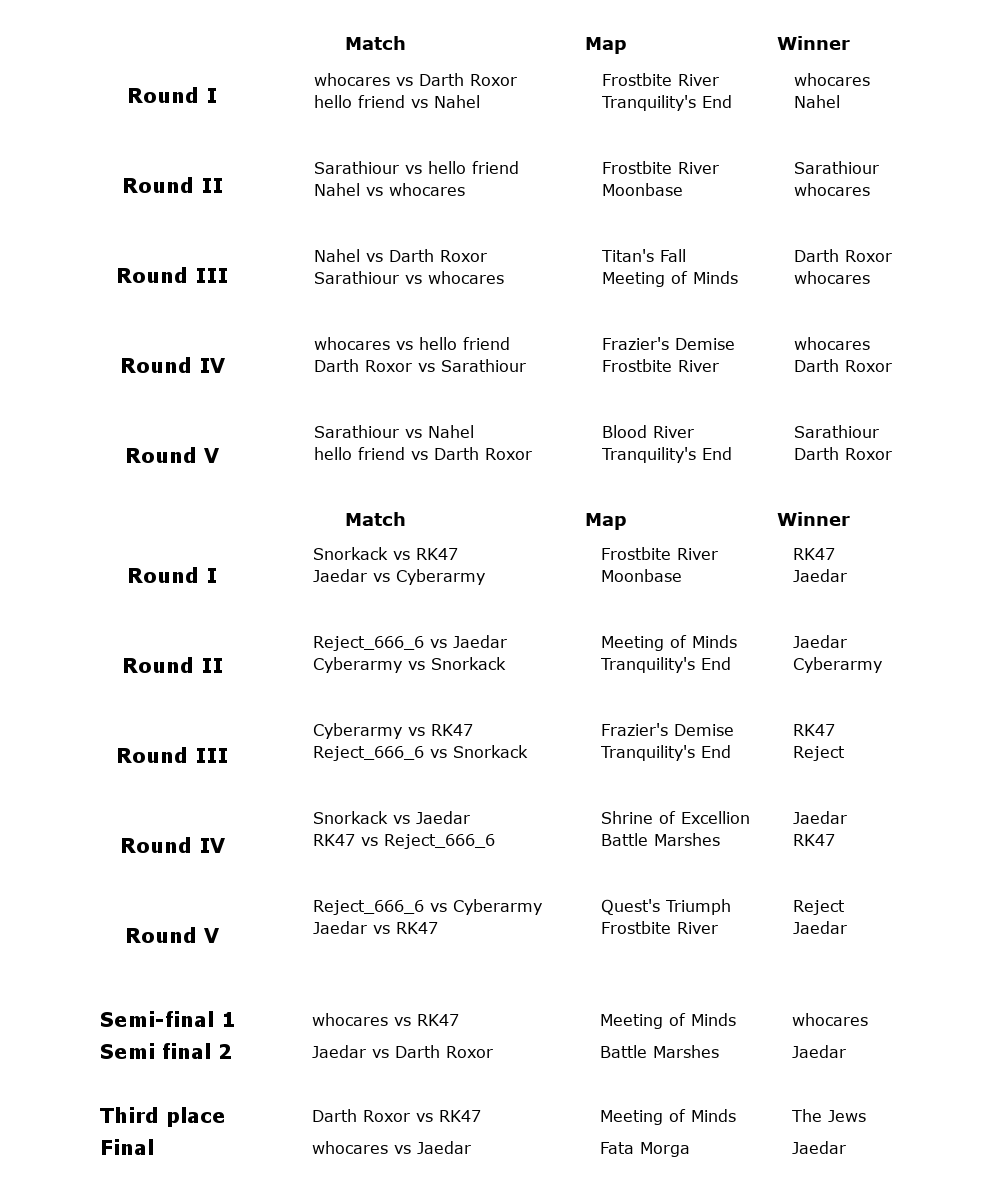 Current Match Day:
Division Standings:
Division Roxor:
Darth Roxor - 3​
whocares - 4​
Sarathiour - 2​
hello friend - 0​
Nahel - 1​
Division Jaedar:
Jaedar - 4​
RK47 - 3​
Reject_666_6 - 2​
Cyberarmy - 1​
Snorkack - 0​
Useful links:
1.
The DOW wiki
- For all your theorycrafting needs.
2.
WH40Kveteran
- The channel of our lord and saviour Astrohero, with pr0 replays from which you can steal 1337 strats.
3.
Lexicanum
- For the deep lores. Duh.
By applying to the Codex Dawn of War Tournament, you hereby agree that your User Name and Racial Preferences shall undergo data processing for the purposes of Kodex Kool Kompetitions, in compliance with the provisions of the EU regulation on data protection. Please be informed that the administrator of your data is
Andhaira
and you have the right to ask him to inspect or correct any of your data provided herein.
Please remember to keep your social distance at all times during the tournament. All players must be vaccinated against COVID-19 with at least 4 doses of the Pfizer-BioNTech™ COVID-19 vaccine to sign up.
Certain limitations may apply to Russian users following FIFA's ejection of Russian teams from all tournament games.
Last edited: