Joined

Jul 11, 2004
Messages

5,673
I'm looking for excuses not to do the ton of stuff I actually have to get to, so what better for that than a Let's Play?
Chapter 1: The Tower Cell
- Part I: This post
Chapter 2: The Innocent Abandoned
-
Part II
: Midnight's Children
-
Part III
: The Grapes of Wrath
Chapter 3: The Courtyard and Chapel
-
Part IV
: One Flew Over the Cuckoo's Nest
Chapter 4: The Circus of Fools
-
Part V
: The Tin Drum
-
Part VI
: A Modest Proposal
-
Part VII
: Moby Dick
-
Part VIII
: Everything Was Forever Until It Was No More
Chapter 5: The Laboratory
-
Part IX
: Slaughterhouse-Five
Chapter 6: The Hive
-
Part X
: Naked Lunch
-
Part XI
: Lord of the Flies
Chapter 7: The Morgue and the Cemetary
-
Part XII
: Dead Souls
Chapter 8: The Lost Village
-
Part XIII
: The Lost World
-
Part XIV
: The Old Man and the Sea
-
Part XV
: Through the Looking-Glass
Chapter 9: The Gauntlet
-
Part XVI
: A Vision Unfulfilled
So...Sanitarium. The "Planescape: Torment of adventure games". No idea why it's never had a Let's Play (as far as I can see), guess it's about time.
This is pretty much my first playthrough of Sanitarium, at least with the intent of finishing it (I've fiddled around with it before). To whit: This game is serious fuck up man. Also, the controls are kind of stiff, but so far it's your typical point-and-click adventure game. Can't wait 'till the puzzles become truly fucked up.
I am aware it gets harder as it goes in (something about chapter 9). I'm also aware the ending doesn't have the best reputation. Still, I've never been spoiled the plot so let's please keep it that way, eh chaps?
Alright, there we go, shit yeah. Let's get to the main menu and get this shit started.
Oh, ok, opening cutscene? Cool. Dude walks to car, gets in, calls wife...

Hon, you're not going to believe it ... I've found the answer!! All those years ... I should have seen it! There's more...I'll tell you when I get home.
Certainly sounds like a conspiracy a-brewin'...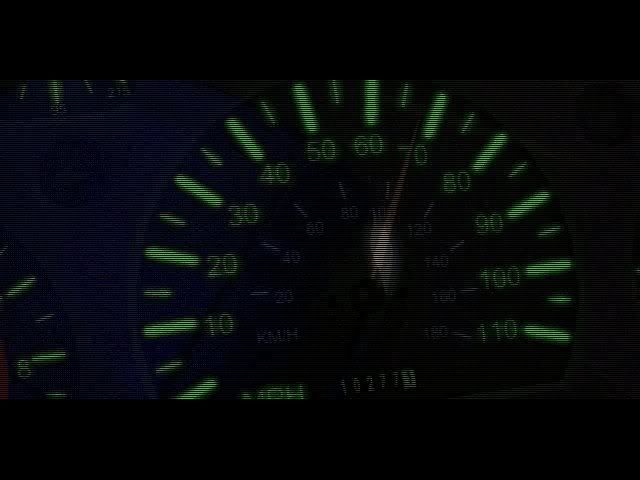 ... Oh shit, a closeup of the Speedometer...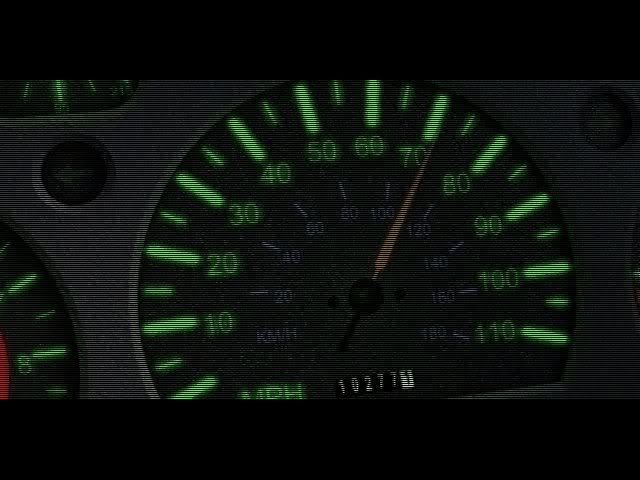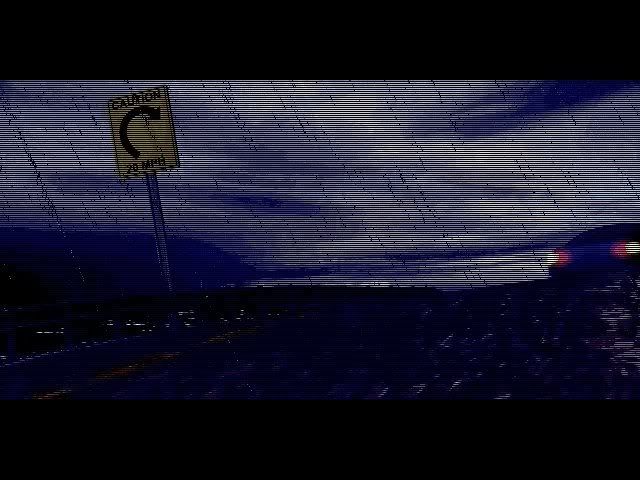 Yeah...this is not going to end well...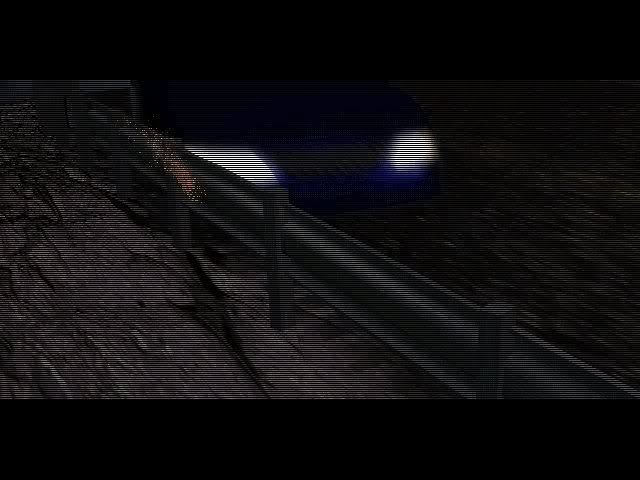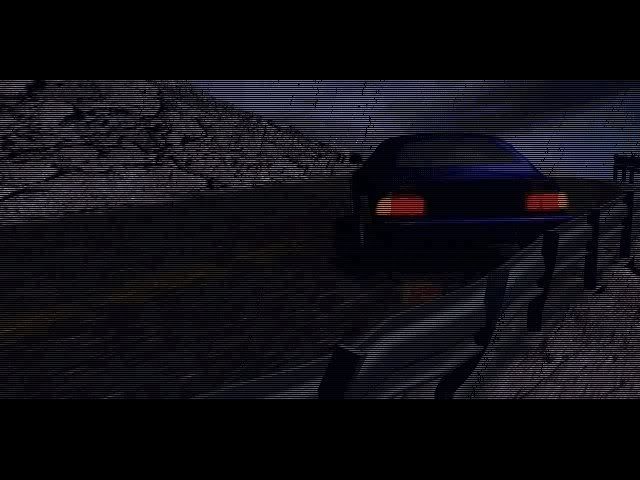 FFFFFFFFFUUUUUUUUUUUUUUUUUUUUU -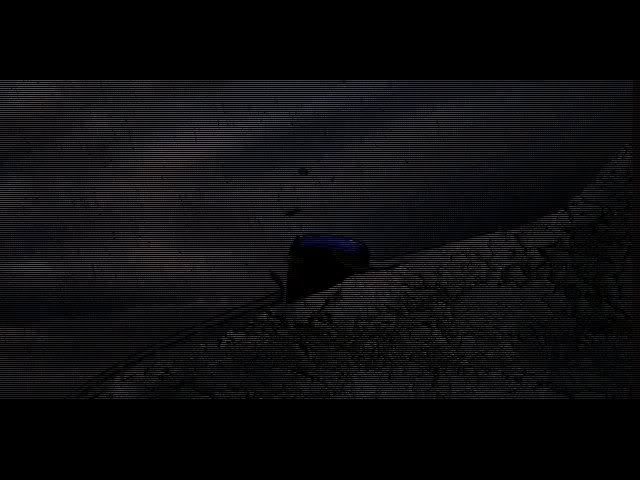 - uuuuuuuuuuuuuuuuuuuuuuuuuuuuuuuu -

Unidentified voices can be heard in the ensuing darkness...

Move it! The generator's out, the fire's going to spread!

What about this one?

Eh, leave him, that's the bastard that wrecked my car.
What a douche.
And...the opening of the game. I was still kind of waiting for a menu or opening narrative. At this point, I'm roughly as confused as my character...That...that's just all kinds of awesome...
Also this game is pretty fucking beautiful.
My character is not - as I initially assumed - the dude banging his brainbox against the wall up there. No, it's the dude just crawling out of bed to the left there. He is unnamed as of yet, so we shall ingeniously call him The Bandaged One (no worries, he will be named eventually, so you won't have to put up with this too long)
TBO is an astute observer, as one can tell when he walks out the door.

How horrible! What kind of place is this?
A monotone and very annoying alarm is sounding in the background. Luckily, there's a switch nearby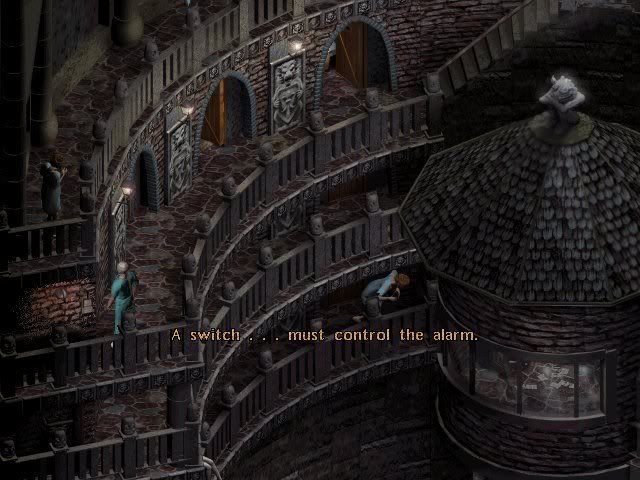 In Sanitarium, you click items once to have TBO inspect them and only then can you interact. TBO's comments are fully voice-acted, unlike the dialogue.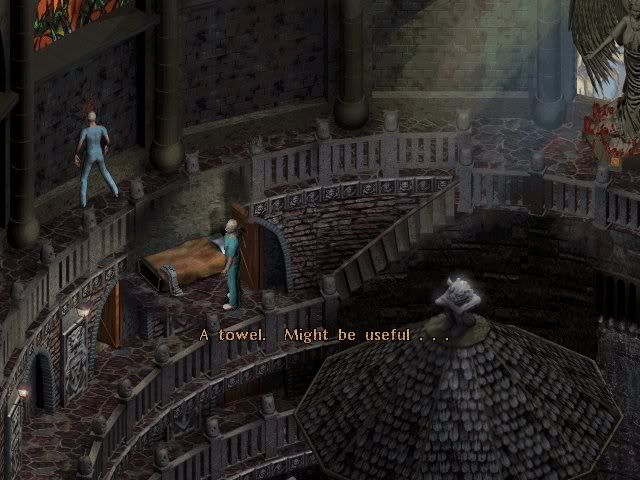 And despite incessant notes on how filthy the beds are, TBO has no problem picking up a used towel. Might be useful. I guess?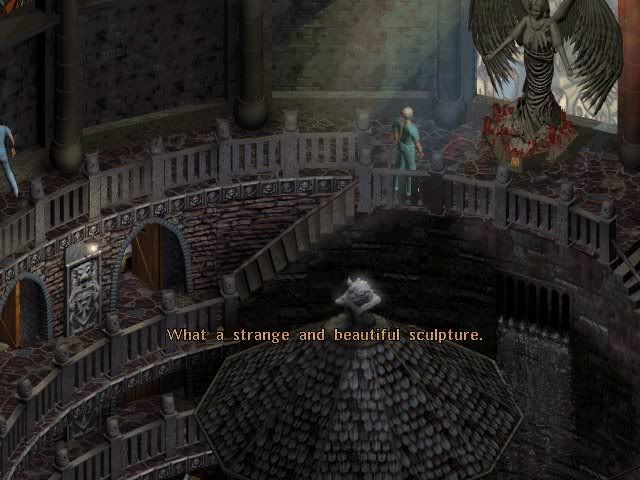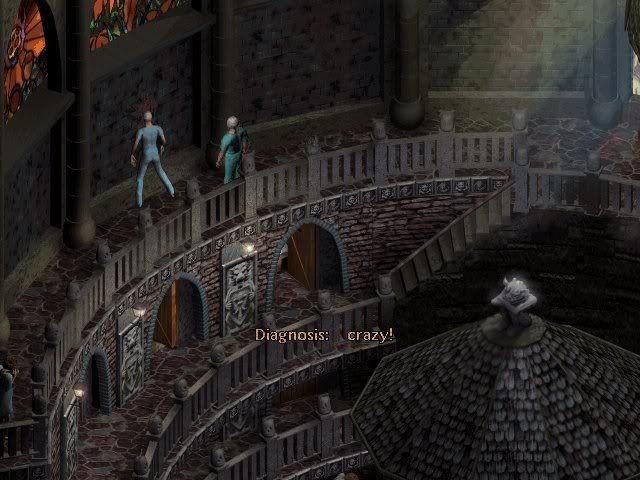 Below crazy brain-bash guy is our first dialogue opportunity. Dialogue is keyword-based, and is mostly just clicking all the options and soaking up knowledge.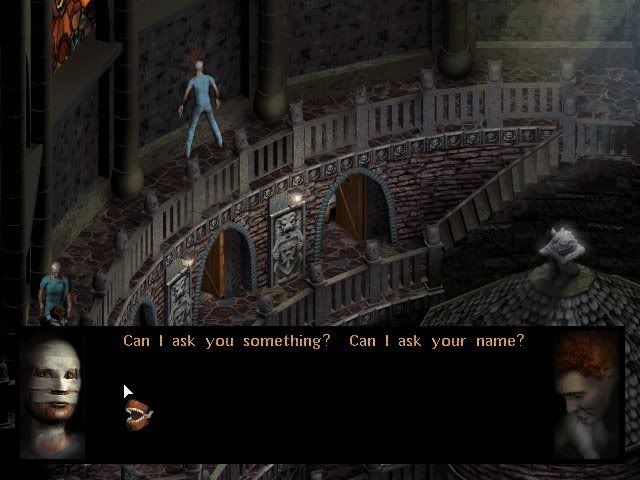 D- da- da- Don! I haven't heard you before. Wh- who are you?

I wish I knew. I- I can't remember my name. I was hoping you might know me.

Stupid voice. Are you a sp- sp- spirit?

(Spirit) I'm no spirit, just a man. Like you.

Like me! Th- th- then you c- c- an hear the voices too!? C- can't you?

I'm not sure ... These voices, spirits, ghosts, whatever they are ... Who are they?

The fallen warriors!! They demand vengeance!

(Vengeance) What is it they're demanding vengeance for?

T-t-temples, the fallen temples! C-c-can't you hear them? C-c-crying out!

Is this the temple? Is this place one of the fallen temples?

N-n-n-n-no! If you don't k-know-know that, you're not the w-w-w-warrior I thought you to be.

(Where) Something here is familiar. I keep thinking I'll get it .. .. Where are we?

I know something that you don't. Th-this is the-the v-village. S-stupid voice.

What village? Doesn't this place have a real name?

(Dr. Morgan) How can I find this Dr. Morgan? I need to talk to him.

He'll find you. The b-b-b-best witch doctor in the land, he is. He'll save us!

(Anyone) Can you tell me where anyone is, Dr. Morgan ... anyone?
Here we see the alternate portrait for TBO, which for reasons of brevity we'll call his Shepard face. Imagine him grabbing collars whenever lines are uttered with this face.

They f-fled. Cowards, n-n-not-not great warriors like us. Oh, but not Morgan. He'll f- find us.

(Why) Why are you in this place? What brought you here?

Isn't it obvious? Hid-d-d-ding from Him!

Him? I don't -

Sh-sh-shut up, or He'll hear you! Stupid voice.

(Goodbye)
Ladies and gentlemen, I give you: one of the saner members of this asylum. Promising.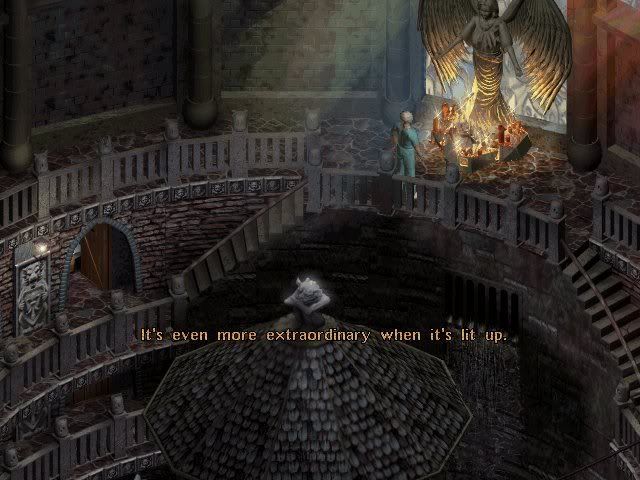 The candles around the angel statue light up as if by magic as we pass by. Looks pretty cool, and so far the statue is the sanest person I've met, so let's keep on her good side.
Further down we find an interesting fellow wrapped in a blanket...

He seems familiar, but I can't quite .... remember.
Useful as always, TBO. Also, do you ... really ... need ... all those ... ellipses ....
Anyway, let's see if this fellow might know us then.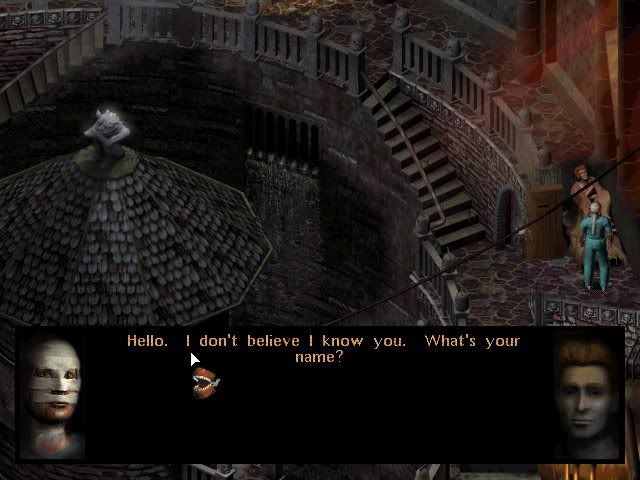 Lenny. I'm Lenny. Lenny's my name.

Well then. You must be Lenny. You wouldn't happen to know my name, would you?
Nope. Mom says not to talk to strangers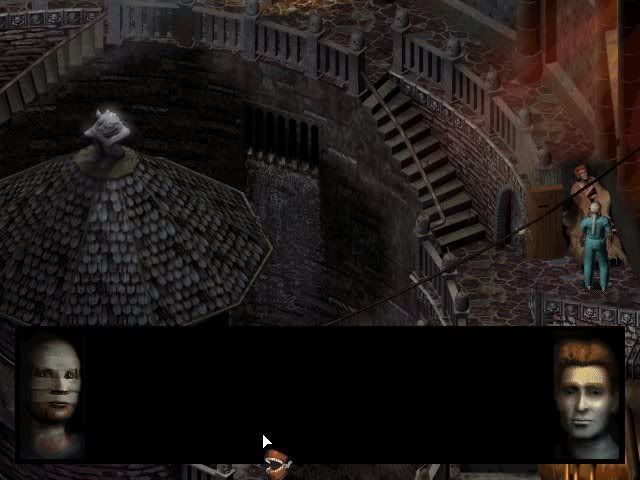 (Where) Do you know where we are?
My bedroom.

Bedroom? No, I mean the building. What's this place we're in; what's it called?
My house.

(House) This isn't you house!
Fuck yeah, TBO, you grab some collar and get some answers!
Yes it is!
Oh... I guess that's the end of that then.

(Why) Why are you here, Lenny? Can you tell me that?
I was very, very bad.

Bad? I can't believe that of you, Lenny. What did you do?
Yeah, don't worry about it Lenny. We all know how it is. One minute you're just trimming the hedges and the next thing you know three kids are lying there whining about their ears being snipped off or something asinine like that. Tchyuh. Kids...
I, uh ... I ate some pumpkin pie.
...

(Pie) Pie? How could you get in trouble for that?
It came from the patch.

A pumpkin patch? Where is it? Where--
Aaaiiiiieee!!!!
Ugh, obviously a hard kid to talk to. Anyway, the options screen:

(Everyone) Where is everyone, Lenny?
Where you should be. You should listen. Mother made them all go away.

I must not have heard her. Lenny, where did she tell them to go?
To school. Yeah, she made them go to school.

(Away) Since I didn't hear your mom, can you tell me how to get to school?
Eeeeeee!!
Frith on a Stick! Ok then, let's let Lenny be.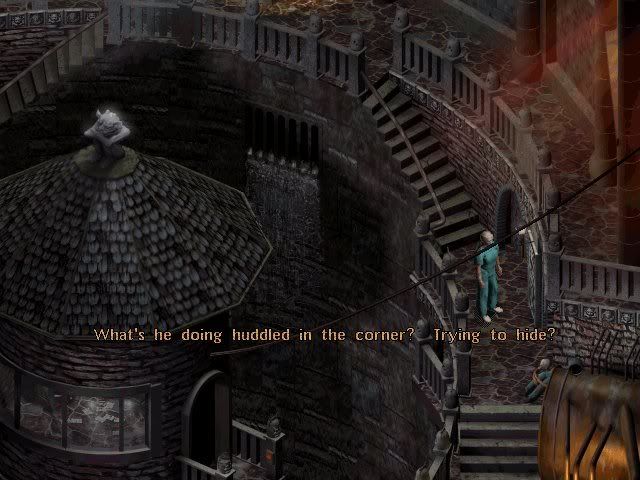 TBO even comments on people he's going to talk to. Right to their faces. Harsh.

Excuse me. Do I know you? Your name is ...

Martin. Martin I said.
Shit, Martin, you look awful.

Do you know ... Do you know who ... can you tell me my name?

How the hell should I know. How can you stand all of them, buzzing, constantly buzzing!

(Where) What is this place?
Thank you! Jeesh, I can't believe TBO hadn't figured that one out yet.

A nuthouse? It looks so old ... What do you mean?

Nuthouse. Loony bin. Funny farm. What don't you understand?

(Why) Well. There's a lot I don't understand ... For starters, why are you here?

Damned bugs are driving me crazy. But I'll find their hive one day. Doc Morgan's a great help. We'll squash 'em, and that'll be that.

(Bugs) What bugs, Martin? I don't see any. Maybe they're not real ...
The Bandaged One: Amateur Psychologist.

Are you serious? These blood sucking insects are bent on destroying the world!

Martin, think about it. How are some bugs going to destroy the world?
Snap out of it, man, we need to get to da choppa!

Well look at them! These aren't normal bugs. These is robots! Little, eeeny, teeny robots!
Internal coherency in paranoid delusion. This game is more carefully written than a casual glance would give credit.

(Dr. Morgan) There's a Doctor around here, Doc Morgan?

Ex-ter-min-a-tor! That's what he is, the best there is. He kills bugs dead. But they always come back. They always come back.
Doc Morgan sounds like an hero. Can't wait to meet him.

(Everyone) Where is everyone?

Cowards, all of them. When the alarm went off, they left us behind. Probably in on it with the bugs. Wait 'til Doc Morgan finds out! It's a conspiracy.
Yho-kay. Man, I hope future NPCs can be of more help than these looneys, though I don't know about you guys, but I get the feeling a lot of this "mother" stuff is foreshadowing, as well as Doc Morgan obviously.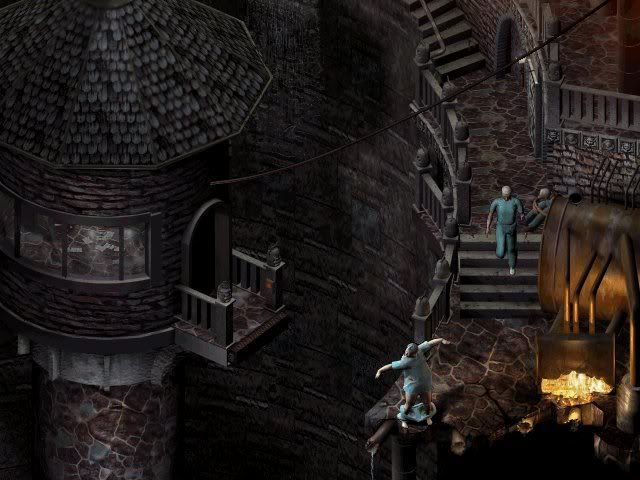 Ahahaha! A fat person with his pants down! I feel some zany slapstick a-comin'
He's startled by our presence. Get you hi-yucks ready.

Oh my God! Don't ...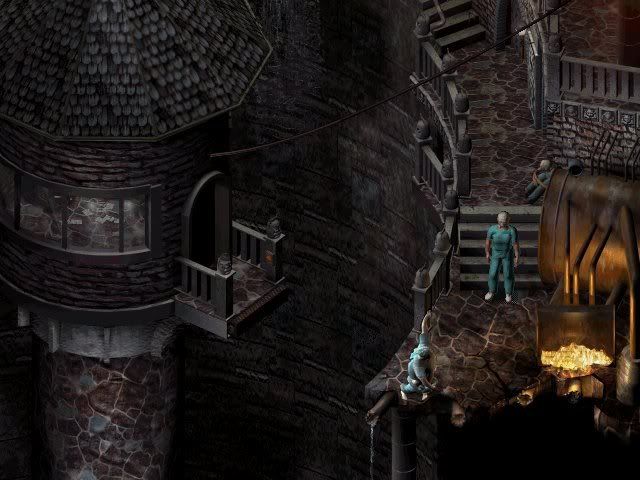 My God ...
...
That'll be the last time I make fun of fat guys with their slacks down. Even The Bandaged One's mighty ellipses could not save the man. We shall mourn you, Fat-Slacks-Down-Guy, and fight on in your name!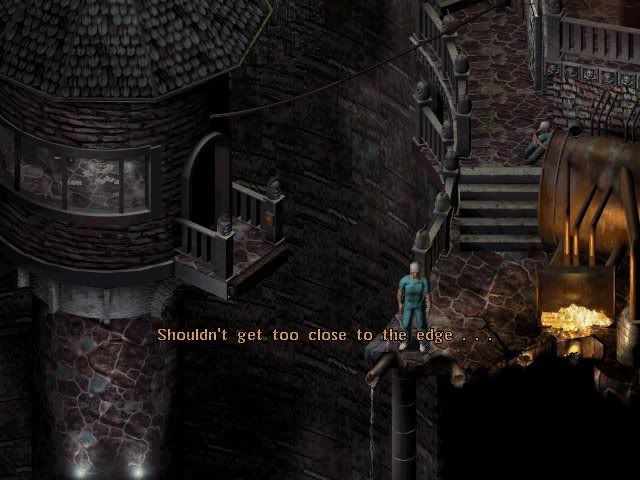 Poor taste, that man.
Ah hell. I almost forgot. Well, let's look for a way out of here. We probably need to get to that tower-esque thing with the withdrawn drawbridge in front of it. Can't jump it or nothing, and all we got is a towel...
Hrrrmmmz...What do you think, TBO?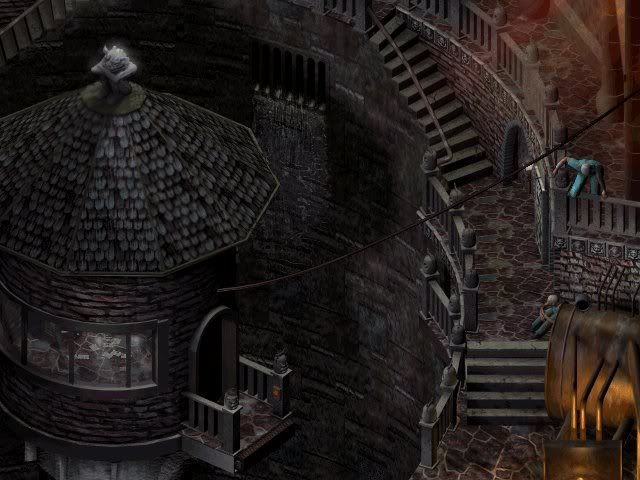 What? No...
Oh c'mon...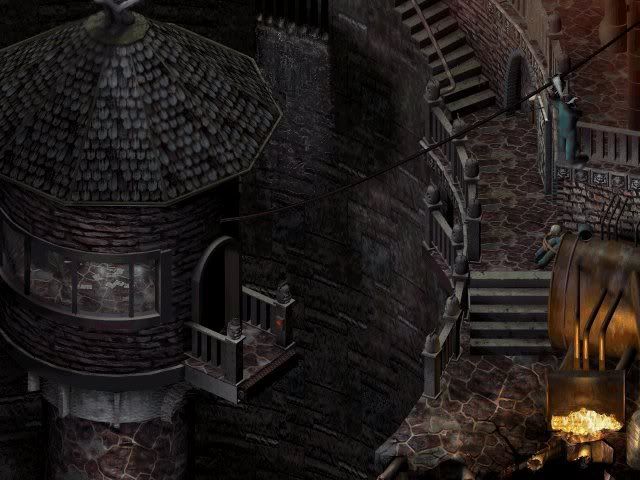 ...Yes, he uses the towel to slide down the line.
This is why I don't really like adventure games all that much. They always rely on this...diagonal logic that really only makes sense to adventure gamers.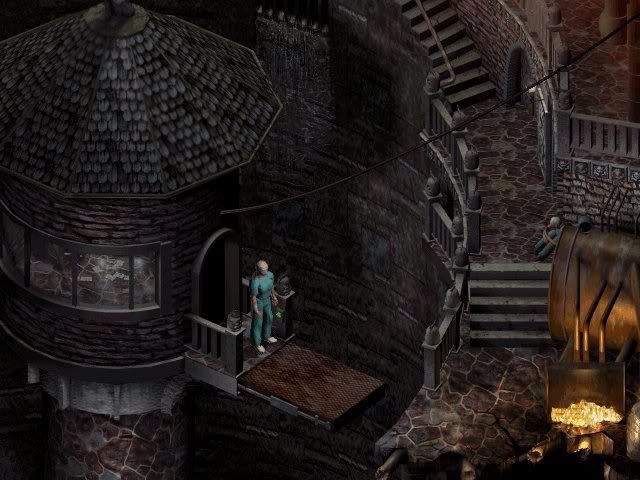 Fuck it. Let's extend the bridge and head in...
Oh really now? That smells like possible phat loot to me! There's a safe right above the drawers, also locked electronically.
And a nearby VCR. I hope the tape is Backdoor Sluts 9.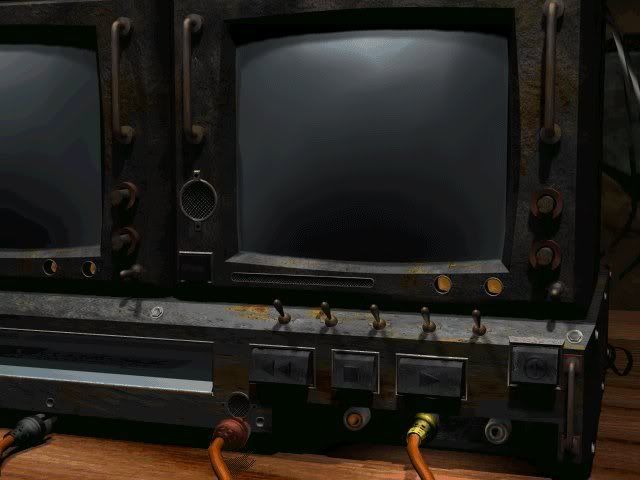 First puzzle isn't much. Match the colors!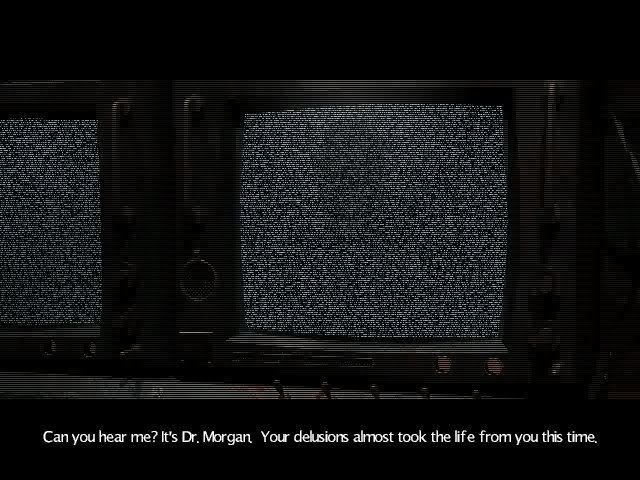 Oooh, atmospheric...
The lamp swings crazily above this desolate interrogation scene. If TBO isn't nuts already, he should be after this little bit of therapy.

My face, it's in bandages. Where am I? Who ... am ... I?

You must have thought you had somewhere important to go when you stole that car.

Oh, no ...

You did a lot of damage to that face of yours in the crash.
"That face of yours"? What is your major malfunction, doc?

I'm sorry ... I ... I can't believe ...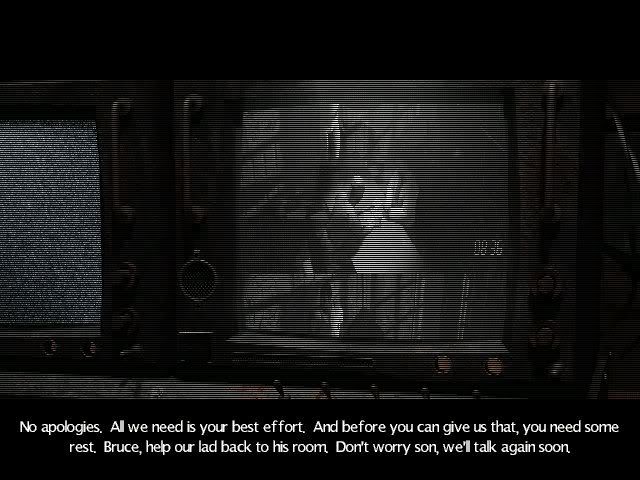 Fucker explodes on me right as the tape ends. It shows an eerie silhouette before shutting down, but I didn't snap a shot of it.
Plot-convenient!
Let's rifle through the sanitarium's confidential files.
A memo regarding the tower bridge. 'Due to recent problems with the generator, all employees are asked to keep the tower bridge extened at all times ... It will be extremely difficult to extend the bridge from the outer ring should the power go out ...'
Difficult? Try impossible. Jeesh, who designed this place, MC Escher?
A letter for Doctor Morgan from Professor Cunningham ... Something about an ancient key, found here in the asylum ... 'The key you describe must be very old indeed ... I have found documentation that may link it to Aztec culture, though we'd have to examine the object carefully here at the institute in order to confirm this theory.'
Memo from the chief of security. It gives some details about a patient escape, number 227. The memo says the west wing is 'inadequately contained' and all of the patients have been transferred to ... the tower cells, here. But where are they now?
Good question. Also, the whole tower cell design with the guardhouse in the middle kind of reminds me of the Panopticon. Which is hella cool.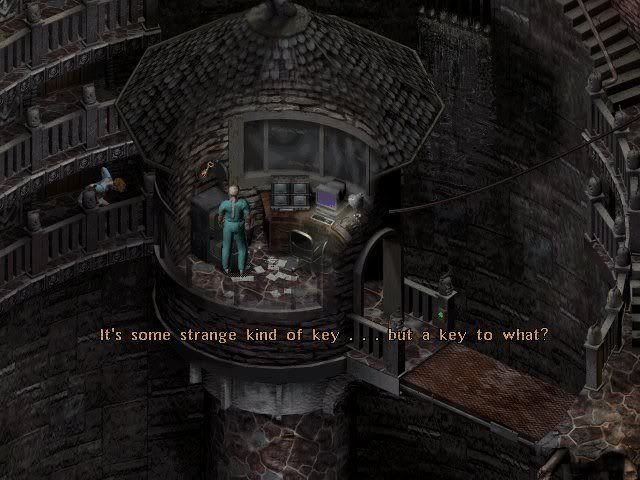 The Aztec key. We takeses it, yes we do.
A key. Have we seen anything apropos of this, TBO?

(Inspecting the statue base) There's a locking mechanism in the base ... but what for?
Hell yeah, The Bandaged One is starting to become useful. We put our key in the lil' slothole.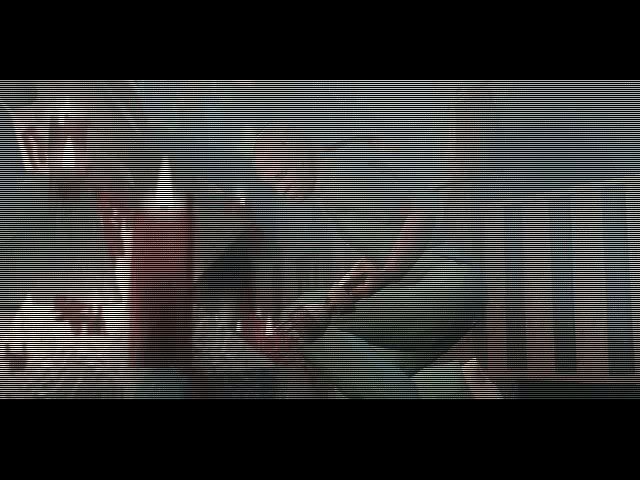 Oh wow this is Freudian.
The cutscenes are exceedingly well-done with obviously limited tech, by the way.
Holy crap, the statue springs to life!
Sorry ma'am, 't wasn't me.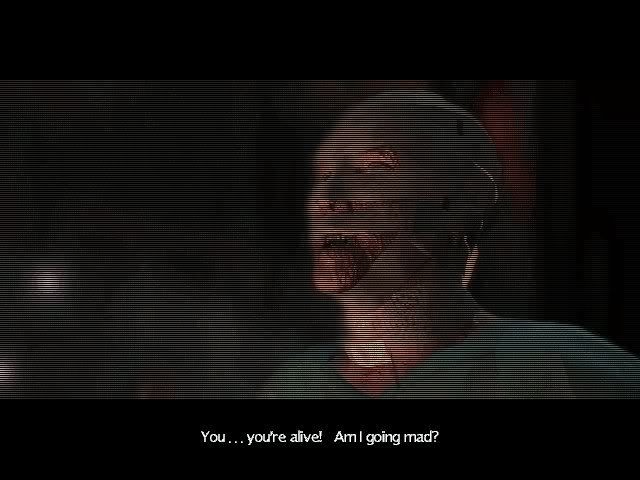 Listen! Hear the cries of the children! The innocent are dying and you only think of yourself? Can you not see that the light heaven has dimmed?
Sorry ma'am, I'll try to do better next ti...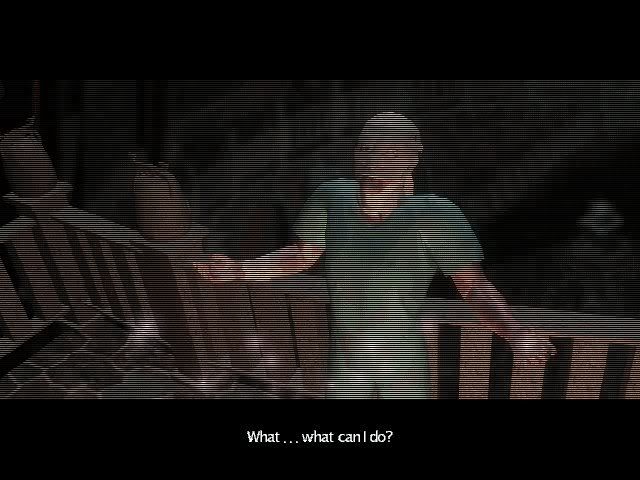 Oh what the he...heck, TBO? This is an angel, man, show some godda...goshdarned respect.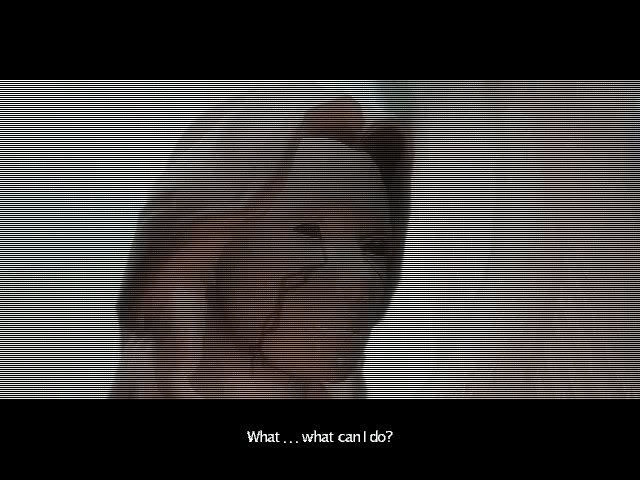 Made her cry.
Oh shiiiii...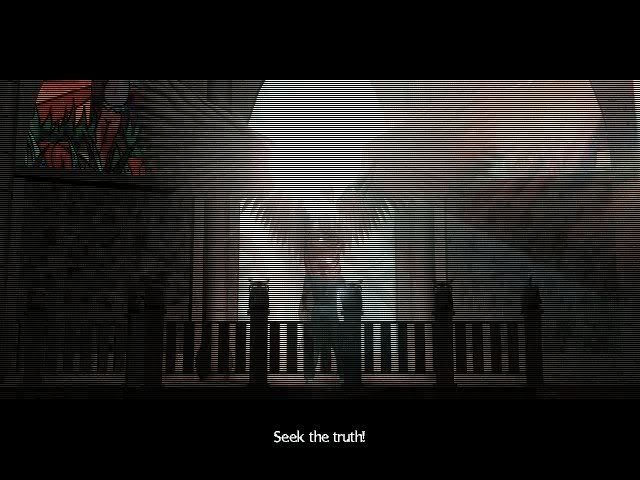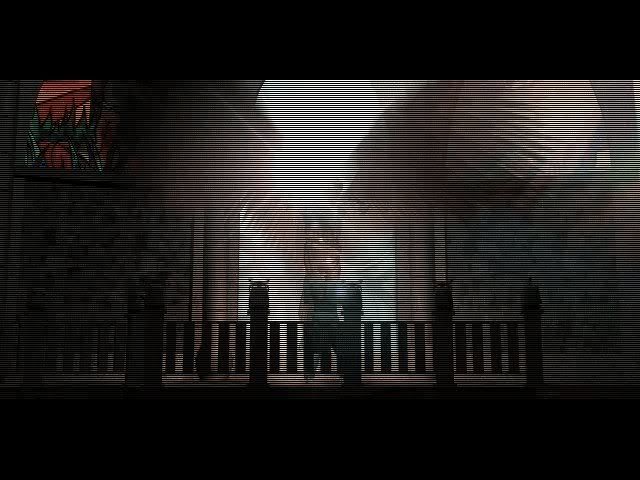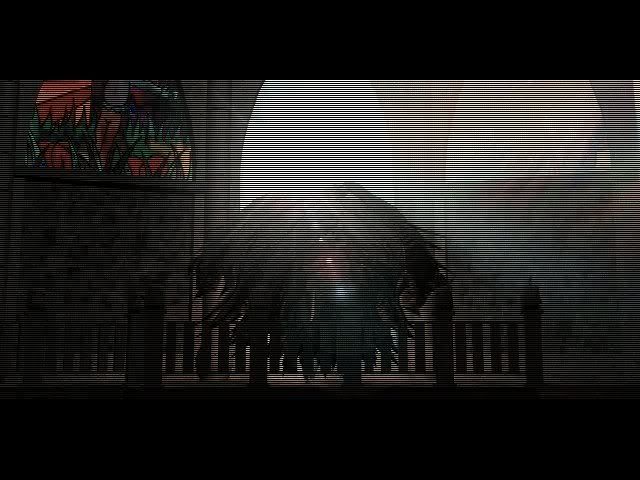 ...iiit?
Chapter 2!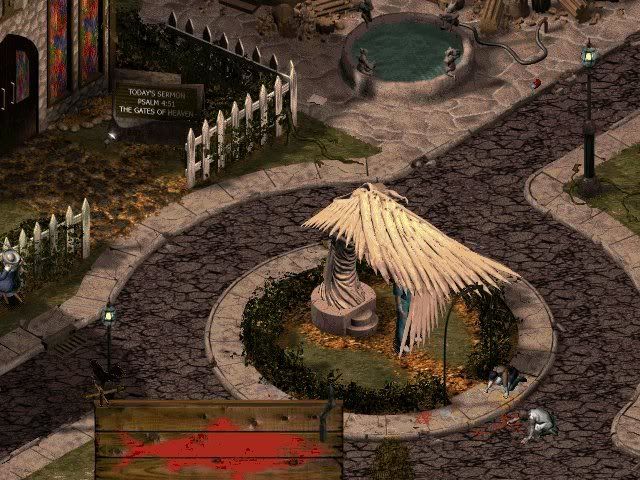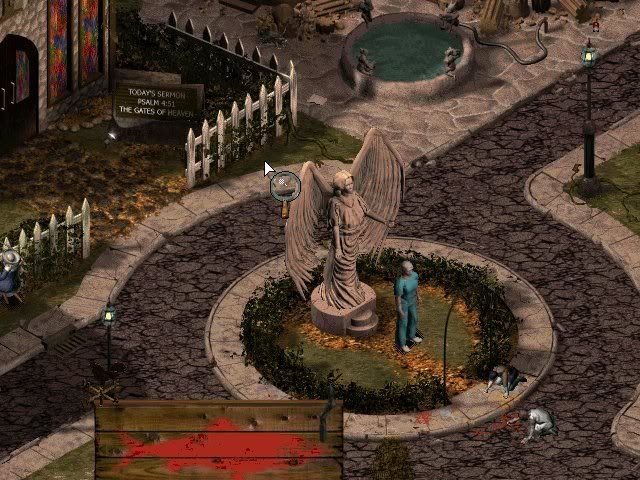 It's about this point I realize this game is pretty special.
Anyway, more to follow soon. Dunno if I'll keep transcribing all the dialogue, suggestions are welcome.