Joined

Jul 30, 2006
Messages

5,933
Location
wikipedia said:

Space Rangers 2 is set in the year 3300. Sentient combat robots known as Dominators are attacking the five civilizations of the Coalition: the humans, the Maloqs, the Pelengs, the Faeyans, and the Gaalians. There are three Dominator types, each at war with each other: the Blazeroids, the Kelleroids, and the Terranoids. The player begins the game as a trainee member of the Space Rangers – a corps of pilots charged with defending the galaxy from the Dominators.

Space Rangers 2 combines multiple gameplay modes. Space travel takes place in a third-person perspective turn-based 2D engine. The game also includes a 3D real-time strategy engine for planetary battles, with the option to control units within the RTS engine to play the battles as third-person shooters. The game also features an arcade shoot 'em up mode, and text-based missions that include interactive fiction and logic puzzle elements. The player character can gain experience points and improve skills, and the player character's ship can be upgraded as the player earns more cash. Sources of income for the player character include trading, piracy, completing missions for various factions, mining, and deploying research probes.
I've never played this game at all before. From what I've gathered, and what I've seen so far, the humour, variety, text quests and hilarious translation job should make for fine LP potential, but I could be wrong. If I am, it'll die of its own accord, so whatever.
Also, don't miss the
fine intro movie.
It sets a tone I cannot help but feel the game itself can never match.
Done?
Alright kids.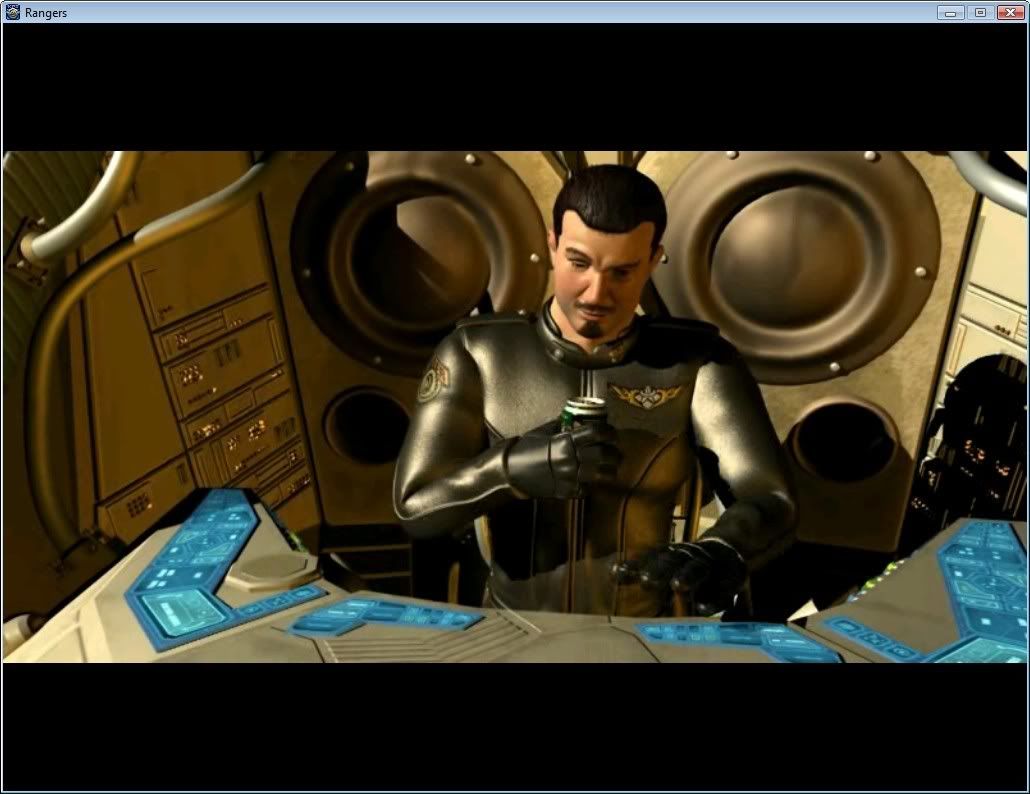 Let's listen to our favourite song.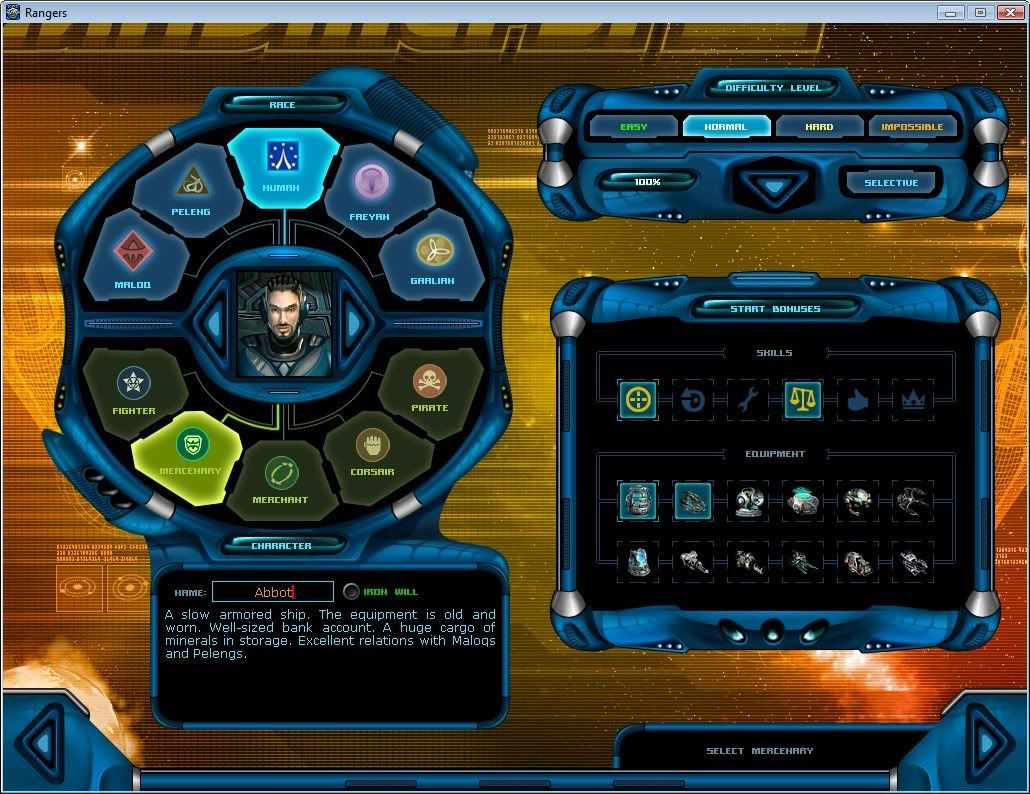 Here we have what passes for character generation. Absolutely no information is given on what anything does except the classes. Going for mercenary, because I'm cold and mysterious and blah blah this joke got old in 2005 it looks like the most interesting class.
hi Yuri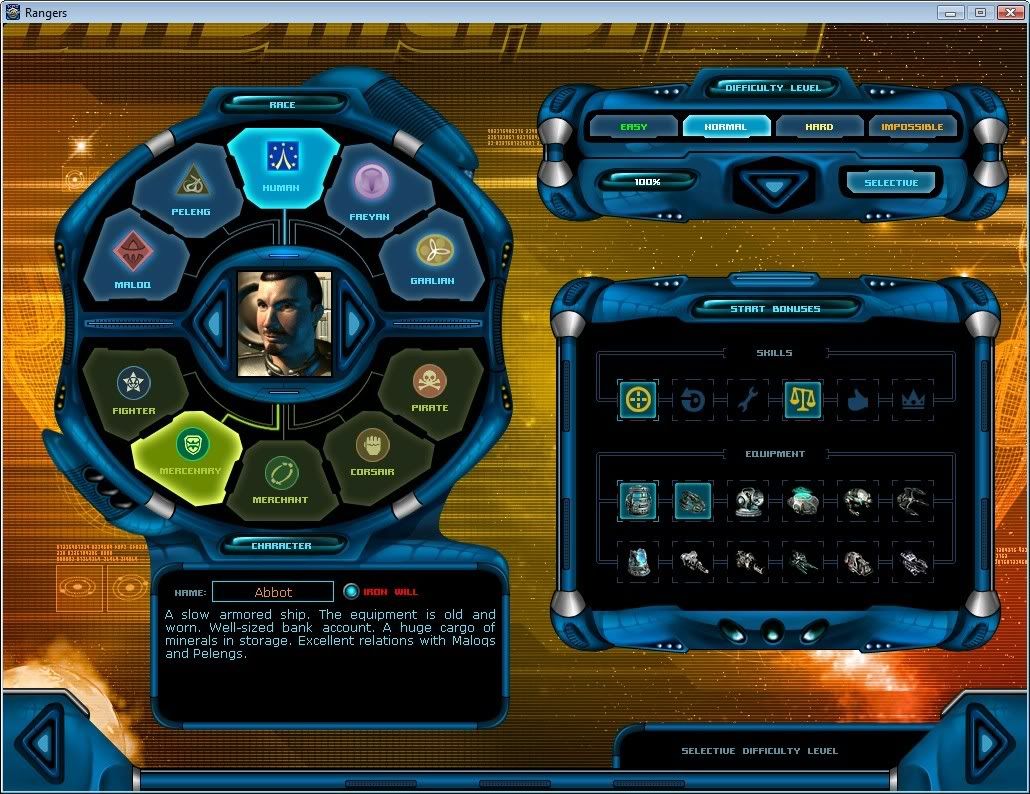 That will do nicely.
Also, I have no idea what "iron will" does. I just ticked it anyway. I have a vague idea it's Iron Man mode, meaning that if I die once, the character is lost forever. But I honestly have no idea.
The skills selection, again, tells me nothing. My combat skill options are accuracy, manoueveorerability and equipment. My diplomacy skills are trading, charisma and leadership. I go with the defaults, accuracy and trading, since they seem the best choices for the early game.
The equipment selection is excellent. I have two choices. Possible equipment includes radar, missiles, droids, shield generators. All sorts of cool stuff. The two default choices, however, are the engine and the fuel tank. Experienced pilots have advised me that both of these items are extraordinarily useful for any spacecraft that wants to, say, work, so I go with them.
Hm... "selective" difficulty? Let's see what that...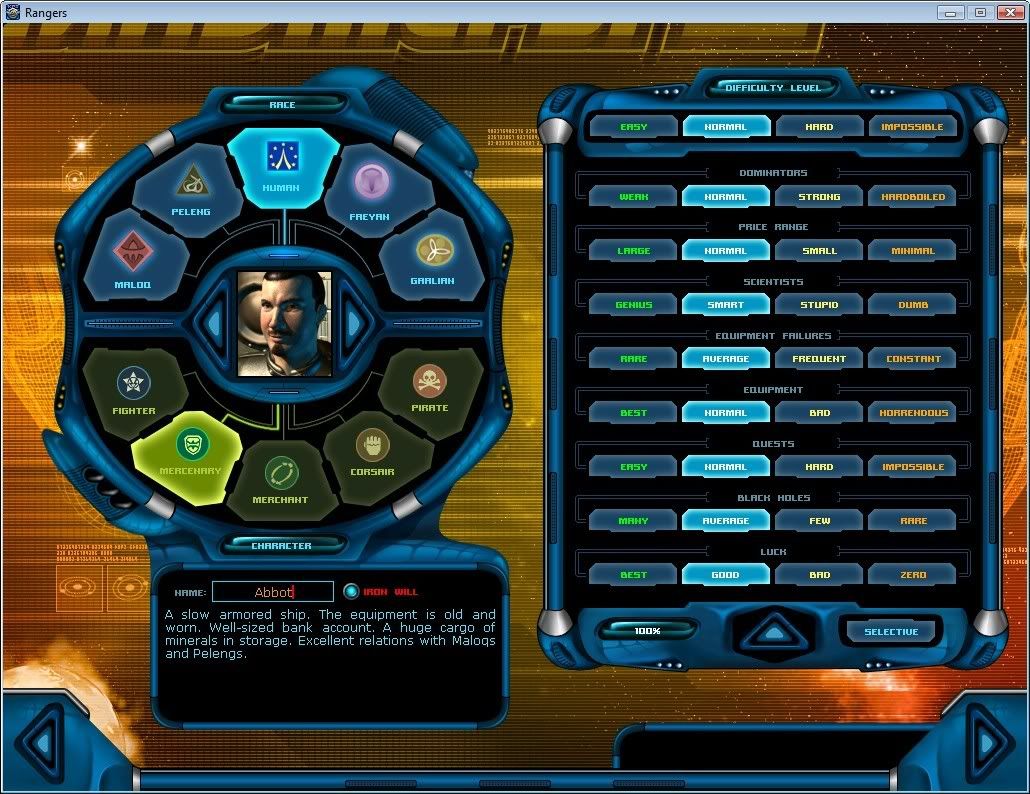 Oh fuck off I'm leaving it on default.
Also, it looks from the positioning like "many" black holes is the best option. This is somewhat contrary to my knowledge of black holes. Perhaps it's best not to question it.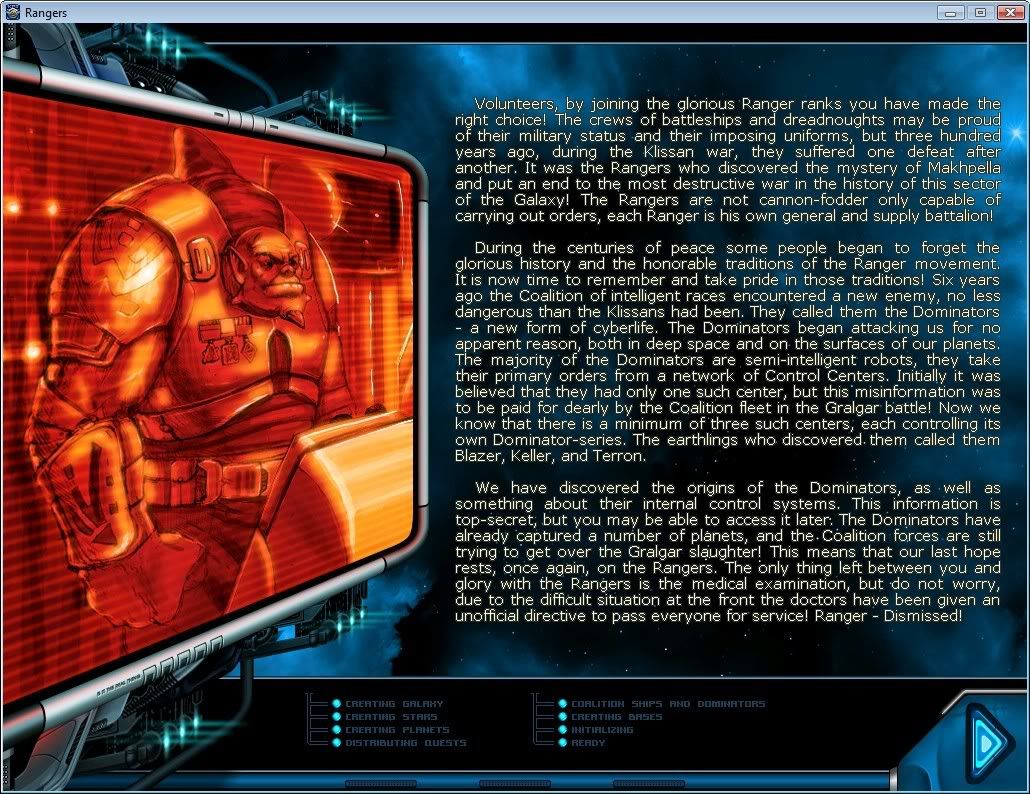 "The only thing that stands between you and glory is the medical examination. Oh, and us being dicks and not telling you the information you need to know."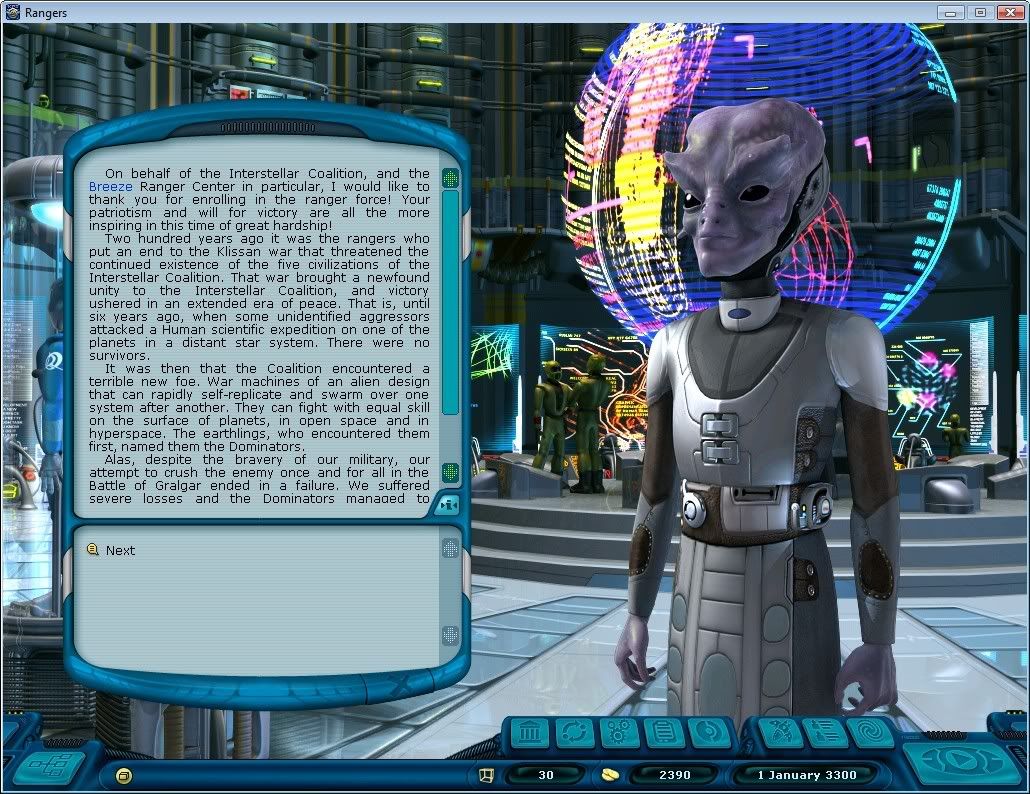 "The situation has been growing more and more complex". There are self-replicating robots attacking us for laughs and we need to kill them all. I might be missing something but that doesn't seem particularly complex.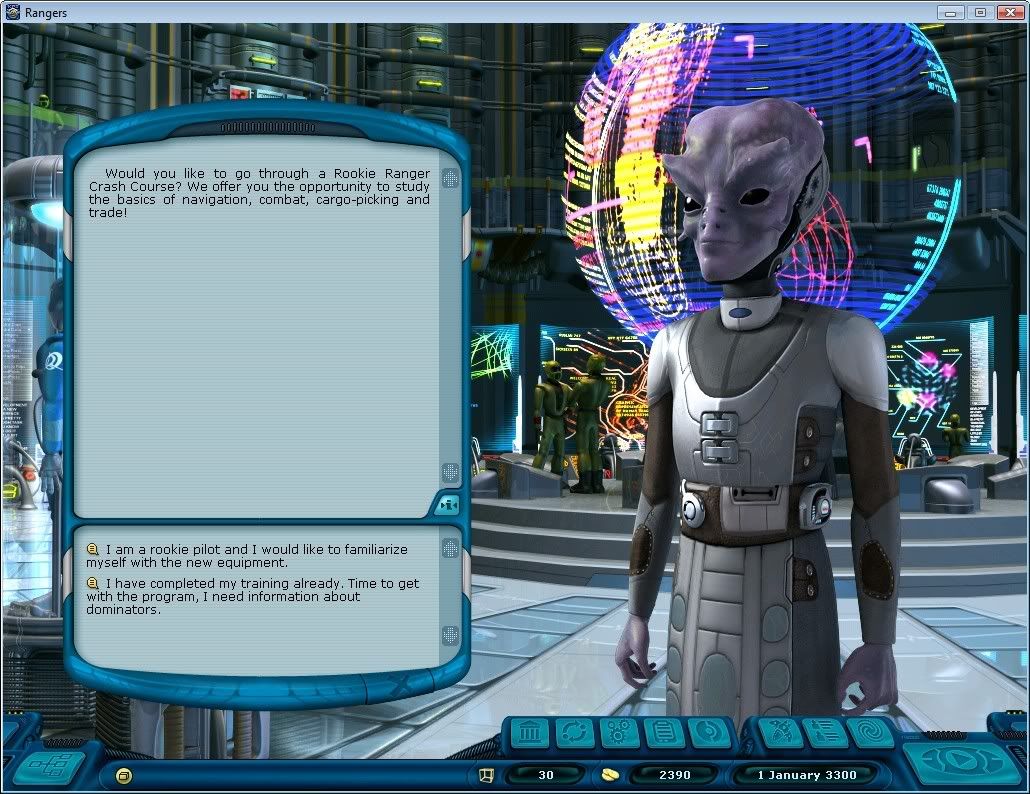 I opt for yes, because I am not Commander Shepard just yet. Also I haven't touched the manual and have no idea what I'm doing.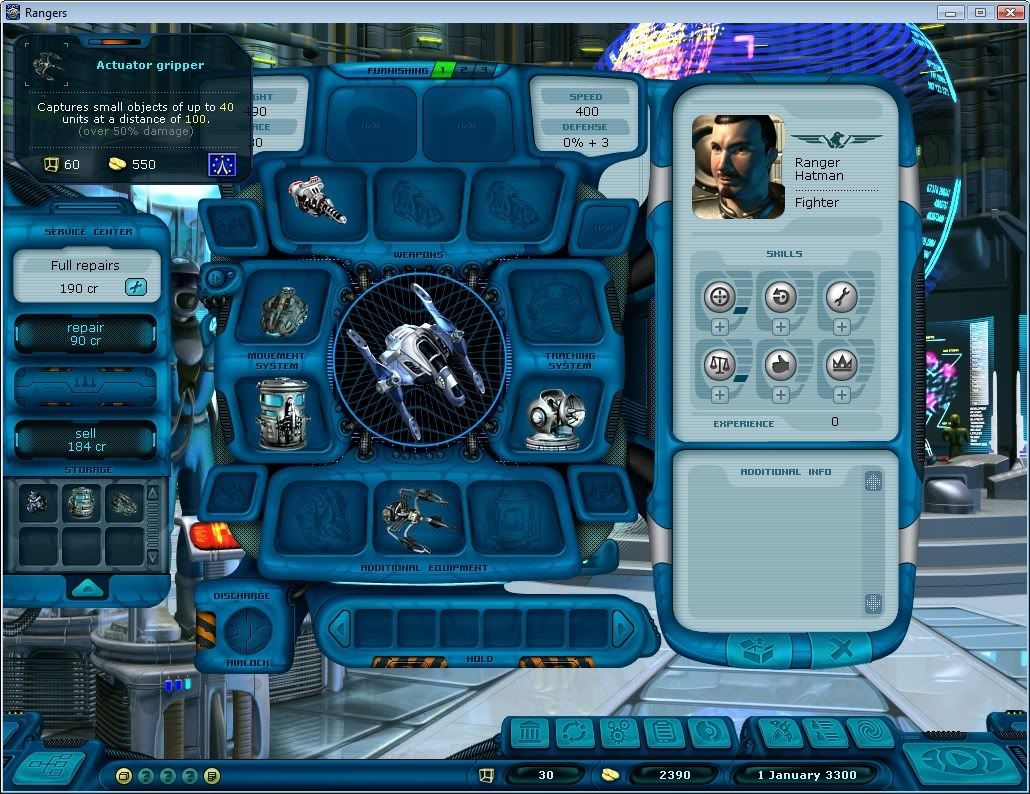 Here we can see that I own several pieces of equipment that I most certainly did not pick or buy. As long as I have my engine, I am quite content. For now.
And here we are in the great sea of stars. I am, somehow unsurprisingly, the smaller ship.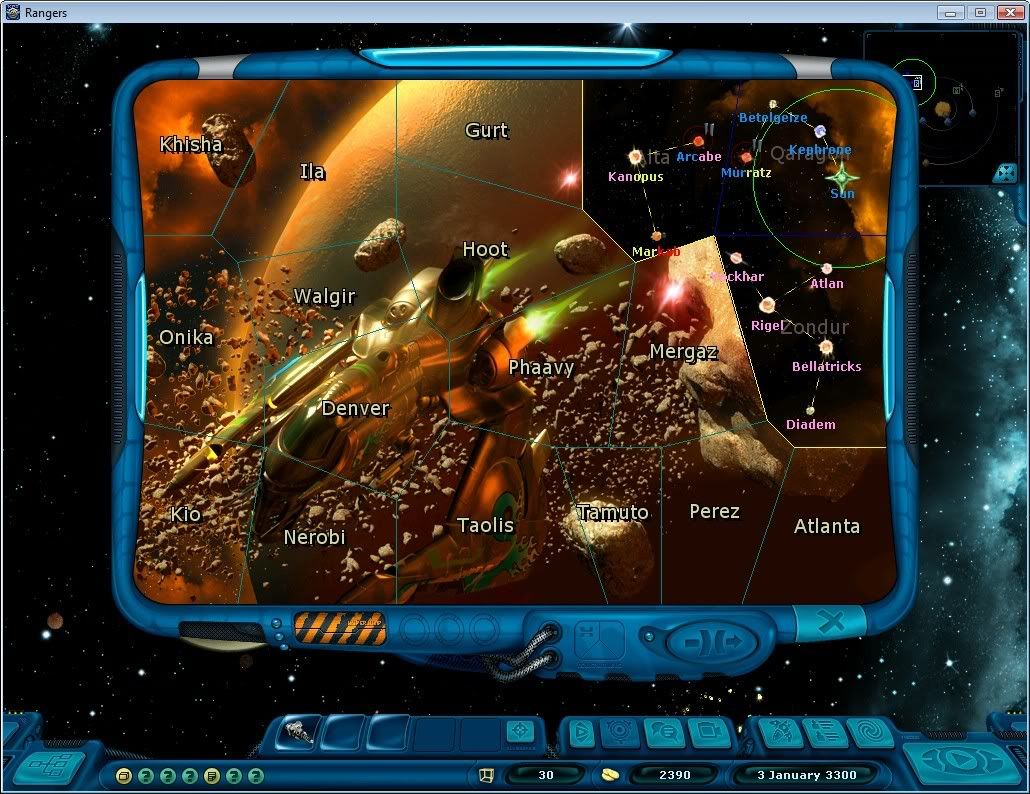 Please tell me these aren't real galaxy names. "Hoot"? "Tamuto"? Anyway, from what I can tell, each dot is a star system. I am currently at the "Sun" system. Which is wrong.
I think the purple stars are the ones owned by the Dominators. They're a bit too close for comfort. Not to worry, though. Shepard can take them. You will see his astonishing combat prowess very soon.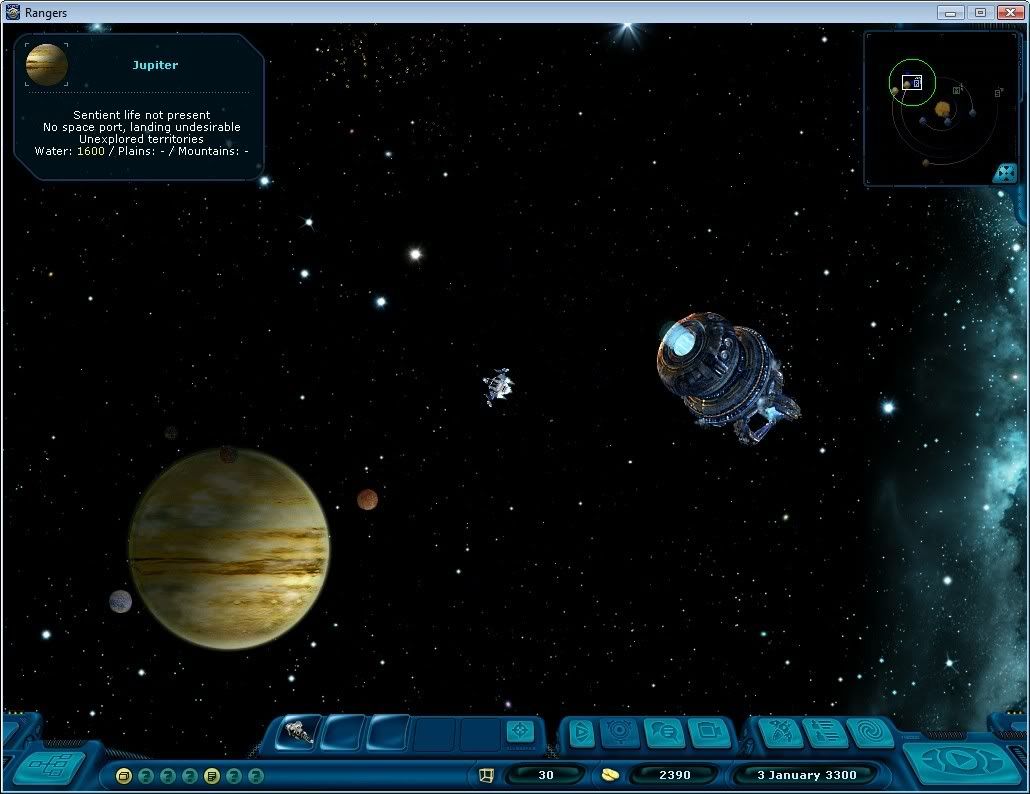 Okay, there's Jupiter. At least I know I'm in the right star system now. Even if it does have the wrong name.
Govt. System: Democracy
LOOKS LIKE AMERICA ISN'T A WORLD POWER ANY MORE THEN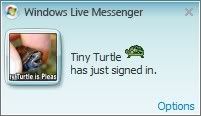 Note to self: screen capture program needs work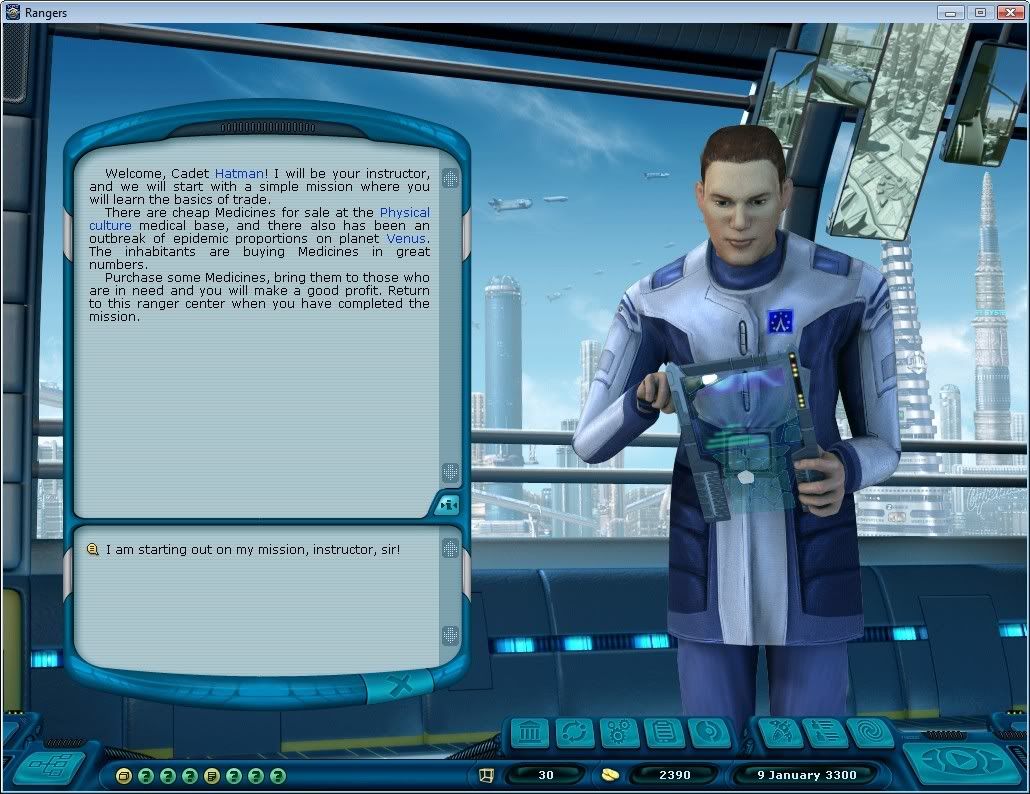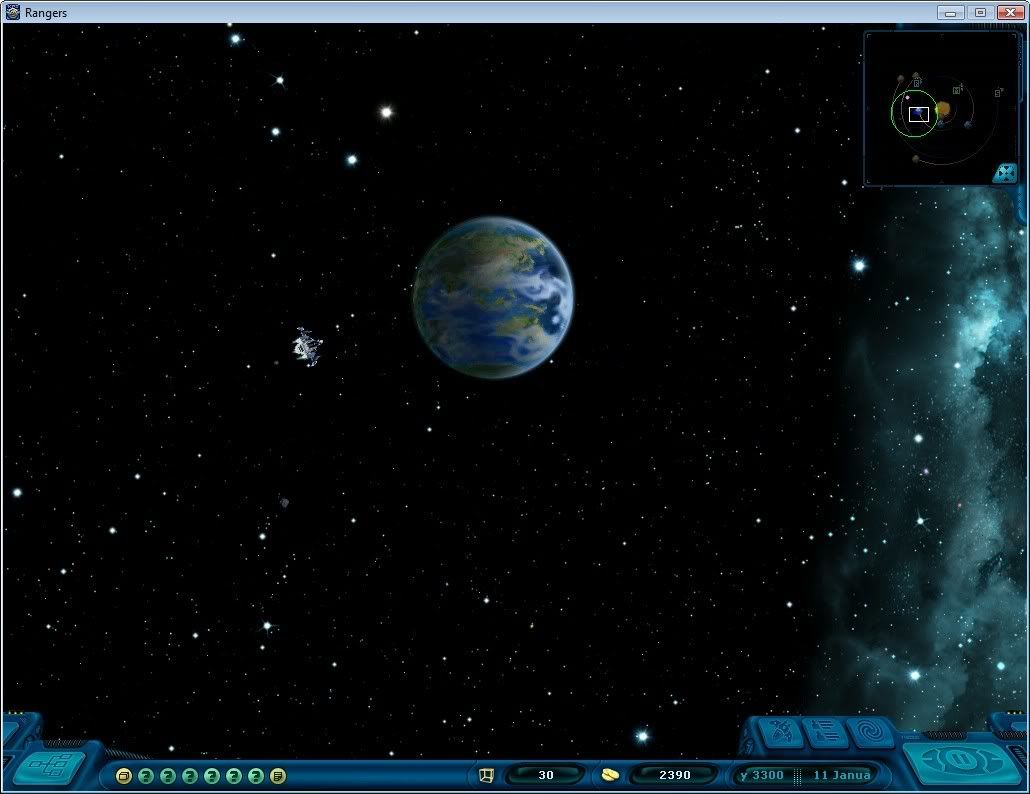 Eagerly, I set out on my first mission.
Then I realise he probably meant to buy the stuff from Earth and sheepishly go back.
Well, they sell medicine. Seems good enough.
fuck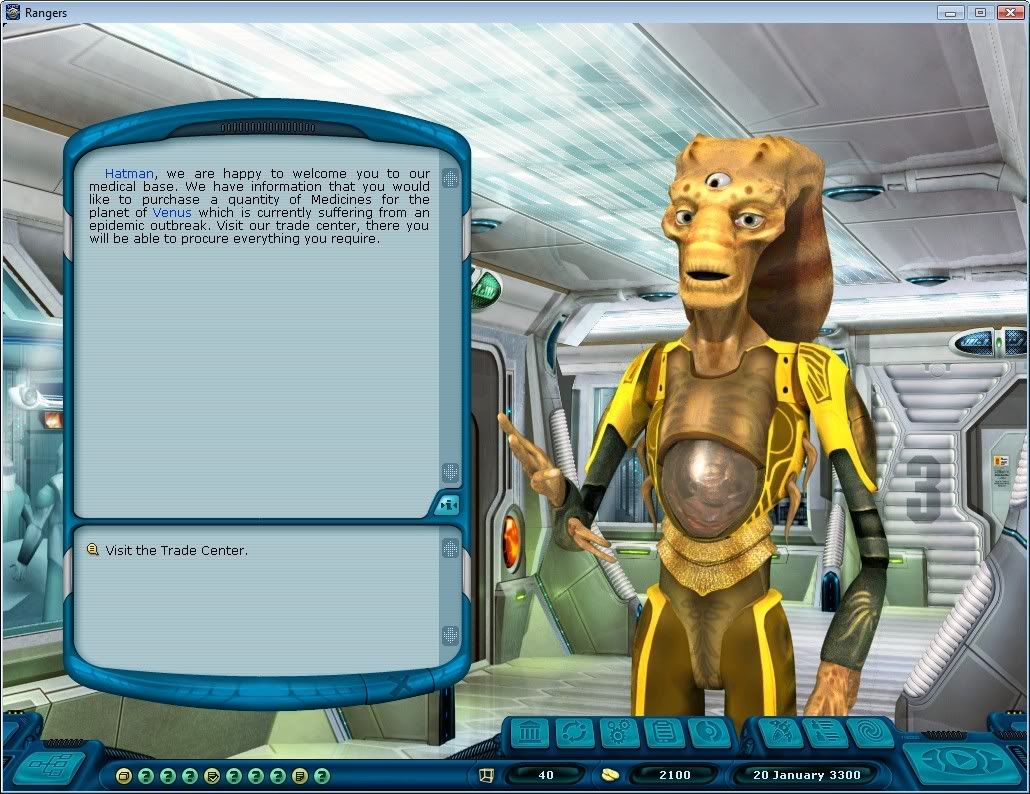 hey what do you know they sell medicine here too
I've seen three messages like this already. Ten minutes into the game. The Dominators are making me decidedly nervous.
For my next epic (gritty, dark, mature) quest, I am sent out to blow up a dummy asteroid to prove I know how to use my weapons. It's probably a good thing they're testing this, because I don't. Tentatively, I double-click the fearsome foe.
oh yeah eat nose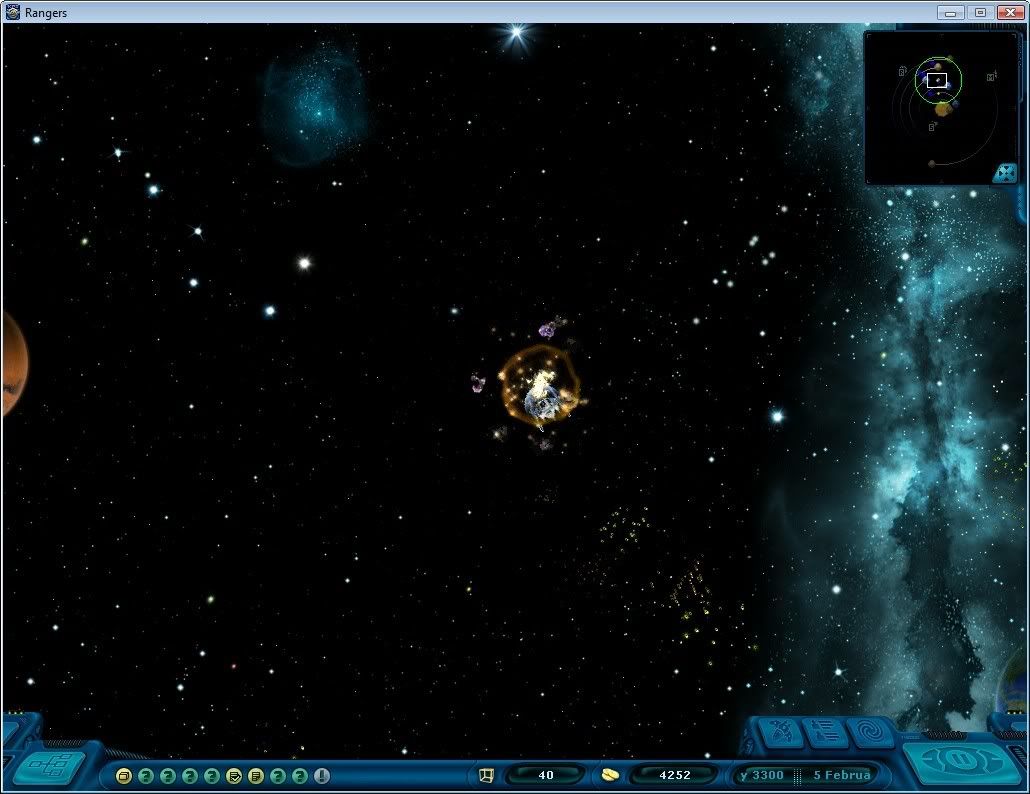 And then I shoot it. Somehow.
Cheerily, I begin collecting minerals (floating purple rocks). This doesn't go particularly smoothly either. After drifting backwards and forwards, gently spinning in circles and I
think
eventually collecting rocks whenever Hatman thinks it's a good idea...
I am rudely interrupted. Note the ship type.
He homes in, grabs the minerals (rather more efficiently than Hatman did) and legs it to the nearest planet, which I assume is Mars. Hatman crumples up his beer and bravely gives chase.
ow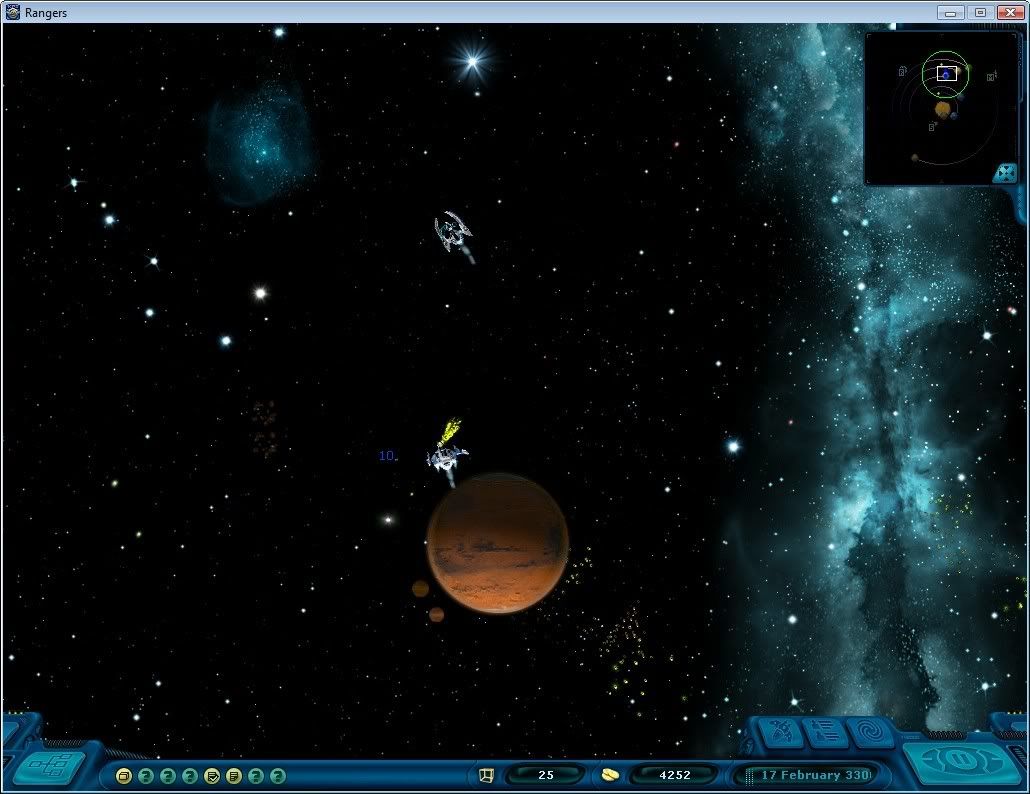 ow
see that 2 damage I got this guy on the ropes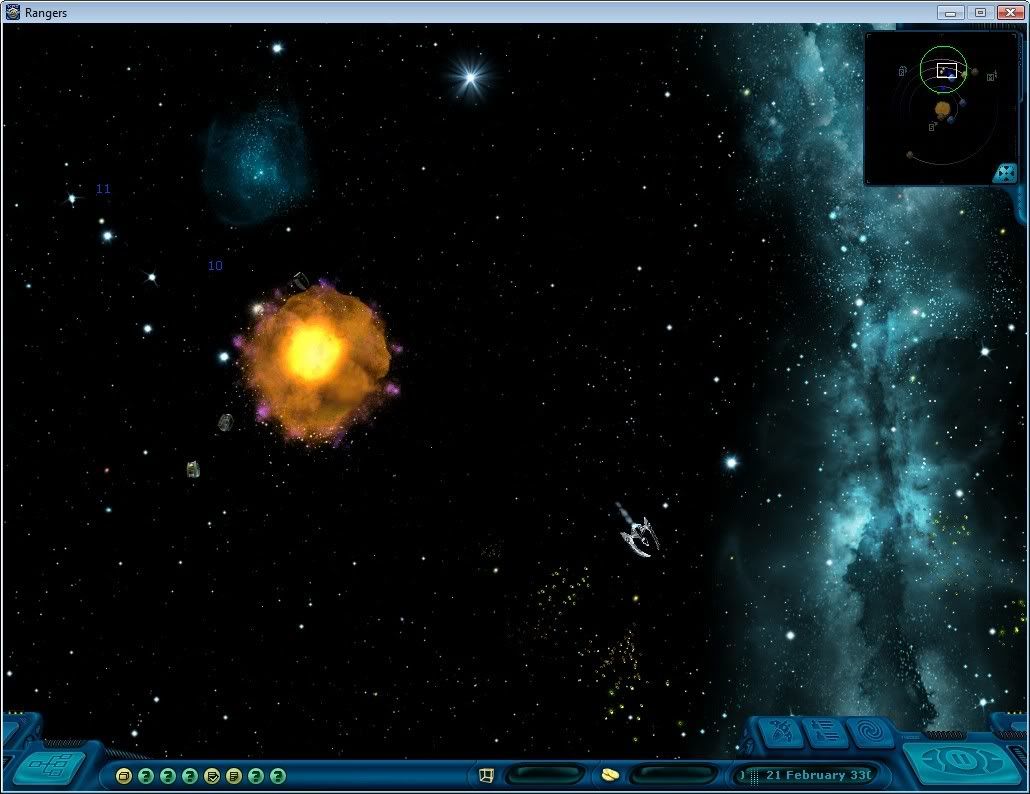 ow
Fuck Miss Universe. At least I was dignified enough to not play on Easy.
And yes, it turns out that Iron Will meant exactly what I thought. Goodbye, Hatman. You will not be remembered.
Join us next time on Let's Play Space Rangers 2, as I actually read the manual and figure out how to play the damn game.