Arcane
Joined

Mar 2, 2010
Messages

10,822
The Shit Games Liberation Front returns with another awesome LP of an
awesome
shitty game! However, unlike the usual "let's LP a modern shitty game", I've instead decided to LP a shitty game... from 1989. (in before skyway "it's pre-1990 so of course it's shitty")
David Wolf was developed by Dynamix as one of the first "interactive movies" (a term that would come to be loathed by gamers looking for substance over graphicwhorism in their games). Like almost all such interactive movies, David Wolf has lots of movies and very little interactivity. Unlike subsequent interactive movies, it was also an EGA game, running at 320x200x16. And by 16 I don't mean 16-bit but SIXTEEN COLORS. You will soon see why this is not a game you would use in stead of Crysis to demonstrate the beauty of computer graphics... though, believe it or not, at one time it was. This was one of the first games to use digitized graphics so extensively (it came out a few months before Mean Streets). It's a very strange game to play nowadays, because its absolutely superb MT-32 soundtrack has, like most MIDI soundtracks, aged very well if you play it on the module it was composed on, and this makes the contrast with the absolutely terrible graphics even more jarring, especially in a game where most of the gameplay consists of staring at pretty graphics. When you're not staring at
pretty
digitized graphics, you're playing through crude action-y bits using Dynamix's 3Space technology (same engine that powered Red Baron, Betrayal at Krondor, and a few others).
There can be no doubt that the graphics were the game's primary focus at development. The game's main menu (which can be brought up at any time) lists 5 action scenes. These are the only gameplay sequences. Any one can be accessed at any time, including the last one on your first playthrough. What's the point of successfully completing one of these scenes? You get to watch the "movie" bit until the next action scene starts. If you're actually reading the text, watching the movie bit after an action scene takes longer than playing through it. To be perfectly honest, the only reason I played through the game was to listen to the soundtrack, and it only occurred to me to make an LP about a third of the way when I realized that the hilariously terrible story and writing would make for great LP material (that, and my Heart of China LP is having trouble due to a) the HUUUUUUUUUGE quantity of dialogs and b) trying to sort out all the alternate paths so I can show as many of them as possible). If you thought the cheesiest James Bond movie was too cheesy, wait 'til you see this.
UPDATE 1: DOVER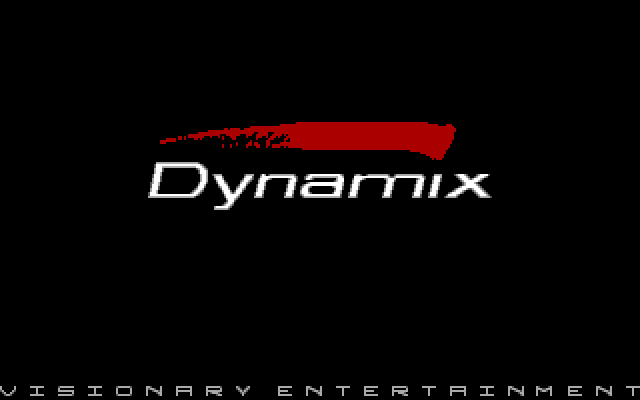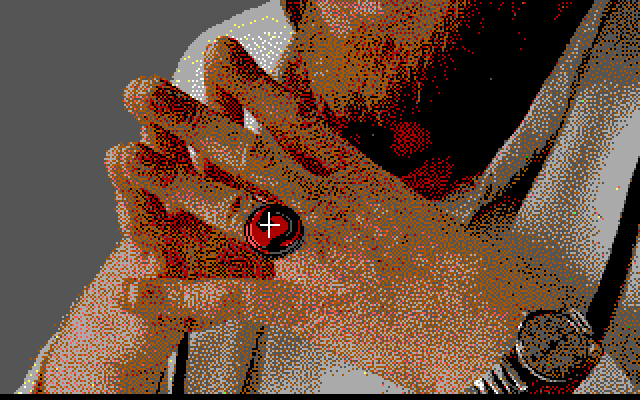 Welcome to the gorgeous graphics of the EGA era.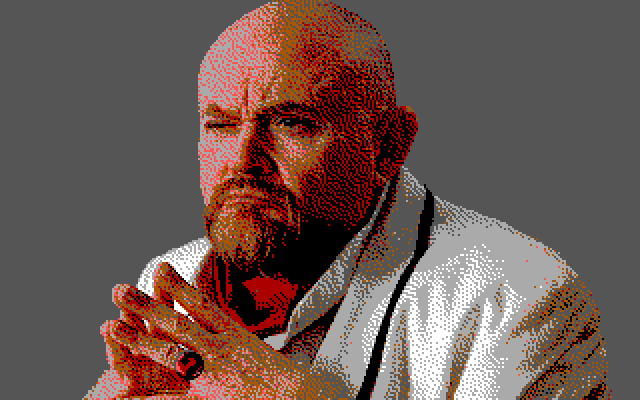 Any and all similarities to Ernst Stavro Blofeld are purely coincidental.

David Wolf must not be allowed to interfere.

Our agent tells us that he is testing one of Peregrine's new toys near the Cliffs of Dover.
FACT: Peregrine comes from the latin Peregrinus, which means "one from abroad".
FACT: There is no British intelligence organization called "Peregrine".

I want him eliminated... PERMANENTLY!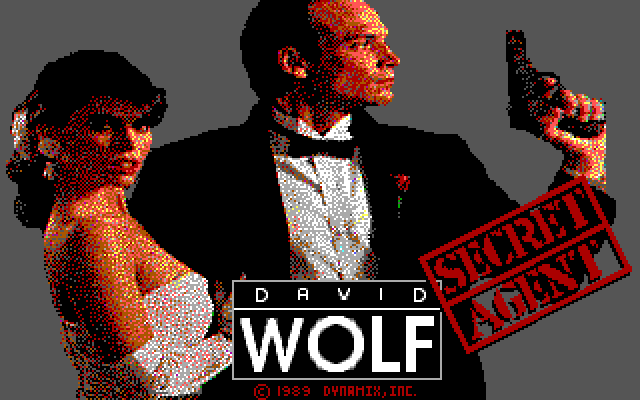 Any and all similarities to James Bond are purely coincidental.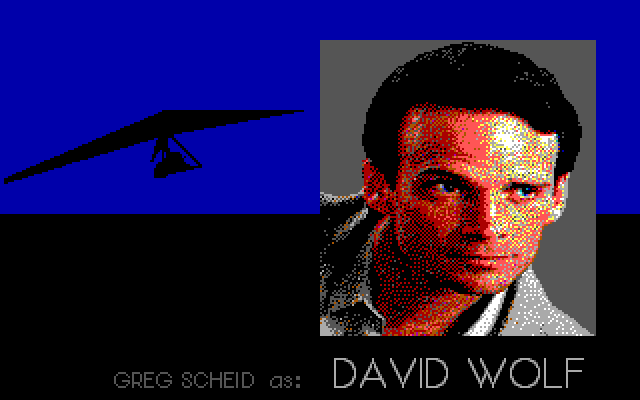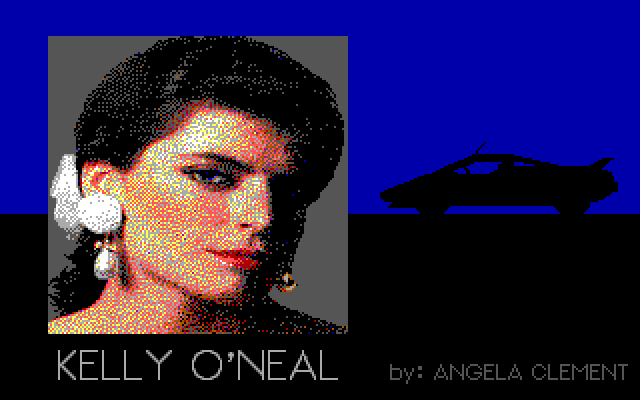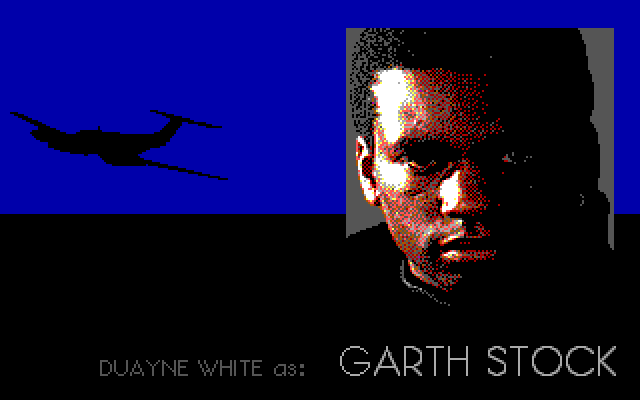 The shadowy figures appearing next to the portraits are all related to the various action scenes, one way or the other.
OK, so this one may not be, though that depends on your definition of "action scene"...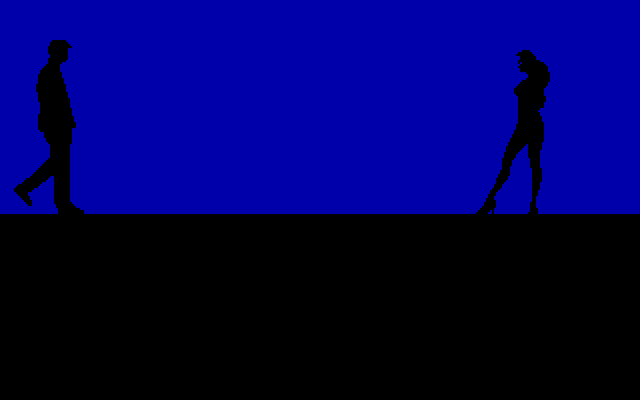 Secret agent, gun, girl, kissing. If this isn't a James Bond parody then I'm Wyrmlord's alt.
Wolf, may I present the latest in aerial combat, the MK1 Hawk.
Any and all similarities to Q are pur- ah fuck it.
You brought me all the way out here to test a new kite?
Hardly a kite, Wolf.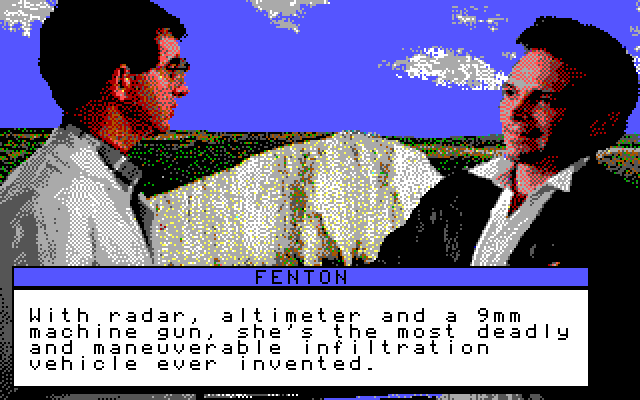 No wet bar?
Please Wolf.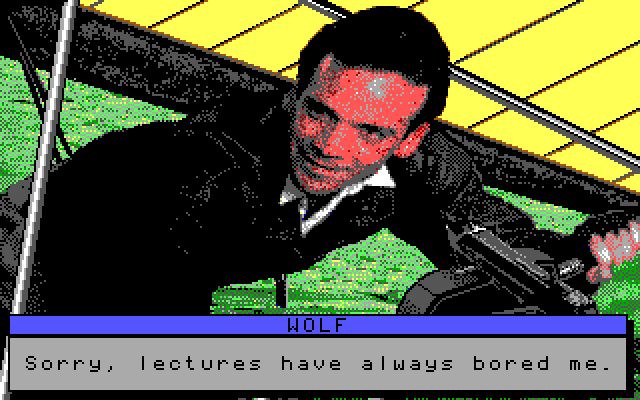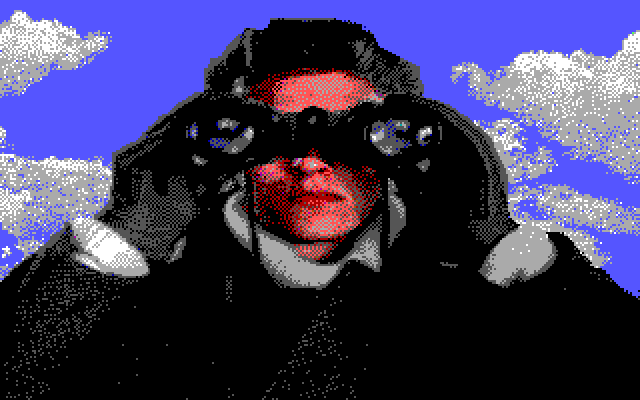 Yes... yes...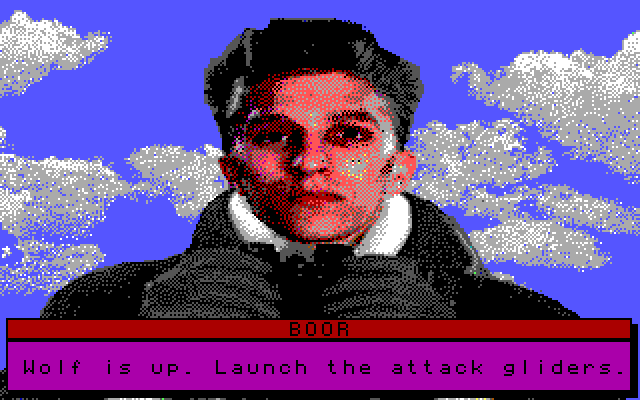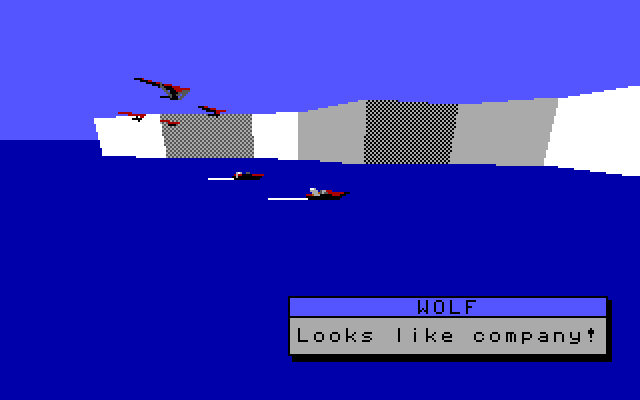 Trouble ahead!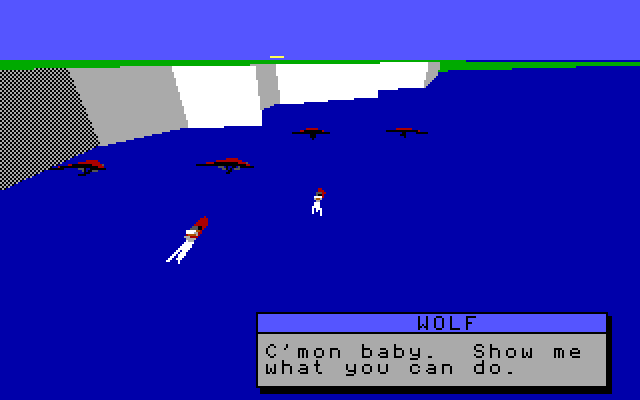 The little joystick icon (even though I set the controls to keyboard only...) indicates that an action scene is about to start.
Wow, actual gameplay! The goal is to shoot down the enemy gliders without running into one of them, into the cliffs, or into the water. This is a little trickier because your altitude is constantly dropping, and because adjusting the angle makes the altitude drop even faster.
Wolf also makes some atrocious one-liners (hey that reminds me of someone) whenever he downs an enemy.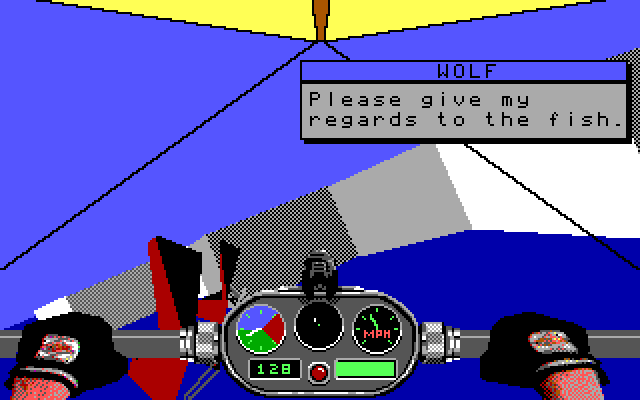 Unlike the other action scenes, you don't get a game over if you lose this one. Wolf ends up in hospital, but then recovers and the story proceeds. Since I'm no pussy, however, I easily dispatch all the gliders. And my reward is: cutscene!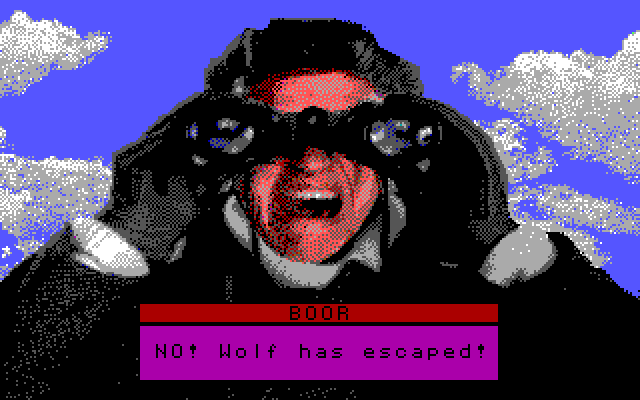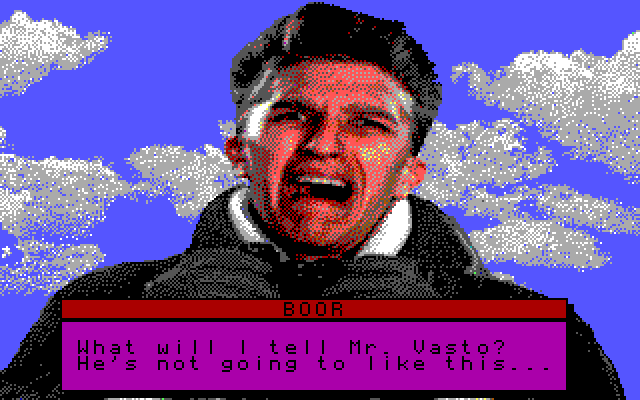 What will I tell Mr. Vasto?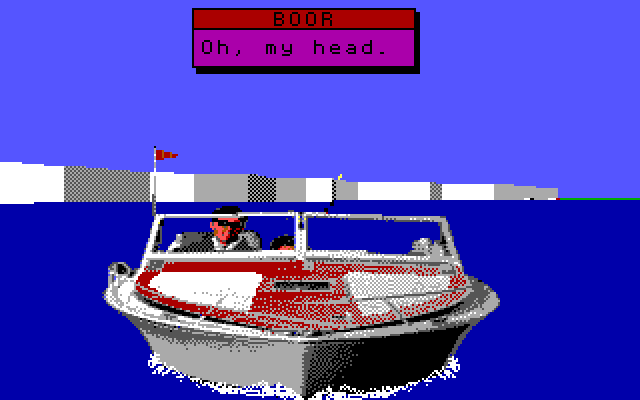 FACT: Viper is the evil organization. Rhymes with...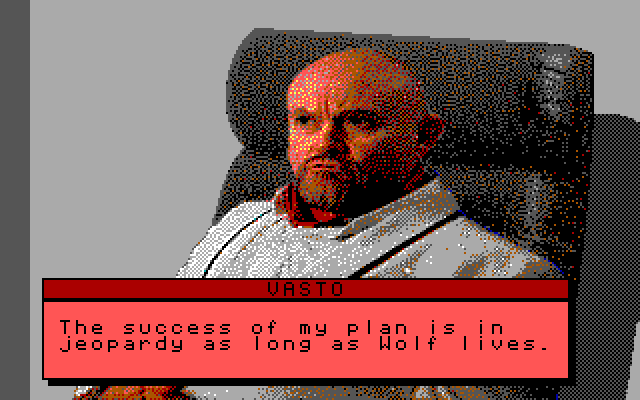 In case you haven't noticed it already, the beat panel here should be indication enough that the story does not take itself too seriously. Which is a good thing.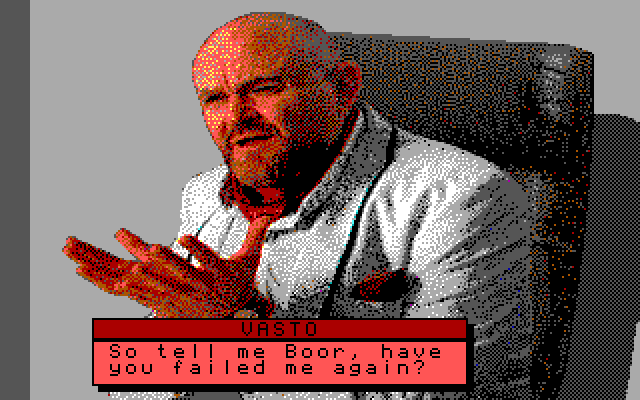 Notice how the black guy's pretty cool about it all.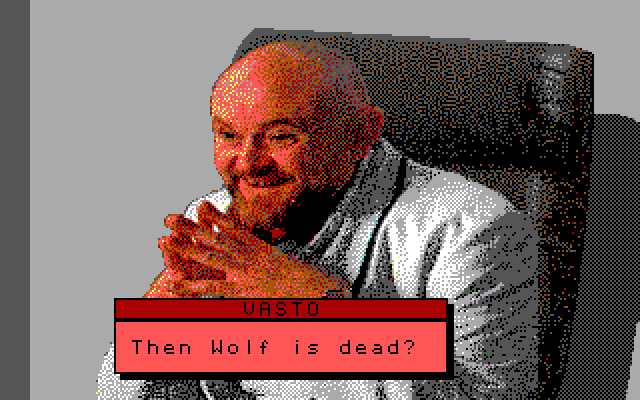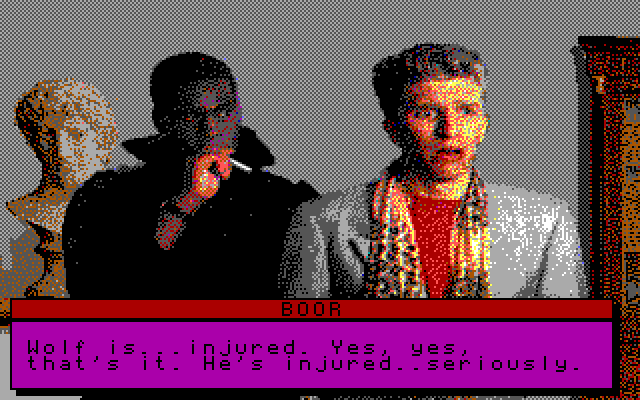 Yeah, that sounds convincing...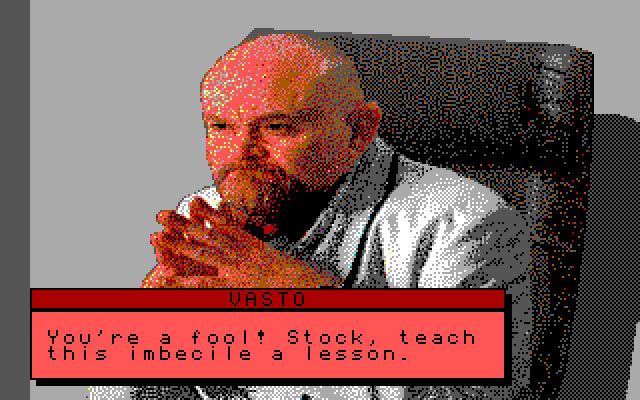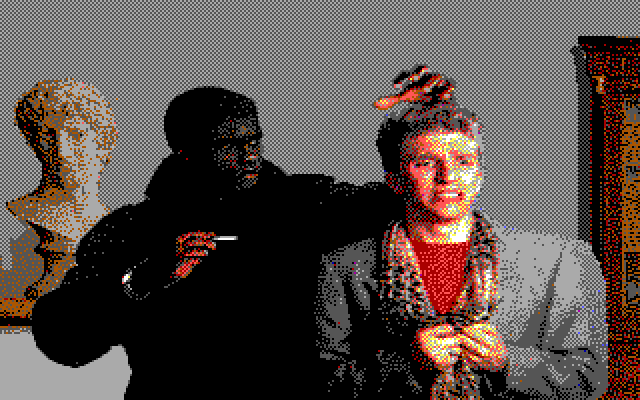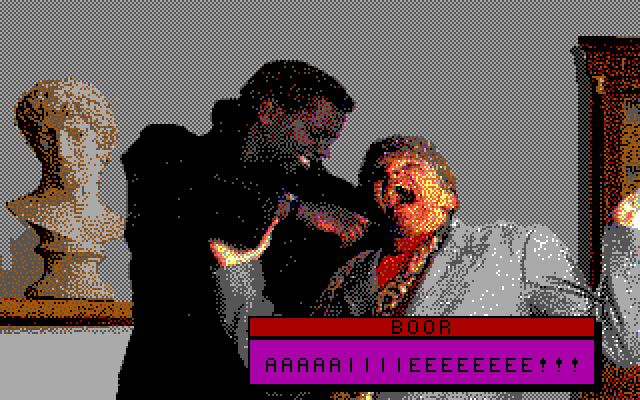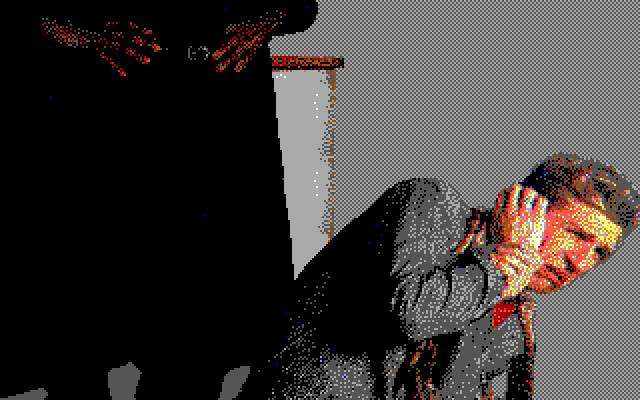 For some reason I can totally imagine David Warner voicing Vasto.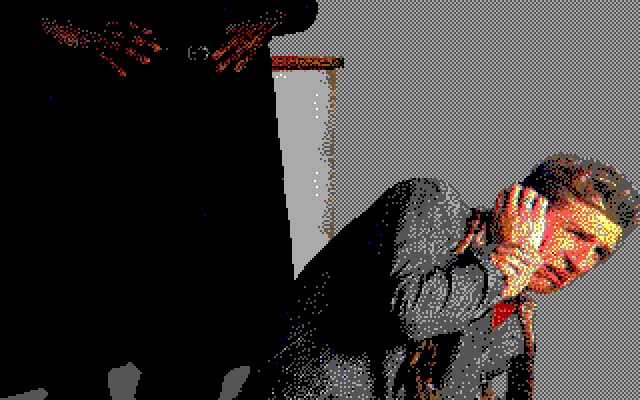 This should be turned into a smugface.

I should have known better than to trust Boor.
I'll handle Wolf. I have the perfect bait for my dear old friend.
Creepy pedophile detected.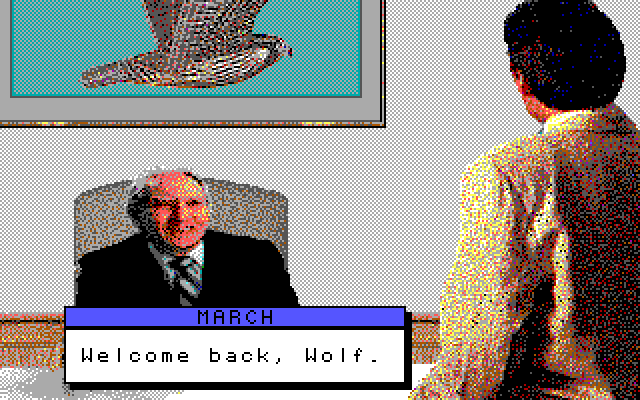 Any and all similarities to BLA BLA BLA PRISONER OF ICE BLA BLA BLA.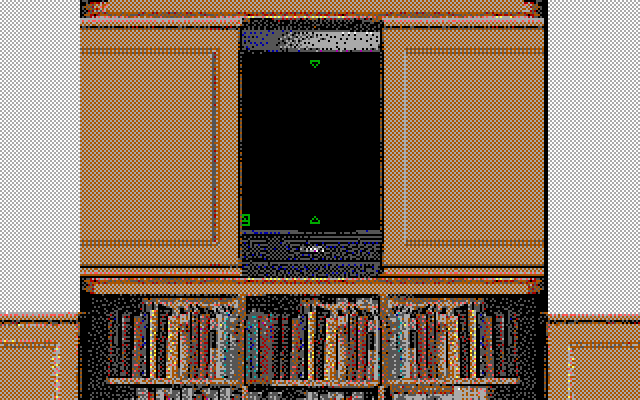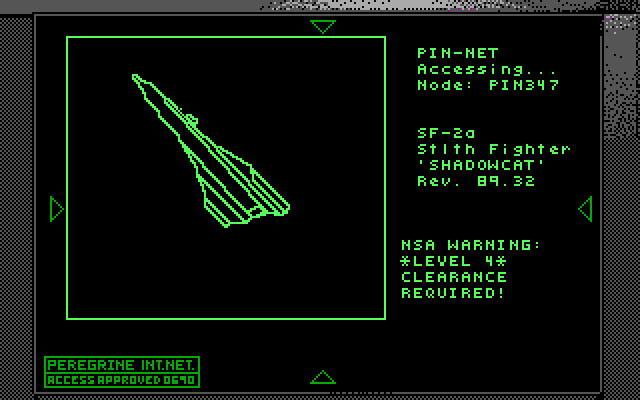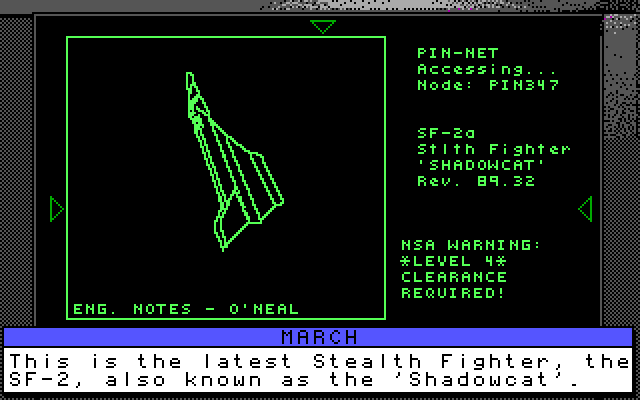 Radar absorbent materials make it very difficult to detect by radar.

You've been doing your homework.

The Shadowcat is more than difficult to detect, it's radar invisible.
And?

And, it's been stolen.
Hardly a surprise, since we heard Vasto talking about it minutes ago...
Stolen! How?

The SF-2 was taken during its final test flight.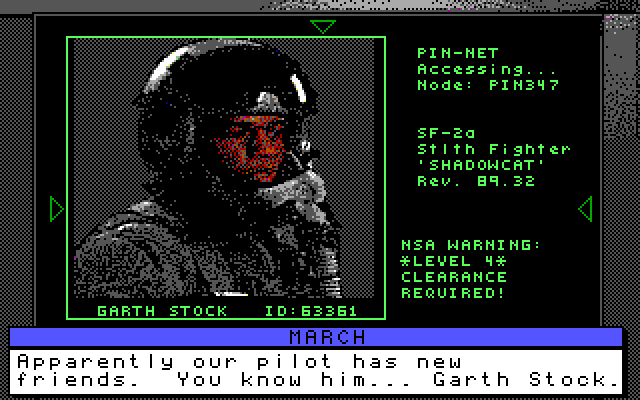 Black guy now has a name.
In before
racist
Codexian jokes.

I'm afraid it's true... and there's more.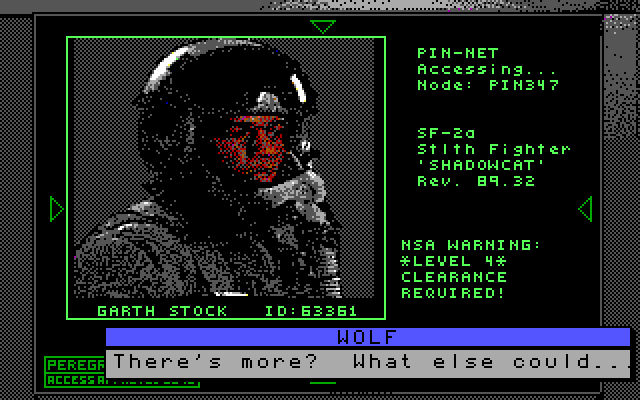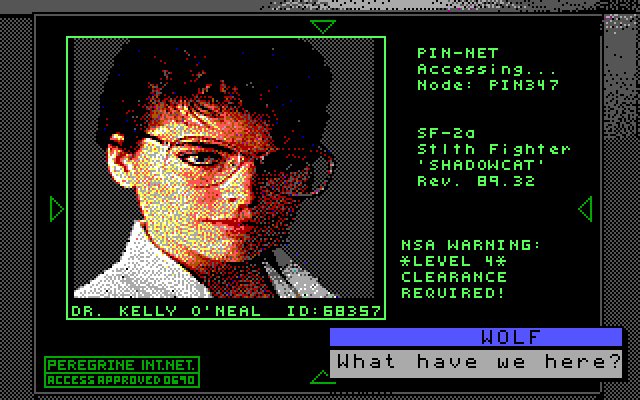 O'Neal's technical expertise is irreplaceable. Her absence will seriously hurt our program.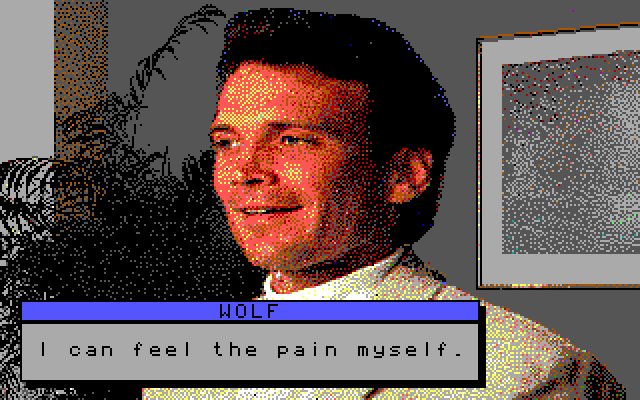 I'm taking bets on whether
Bond and the Bondgirl
Wolf and "Dr" O'Neal will have sex by the end of the
game
movie.

Control yourself, Wolf. This is serious.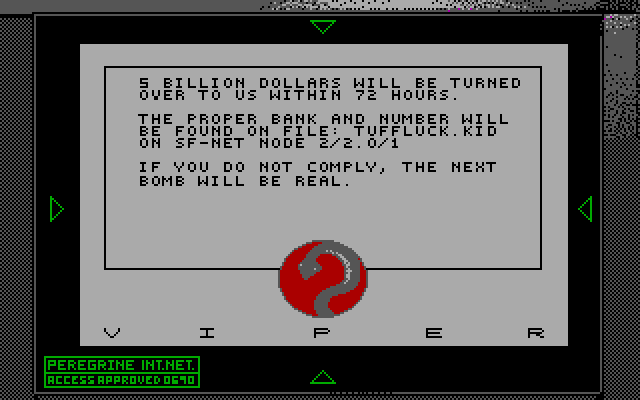 We must retrieve the Shadowcat before Vasto has another chance to use it.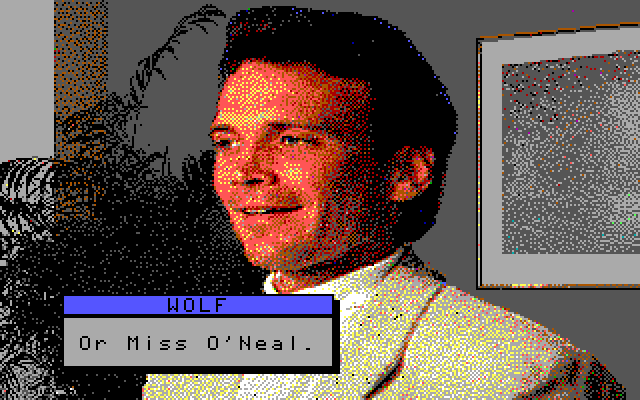 I have to admit the above part cracks me up.

Wolf, please be serious. The President is depending on our agency.
Do we have any leads?

Yes, a rather obvious one. Garth Stock was seen with Dr. O'Neal at the Sur La Mer Casino in Monte Carlo. Stock paraded her right past Horowitz.
Stock knows Agent Horowitz!
You want to send me into an obvious trap?

I'm afraid we have no other choice. Stock is our only lead to the fighter.

You'll be leaving for Monte Carlo immediately. Go to the Sur La Mer Casino.

Our man Horowitz is dealing blackjack. He can fill you in when you get there. Good luck, Wolf.
There's a mole inside Peregrine!
Yes. Monte Carlo. Immediately.
That's right, the Sur La Mer. At one of the blackjack tables.
Yes, the dealer's a Peregrine Agent.
No. That's all.
To be continued...