Joined

Jul 11, 2010
Messages

1,671
So, seeing as how the Ultimate Edition's coming out next year and Steam seems to be offering the entire game for tuppence, I thought I might as well try heading into the Mojave desert for a quick spin with all four of New Vegas' DLCs; Honest Hearts, Dead Money, Old World Blues and Lonesome Road - basically, give people a chance to see if they're worth bothering with or not.
We start in medias res, with a level 15 Courier; if you want to reacquaint yourself with the main plot, there's been about ten pages' worth of NV vanilla LPs and at least one, by RK47, that made it beyond Novac. You can find it here:
http://rpgcodex.net/phpBB/viewtopic.php?t=51374
Without further ado, then, let's begin by delving into the dusty canyons of Utah for a tale of new colonialism, holy lands, resurrected Van Buren content, the redemptive power (and limitations) of religion, and insanely tedious, transparently time-wasting fetch-quests.
That is to say -
Honest Hearts.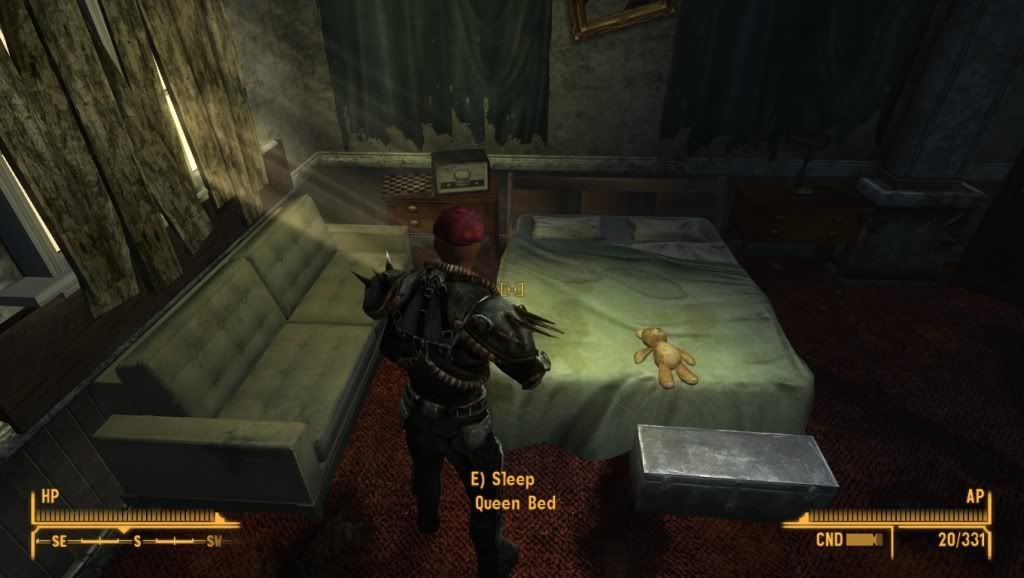 : Ugh...fuckballs. I know I've spent the past month trekking endlessly across the wasteland hunting the poorly voice-acted man who shot me in the head and left me to die, while uncovering his motives that appear to be of such great import as to concern all of the factions of the Mojave, but suddenly I feel like what I really want to do is wander off into an entirely separate stretch of America and do something completely different.
Fortunately, our hero has got wind of exactly the sort of job he craves; the Happy Trails Caravan Company are looking for mercenaries and dependable hired hands to help escort them to New Canaan. Best to head over to their HQ and enquire.
Of course, like all of the most reputable businesses, the Happy Trails Caravan Company runs its affairs out of a cave.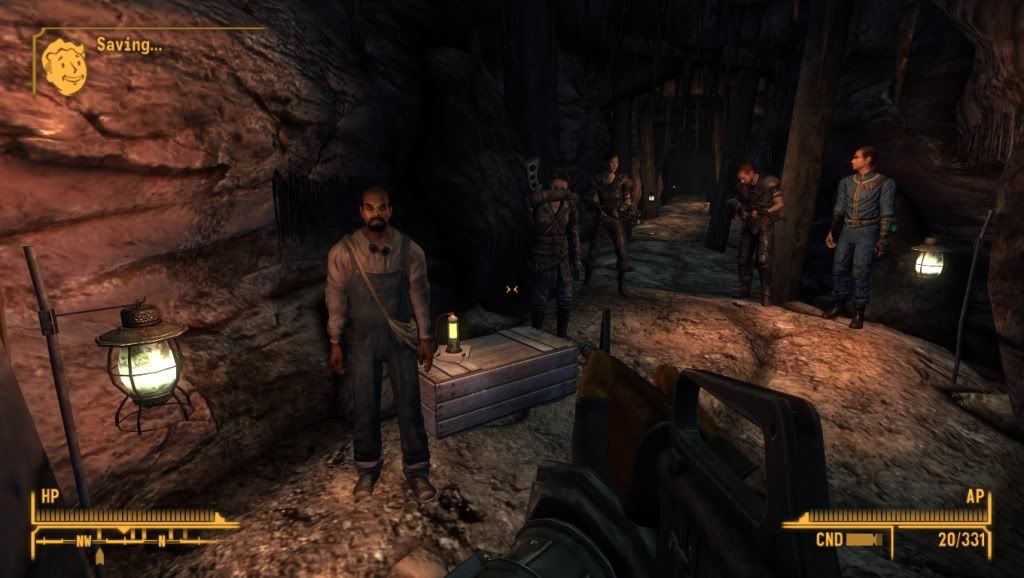 : Howdy, friend. Heard my little broadcast, did you? Yeah, you look the type.
: The job is simple. Help us get this caravan into Zion and find New Canaan. The pay is 25 caps per day, half up front, half upon return.

: If you don't know how long it's going to take you to find New Canaan, and you're paying me per day, how can you possibly know to pay me half-
: You'll get a bonus if we make it into Zion, plus another bonus if we reach New Canaan.
Jesus, this guy treats bonuses like they're worthless ways of simultaneously patting you on the back and marking out progress. Sort of like achievements, I guess.
: Oh, and don't mention the name 'Joshua Graham' to anyone. Ever.

: Who's Joshua Graham, and why shouldn't I talk about him?
: Just don't. It makes the New Canaanites powerful uncomfortable, and it scares the britches off the tribals.
: Don't talk about the Burned Man either, while you're at it. Trust me on this one, it's for your own good.
Nice bit of awkwardly-shoehorned-in foreshadowing there. Let's chin-wag with some of our fellow mercs.
Looking to join this caravan, huh? Looks to me like you can handle yourself.
This work suits me. I've tried staying in one place, but it never works out. Grew up in New Reno, and I couldn't put that snakepit behind me fast enough.
Maybe she knows Myron!
Imagine New Vegas if there was no Mr House-type fella keeping the peace, then give everybody a gun and a Jet addiction.
Yeah, she definitely knows Myron. Let's keep mingling; the other merc is wearing, curiously enough, a Vault suit and a Pip-Boy.

You looking for trouble, bud? I got plenty to spare, so watch your ass around me.

: So...er...what do you do around here?

: You want to know what I do, bud? Anything I fucking want! I'm one of a kind! I been places, see? And done things - lots of them! And when it's time to kill shit up? Hell, yeah, I'm a fucking storm of death!
It should be noted that, despite this spot-on skewering of the wish-fulfilment Angry Joe sensationalist-crap player-archetype, the New Vegas team will nevertheless in a later DLC decide to encourage the player to randomly detonate unexploded nuclear warheads jammed into the sides of cliffs because it's like, awesome to explode shit, bro.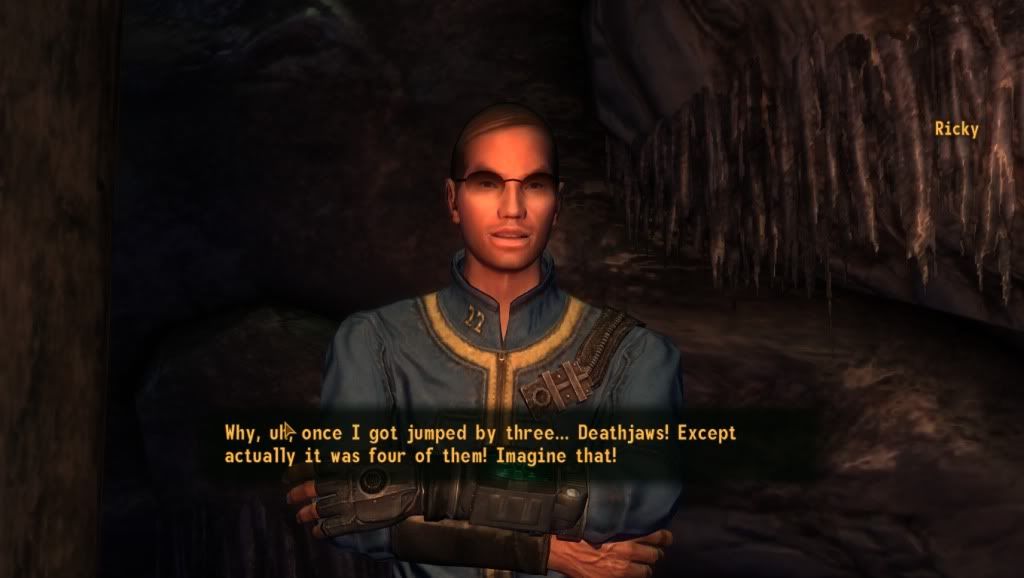 Oh, for fuck's sake.

: (Survival) Deathjaws, eh? Did you mean to say 'Deathclaws'?

No, no, you heard me right - Deathjaws. They're like Deathclaws - but bigger teeth!

Or there was that time one of them Steel Brotherhood assholes made the mistake of messing with me - last mistake he ever made!

Before he knows what hit him, I draw my 11mm machinegun and BAM! BAM! Right through the eyeslit in his helmet. DOA!
I'm pretty sure this was exactly the design process behind the slo-mo kills in VATS.

: (Guns) Too bad there's no such thing as an 11mm machinegun.

: There so is! Or maybe it was 9mm...or 10. Said I was good at killing shit up! Never said I was good with numbers.

: So I see you've got a Pip-Boy. Want to tell me about that?

: Sorry, the shit I do with it is so far over your head, be wasting my time trying to put it into words you'd understand! Basically, it makes me badass. More badass, I mean.
Right, that's it. Time to puncture this little prick's delusions.

: (Speech) I don't think your Pip-Boy's working. I'd better go tell Jed.

Try it! Your word against mine, fucko! See what happens!

: I'm convincing, you're not. He'll believe me.

...look, this is a sweet gig for me! Don't go fucking it up! What are you after, anyways?

: What I want is for you to scram. This expedition doesn't need you.

Fine! You win, asshole! Enjoy leading the expedition into a fucking ambush! I hope you all die!
Yeah, that
definitely
won't happen.
You can also blackmail Ricky into carrying some equipment for you, bypassing the 75kg weight limit. There's actually not that much point forcing him to leave, apart from for the skill-check XP; if he stays with the caravan, you do at least get to rob his corpse after the White Legs attack.
Anyway, having done our bit for the expedition by chasing away one of its core members, we're ready to set out for Zion. En route, Jed begins to blather:
: Road's slow-going ahead, so you might as well keep your ears open and listen to what old Jed has to say.
: A few decades back, folks in the NCR started to hear about a community in northern Utah called New Canaan. Didn't know much about them - except that they were religious folks. Sent out missionaries to talk to the tribes.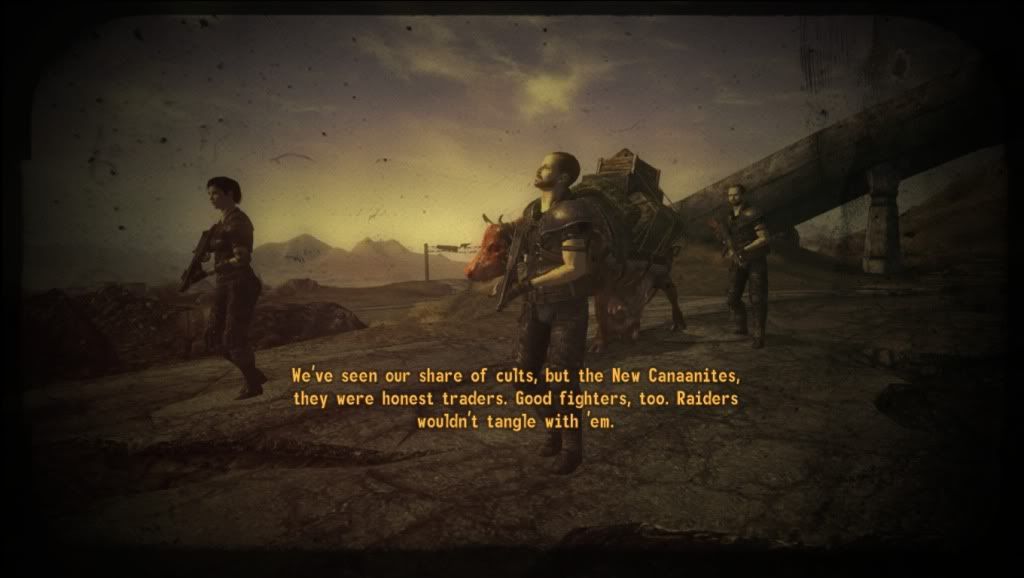 : But then the Legion arrived in Arizona. Turns out Caesar's first war chief, the Malpais Legate, was a New Canaanite. Joshua Graham.
Fuck you, Jed. So you're allowed to talk about him and we're not?
: Legend goes that Graham was the toughest, meanest son of a bitch in the entire damned Legion. New Canaanites wouldn't talk about him - suppose they were ashamed.
: Well, at Hoover Dam, Graham finally met his match. Hanlon and Oliver kicked his New Canaanite butt back over the river. Caesar had to make an example for the others - show that even at the highest level, failure wouldn't be tolerated.
: He had Graham covered in pitch, lit on fire and thrown into the Grand Canyon. People say he didn't even scream on the way down.
: Not long after, some of the slaves and tribals started to talk. Said Graham wasn't dead. Shouldn't have been any surprise. All this talk bothered Caesar, so he forbade anyone from speaking his name. Wanted to erase Joshua Graham from history.
: He got his wish. Joshua Graham disappeared. And in his place came legends of the Burned Man walking the wastes. Probably just a tribal ghost story. Maybe the Malpais Legate is dead.
: Or maybe Joshua Graham did crawl out of that canyon and finally found his way back home.
Interesting. Here's Joshua Graham as he would've been in Van Buren:
Joshua Graham (then referred to as the "Hanged Man") was to be a CNPC in Van Buren, Black Isle's cancelled Fallout 3. He was to be the first, and statistically best, CNPC that the player encountered, but was also very evil and in some ways make the game extremely difficult for players with poor negotiating skills. He was intended to be a "jinxed" non-player character, like the pariah dog.
The Prisoner was to encounter somebody hanged by the neck from a pole at Fort Abandon, obviously still alive and enraged. If cut down, the Hanged Man would tag along with the Prisoner. He was wrapped from head to toe in bandages as he had been burned all over his entire body. Save for the fact that he had a connection to Caesar's Legion and was particularly ticked off at them, he would not provide many details about himself.
Rescuing the Hanged Man would cause all the tribals in the region to be angry with the Prisoner as the tribals would blame him for future crimes committed by the Hanged Man. In addition, the Hanged Man may anger any tribals he encounters and try to butcher any Twin Mothers tribals he could find. Having him in the party would make dealing with tribals and some towns extremely difficult.
The most obvious difference so far is the simplification of the backstory, which you can't really argue against. Having Graham being both Hanged and Burned (and being called 'Hanged' when presumably his bandages would be a much more striking part of his visual identity) seems unnecessary and a bit muddled.
Anyway, the little caravan trail wends its way into the hills of Zion, and the Courier finds he's feeling stronger. Not only that - he now has access to a perk that perfectly suits a Codexian hero: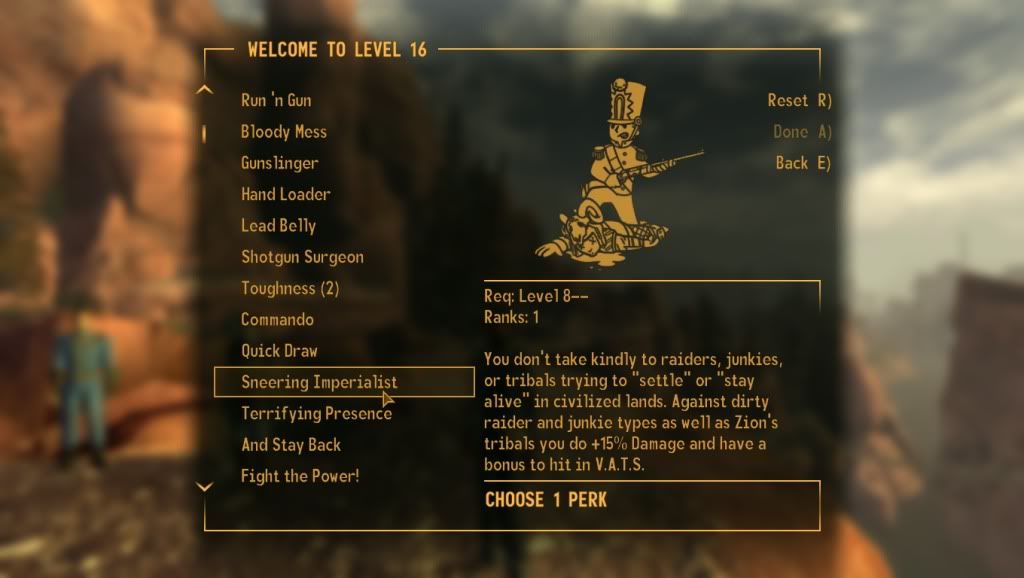 : Splendid.
NEXT TIME: Ambush! Colonial snobbery! Lunchboxes! Ranger hats! Bears!