Joined

Jul 30, 2006
Messages

5,933
Location
Some of you may recall, back near the end of 2006, I reviewed the Oblivion DLC with help from my good buddy Nick the Imperial. Now, most of the Codex has since slipped into tired apathy regarding Oblivion (myself included), but Astromarine's LP inspired me to download a ludicrous amount of mods and actually try once more to get some fun out of the game, and at the same time finally get around to that Shivering Isles review/playthrough I'd promised. However, I was kind of scared that playing as Nick would draw him back here again, and I'm assuming he's at least a level 74 Imperial Freelance Knight by now, so I'll be using a fresh new character.
Since I'm running FCOM (Francesco's, Martigen's Monster Mod, Oscuro's, and WarCry - what the fuck is with all these people naming their mods "MY MOD", they didn't do that in my day), which tone down the level scaling and make it so that some enemies actually pose a challenge, I'm assuming that venturing into the Shiverwinter Roofleisles themselves would be fairly suicidal straight from the off, so I'm going to make my way to it in a sort of roundabout, meandering manner, run through a few user-made quests and give a quick "review" of them in the meantime. There's one or two that actually sound fairly intriguing.
So, since Nick the Imperial has been quietly retired, who will take up his mantle as Imperial Freelance Knight and Champion of Cyrodiil? One powerful, ancient, capable of fighting fire with fire and...
Yeah okay I made kingcomrade the pink-haired Nord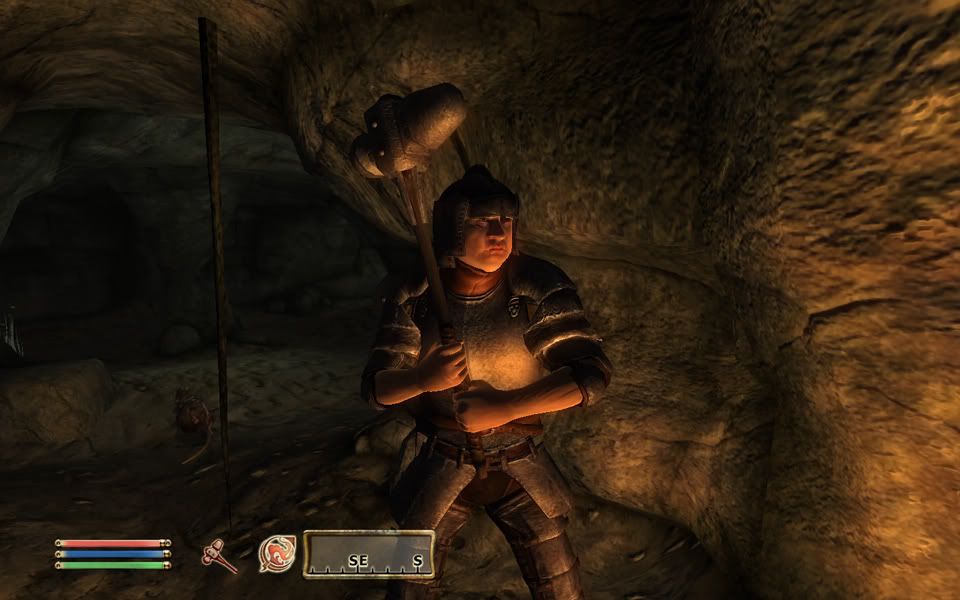 THIS IS AN AXE
Kingcomrade discovers a few new weapons and items on his trip through the caves, but nothing particularly interesting. Which is probably a good thing, given the penchant of modders to throw in silly shit like flaming swords and suchlike. I think there were a good few new items, all of which blend in fairly well, and while it doesn't take any great skill to blend in with Bethesda content it's still a plus point for... whatever mod actually added this stuff.
BETHESDA WHAT HAVE YOU DONE
And here we encounter our first, implacable foe: the unforgiving character limit.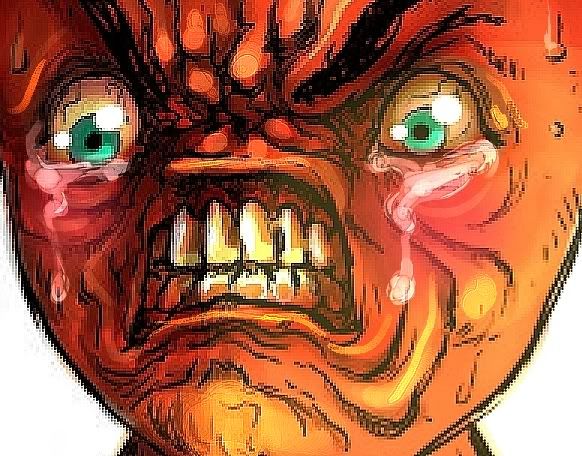 , as kc might say.
Anyway, kingcomrade makes his way out of the caves with no difficulty, and I can't deny that (first time playing a heavy character) it's goddamn satisfying hitting stuff with a huge warhammer. And I'm sure it will remain entertaining for at least another twenty minutes.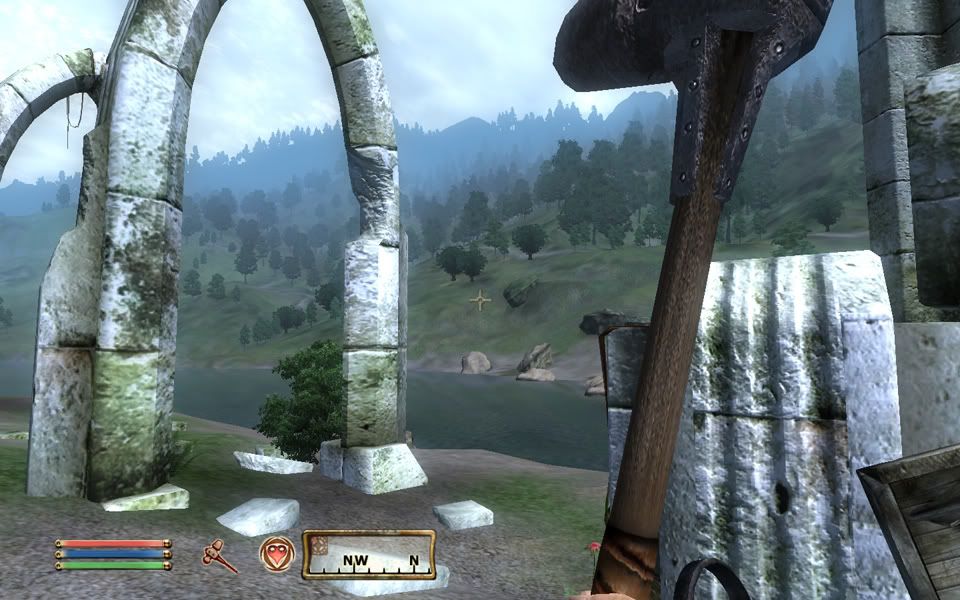 I swear those long-distance textures look a lot better than they did before
Alright, apologies in advance and bear with me for a bit, but I'm going to hit up a ruin first of all to see what it's like with being modded out the wazoo and all. Will get down to actual questing etc in the next update.
First level is mostly made up of bandits, and the changes are noticable immediately. Noticable, in particular, in that there's a huge hairy "bandit leader" who smacks kc all around the room with one or two swings, and who takes me roughly four reloads to beat. I then have to spend a long time attempting to navigate a group of tricky archers.
This ain't your grandma's Oblivion.
Anyway, next level down - or did I even go down a level, I forget - is mostly undead. Average skeletons are average and weak. Then I encounter this bugger.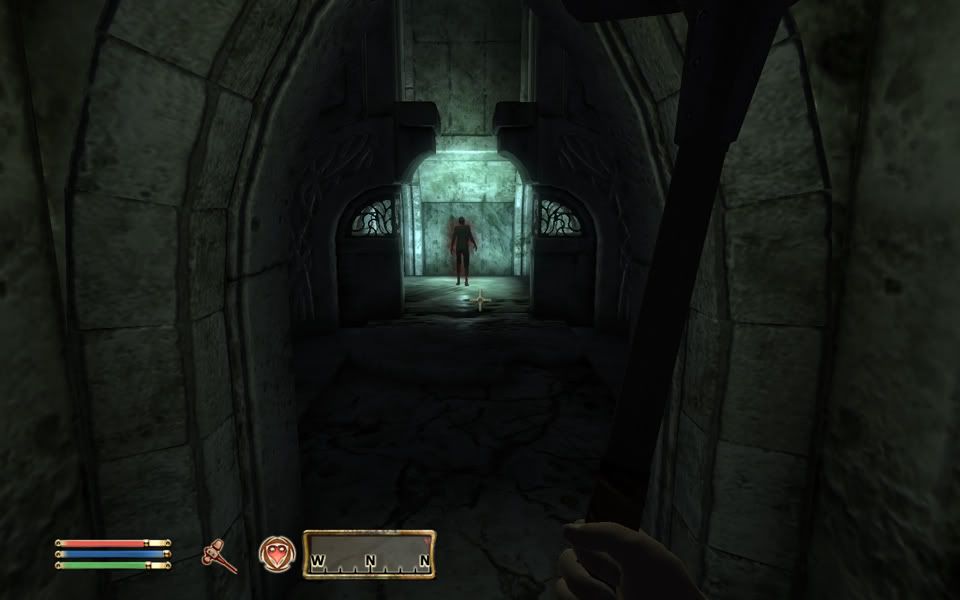 He's called a Postule or Pulser or Pornstar or something like that. He's a zombie who has red fumes coming off him, glows, runs really fast, and, for some reason or another, carries a fork.
Sufficiently unnerved, I continue further into the ruin. I enter a small room with four cage-type things around the side, each containing a fairly strong skeleton. Three are dealt with.
This one is not.
Giant, red, and carrying a huge fucking sword, he runs fast, kills me in one hit, and
can't be hurt.
I don't mean he's immune to normal weapons, there's no message telling me that; it's just that when I hit him, a damage bar doesn't appear. He can't be hurt.
Yeah I ran away pretty fast.
Anyway, by this point, I was genuinely starting to enjoy myself. The game basics were the same, the same stupid stupidities were still in place, but it was challenging, the AI seemed to be improved, and - partly because of the mindset I went into it with, perhaps, compared to "this is going to be the best RPG ever" and "I hate this game" on my first and second plays - it was exceeding my expectations and my horrible memories.
Either way, I was enjoying it. A bit.
And then this.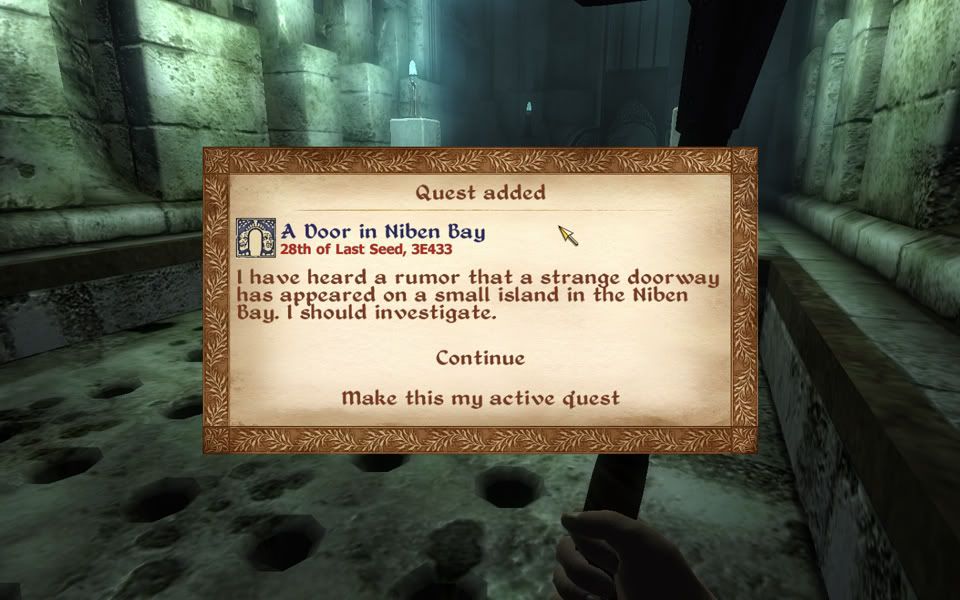 I heard... I'm in... I don't think I need to fucking say anything here.
Fuck you, Bethesda. Fuck you.
Anyway, trying to pretend that didn't happen, I enter another room where I get to open up various wall panels for items/enemies. I encounter a chest that, for some reason, I "don't have time to lockpick/bash". I encountered one of these earlier. I can access other chests normally, what's so different about these ones? Ah well.
Behind one of the panels, I encounter these.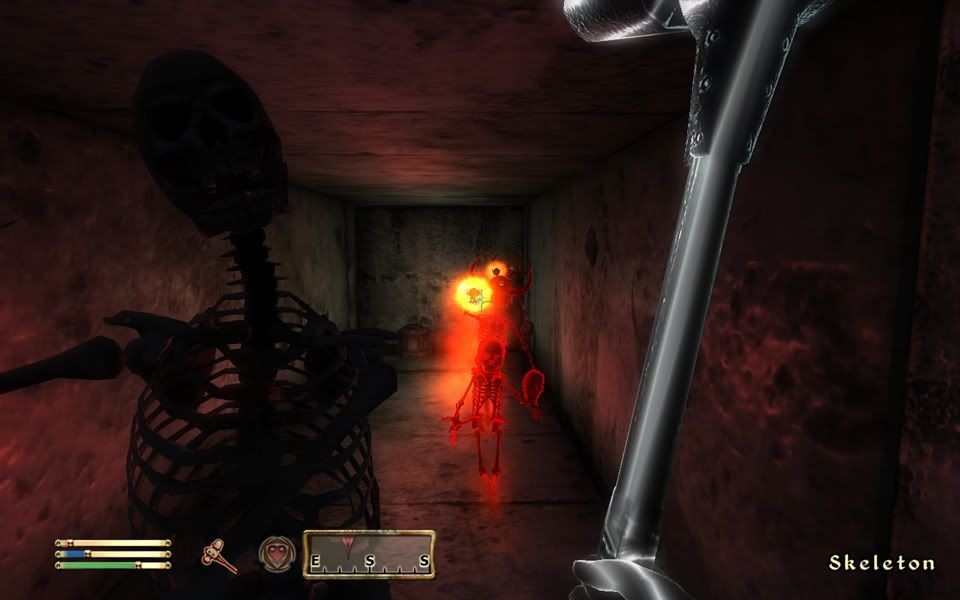 Hard to make out? Yes. Especially when they're raping your face in motion. Anyway, they appear to be comprised of one angry midget skeleton with a meat cleaver, and two other angry midget skeletons riding other angry midget skeletons and throwing fireballs and lightning at me. They're also all carrying skulls.
Look at it. The little bastard chibbed me when I was hiding from the mages. It's a fucking homicidal midget skeleton with a meat cleaver. That's amazing.
Continuing on, I ignore that particular wall panel and, having retrieved the Varla Stone of the ruin (1000-gold-value trinket), I begin to make my way out through the, ah, shortcut-type way. Along that route, there's a powerful necromancer - in vanilla Oblivion, he's alone, he's not very powerful, and he's easily done away with. With these mods, I'd put him on a level capable of enslaving whole nations, and he has a ghost bodyguard, who happens to have a ghost dog.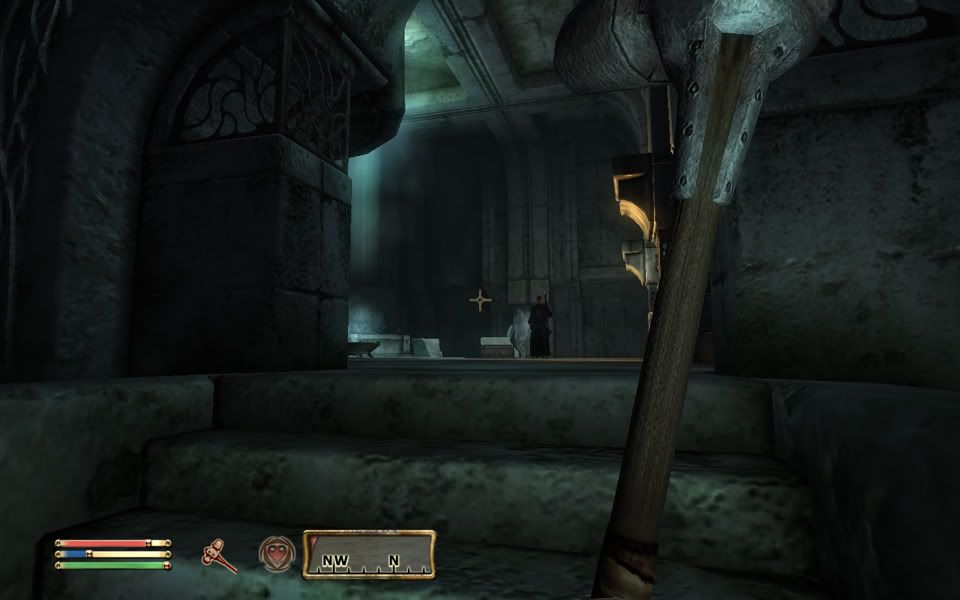 Now, this really does present something of a problem. I can't run past them, because the dog chases me down and eats me. I can't kill them, because the necromancer is a tank and the ghosts are immune to my weapons. I can't even lead them back into the traps behind me, because for some reason those refuse to work even on the necromancer.
So, citizens of Fair Codexia!, should I:
1) Drop all my loot and run for it
2) Go back the way I came (a very long and tedious process)
3) SOMEHOW fight them (please tell me how I could do this)
4) kingcomrade
Choices and consequences you bastards
Anyway, yeah, bear with me. I'll head to the Roofling Isles as soon as I get out, just to test the waters. Should at least make for an interesting experience, at least.