Joined

Apr 11, 2008
Messages

2,405
Let's play Silent Hunter 5!
Table of contents:
New updates:
Sebtember 20, 1942, Brest
September 30, 1942, somewhere in the Atlantic
Every now and again someone posts a thread asking whether or not Silent Hunter 5 has finally been modded into a playable game. There are those nay-sayers who quickly flock to such threads, claiming that it's a broken mess, and that it's not worth the trouble to mod SH5 when several years of modding have made Silent Hunter 3 and 4 great games. Wait another year and ask again, they'll tell you. In the meantime, play something else. Something that won't CTD every five seconds.
Well the time for waiting has ended, comrades! The game has been patched by the original developers, modded by an incredibly enthusiastic and persevering community over at Subsim, and this is my attempt to prove to you that SH5 is not only a playable game but also a fun and challenging experience. Only an occasional graphical glitch is still present, and no CTDs are to be found in my games.
Don your life vests and keep an eye on the depth gauge, 'cause we're going down, and we're going deep with Silent Hunter 5!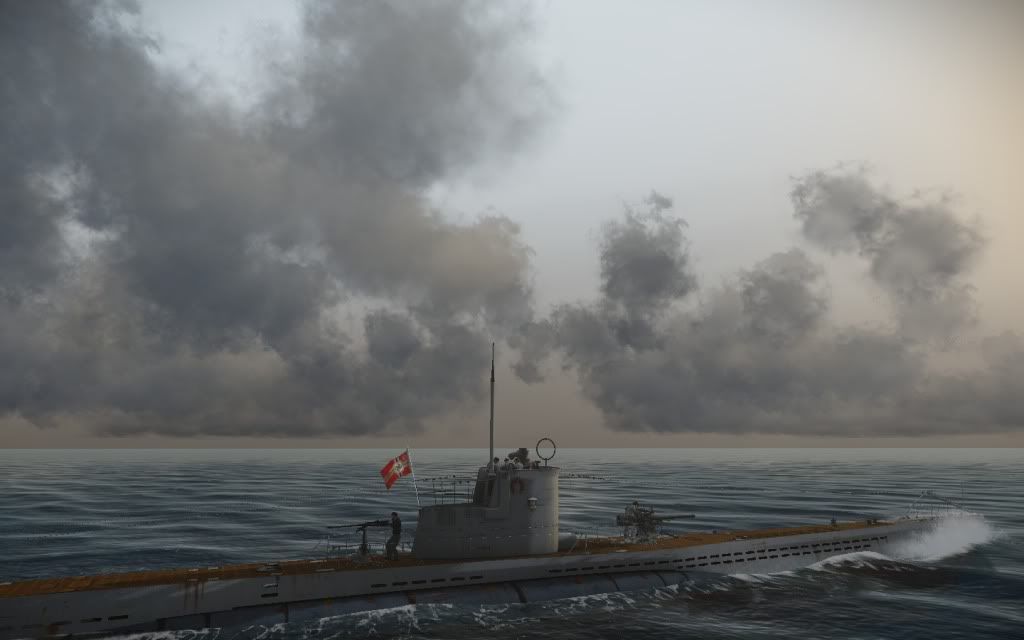 Okay, so now that you've been sufficiently hyped up, let's take a look at the mods I'll be using. I don't believe in modding SH5 into the ground with dozens upon dozens of mods, because this will eventually cause a problem that, depending on your mod soup, may be so obscure and difficult to reconstruct that no one at Subsim may be able to help you out. Instead of pouring countless mods into the game, I'll just use a small number of them, focusing on those that fix some crucial issues while completely disregarding the fluff mods that add a wetness texture to your sub, make flags more accurate, adjust the pitch and roll of your submarine etc. I'll just use the ones that actually make the game work.
Here are the mods:
Magnum_Opus_v0_0_1
Magnum_Opus_Patch_2
IRAI_0_0_30_ByTheDarkWraith
IRAI_0_0_30_No_hydrophone_on_surface_No_Aircraft_s potting
FX_Update_0_0_19_ByTheDarkWraith
NewUIs_TDC_6_8_0_ByTheDarkWraith
OPEN HORIZONS II_full
OH II Campaign Radio Messages v4
Dynamic Environment SH5 Basemod (realistic version) V2.1
Dynamic Environment SH5 Atlantic Floor V2.1
Dynamic Environment SH5 Undersea (temperate and polar) V2.1
Dynamic Environment SH5 Waves (realistic version) V2.1
Dynamic Environment SH5 Sleet For Winter Campaigns V2.1
Grossdeutscher Rundfunk With MilRad
TheDarkWraith_DC_Water_Disturbances_v2_0_SH5
Speech recognition MiTons NewUI
The speech recognition mod is really good and quite handy. Just make sure you don't use it when your time compression is turned up high or it might crash your game.
You can find these mods hosted over on Subsim, or simply by googling their names. Some of the users have nice modlists linked in their signatures, like mia389 or 0rpheus. They are prominent posters so you'll come across them eventually.
You'll also find video tutorials on how to install mods on Subsim as well as tutorials on strategies used in the game. The community is very positive and helpful so feel free to ask them anything. Just remember to be polite. If you have any questions, let me know.
Enough talk, let's see what this baby can do.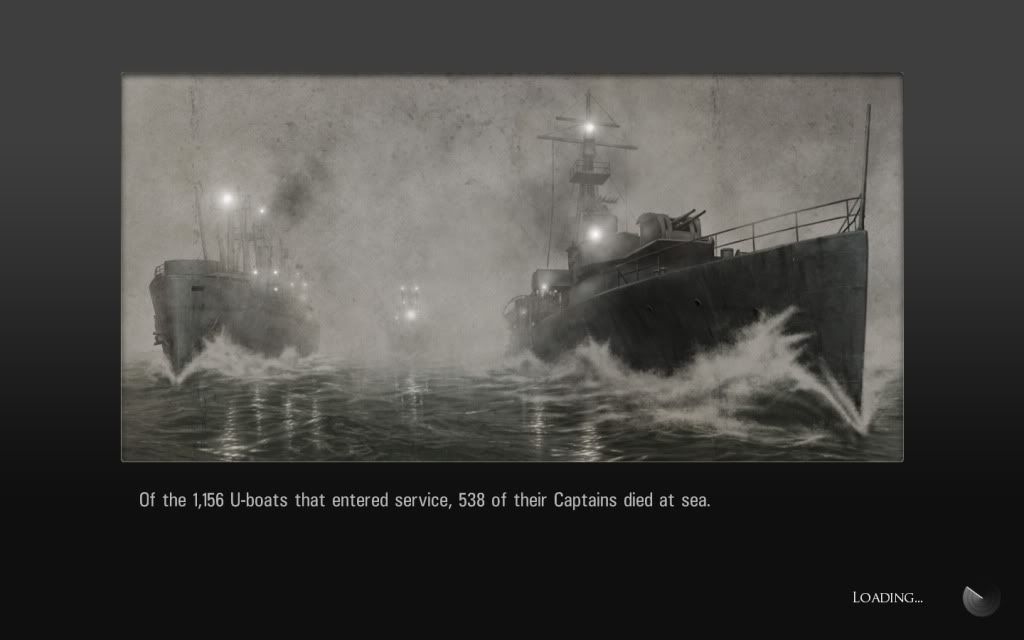 Yeah, thanks for telling us, game.
After the loading screen we find ourselves in a hangar in Kiel. This is our base of operations for now, and in case we need to upgrade our equipment or request a mission we have to address the officers nearby.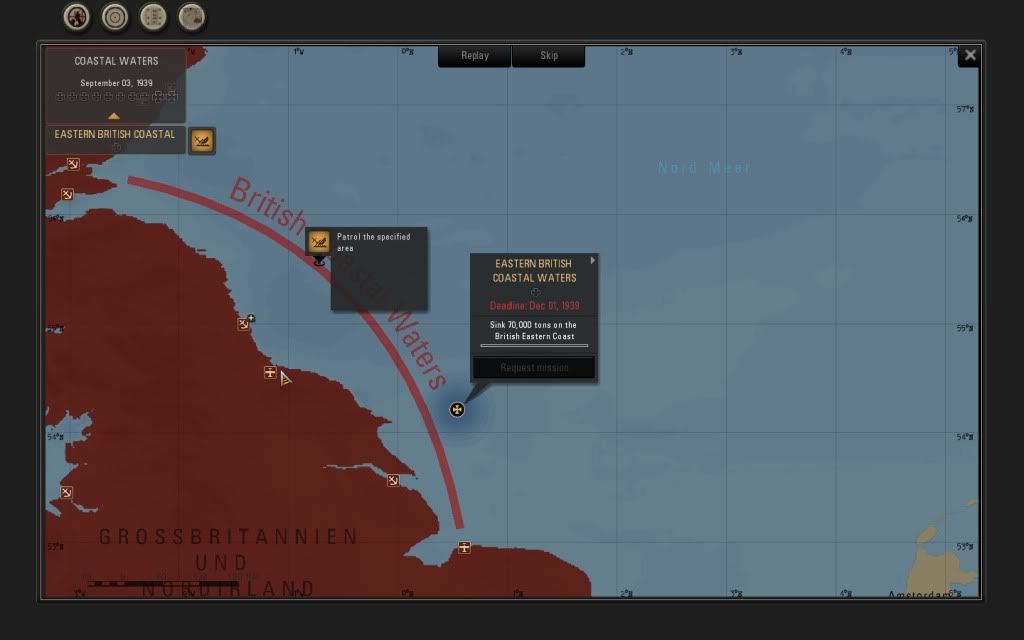 Our missions is to sink 70k of merchant shipping by December. It may sound unrealistic, but most of the merchant ships will be defenseless at this point in the war.
I set the realism to 96%, meaning that everything is realistic except the external camera.
We'll be playing as Dark Underlord, the lord of the dark depths.
Setting our engines to ahead slow, we slowly roll out of the bunker.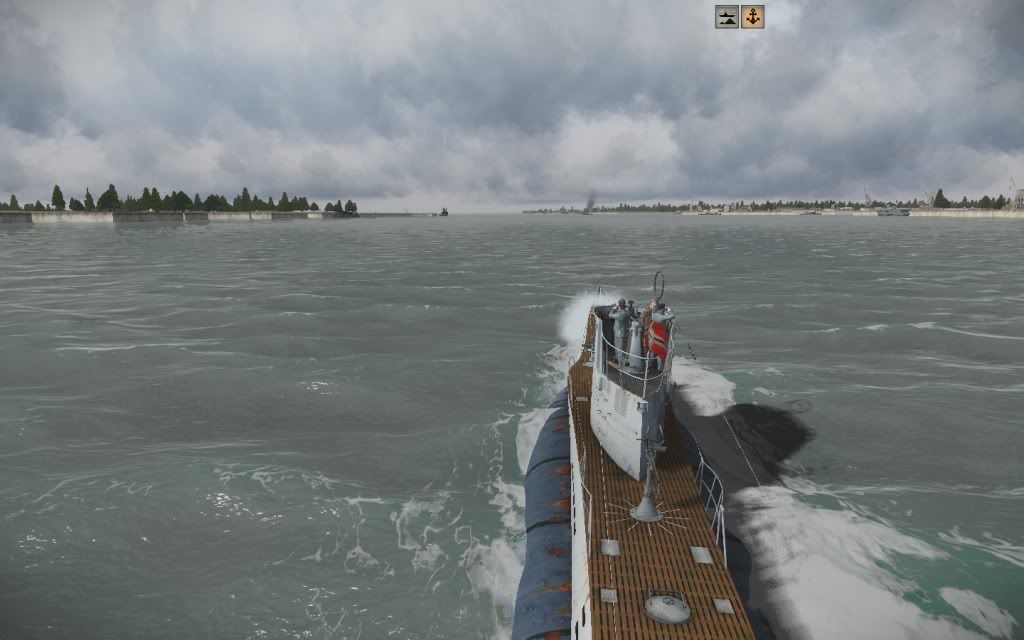 The world awaits out fail. We shall deliver.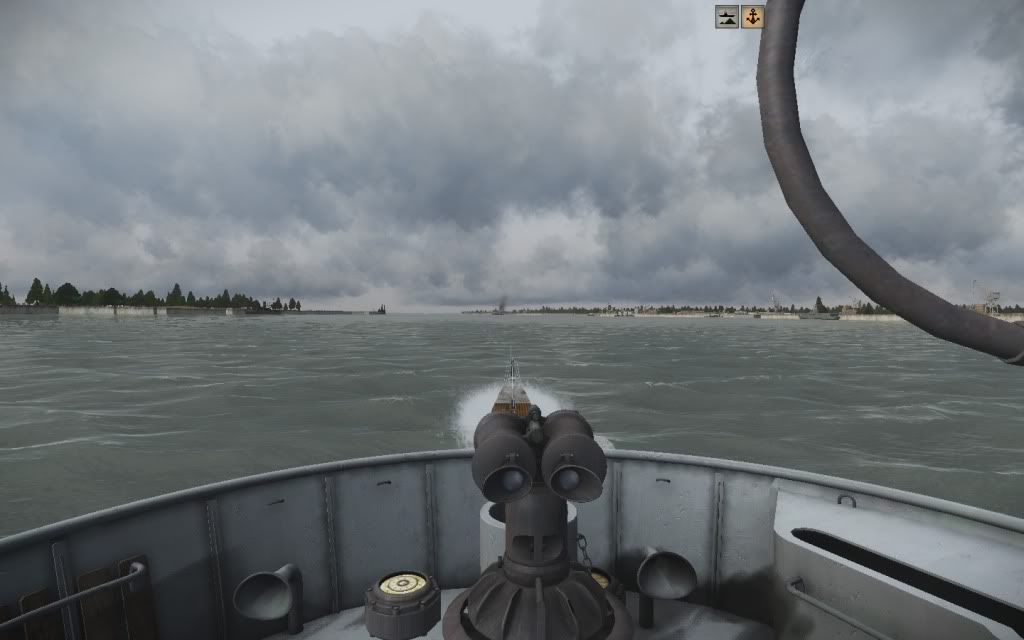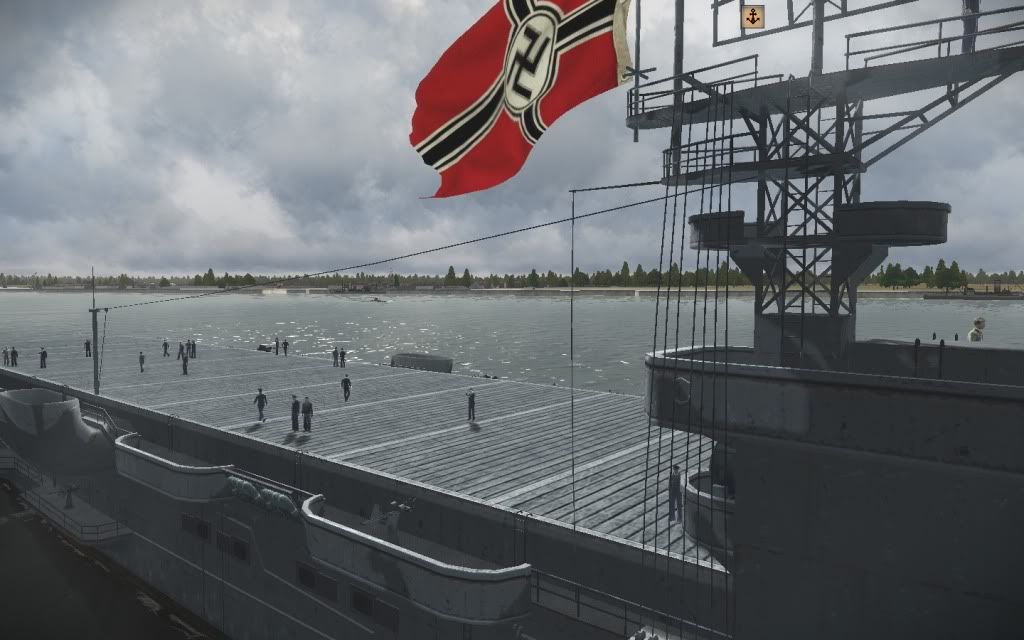 We wave back to the tiny people milling about on the deck of that carrier.
It takes us forever to sail out of the Kiel harbor, but there are sailing scripts that have been modded in. You just pop one of those babies onto the list, activate it, and the ship sails itself out.
Somewhere north of Denmark a hostile ship is spotted. I decide not to spend our precious supply of torpedoes on its meagre tonnage, so we shoot it with the deck gun.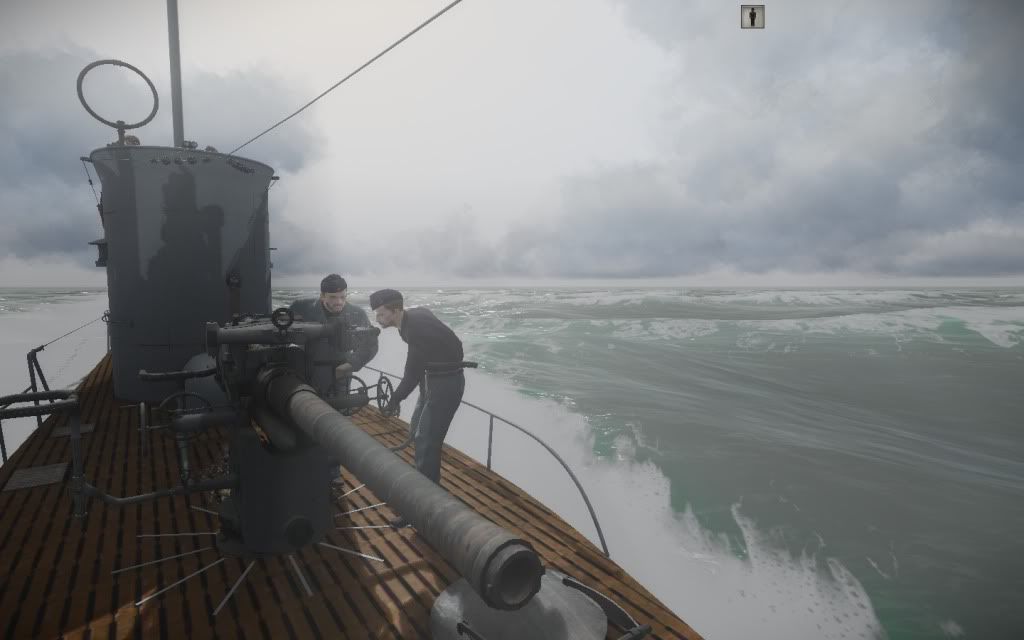 Glorious victory! Oh shit, wait was it even hostile
I dive after its sinking hull and take a look at the flag. It was Norwegian, so I look it up on this useful little chart. It says AL next to Norway, so I suppose that means it's one of the Allies, while friendly ships are marked as Ax for the Axis powers. I think. I hope so.
Your sub can receive messages, and while most of them are from your HQ, there is a chance that you'll intercept someone else's message. In the above shot we intercepted the message from our target's crew informing nearby friendlies that they're abandoning ship.
We turn our backs to Fatherland and sail into the North Sea, heading for Britain. We are greeted by huge waves and fog.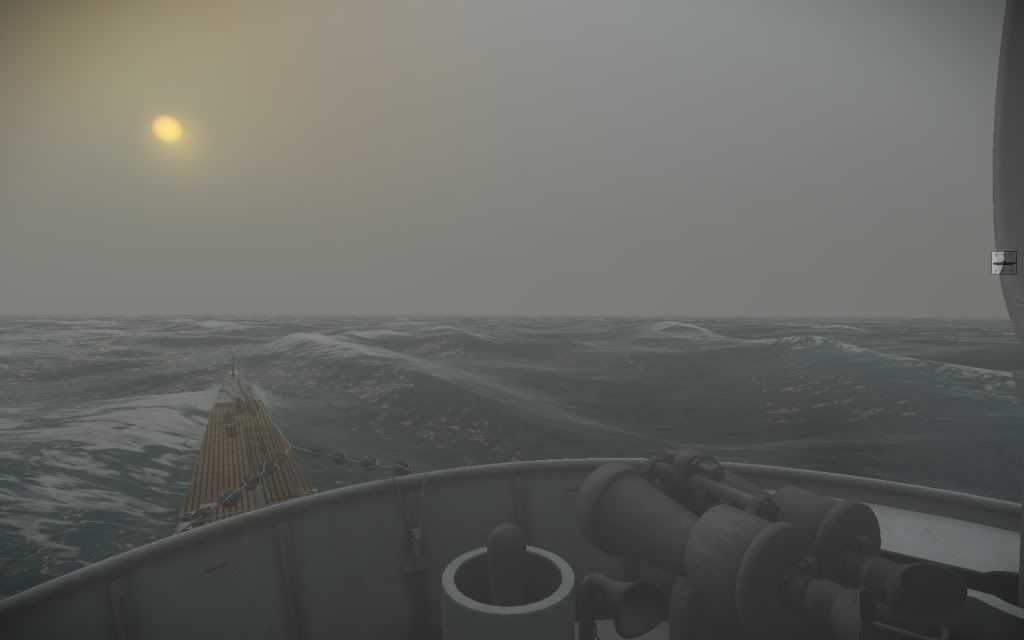 The fog is getting thicker. We dive a couple of times just to make sure we're not missing anything. The hydrophone doesn't pick up anything, though.
It's getting pretty lonely out here, guys. The sea is eerily calm, and we're not spotting any targets. Where did everybody go?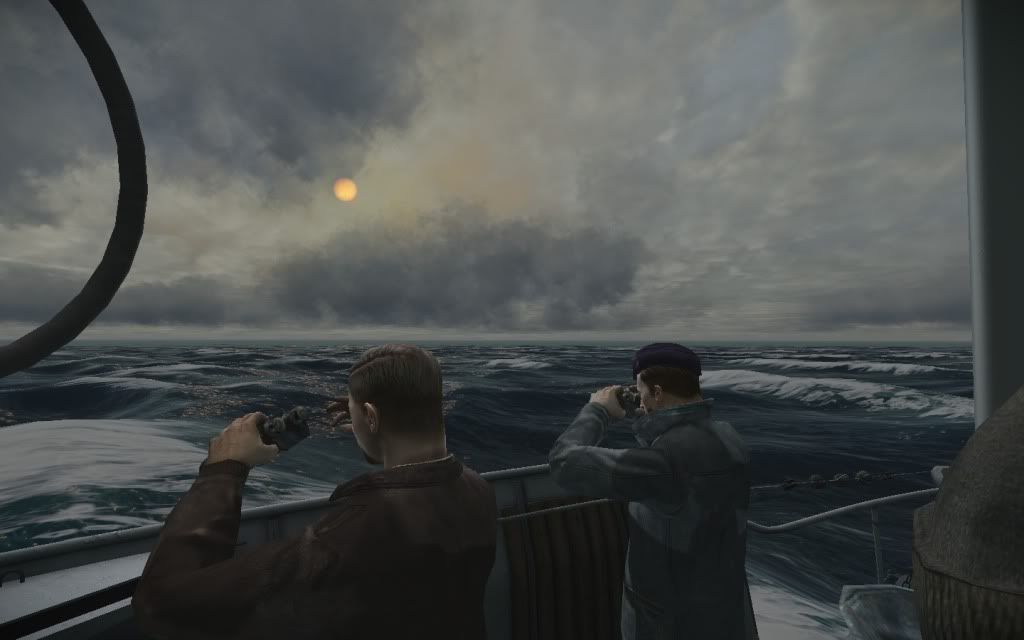 Of course, as soon as weather starts to turn ugly, the hydrophone notices something. We're quite close to Britain now, so it's risky to stay on the surface. However, we haven't seen anything for so long that I decide to go for it. My watch officers clamber up to the deck and gaze out across the horizon, but the target is too far away to identify it.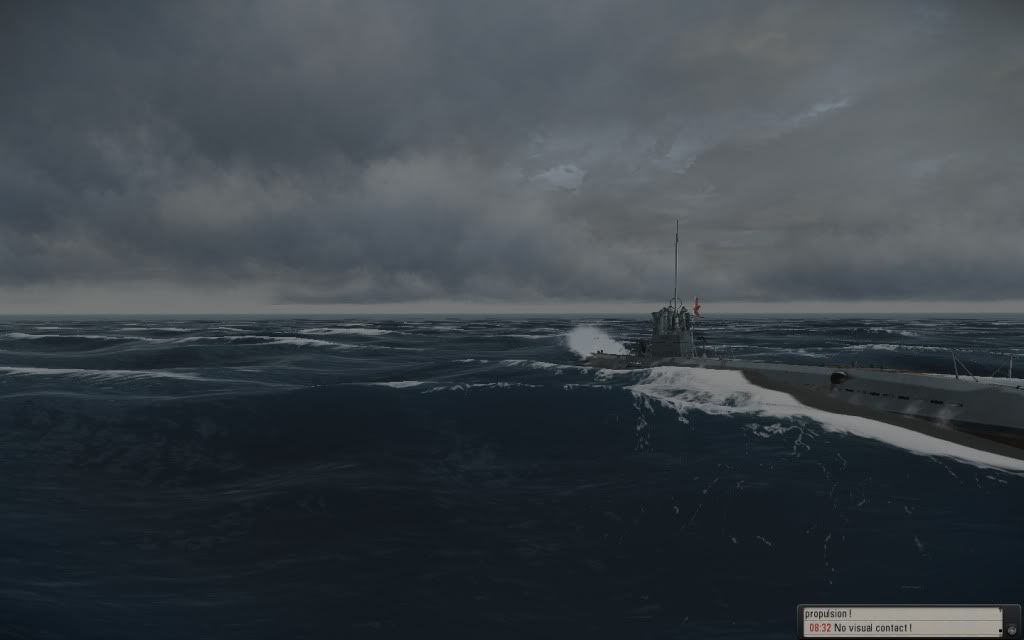 Let's catch up to it, shall we?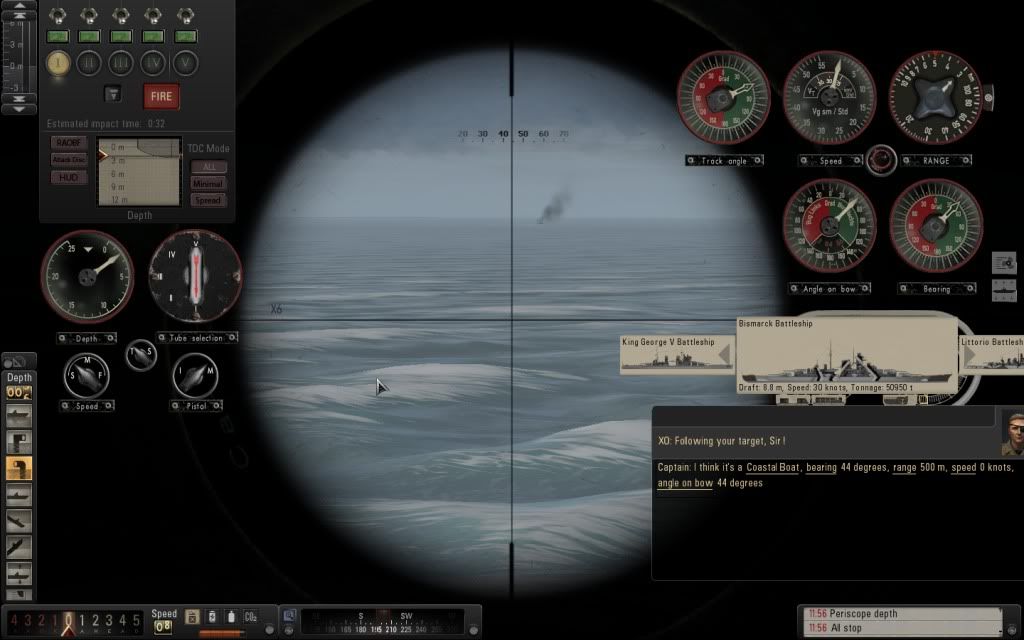 Oh christ, I forgot about those damn coastal boats. We've exposed ourselves for this shitty thing, risking everything for a thousand tons at best. Let's turn back to our original course and forget about th- Wait, what's that sound? Oh shit
CRASH DIVE!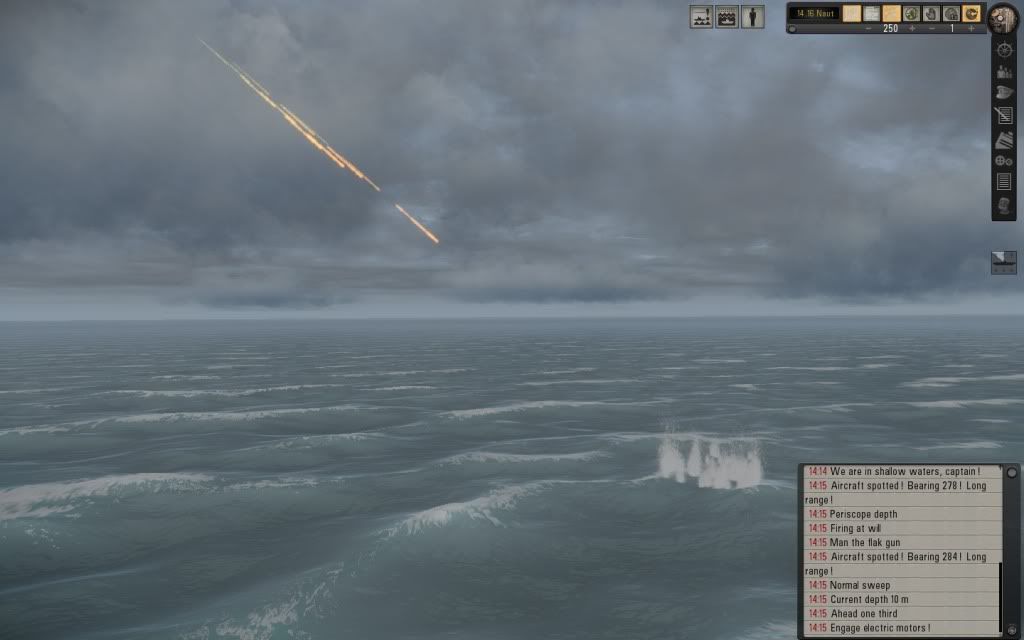 The bastard strafes us, but we're good, we're skinking. Except there's nowhere to hide in 20 fucking meters of water, so maybe we'd actually be better off on the surface, fighting him off like real men.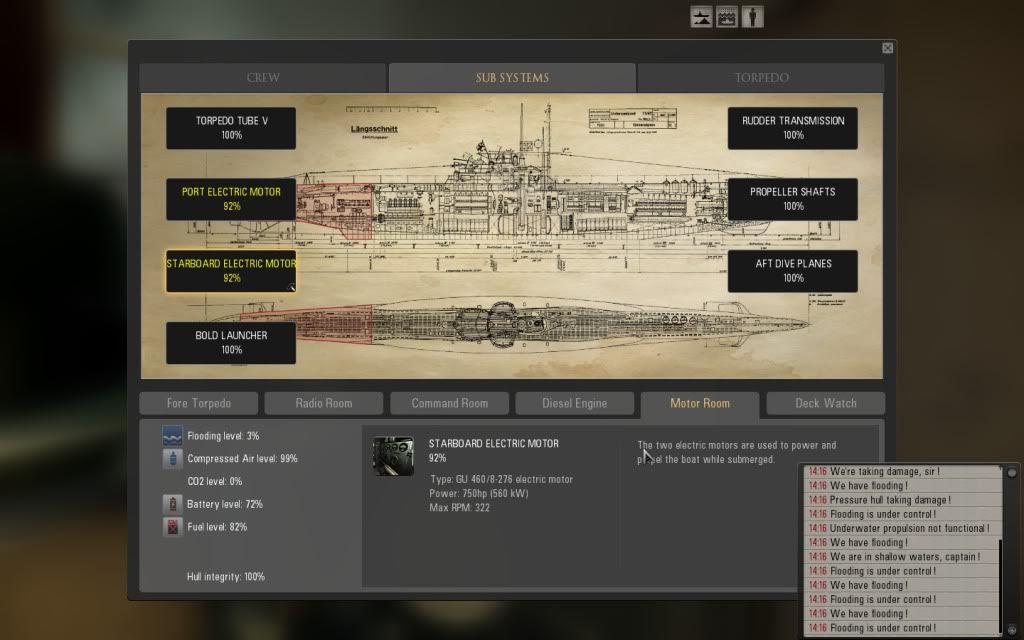 He drops the bomb and the entire ship rocks, valves loosen and several compartments sustain damage. We have flooding, but guys are working on it. The damage seems minimal, thankfully. Hull integritiy is still at 100%. But what if he returns or, even worse, brings some buddies along? Let's run away while fixing our sub at the same time.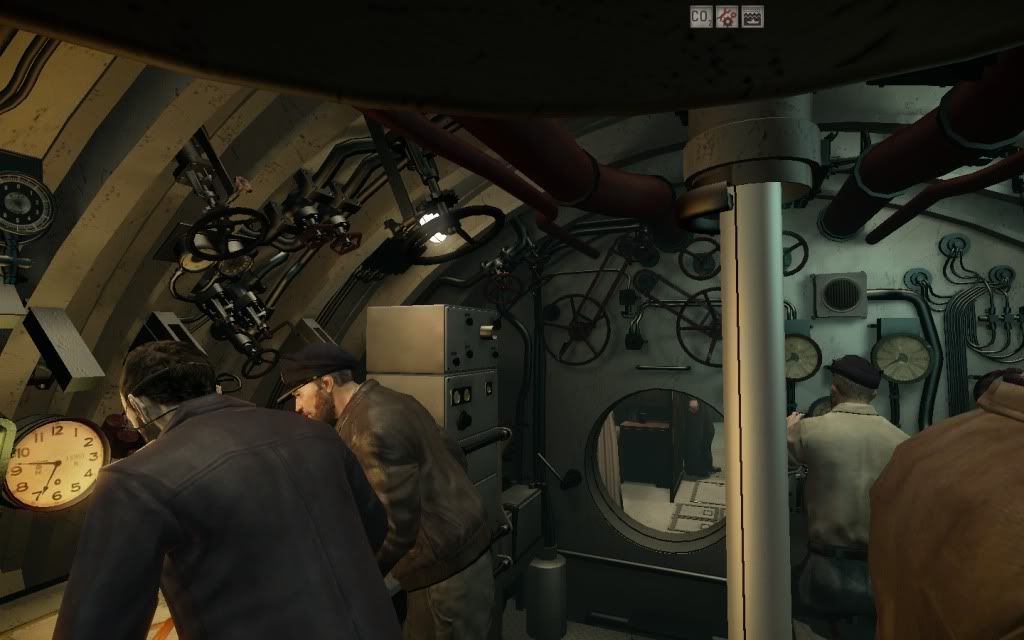 We slowly crawl away, making sure not to raise the scope so as not to alert any aircraft searching for us. Nothing is heard above. I think we're good.
Once all the repairs are done we surface to get some air. The sun is setting so we stay surfaced, looking out for any evening traffic.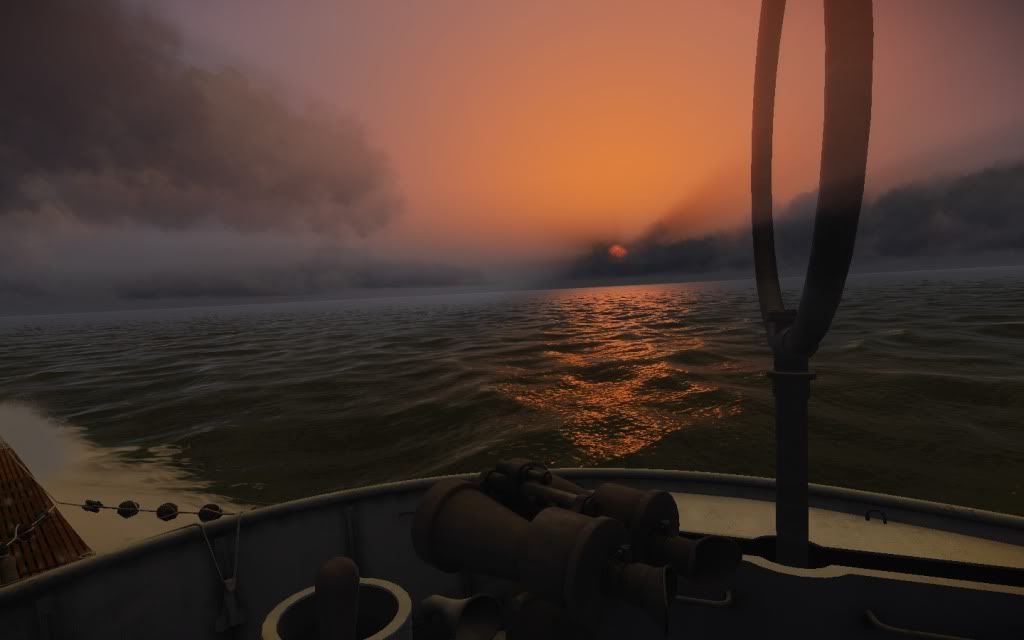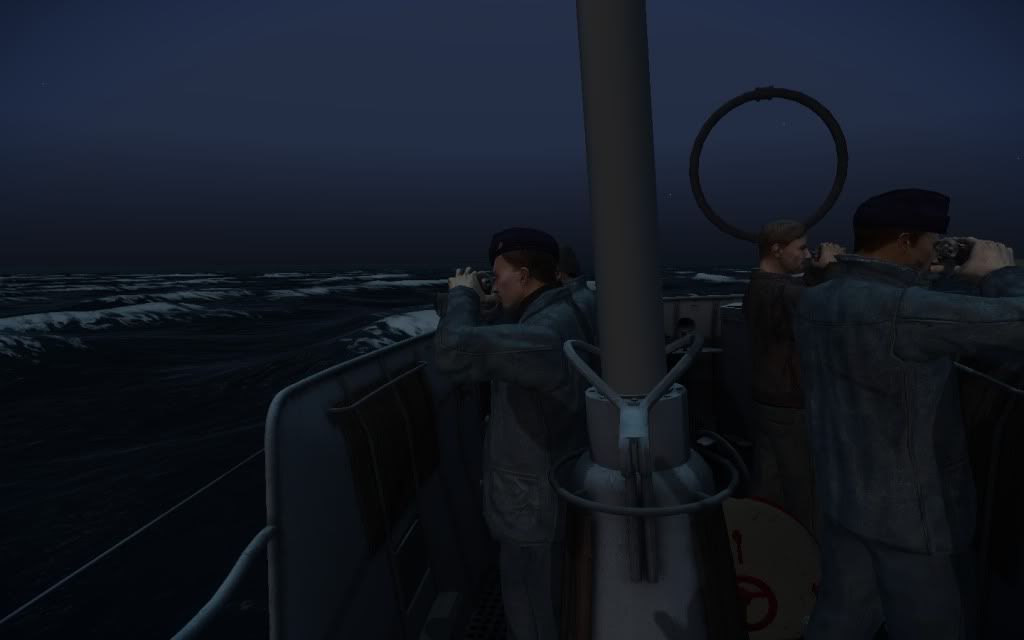 Later that same night something is spotted. I plot the target's course and then turn to intercept it.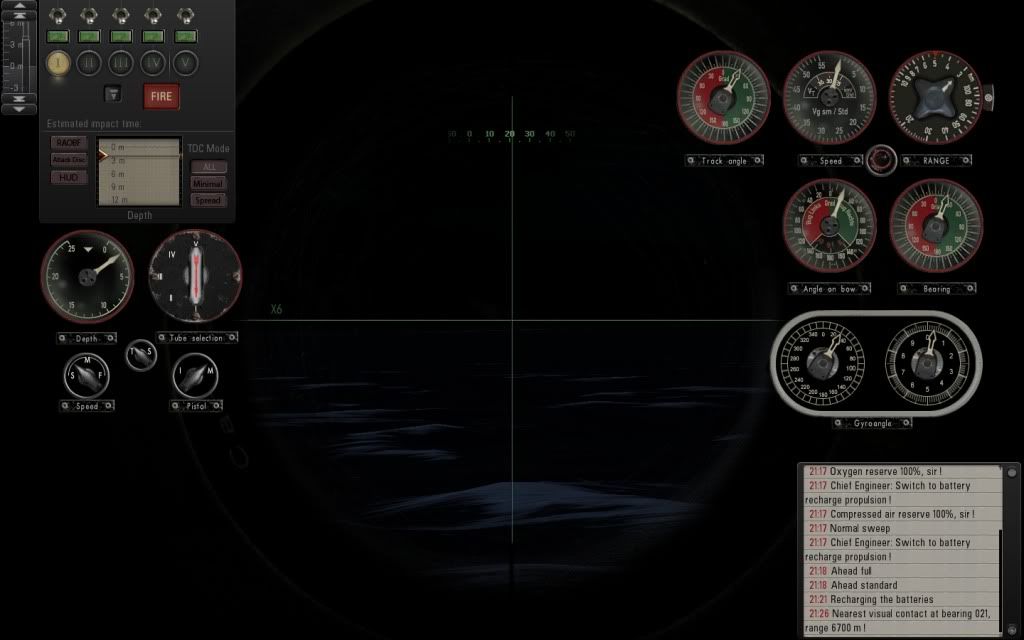 It's a real merchant this time. I dive once just to check its sound. Turns out we have two contacts on the hydrophone. Hopefully the other one isn't an escort. The crew is ordered to man the deck gun.
Balls of fire rise from the ships. The special effects aren't really all that good, but they're passable at a distance.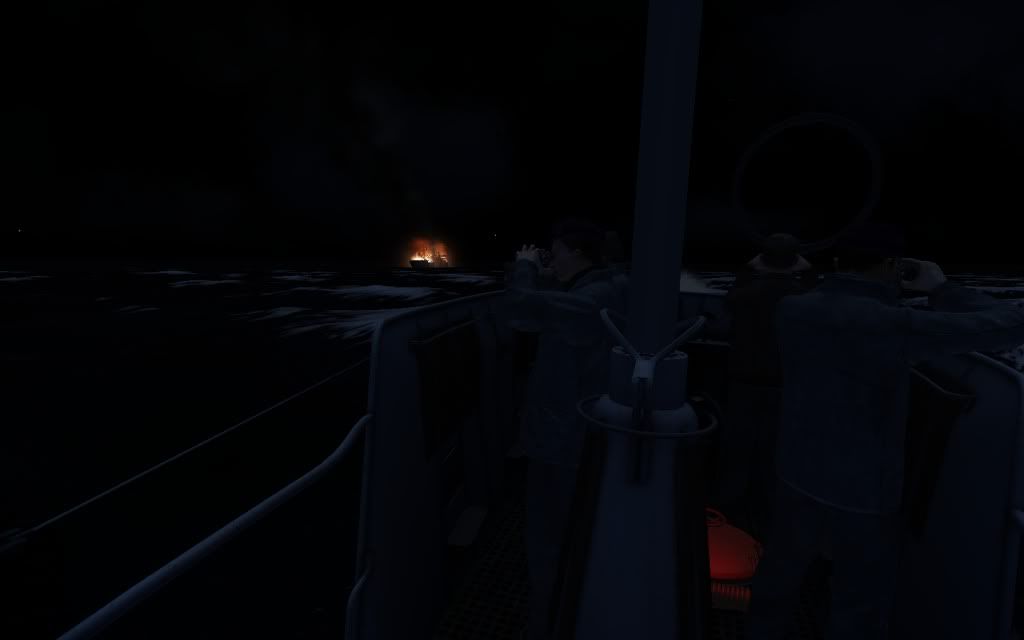 Feels like that scene from Das Boot. The two burning wrecks are left behind, illuminating the night.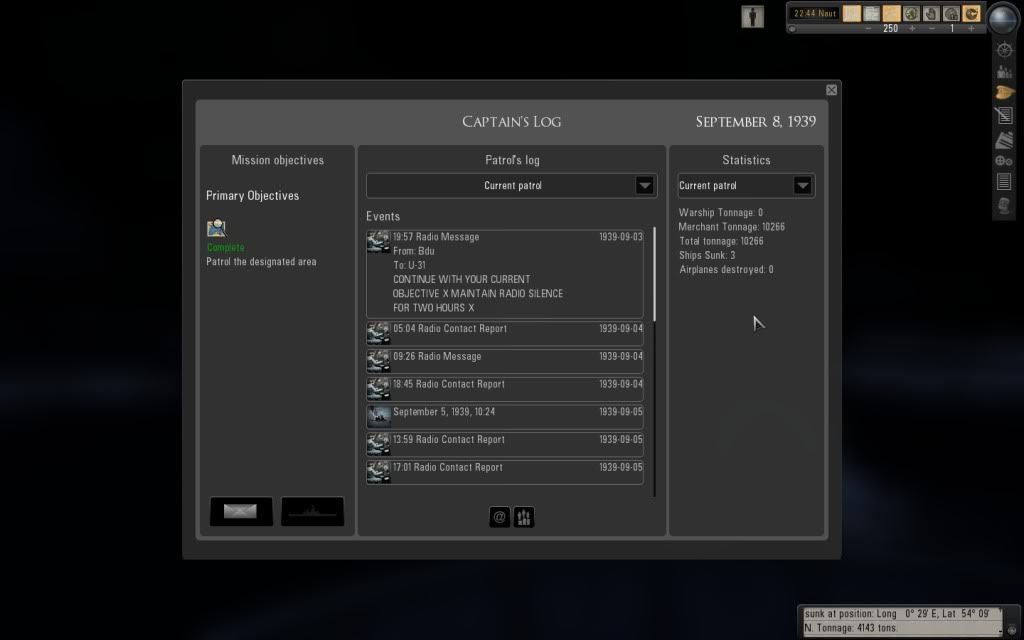 Our current tonnage is listed on the right. As you can see, we've officially finished our first patrol so we're free to do whatever we want. We should probably return to base, but I'm not going home with just 10k.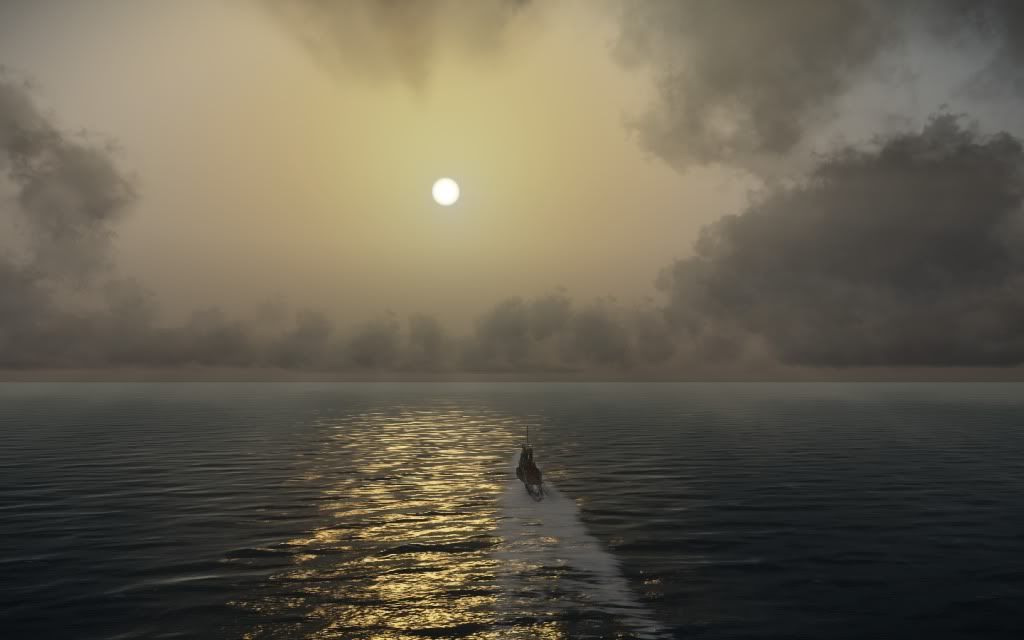 We remain on the surface for the rest of the night, looking for targets. None are found, so we decide to dive during the early hours of the morning.
The day is spent underwater, sleeping or listening lazily to the hydrophone. We surface again as sun sets, only to be greeted by some pretty ugly weather.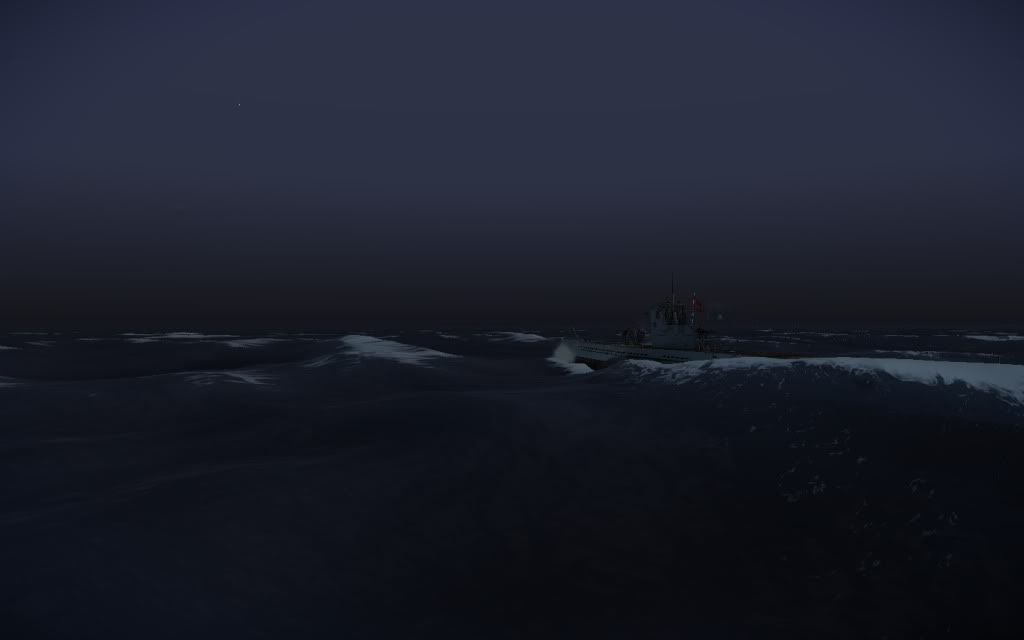 We sail north for a change and just as we're passing a harbor we spot something on the horizon.
It's a big column of ships, and none of them seem to be escorts. I plot their course and get into position, they're heading roughly in my direction, so I just sit tight and wait.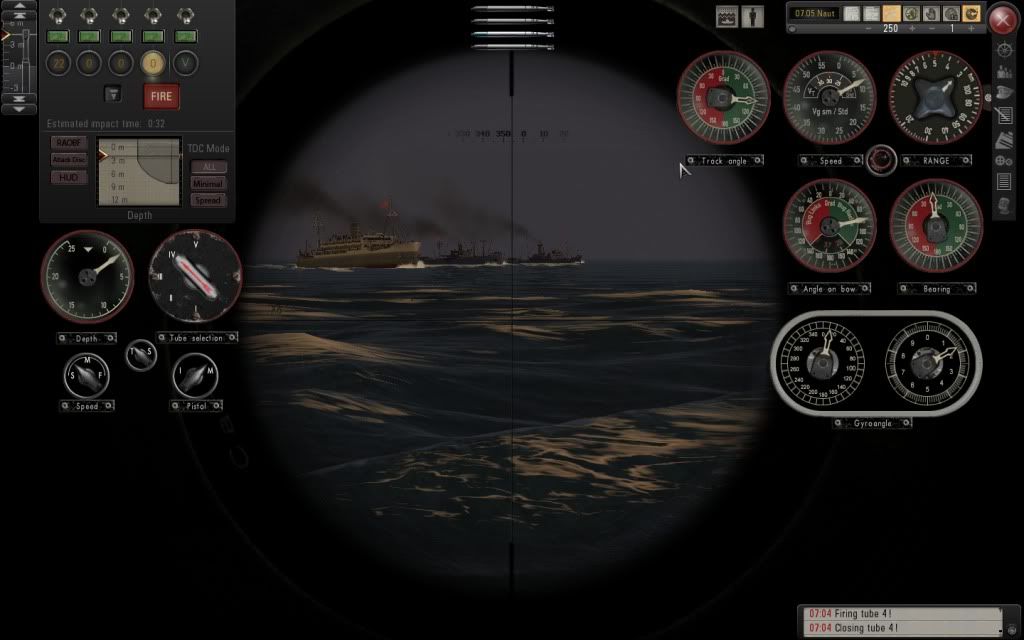 They're sailing parallel to each other so it's kinda tricky to get more than one for me. I focus on a single target instead. I have yet to take out anything using a torpedo, anyway.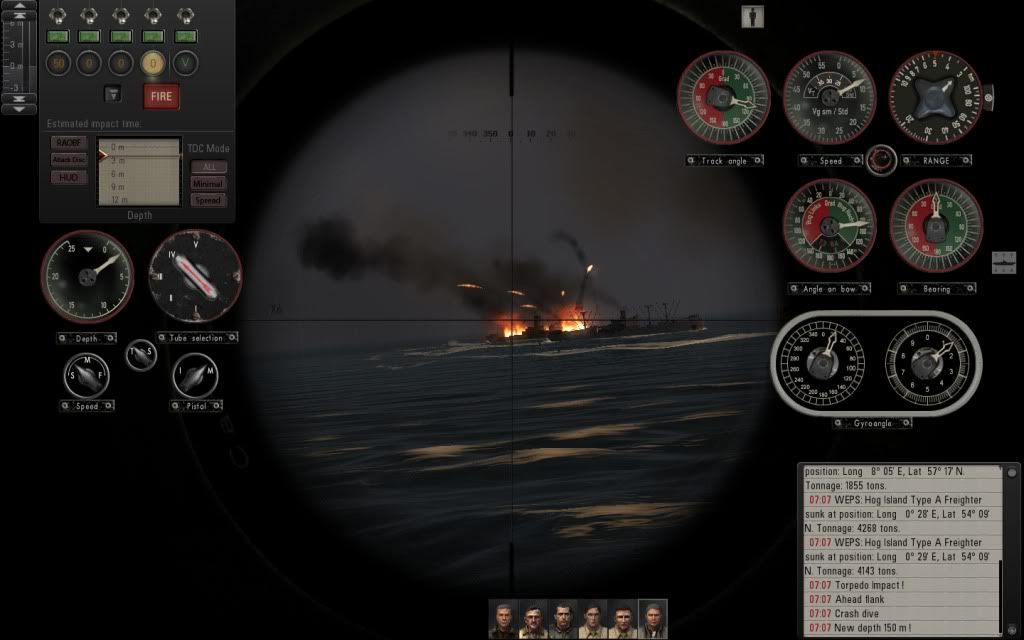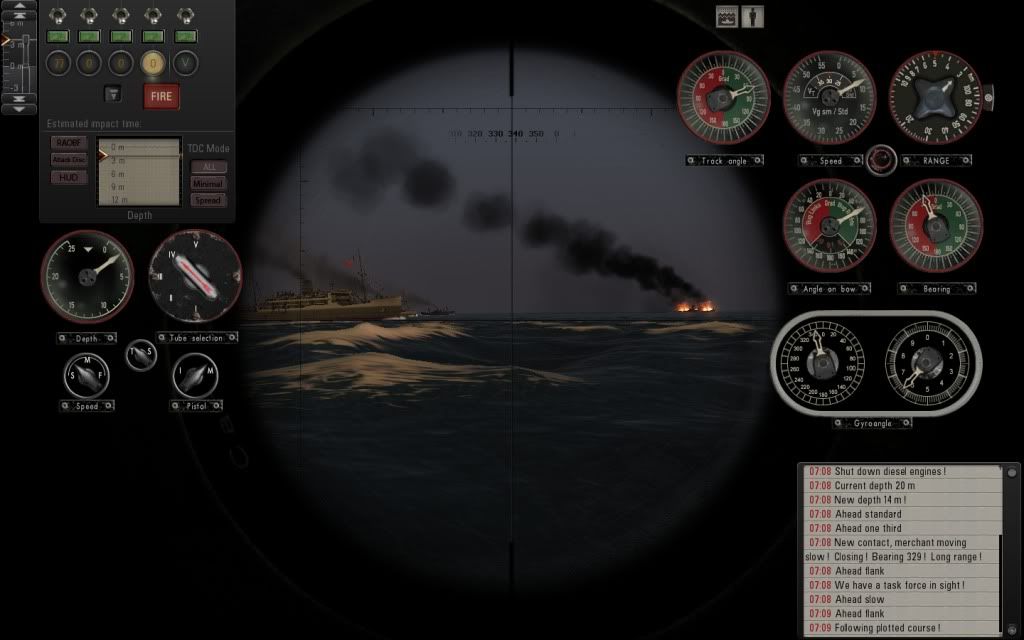 The attack is a success, but the columns have immediately started to crumble so I order my crew to surgace the sub. We'll mop up with the deck gun.
I'm busy shooting at a troop transport when a shell whizzer over my head. What the hell?
One of the merchants is armed! And he's less than a mile from us. Dive, god damn it.
We dive unharmed. At least the troop transport is sinking. The kiil is soon confirmed.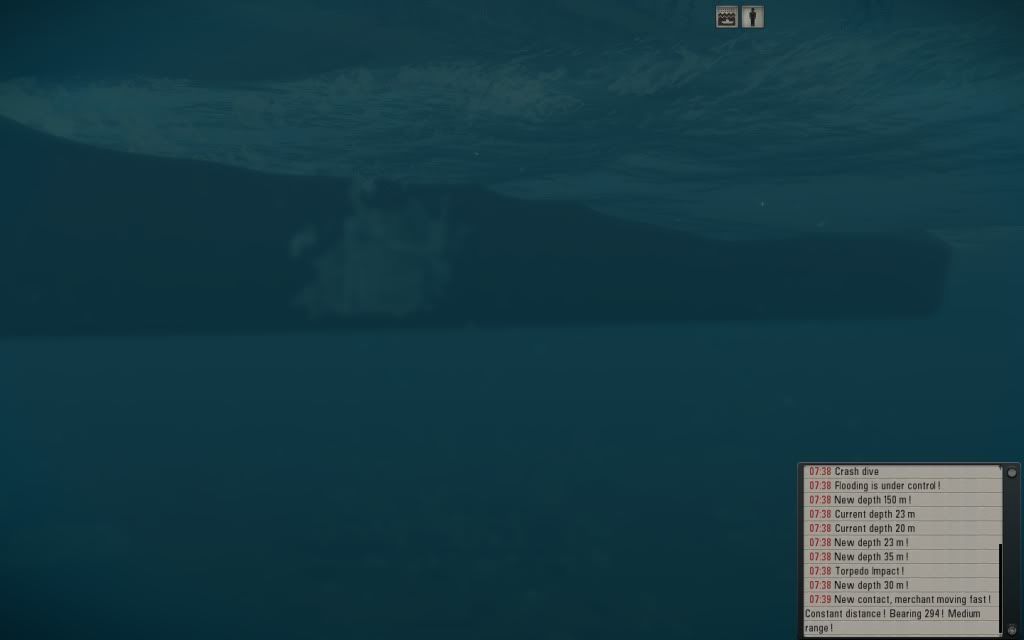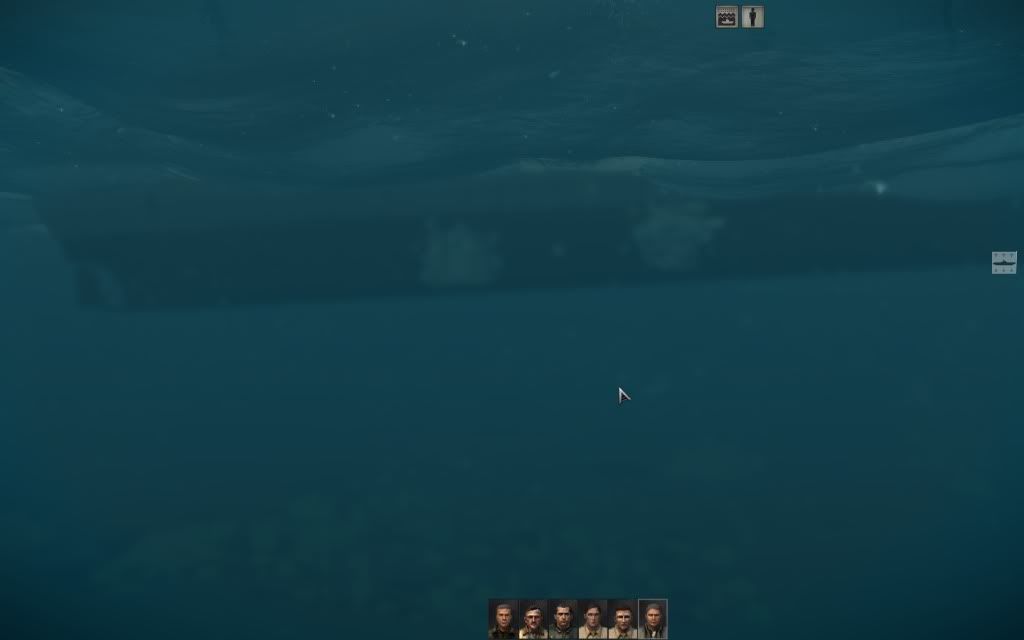 We don't stand still just because it turned out that one merchant had a little gun on its deck. We scope a target ahead of us and send two magnetic torpedoes its way. Both strike home.
We intercept their message. Another kill in the bag.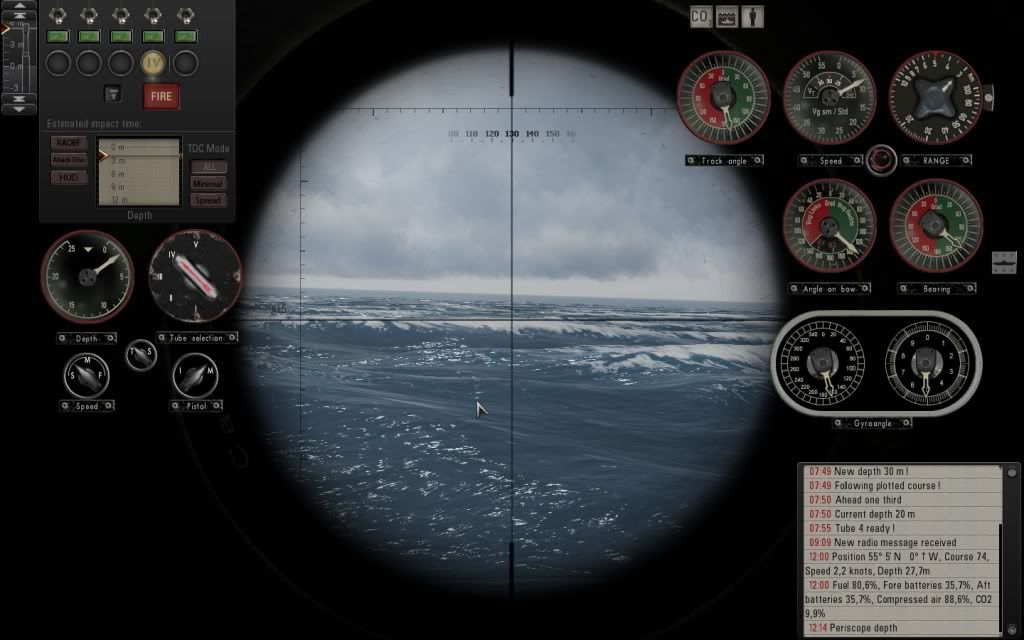 A couple of torpedoes are wasted on a target that's zig zagging unpredictably, so I just let them be and turn up the TC. A few hours later the coast is clear.
We surface again after we've left the coast of Britain. It's time to head home. We need more torpedoes and we're out of shells as well.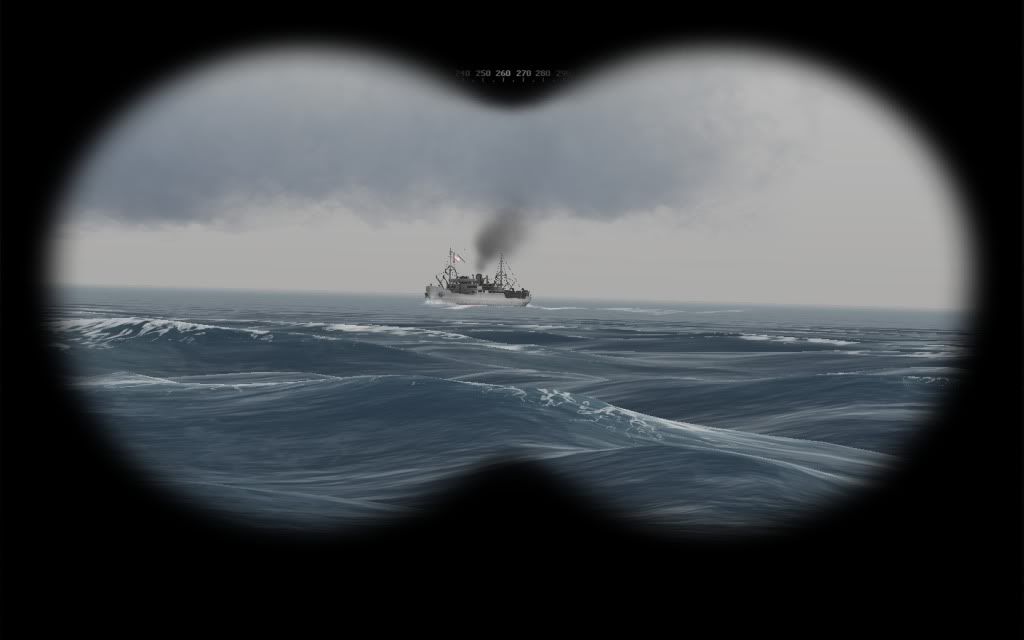 A Polish merchant is spotted on our way home, but there's nothing we can do about it. Probably carrying copies of that popular console game The Witcher 2 that seems to be all the rage among our enemies. Ah well.
As we're reentering Kiel harbour, the announcer on the radio informs us it's Hitler's birthday. Definitely a good omen.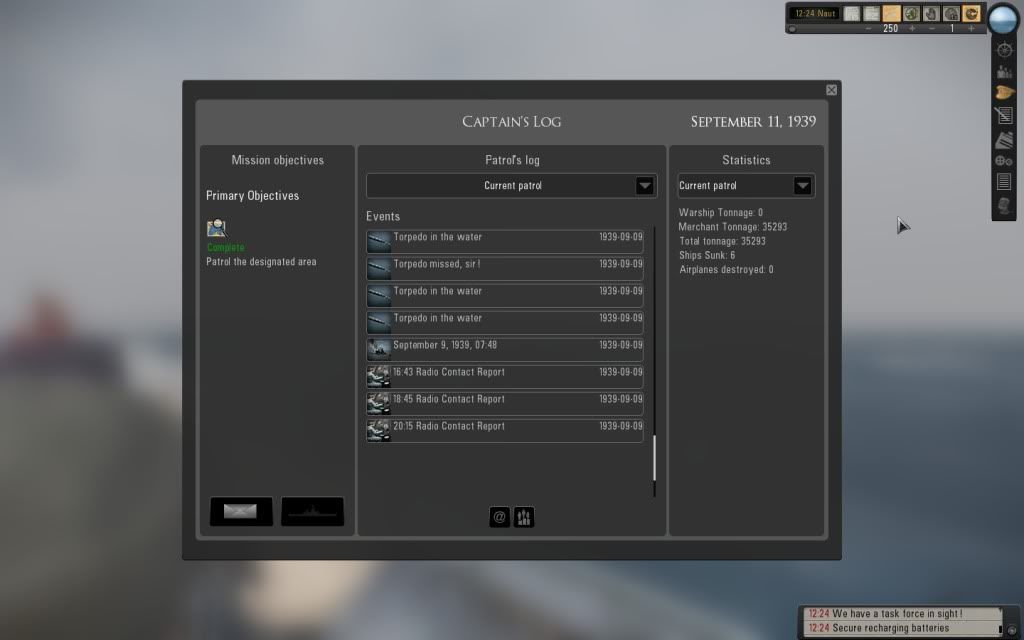 The final tonnage is a respectable 35k. A solid beginning of a career.
***
Here a couple more shots left over from the patrol that I ddin't know where to put. The game certainly looks good.