Joined

Jun 11, 2009
Messages

1,570
You heard me, faggots!
Well, it's not a
completely
blind LP. I'd gotten half way through the Reactor level before starting this LP, but that's still very early in the game, I believe. I'll be playing with the WASD+mouselook mod and bringing you the screenshots in Glorious 800x600! Difficulty is all set to default.
You can download the version I'm using, System Shock Portable, that has WASD
ouselook, high resolutions and no need for mounting the game
right here
.
Have fun watching me bumble through this PC classic! Without further ado, let's jack in!
INDEX
Medical Deck
Part 1: Good morning
Part 2: Exploring Medical
Part 3: Cyborg territory
Research Deck
Part 4: Let There Be Light
===
Intro
You've all probably seen this a thousand times, so I won't bother transcribing it. Still, I'm adding it here for completion's sake, and because it is an incredible mood setter.
Soundtrack
We awaken from our coma in this this cozy little healing suit. To our right is healing agent, which we obviously pick up. We continue down the slope and turn to the left door.
I'd just like to point out what a smart move it was to make the starting room like this. Right away, they show off the incredible grafix, lighting and true 3D world.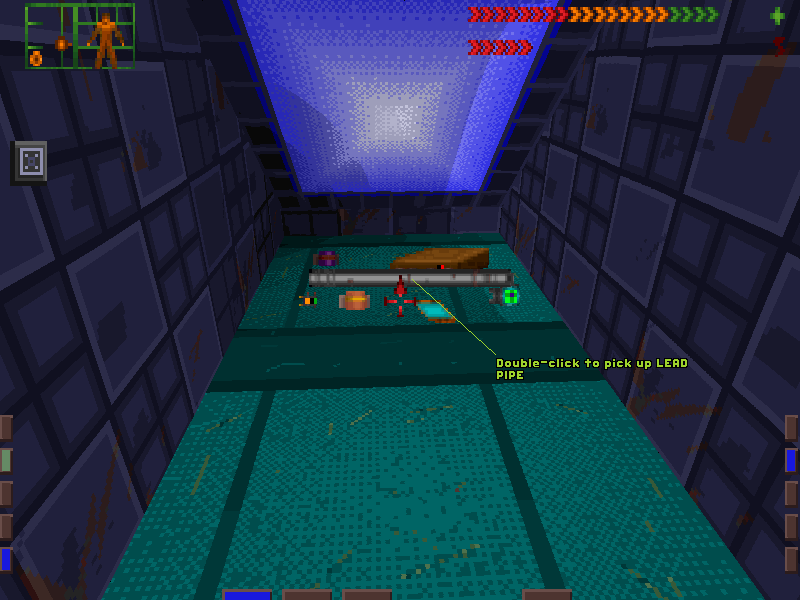 Phat loot! :D
We pick up a trusty pipe, a stamina stimulant (full stamina when used, but extremely low when the effects wear off), a berserk combat booster (improved strength when used, but the hallucinations are pretty bad), a mapping unit and a basic access card.
The moment we pick up the Multimedia Data Reader(tm), we get an e-mail.
[img:ycajaakh]http://www.ttlg.com/ss1/voiceres/email/RebeccaLansing1a.gif[/img] said:

Audio

Employee, 2-4601, listen carefully. My name is Rebecca Lansing and I'm a counter-terrorism consultant to Tri-Optimum. We're tracking a disclosure on Citadel Station. Something involving an on-board AI called SHODAN. You are Tri-Op's only contact on station. Communications are out, and there is evidence of biological contamination. The mining laser is charging for a possible strike against Earth. There's a man named Nathan D'Arcy who may know something about taking the laser offline. His office is near the central hub on your level. The AI is on the bridge. Once the laser is out, look for the source of the problem there. And by the way, we know all about you and your friend Diego. Pull this off and we'll clear your record. That implant you're wearing is military-grade hardware. Use it well. Lansing out.

D'Arcy's office:
Oh man, I don't like the sound of this.
We also pick up a log that we wrote ourselves.
I said:

Looks like Diego's happy with my work... they're firing up the sleep machine for me now. Gotta admit, when the goons from Tri-Op caught me I thought for sure they'd take me off line. Instead, Diego just asks for a "favor". Hack him into SHODAN, and all is forgiven. Plus, six months in a healing coma earns me a cyberjack interface even TriOp's execs couldn't swing. I'll be the king of the Net.

Even so, I have just handed the world's most powerful AI in the system to a fumbling corp VP, and there's no telling what'll happen. They tell me the coma leaves you foggy, so I'll leave myself some reminders. First off, the combo to the healing suit is 451. Second, I've stashed some useful stuff in the maintenance hatch under the grating "north" of the healing suite. Last and best, I finished the system analyzer which'll let me keep an eye on SHODAN's processes. It's in the storage closet outside the sleep machine. In ten minutes, it's off to bed for half a year. Good night.
Thank you, me.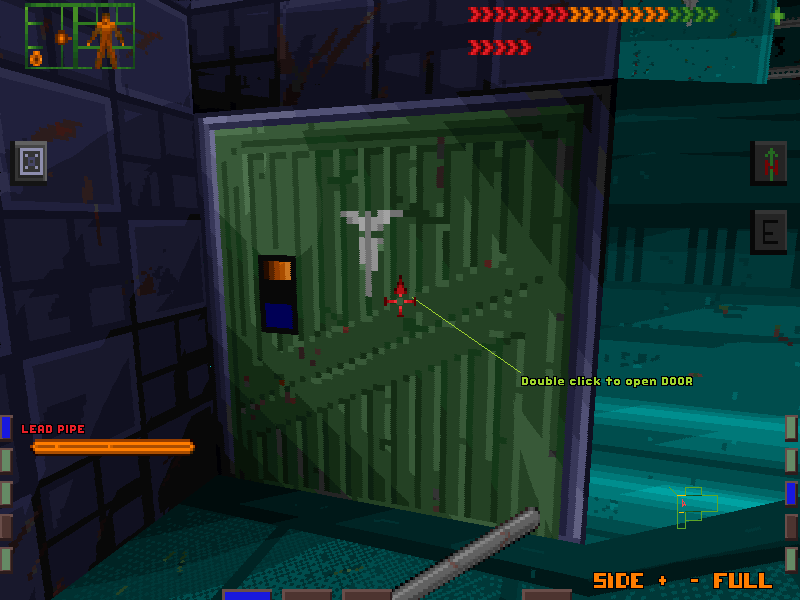 Pipe in hand, we prepare to venture out into the massive Citadel Station.
Hey there, little rob- Wait, why are you attacking me!?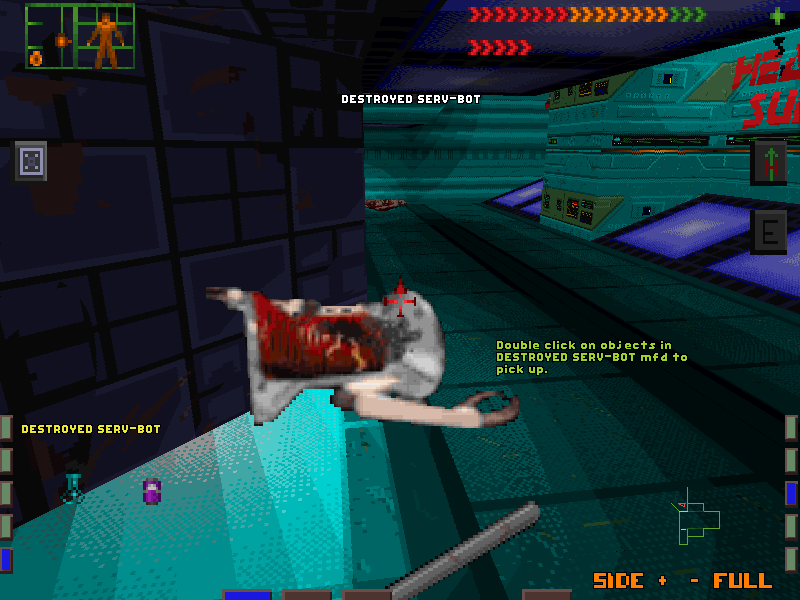 I fought valiantly, and struck this metallic monstrosity down.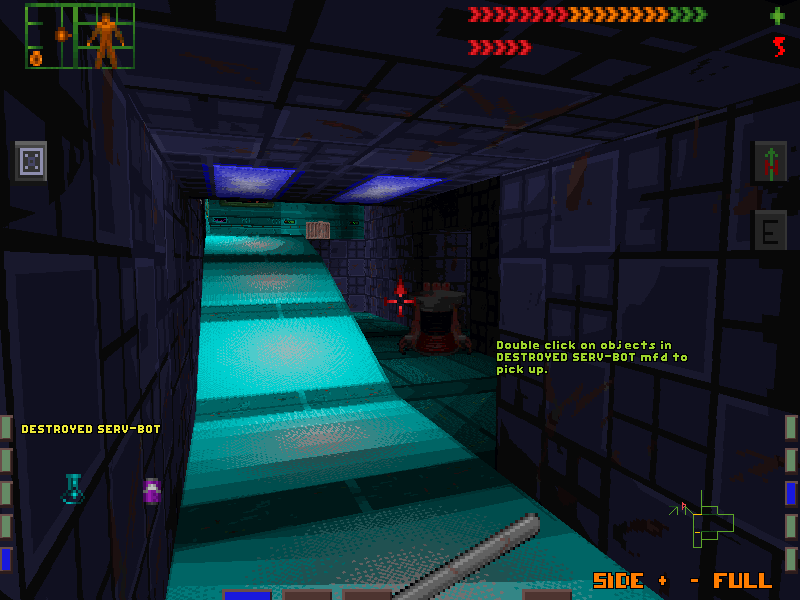 There's another one.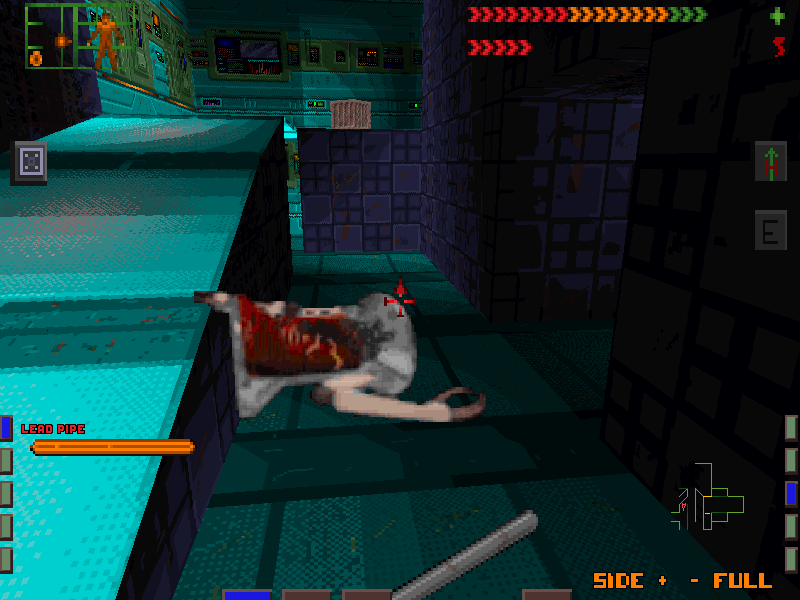 Not anymore! :D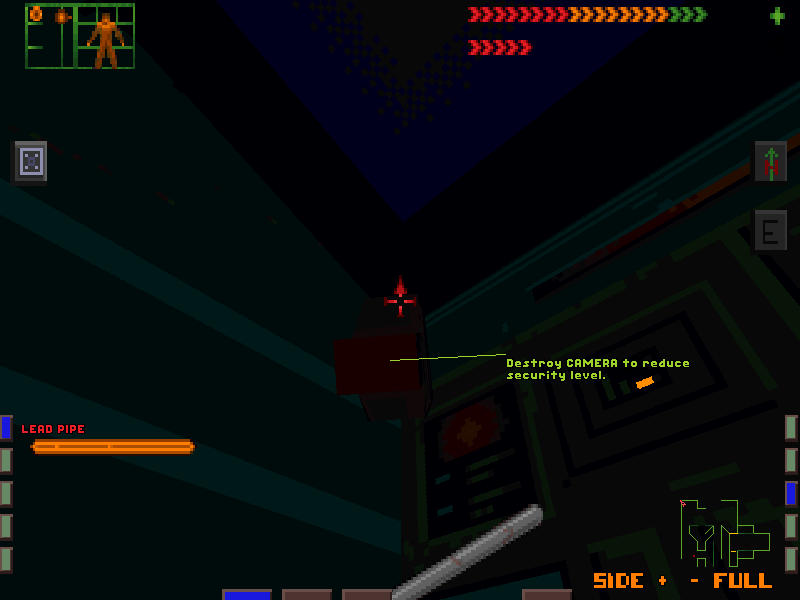 We also destroy two security cameras in this area, lowering the security level of the level we are on.
We take a SPARQ beam gun off of a corpse. We'll be using this weapon often, as it is powered by our own power, which can easily be recharged at any recharge station, whereas most other firearms use ammo that must be scavenged.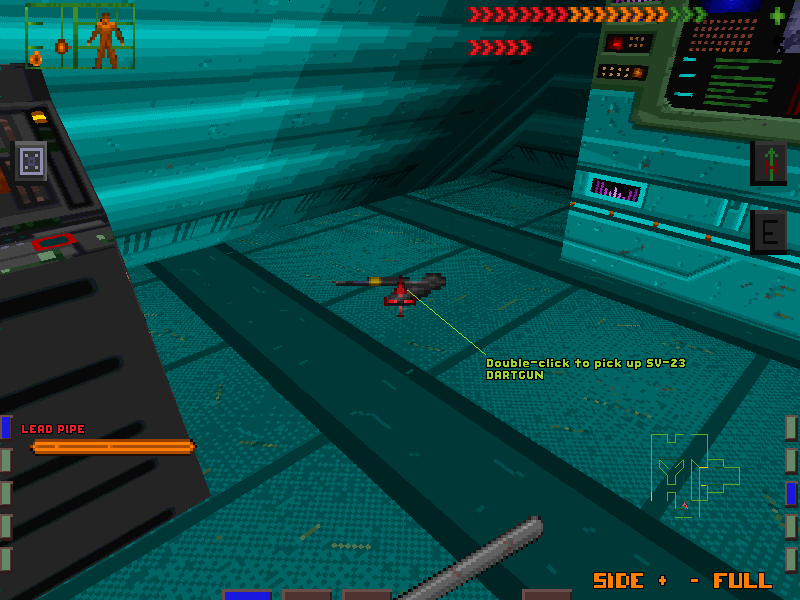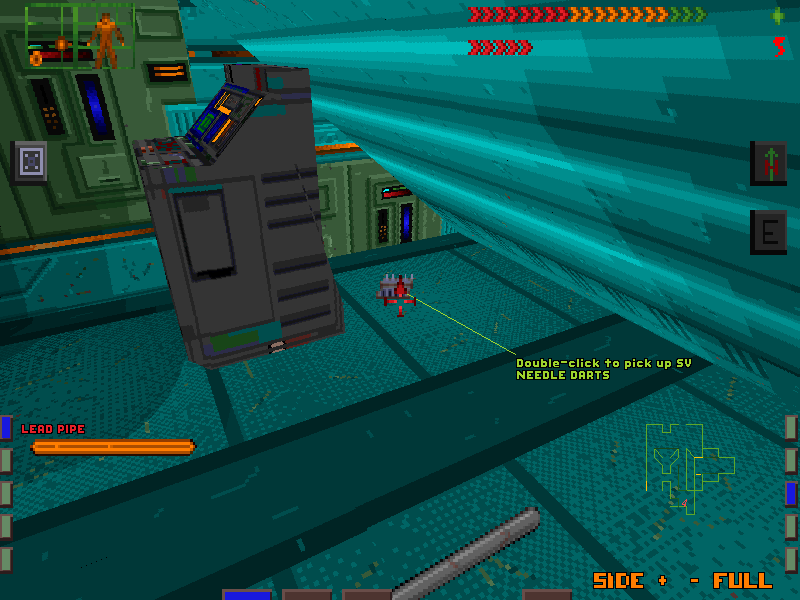 We also get a dartgun and some needle darts, which are great against organic beings,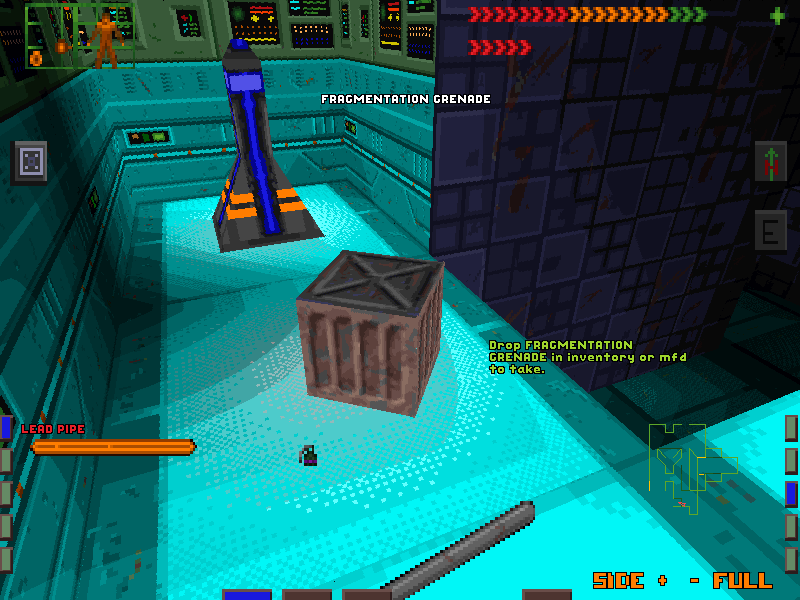 as well as a frag grenade from a crate.
We then heal up and recharge our on-board power. Gotta keep a lookout for these stations. They will be invaluable.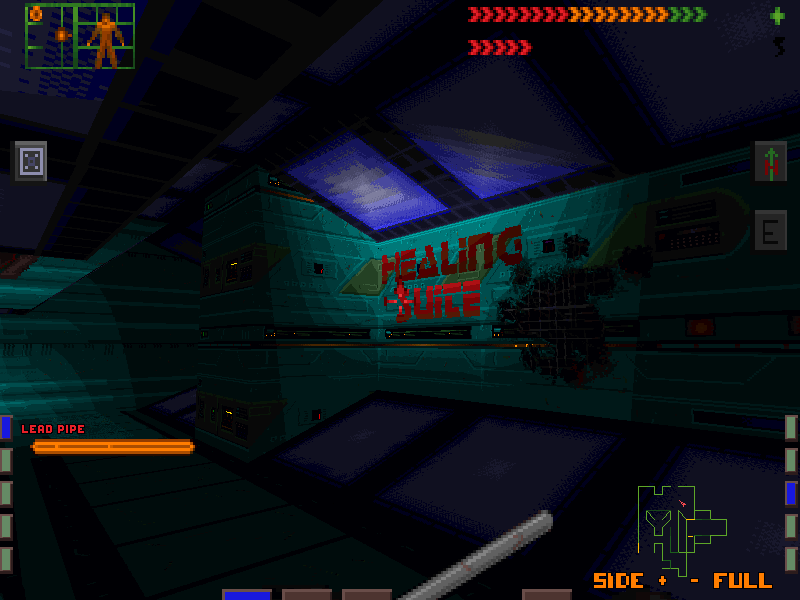 Dem graphics.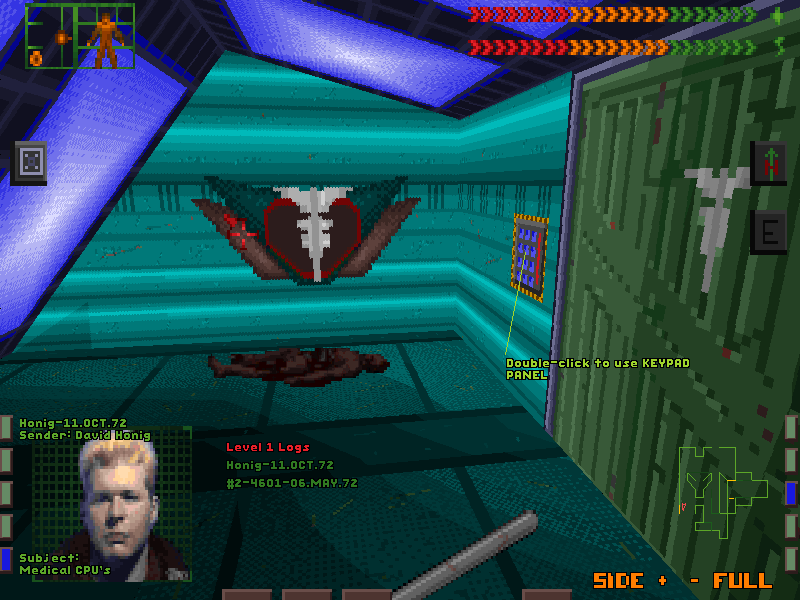 We find an audio log near the exit of this room.
[img:ycajaakh]http://www.ttlg.com/ss1/voiceres/level1/11Oct72_DavidHonig.GIF[/img] said:

Audio

SHODAN's security is closing down on us. The elevators are frozen. Mira keeps saying it's the cameras and the medical CPU core, that SHODAN is using these to hold onto the level. That's all fine, but I don't really see how it helps. The thing is everywhere.
Oh man, this is some rough stuff. Looks like SHODAN is striking down on humans. Gotta keep an eye out for cameras, and try to find this CPU core if I can.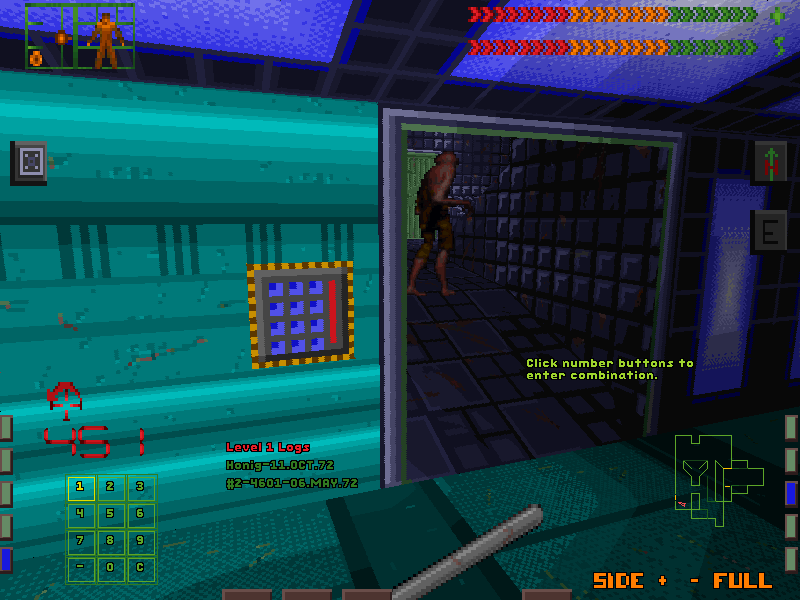 We use the code we had left in the note to ourselves (
) to open the door. Damn, a mutant right there. Luckily, he doesn't notice us right away, so I have the upper hand.
Did these thing use to be... human?
Oh god, we get an e-mail from SHODAN. Don't tell me she's already found us!
[img:ycajaakh]http://www.ttlg.com/ss1/voiceres/email/06Nov71_Shodan.gif[/img] said:

Audio

Welcome back to Citadel station. We hope your somnal and healing stage went well. Today is the sixth day of November, year 2072. You are currently in the healing suites located in the first level. Level 2 contains the research laboratories, level 3 houses the department of maintenance, and the storage cells are on level 4. The flight deck is on level 5. Levels 6 holds crew facilities and executive suites, and level 7 is systems engineering. Level 8 houses the department of security. The bridge is located on level 9, and energy systems on level R. All levels can be accessed by the elevator in Alpha Quadrant. We hope you have a pleasant ssssstay on Citadel Station.
Ah, luckily it was just a pre-recorded greeting. Funny thing is, this actually helps us quite a bit. Bet you weren't counting on that, huh, SHODAN!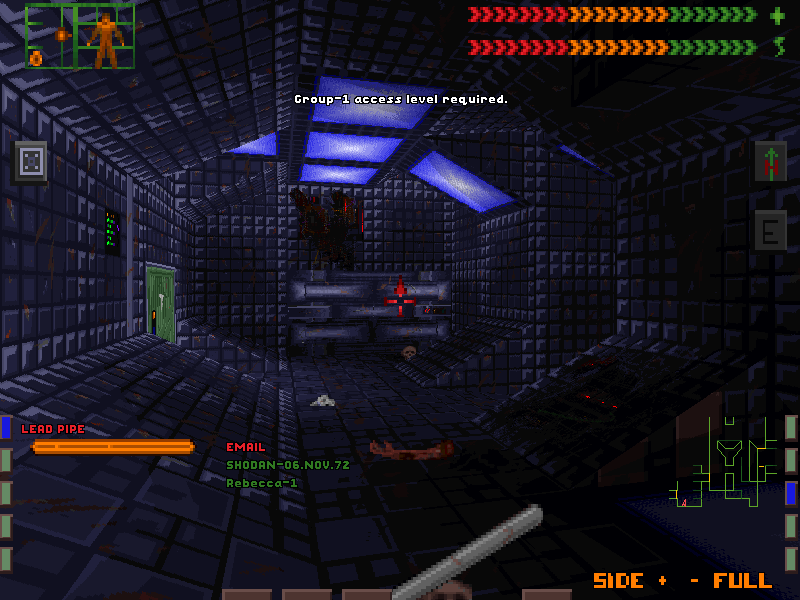 Well, here we are, out of the healing suite, surrounded by pure carnage. What the hell went on here?
You know what, I don't want to know.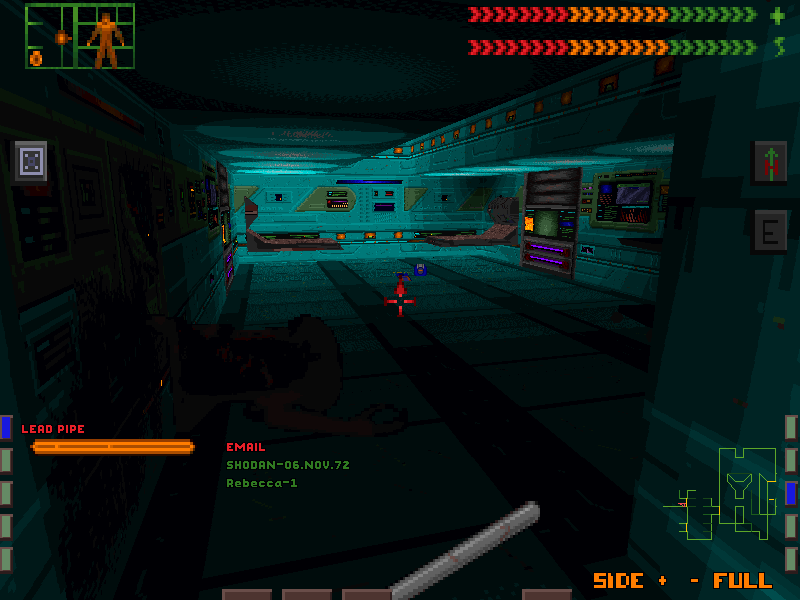 We enter the door on the Western side of this room and take down another robot.
Higher security clearance!
Also, another audio log.
[img:ycajaakh]http://www.ttlg.com/ss1/voiceres/level1/15Oct72_MiraStackhouse.gif[/img] said:

Audio

Gunther was killed today. I can't let myself think about it. I think I understand how SHODAN is doing it. When we destroy the cameras and CPU nodes, SHODAN loses some of it's control over the station's functions, at least on this level. I think I can restore manual control over the hospital.
Poor Mira.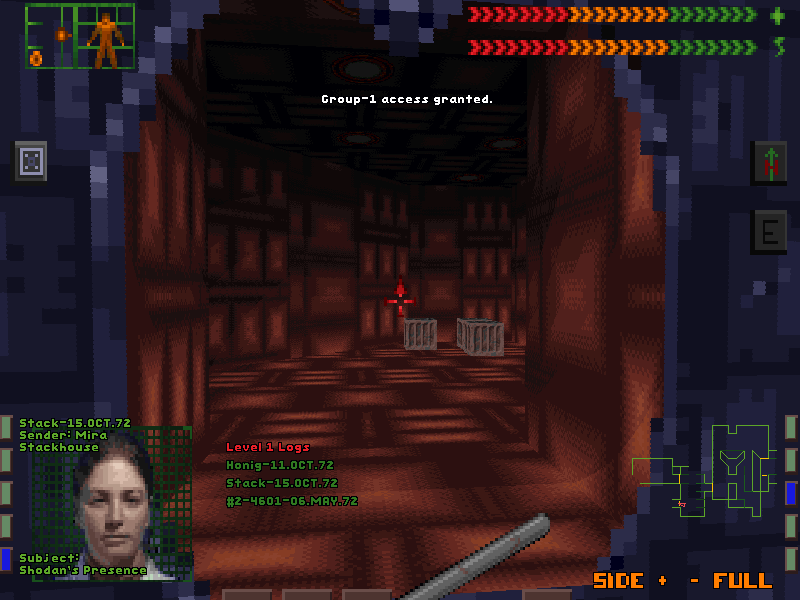 We get access to a storage room we couldn't get into earlier with the newly found access card.
We find some very useful stuff in two of the crates, like a frag grenade and some needle darts. In the third one, however...
Won't be needing those, thank you very much.
We go deeper into the station.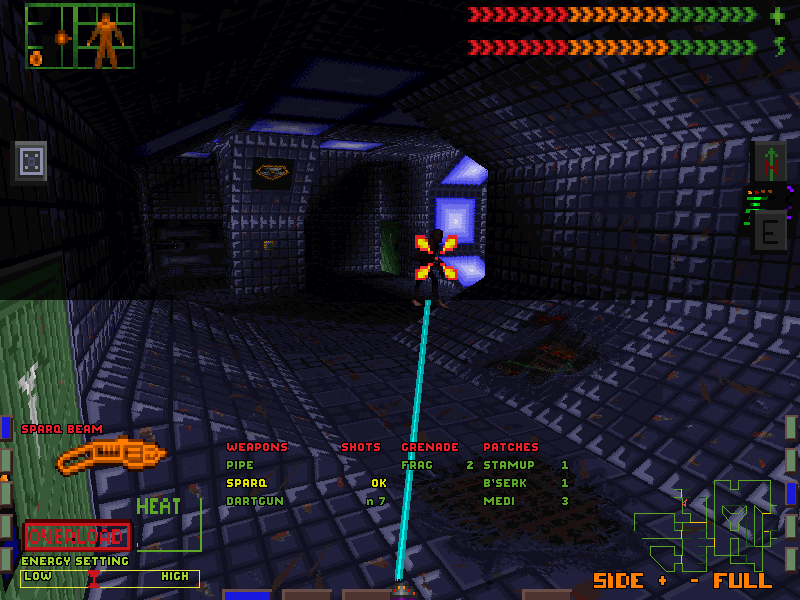 Seeing a mutant in the distance, we decide to open fire with the SPARQ beam (Note: I don't know what happened to this screenshot; my apologies).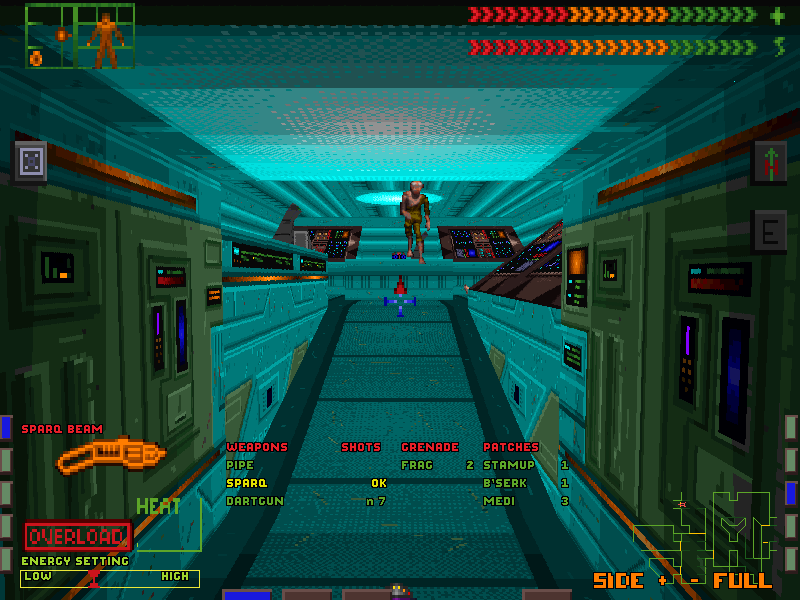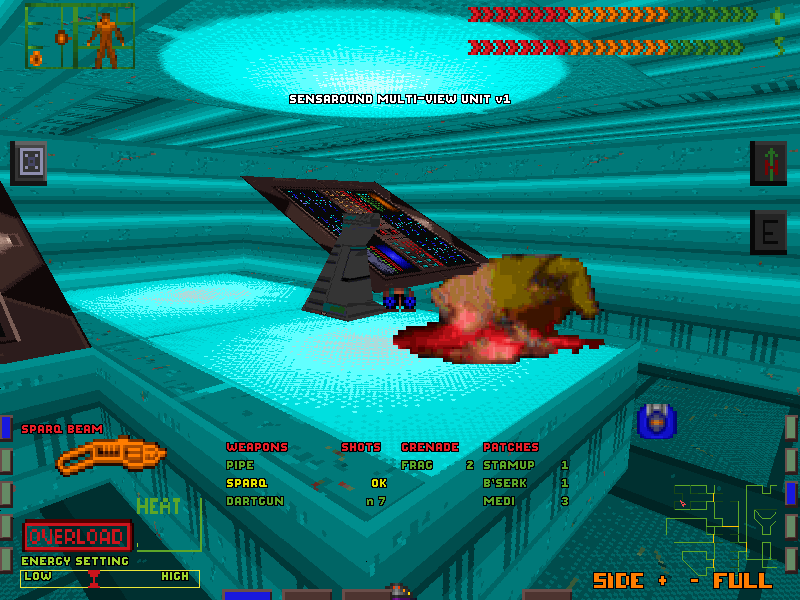 We then enter a sideroom and dispose of another mutant.
In here we find:
1. Stamina and berserk stimulants.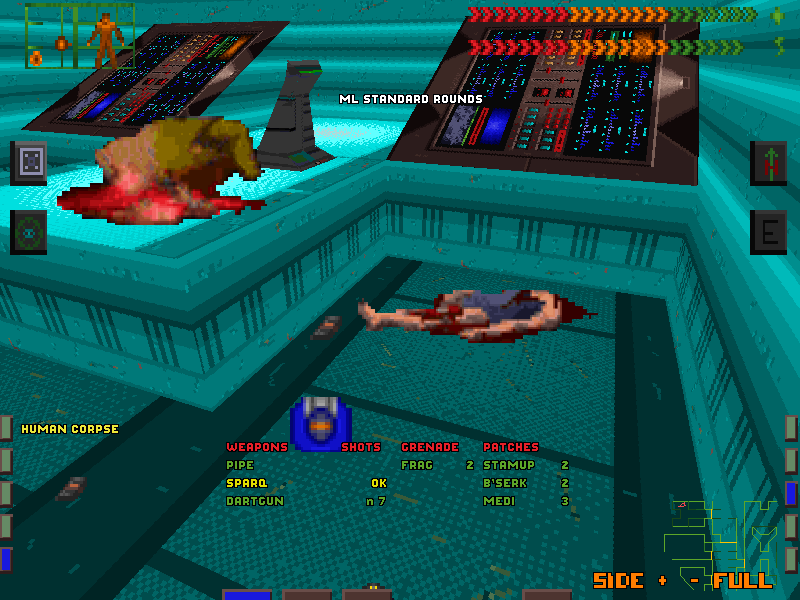 b) some ammo from a corpse (sadly, we have no gun yet
).
III Another audio log.
[img:ycajaakh]http://www.ttlg.com/ss1/voiceres/level1/31Oct72_AltheaGrossman.gif[/img] said:

Audio

Now we've got to get to the bridge and stop SHODAN. Some of us wanna go to the flight deck and escape, instead. Hopefully, there's still some weapons in the armory we can use against the mutants. Todd Lancanship (?) was able to get the combination, 705, from a security officer. We're gonna try to get to it.
I sincerely hope that you did.
Who am I kidding...
Nothing left to do in this room.
Let there be light.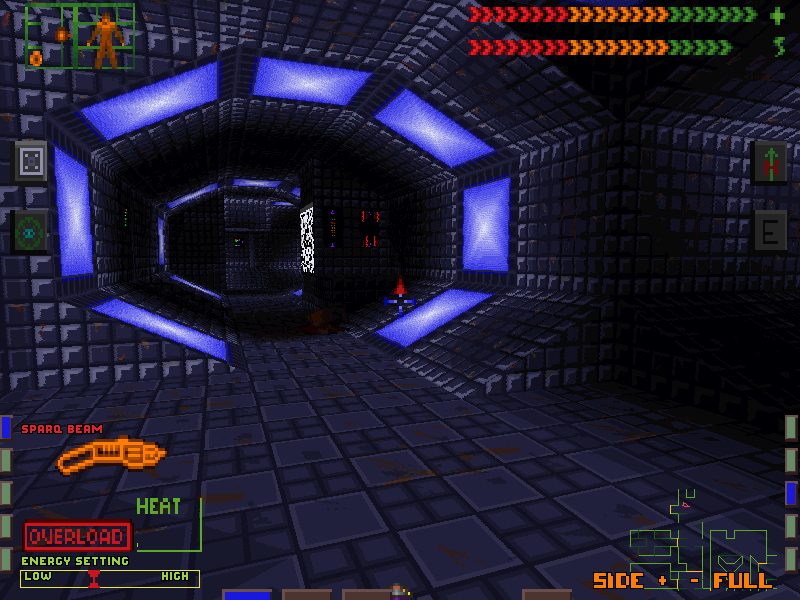 Much better.
We enter another side room and find another audio log.
[img:ycajaakh]http://www.ttlg.com/ss1/voiceres/level1/19Oct72_AbeGhiran.gif[/img] said:

Audio

*gunfire, mutant shrieks* If any survivors are hearing me, please, some of us are still resisting SHODAN. We have a sanctuary in Beta quadrant, guarded by a radioactive trench. There's a force bridge that operates off a wiring panel. If you're coming from Alpha, our guards will extend the bridge for you. Be very careful, mutants are all over the corridors.
I'm not particularly optimistic of these guys having made it, but I'll keep this in mind. still, I have to focus on the mission at hand.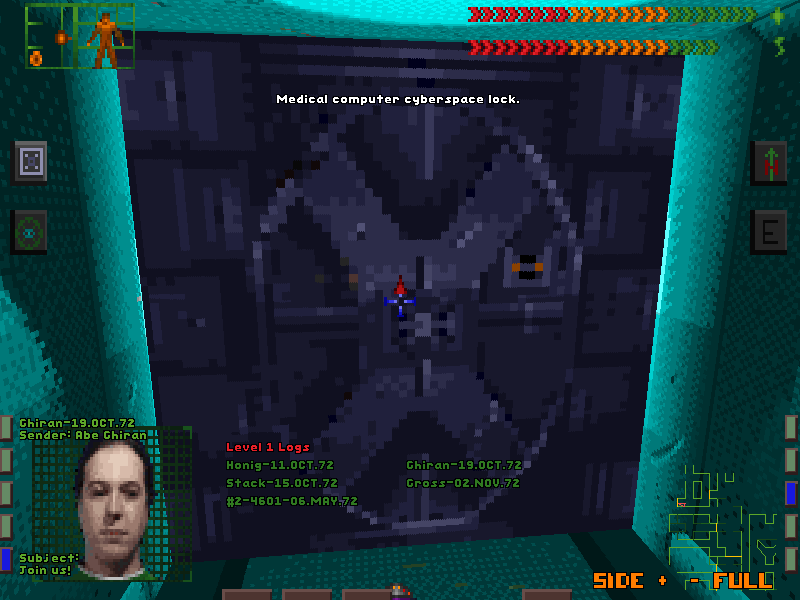 Cyberspace, huh?
Looks like this is where I can access cyberspace. Let's read the note on the ground first, however.
Engineer's Report -- Arnold Hessman 22.SEP.2072 said:

As I feared, SHODAN's malfunctions are manifesting in Citadel's cyberspace net. Several storage lockers and rooms have been sealed, with their controls put on 'cybertoggles', only accessible on cyberspace. Also, some code to sensitive areas of the station have been encoded onto loose data fragments. Although all station personnel capable of entering cyberspace have clearance for those codes, I'm very concerned about the potential security hazard.
Engineer's Report -- Arnold Hessman 22.SEP.2072 said:

I'll try to have SHODAN introduce defensive programs into cyberspace, to keep potential intruders from the floating data and cybertoggles.
Without further ado, let us dive into the most infuriating aspect of the game: cyberspace!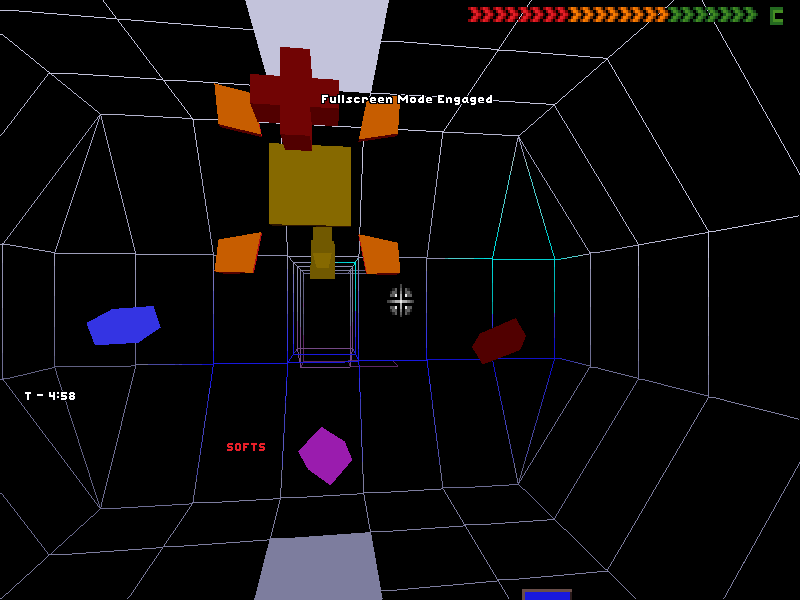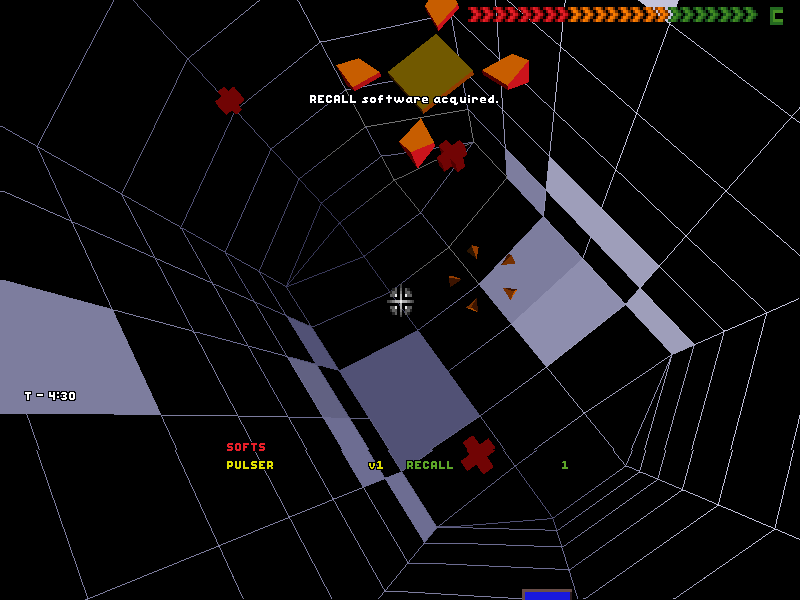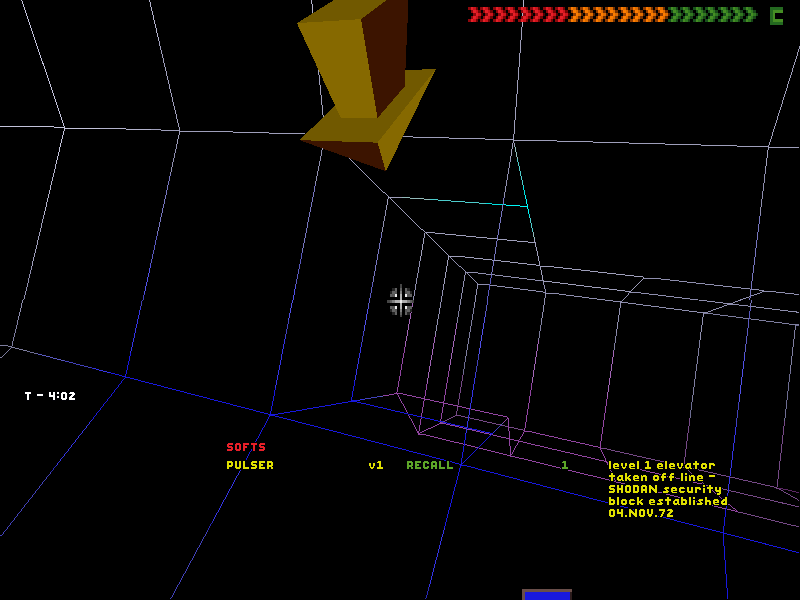 Don't worry, you're not the only one feeling a bit disoriented.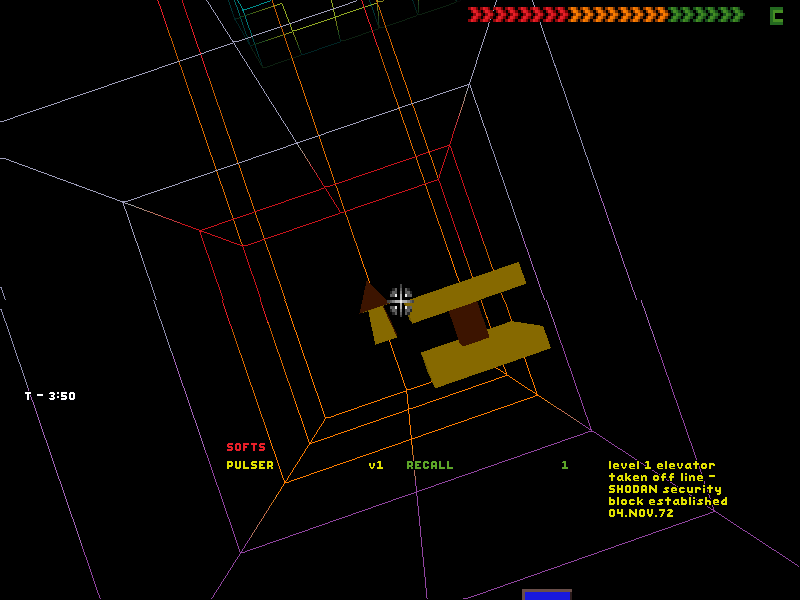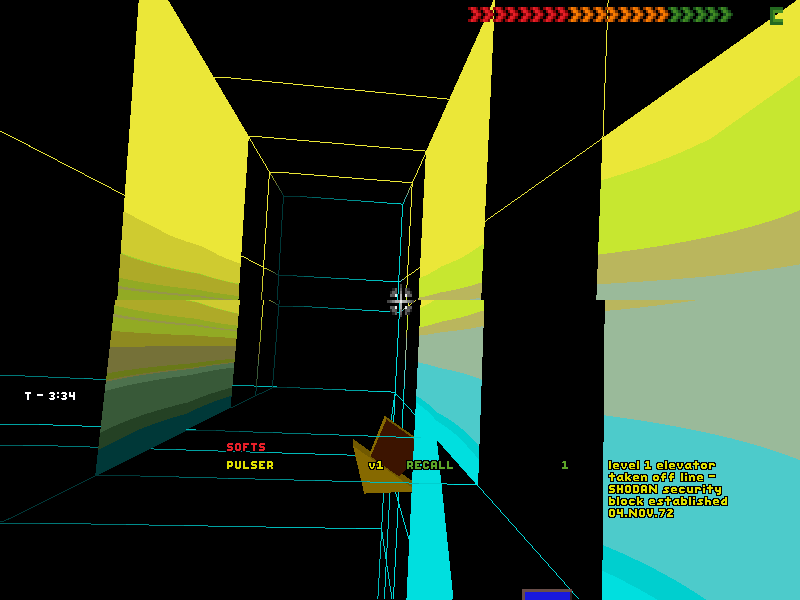 The defensive systems manifest themselves as goofy faces. Nonetheless, they can be dangerous.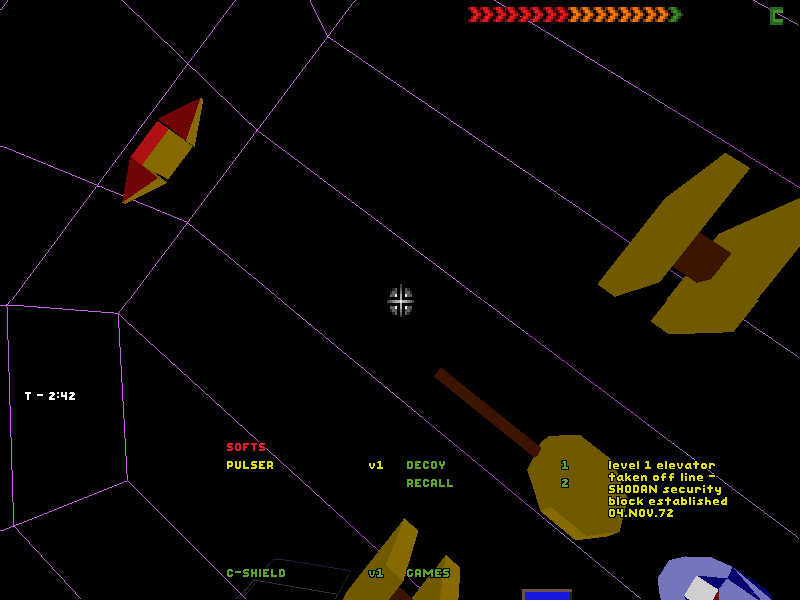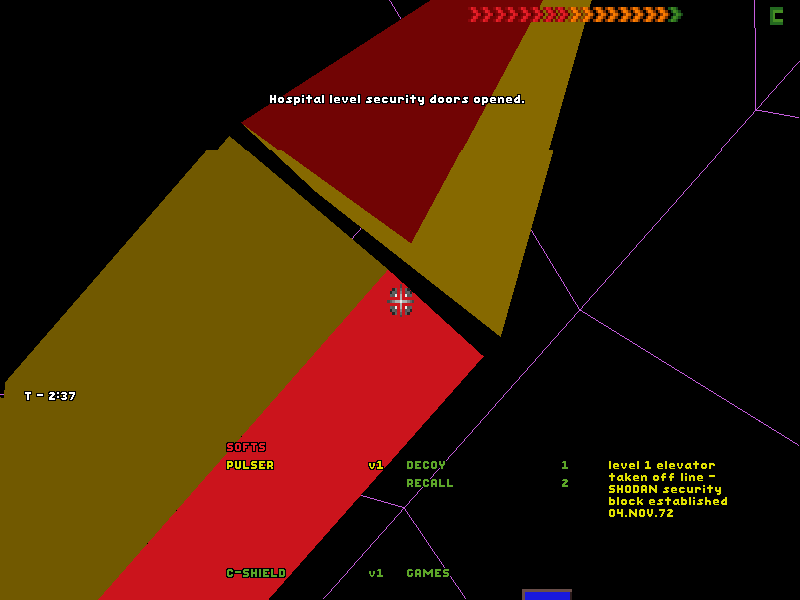 Time to leave cyberspace.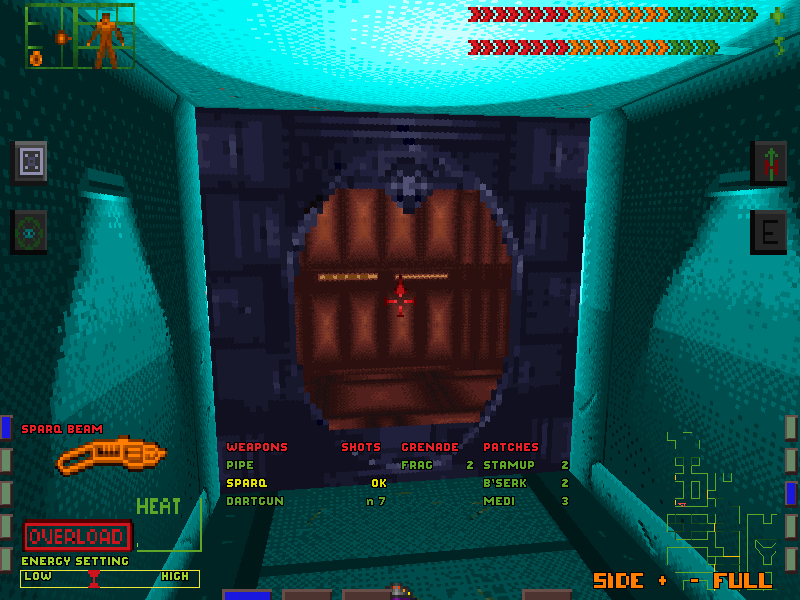 Yes! That's opened the doors! What awaits us inside?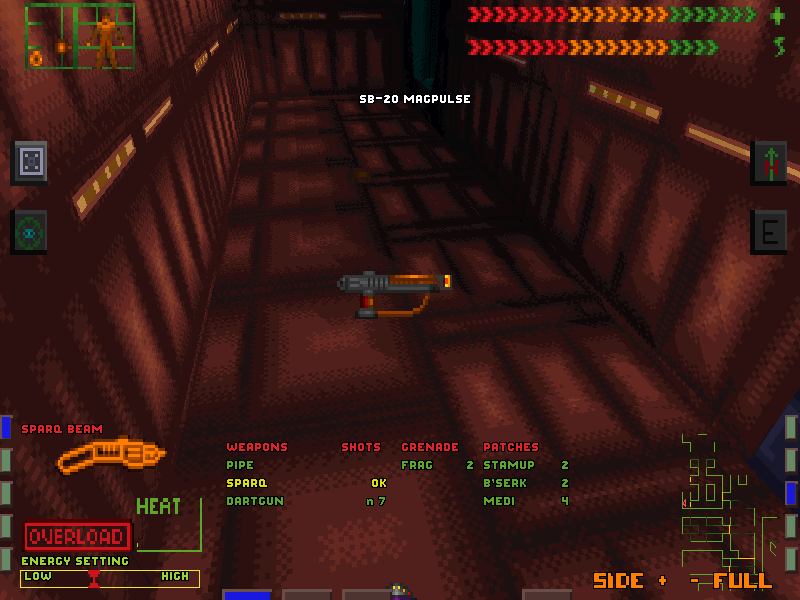 The best way to describe this weapon is as an energy rocket launcher. I've got a feeling that this will come in handy quite a bit. Ammo is scarce though, so I will have to be careful about when to use it.
Still, finding this gun makes me feel a bit stronger and a bit more confident about taking on the horrors of Citadel Station.
Which we shall be doing the next update.