Joined

Apr 7, 2009
Messages

2,249
Ultima Underworld Part 3: Isili Sstresh Thepa
Ultima Underworld: Labyrinth of Worlds
Part 3: Isili Sstresh Thepa
Alright, it is now time to delve down to the third level. Since it is mostly populated by lizardmen, there will not be much in the way of conversation. Don't worry; the fourth level will more than make up for it.
This looks like it will be a marshy level.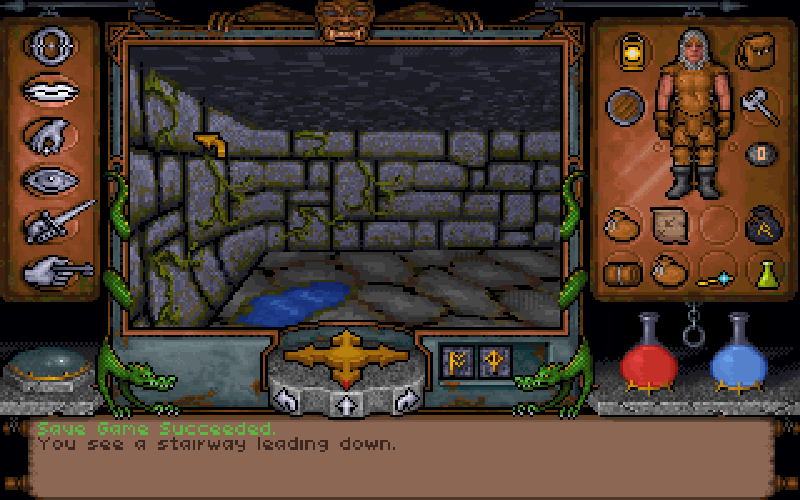 I start in the southwest corner.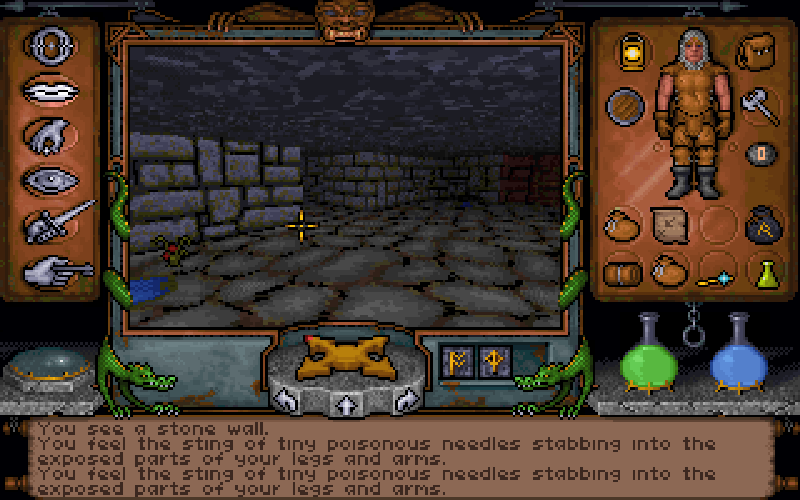 That plant over there looks harmless, but I get poisoned if I go near it. There are also a few buttons lining the eastern wall. If I press them in the right order, I think the eastern door opens up.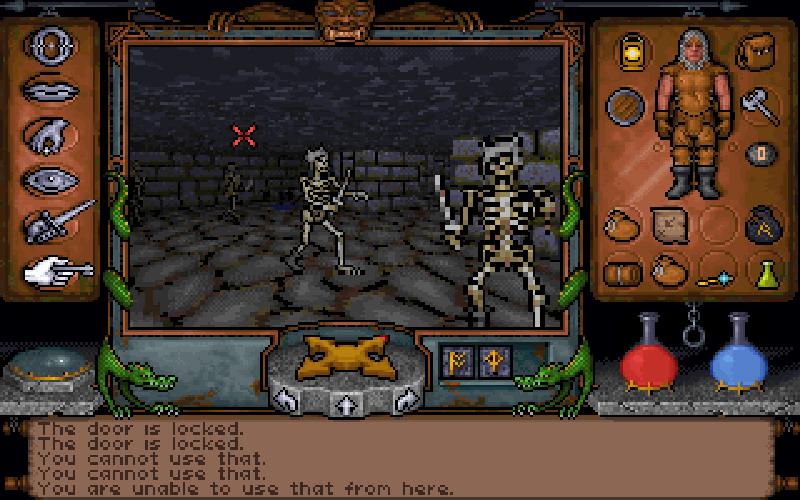 Unfortunately, if I press them in the wrong order, a pack of skeletons gets me.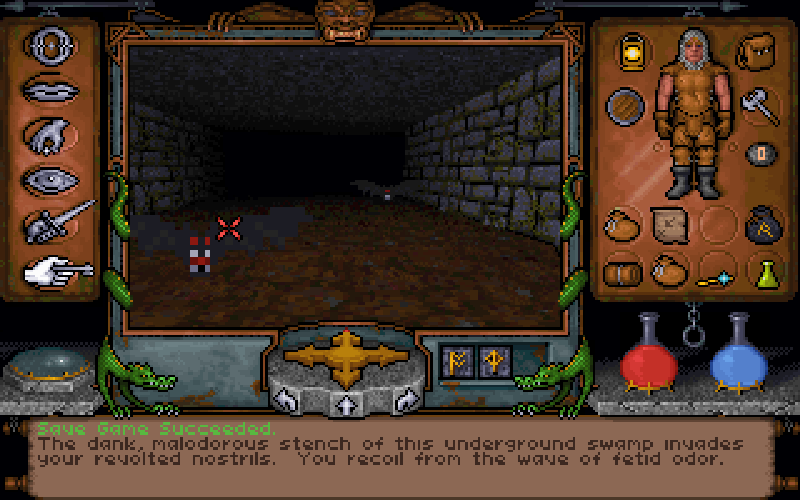 The hallway to the north is filled with bats. Fortunately, they are not much of a challenge.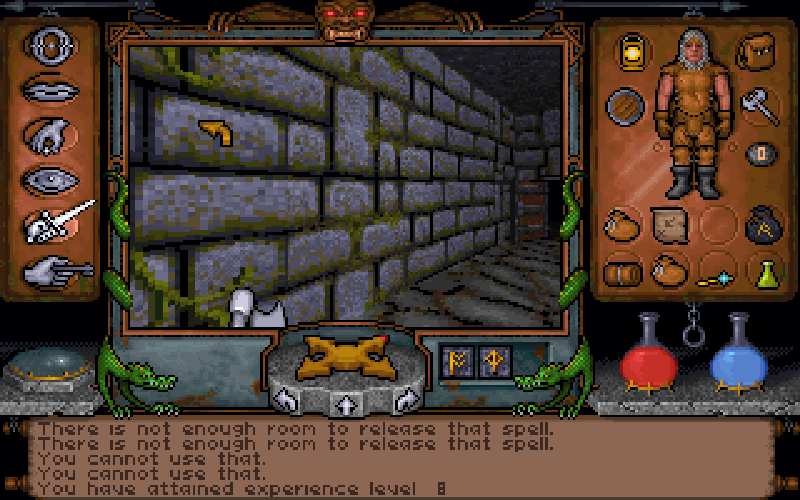 Woot!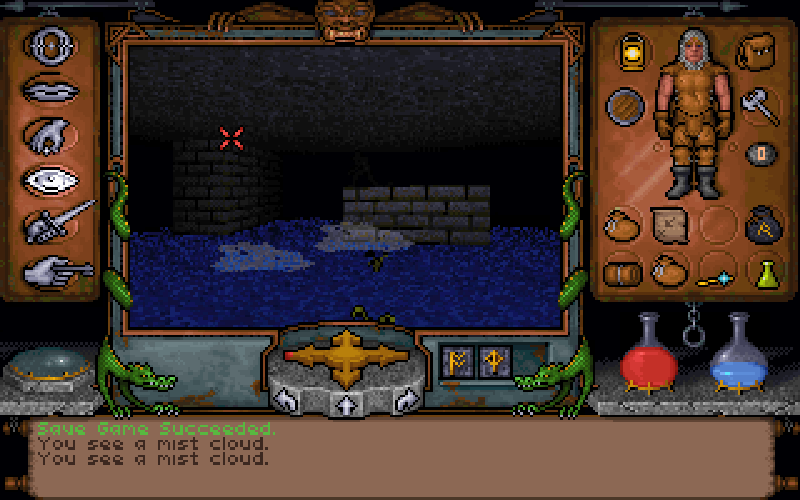 This probably made gamers jizz their pants back in '91.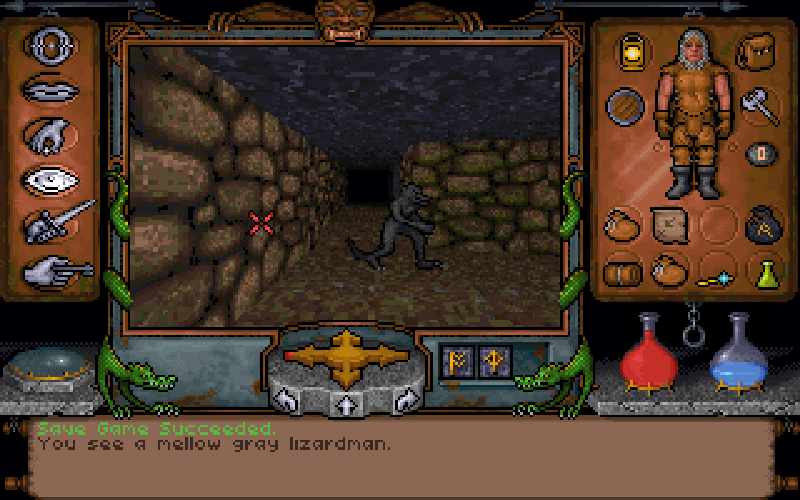 I quickly find the lair of the gray lizardmen.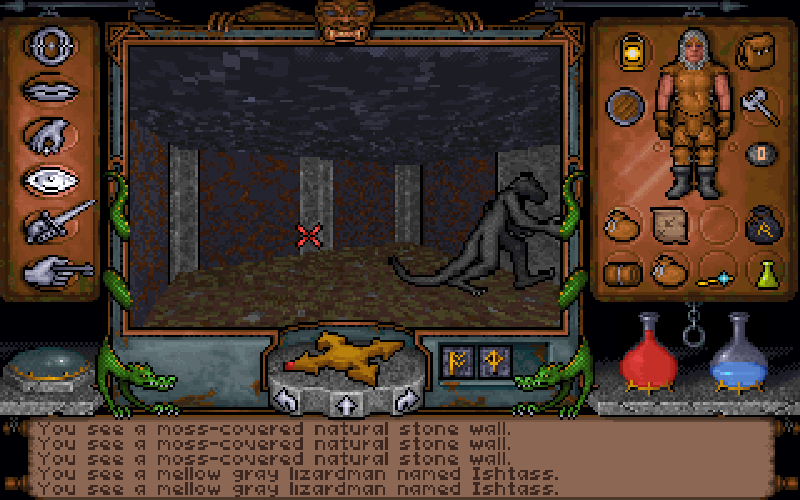 I speak to their leader, Ishtass.

A greeting to you I give. Ishtass I am known as. What thing you are wanting?
Amazing. You speak my language!

Though by other Thepa the Quiet Ones my people are called, this an irony is. We alone of the Thepa you language can speak.
And very well, too.

Not easy it is, but we try. Now, you in some need are?
Who are the Thepa?

The Thepa my folk are. By you Lizardmen they are called.
Ah. Can you perhaps translate their speech for me?

Nay against our oaths it goes. We a humble norder are, sworn secrets to keep. Perhaps one among your people the True Speech knows.
Canst talk with me?

Wouldst mad wizard know of?
Please, tell me more.

After Sir Cabirus death, mumbling wizard began upriver working. He talked with me after, as your strange tongue we know. Spoke he, who nameless remains, of a Great Sword, apart he broke.
Tell me more!

I cannot much more say. For favor I will more information get.
Please tell me what favor thou dost want.

Ossikka, leader of ours, upstream travelled, a great many-armed water beast known to Thepa as kri'kla to kill. He returned never. Would you him find?
I will search for your leader!

Upstream Ossikka travelled returning never. Book of mad wizard had he, perhaps telling more. Return with news and the Quiet One will reward handsomely you.
I shall search for Ossikka.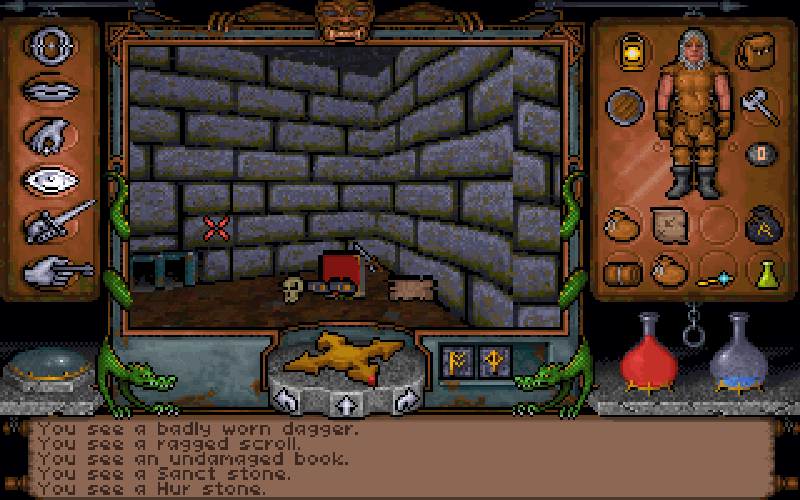 Ossika's bones lie in an outcropping just east to the gray lizardmen's dwelling. I also find a Hur and a Sanct rune.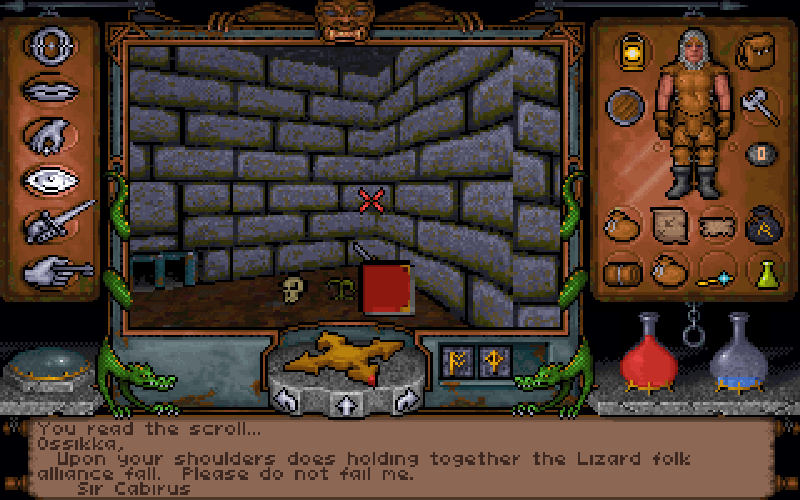 I take this book back to Ishtass to prove I found Ossikka.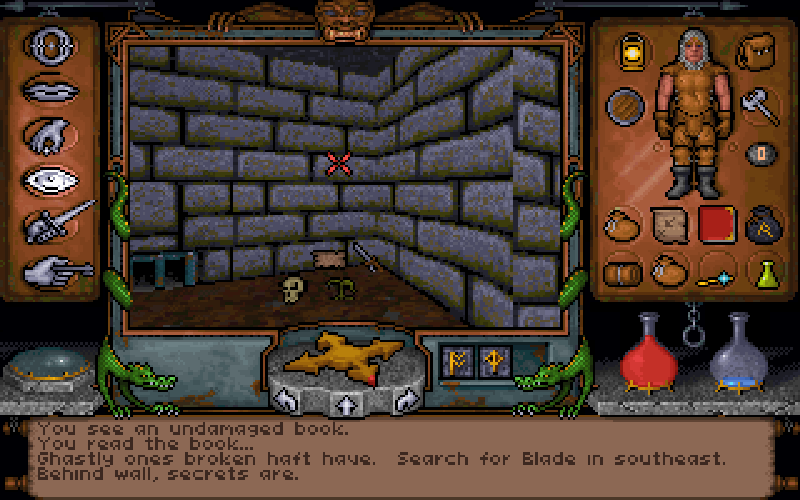 This note gives clues about where I can find the two parts of the sword that
dwarf
mountainman mentioned in the last update.
Hmm. Now I need to find a Shanklick.
Huh?
I now head back to Ishtass.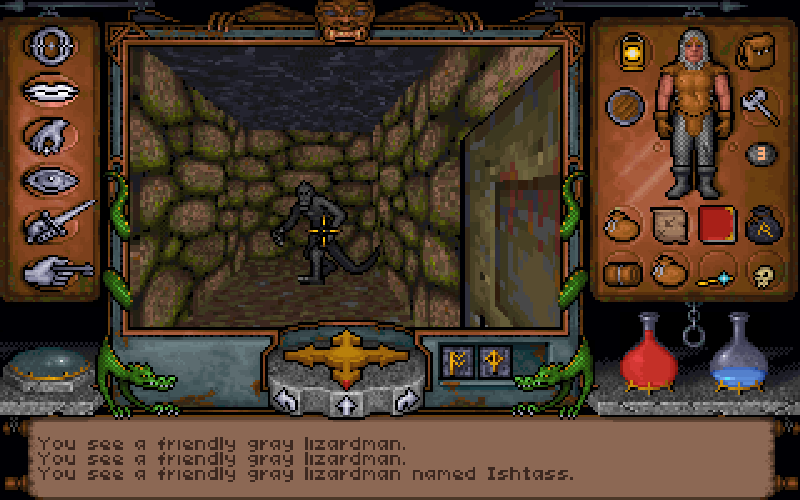 Again, a greeting to you I give.
I have news of Ossikka!

Please, adventure, what Ossikka news have you.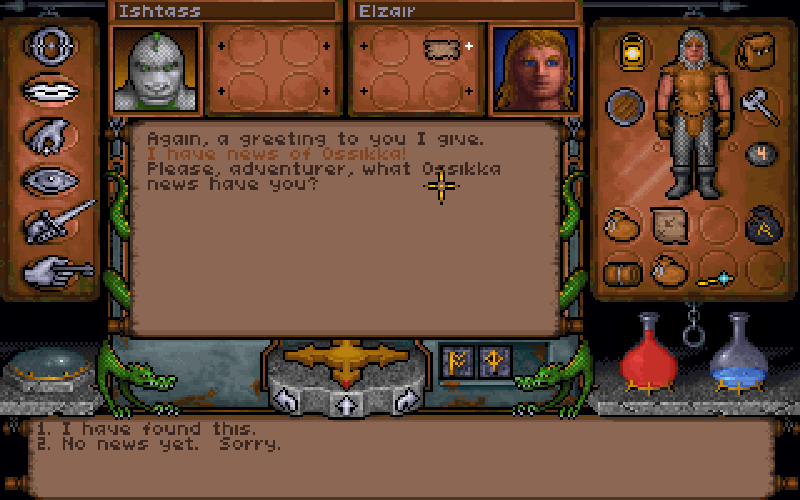 I have found this.

Why yes, of this Ossikka did have. Oh, what means this?
I found his bones in a room upstream.

Sorry day, indeed. Still, thank you. Here, a gift for you is.
Thank you very much. Canst thou tell me about the sword?

Sword in two parts broken is. Wizard took haft below. Ossikka clue to blade found, he said. Blade somewhere in our domain is, I think More than that I do not know.
Thank you for your help.
I decide to take a rest and am interrupted again.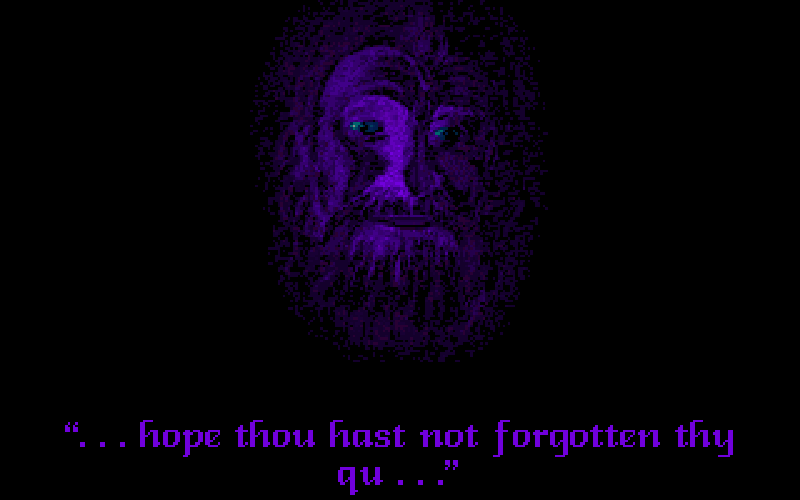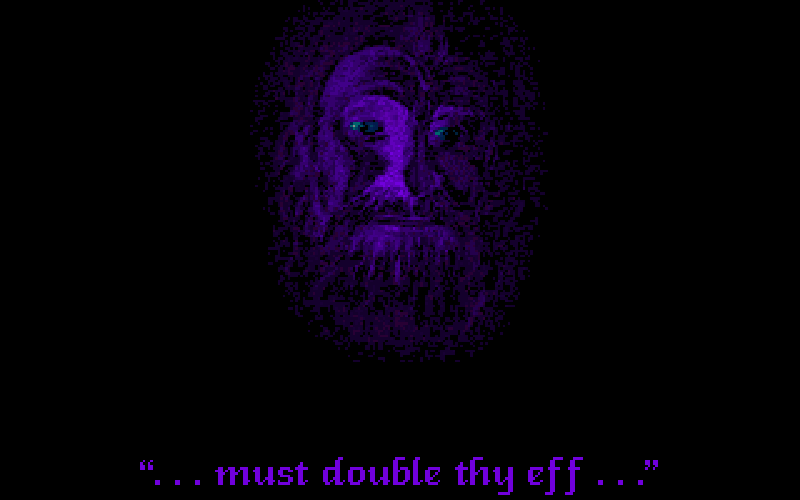 Whatever!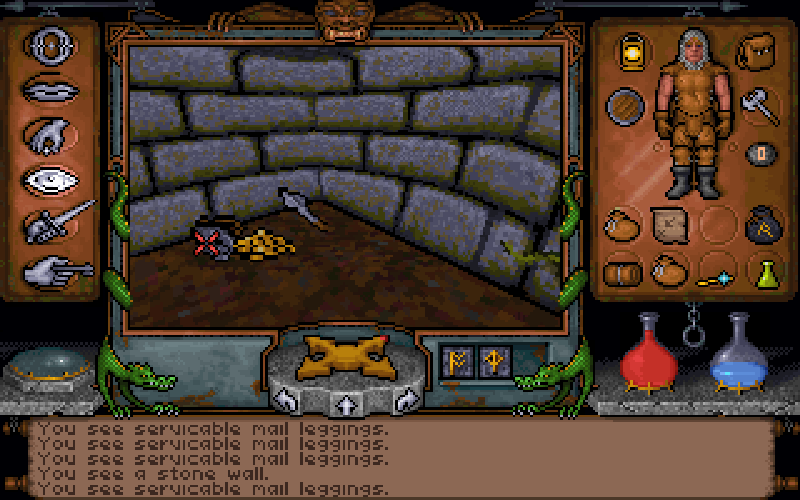 Yay! Mail Leggings!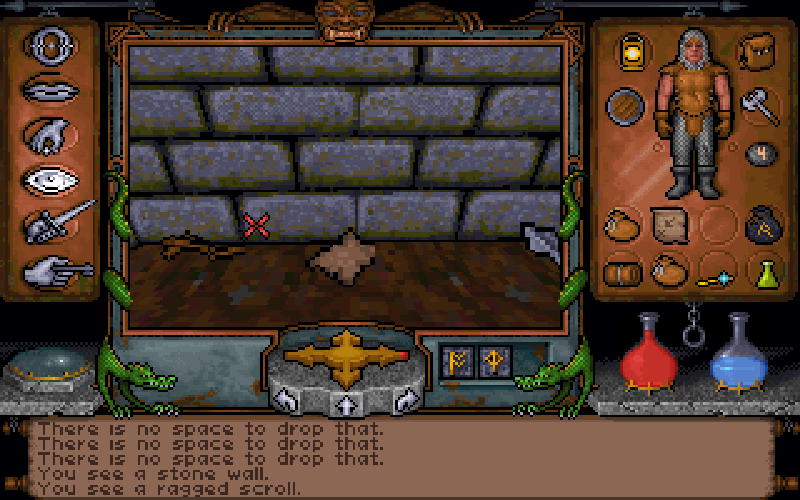 I cannot remember what was on that ragged scroll. It is probably not important.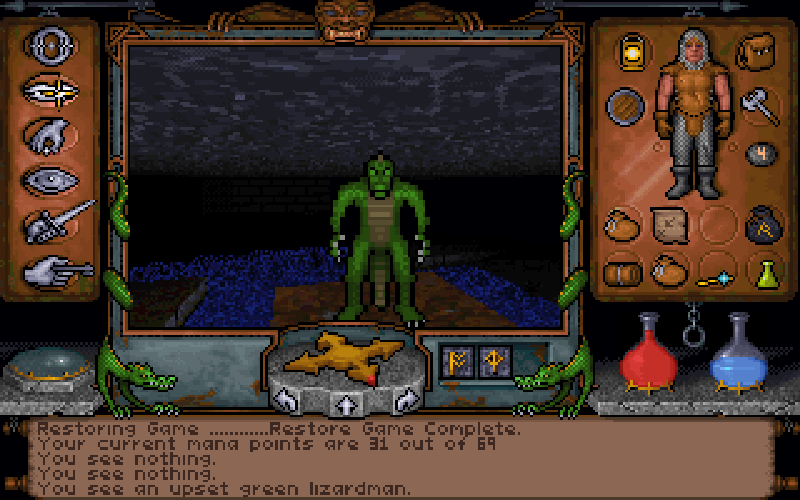 This is one of the green lizardmen. Their headquarters are south of the center of the map.

Bica, sor'click.
Bicca to thee also.

Tosa yeshor'click Thepa?
What?

Tosa thit eppa Urgo. Thit eppa Sseetharee.
I do not understand. Goodbye.
It looks like I need to find someone who knows their language.
I try to explore that long, winding hallway in the northwest part of the level, and I am attacked by a bandit. He is too tough to go down with all the magic missile spells I can cast.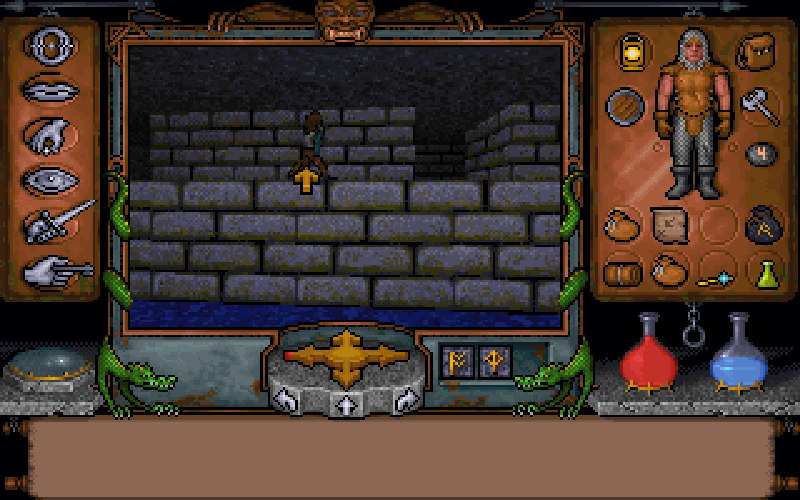 I try to lure him to the lagoon where I can take potshots at him, but he will not remain long enough for me to kill him. I guess I need to grow more powerful before I take him on. I decide to head north and east. Soon I come across an uphill stream.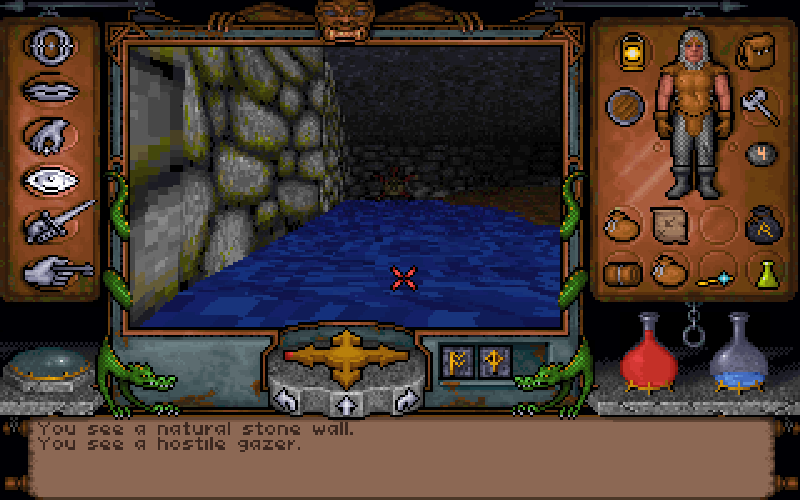 At the mouth I find a
beholder
gazer that owns my ass.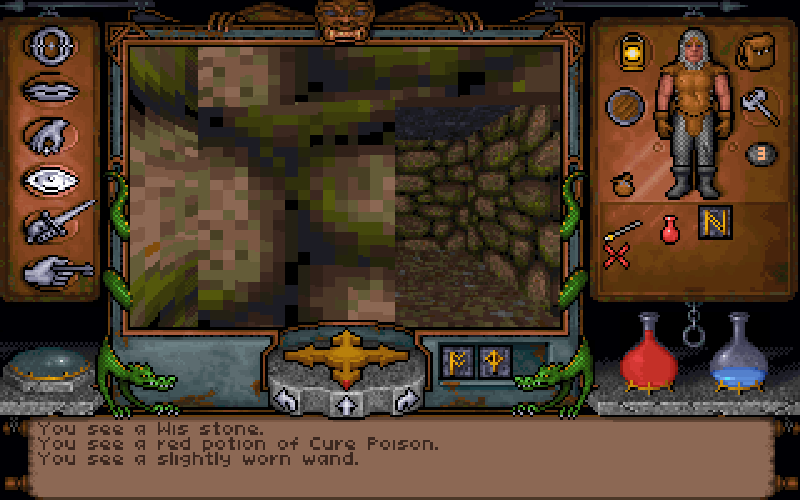 I decide to make my way clockwise around the outer edge of the level. Here is some loot I find.
I find a switch at the eastern part of a hallway in the northern part of the map. I press it even though I have no idea what it does.
To the right of the lever is a secret door.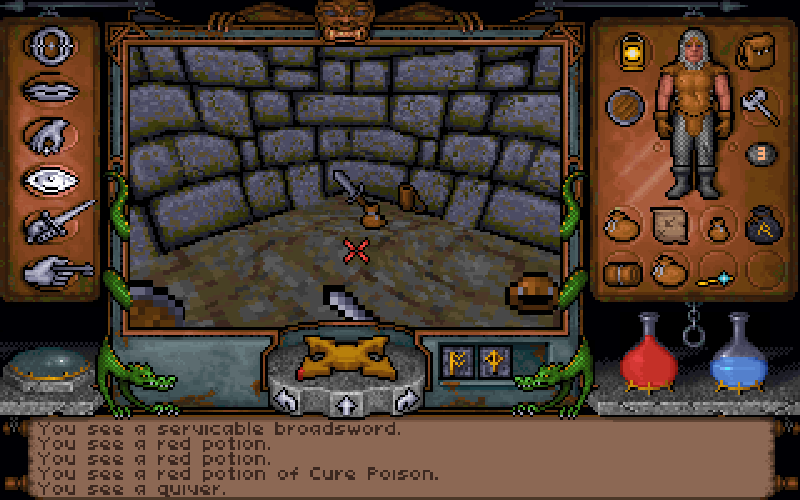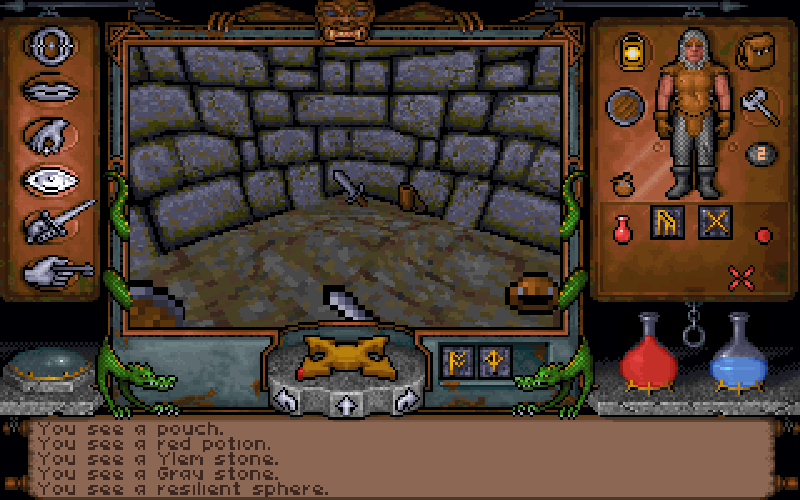 HELL YEAH!! I found a Grav stone. Do you know what that means? It means I can finally cast Lightning Bolt (i.e. Ort Grav).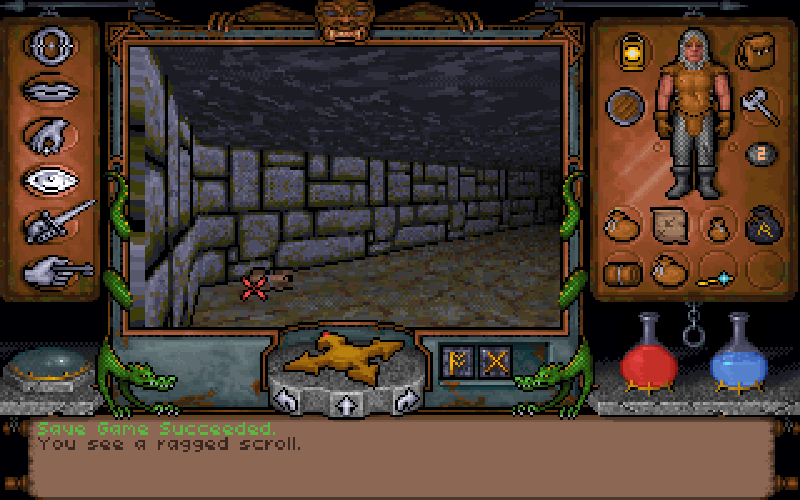 I find a scroll in the hallway to the north.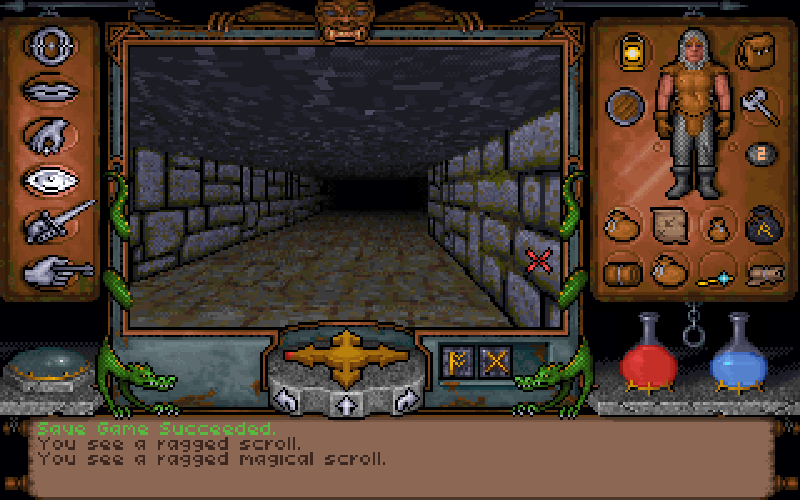 It turns out to be a ragged magical scroll. I wonder what it does.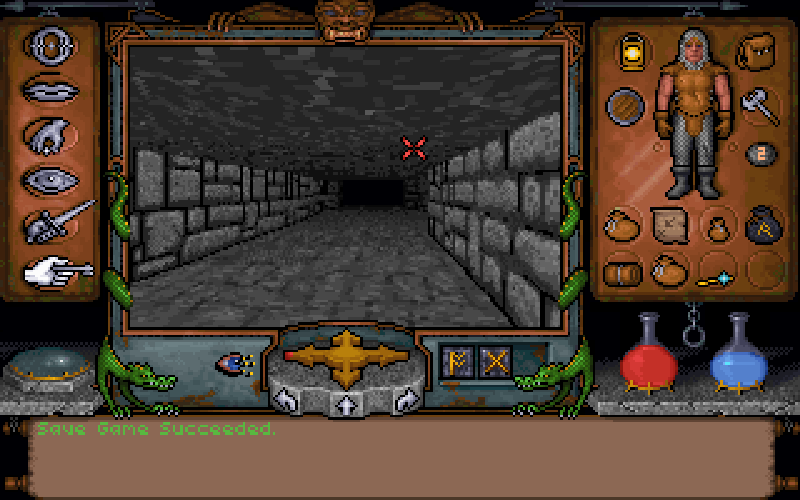 It gives me night vision. I am not sure how useful that is.
Anyway, I find some stairs up, and I take them since I have unfinished business on the second level, and I am now strong enough to finish it. It is now time to clear out the
dwarven
mountainmen mines.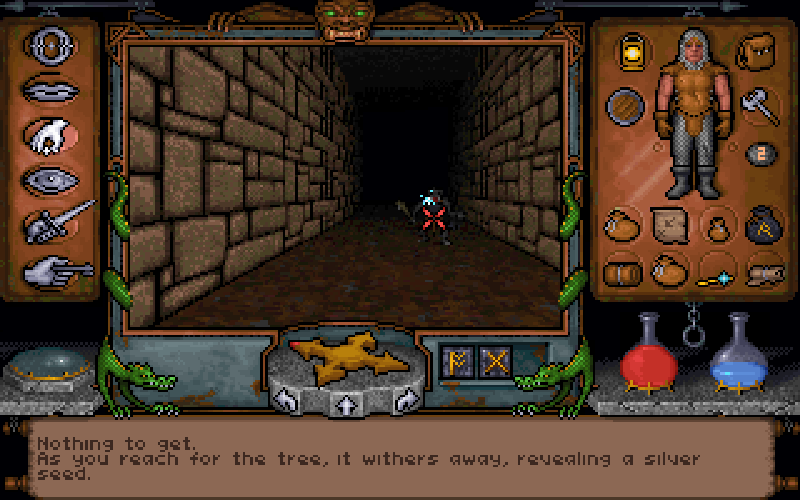 Here is a picture of a lightning bolt roasting some uppity gray goblins.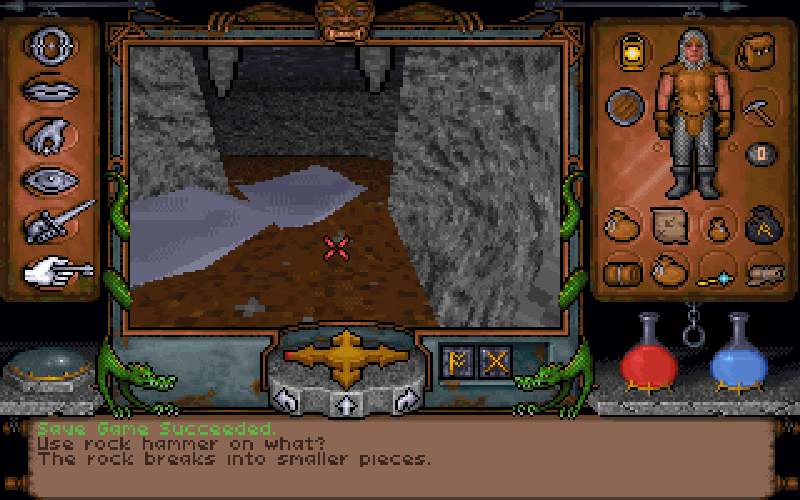 I use a rock hammer lying about the mines to break up the boulders blocking my path. I have a date with a
beholder
gazer.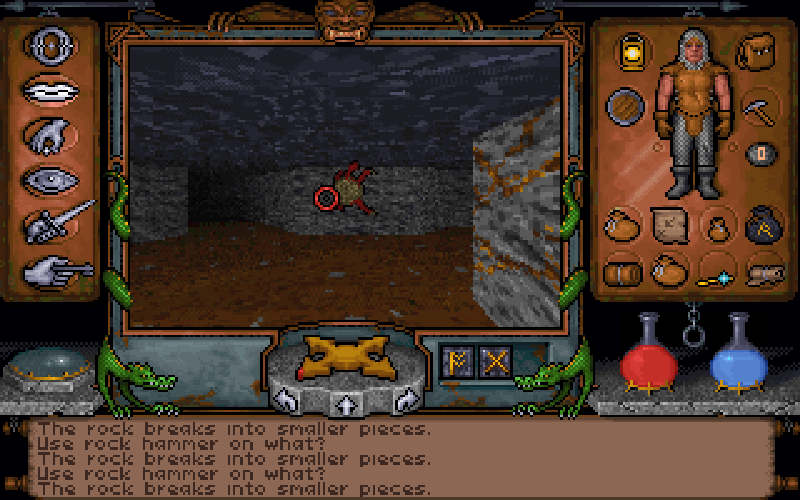 Hello baby!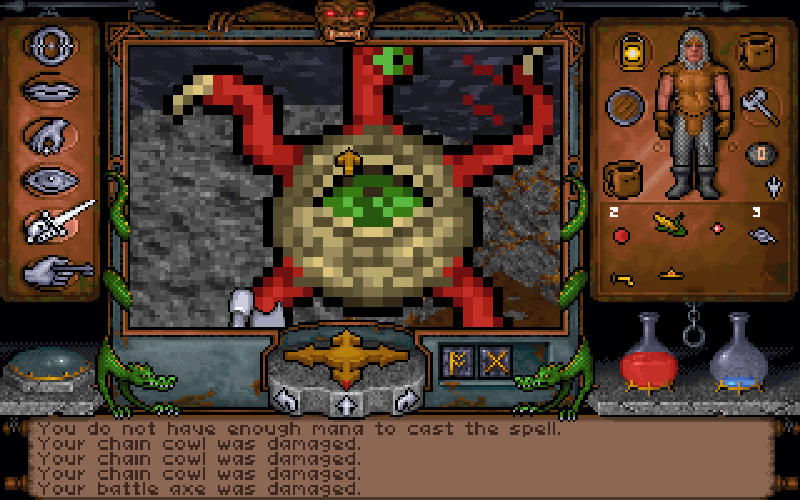 My, you are ugly!
Anyway, I cast a few lightning bolts, and the
beholder
gazer is history. Now it is time to loot his treasure horde.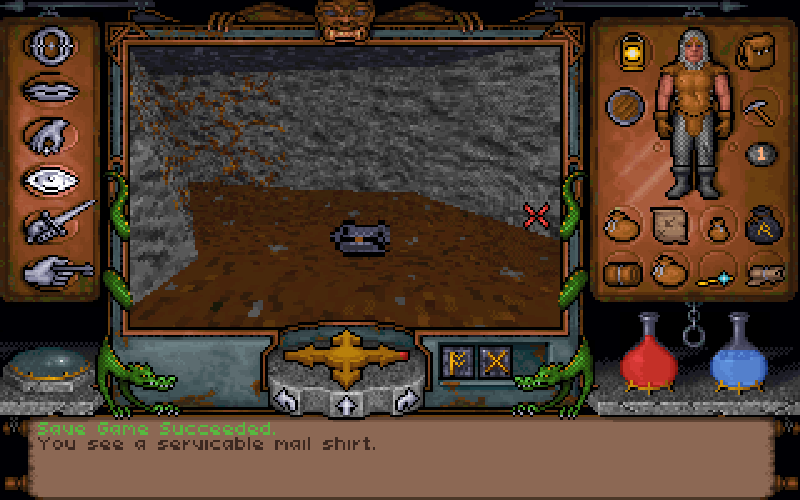 Sweet!
I cannot remember if I already have a Por stone or not. Either way I have one now.
I head back to king Goldthirst to tell him I have solved his mining problem.

Greetings, bold Elzair. Hast thou managed to kill the vicious monster infesting our mines?
Yes, the deed has been done.

I knew thou wert a hero! Was it difficult?
Yes. I was fortunate to have slain it.

And modest as well! Truly, thou art worthy of this great reward! Here!
A small, stooped member of the race of Mountain-folk scuttles forward, presenting to you a small amulet cast in the shape of a stone-cutter's chisel.

This was the favored tool of Great Coulnes, the best gemcutter ever to grace our tribe. It is traditionally presented to heroes and those who excel in their craft. Thou art the first not of our folk to bear it. May it bring thee fortune. Again, our thanks.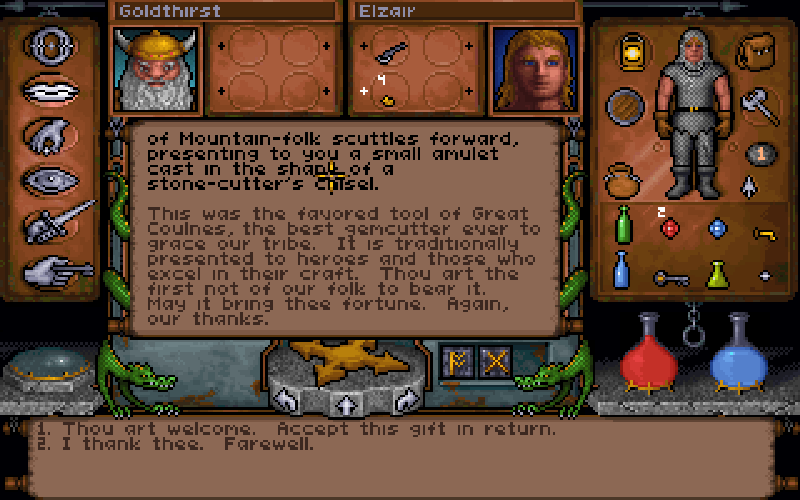 Thou art welcome. Accept this gift in return.
*gives four gold coins*

This is indeed a goodly gift, and I thank thee for it most kindly. Wouldst care to see the treasure chamber to which it will be added?
Only if your lordship insists.

Thou shalt see it for thyself! Take thee to the end of the hall from which thou didst enter and say the words "Deco Morono" to the guard at the door.
I thank thee.
I do as he says and find Steeltoe.

Halt! Who goes there?
I am Elzair.

What is thy business here?
Other.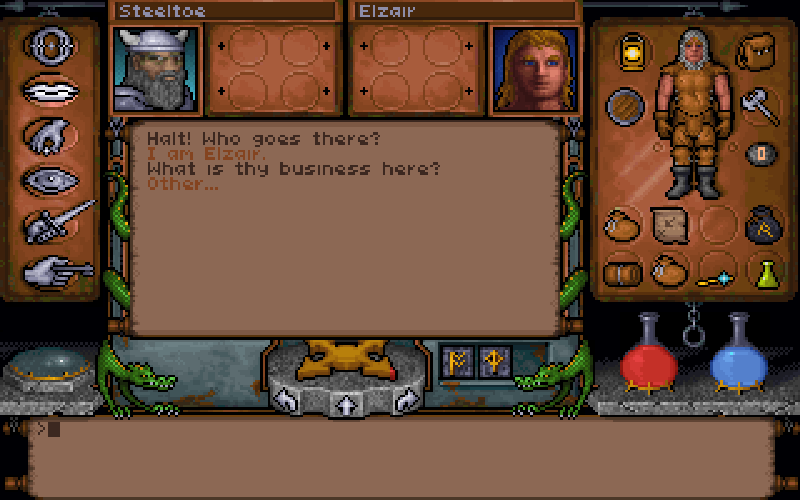 Greetings, noble sir! Enter with honor and look upon the magnificent treasure chamber of Lord Goldthirst. DAre ye not do any further.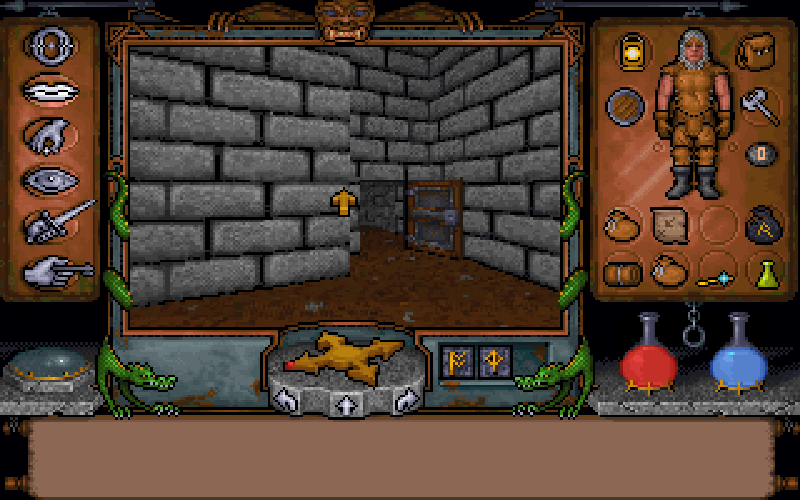 He opens the door for me.
Here is another magic scroll.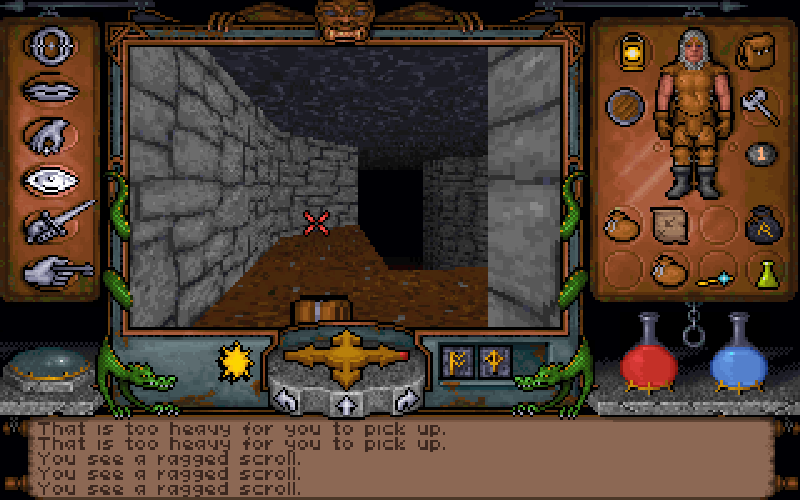 This one casts some kind of dayligh spell. It is not all that useful.
Since I can cast Levitate (i.e. Hur Por), I might as well try to loot the treasury.
OH SHI-
Scratch that idea. I head back to the third level and explore more of the northeast part.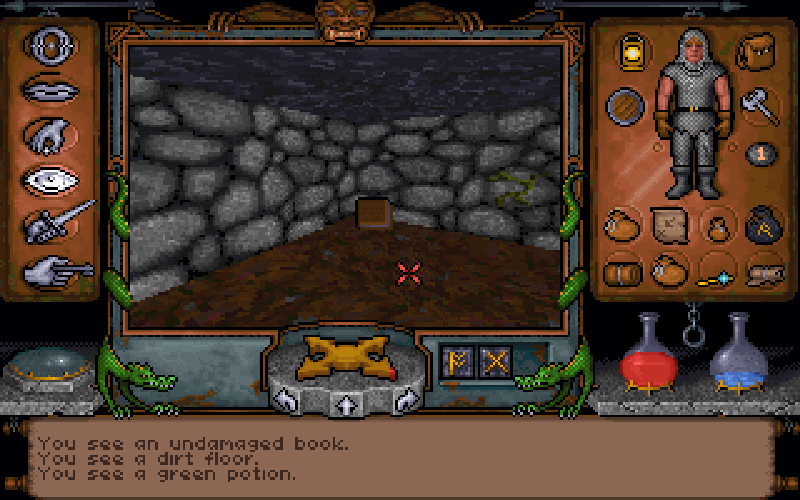 I add another mantra I will never chant to my notes.
It is time to rest again.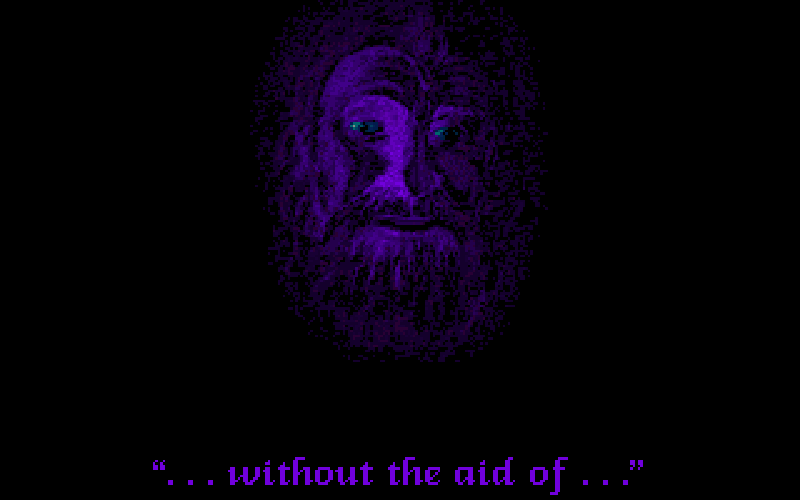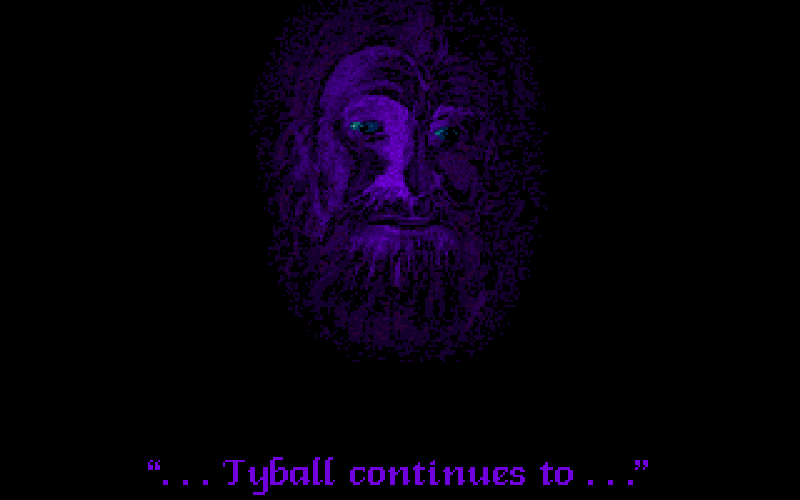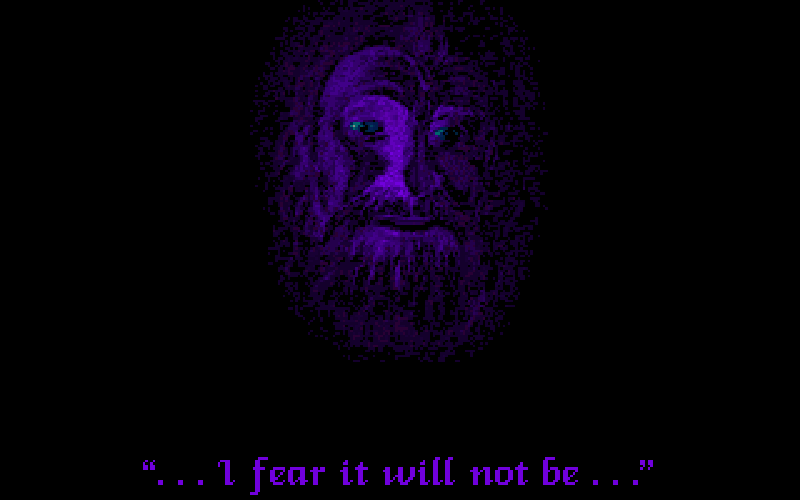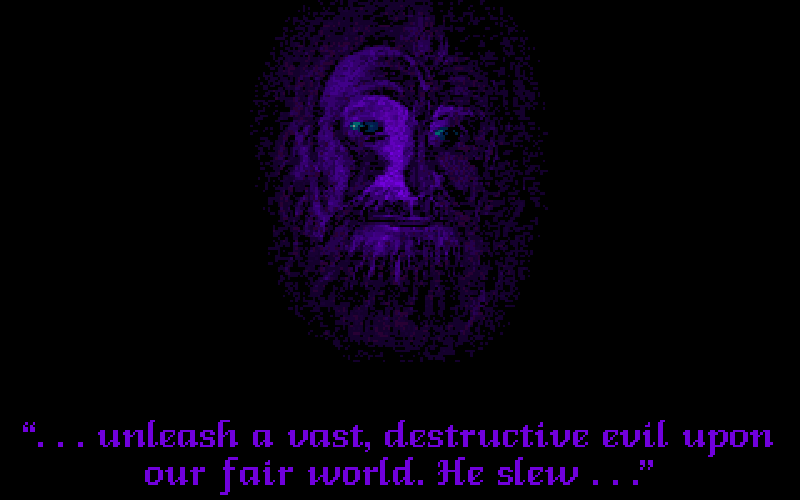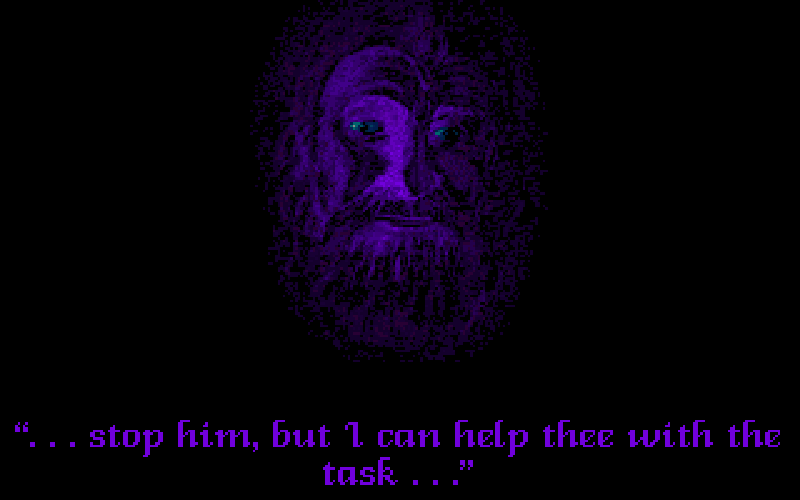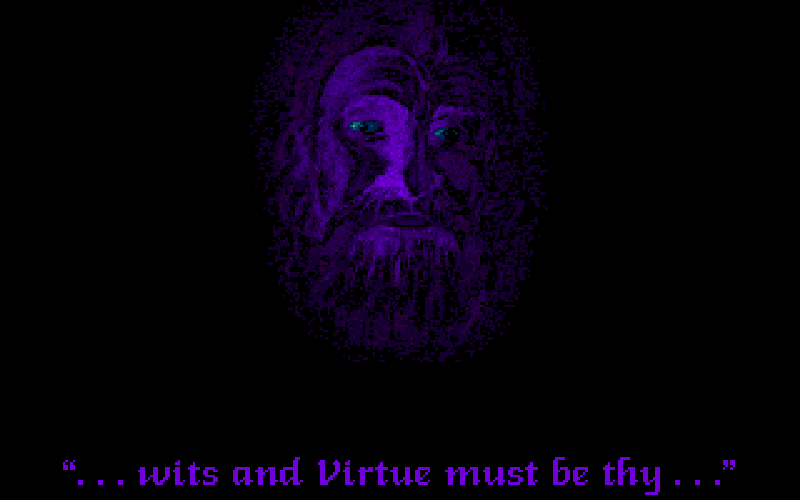 I think he is starting to be a broken record.
After killing a few more lurkers I ascend to level ten. I can now cast spells from the fifth circle.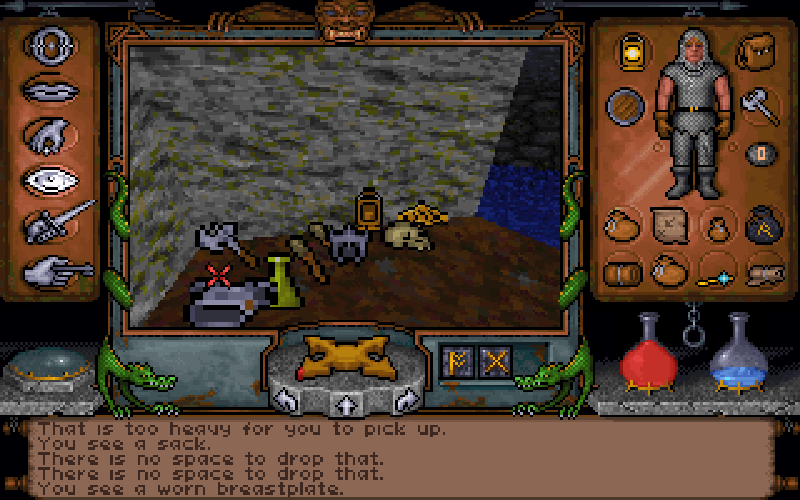 Here is more loot.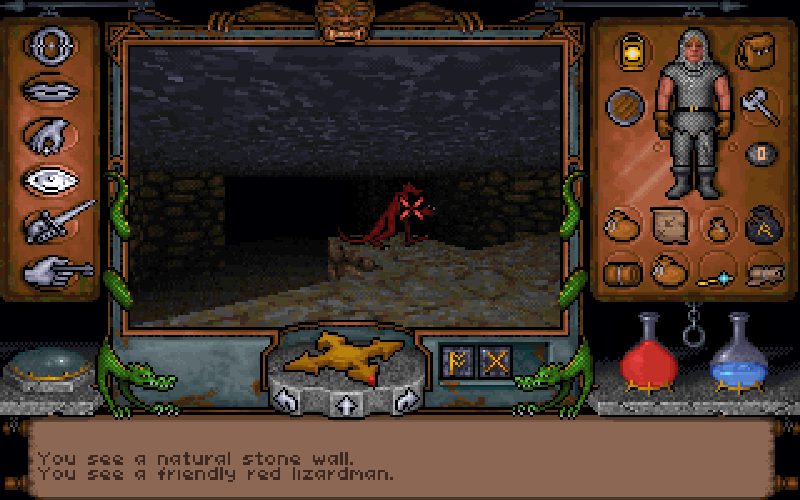 Here is a strange looking red lizardman. I should probably remember to come back to speak with him later. I now circle around to the south of the level.
This bandit is upset, but at least he is not hostile.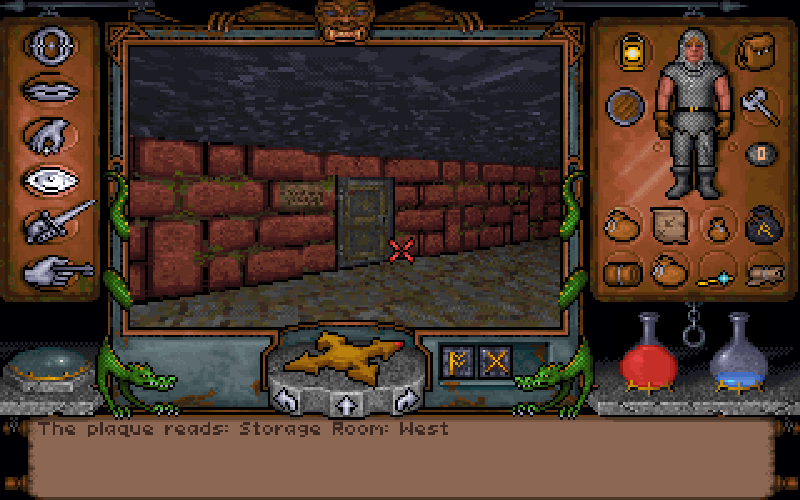 Unfortunately, the storage room doors are locked, and I do not have a key or the runestones to cast Open (Ex Ylem) yet.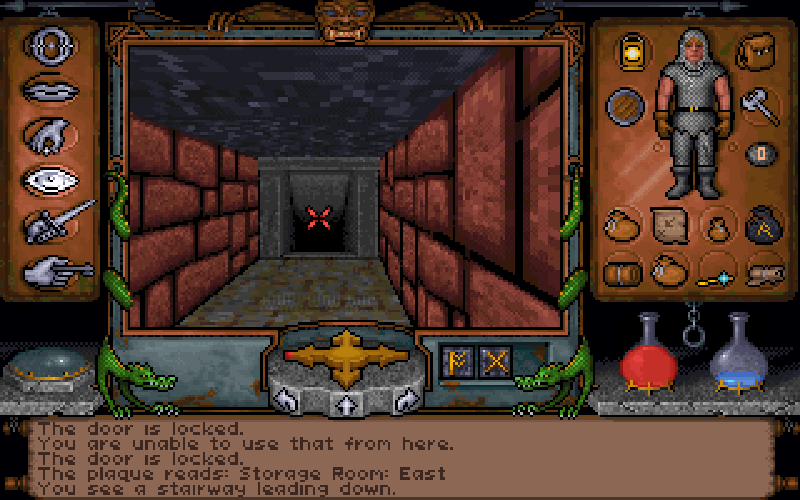 I do find a set of stairs leading down to level four, but I am not done here yet.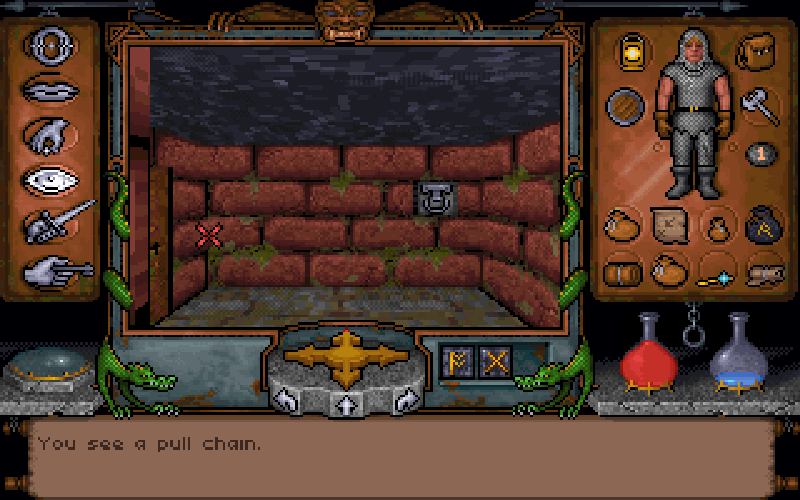 This chain opens the door leading to the room in the southwest that I talked about at the beginning of this update.
I now head for the lair of the green lizards (in the center of the map).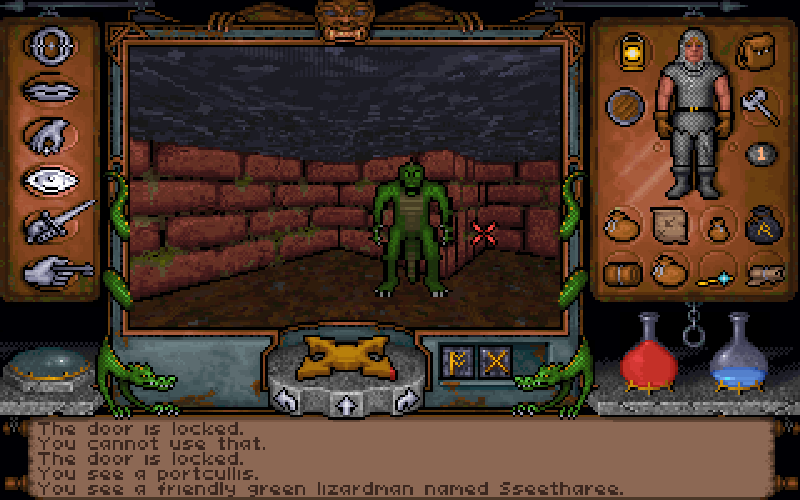 This lizard, named Sseetharee, is guarding a prisoner. I try to talk to him.

Bica, sor'click.
Bica, yourself.

Tosa yeshor'click? Tosa sorr?
I'm sorry, I can't understand thee.

Tosa thit sstresh. Tosa eppa Urgo.
He points to the figure moving behind the bars.
If thou sayst so.
I now try talking to the fellow in blue robes behind bars.

He points to his mouth and shakes his head.
Art thou mute?

He nods his head unhappily.
Canst thou tell me thy name?

His eyes light up, and with great effort he grunts out something that sounds like "Uurghoo."
I'm sorry, I cannot understand thee.

His face takes on an expression of almost comical sadness. Then he shrugs elaborately.
Canst thou not leave? Art a prisoner?

He nods sadly, then performs a complicated series of charades that seem to indicate that he is innocent. He mimes vicious Lizardmen grabbing a wide-eyed victim and laughing heartily as they fling him in this cell. He implores you, by gestures, to speak to the Lizardmen and get him released.
I'm sorry, but I don't understand their language.

He gestures at himself indicating that HE understands the tongue of the Lizardmen. Further, he makes signs that seem to say the Lizardmen understand YOUR speech, but cannot pronounce human talk themselves.
Very well. If thou wishest to teach me lizard tongue, I will try.

He indicates that you must supply a word, and he will translate it for you.
What does "sseth" mean?

He nds his head yes. He indicates for you to try again.
How about "click"?

He shakes his head no.
How about "tosa"?

He points to you, and takes your hand and makes you point to him.
How about "yeshor'click"?

He smiles and acts friendly toward you.
How about "sorr"?

He scowls and acts agressive.
How about "bica"?

He pantomimes a greeting.
How about "eppa"?

He mimes going away and then returning.
How about "urgo"?

He points to himself.
How about "sstresh"?

He mimes giving assistance.
How about "sorra"?

He mimes picking your pocket.
How about "zekka"?

He points to his mouth, chews, and rubs his belly.
How about "thes'click"?

He mimes hitting someone!
How about "yethe"?

He mimes strangling someone to death.
How about "Thepa"?

He mimes a Lizardman.
How about "sel'a"?

He pretend to give you a gift.
Very well. I'll be back later.
Here is a handy chart for the lizardman language.
Code:
bica		hello
click		no
eppa		return
isili		me
sel'a		give
sseth		yes
sorr		enemy
sorra		thief
sstresh		help
thes'click	striking
thepa		lizardmen
tosa		you
urgo		Murgo, the prisoner
yeshor'click	friend
yethe		strangulation
zekka		food
I now try talking to Sseetharee again.

Bica.
Hello
Bica.

Tosa yeshor'click? Tosa sorr?
You friend? You enemy?
Yeshor'click.

Tosa eppa Urgo? Urgo sstresh tosa? Urgo sorr. Tosa sorr?
You want back Murgo? Murgo help you? Murgo enemy. You enemy?
No, I'm not.

Tosa yeshor'click! Isili Sseetharee. Sseetharee yeshor'click. Isili sstresh tosa, sseth?
You friend! Me Sseetharee. Sseetharee friend. Me help you, yes?
Yes!

Urgo sorr. Urgo sorra zekka, thes'click Thepa. Thepa yethe Urgo.
Murgo enemy. Murgo stole food, hurt Lizardmen. Lizardmen kill Murgo.
No, please don't!

Tosa sel'a zekka isili - isili sel'a Urgo tosa.
You give food toe me - me give Murgo to you.
Okay. Bica, friend Ssetharee.
So now I have to scrounge up some food to give to Sseetharee in exchange for Murgo's freedom. I will do that later.
I head north, kill a few things, and find a weapons cache. I make a note of the crossbow if I ever need a ranged weapon.
Inside the pourch are two stones (Ort and Por) I already have. Oh well!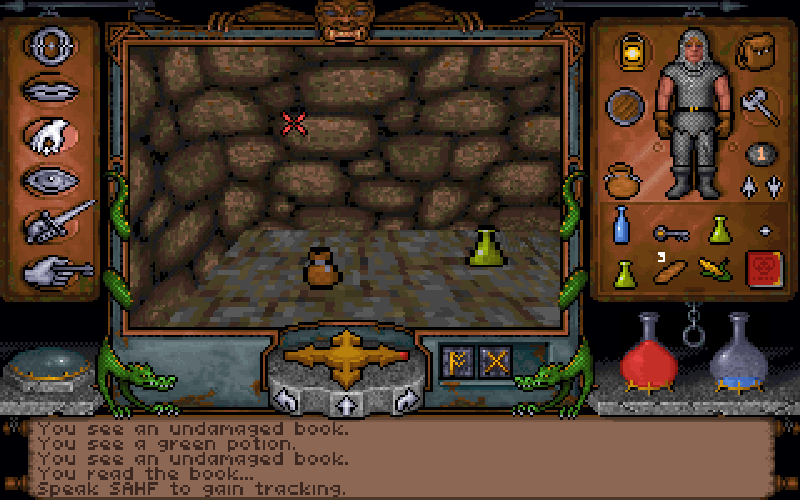 The book gives me another mantra to improve another skill I don't need.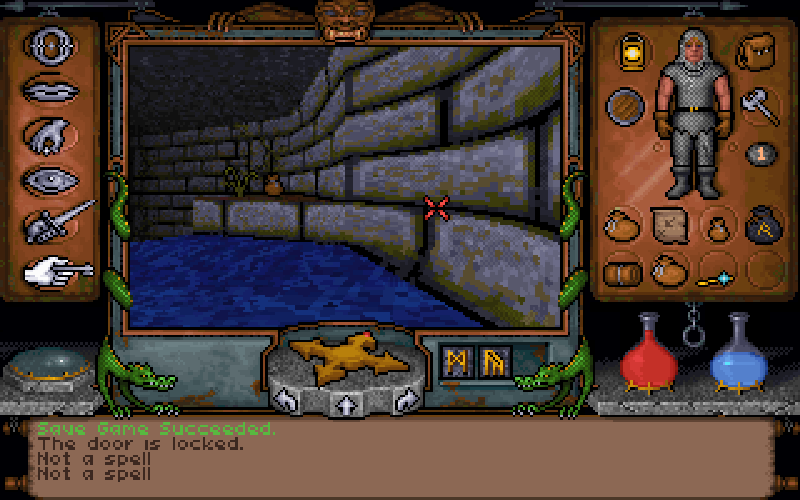 Here is a pouch perched (say that five times fast) on a ledge above a waterfall.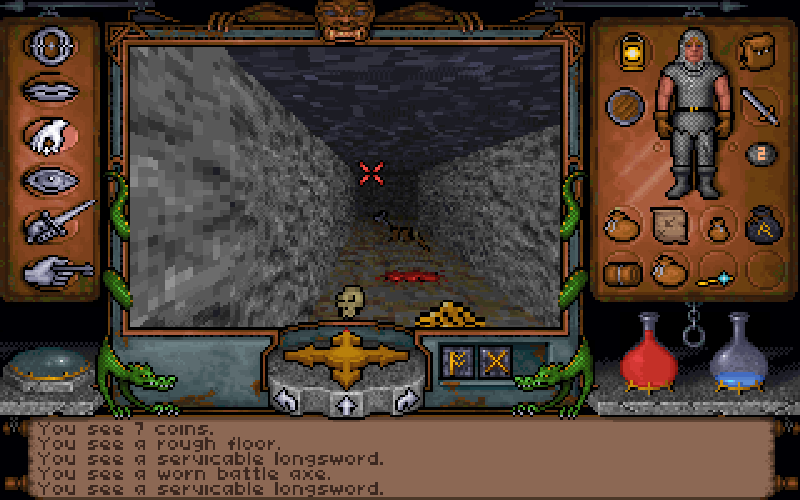 I return to the bandit that whooped me a while ago and zap his ass.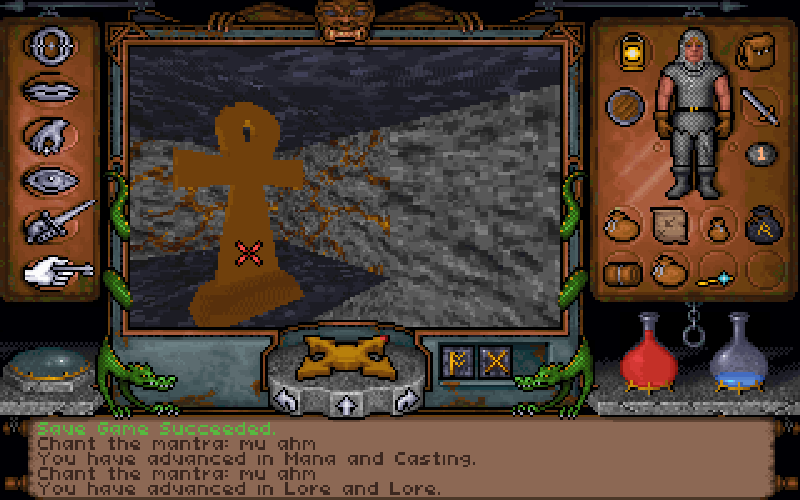 I finally find the shrine for this level. It is time to bump up my mage skills.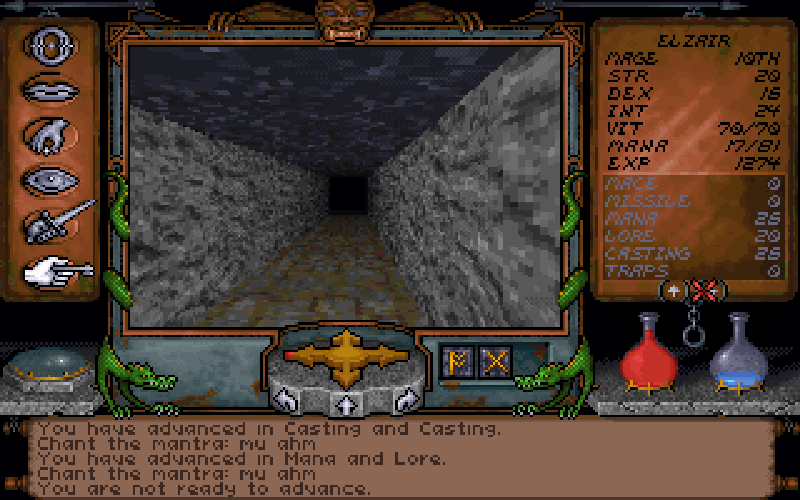 Booyah!
I find this mantra on the walls by the shrine.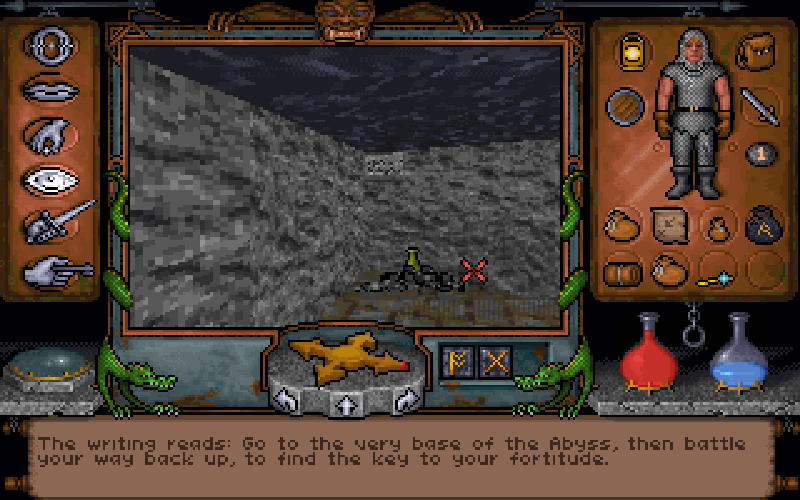 Weird.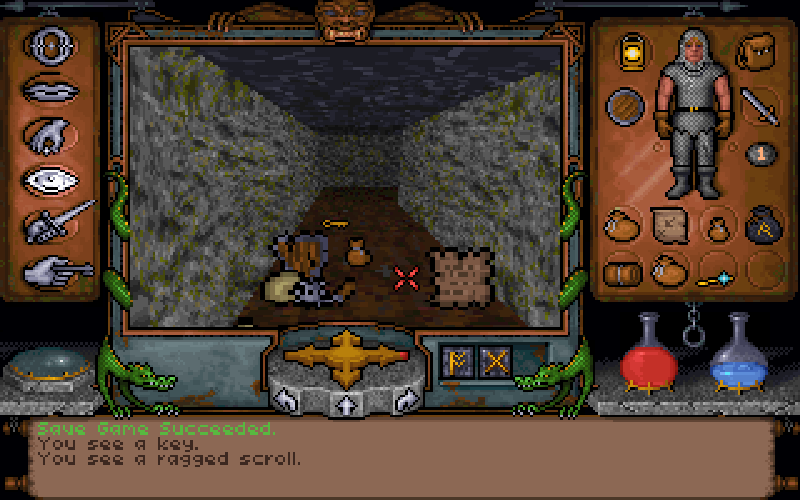 I kill a couple of spiders and find a yellow key and a note.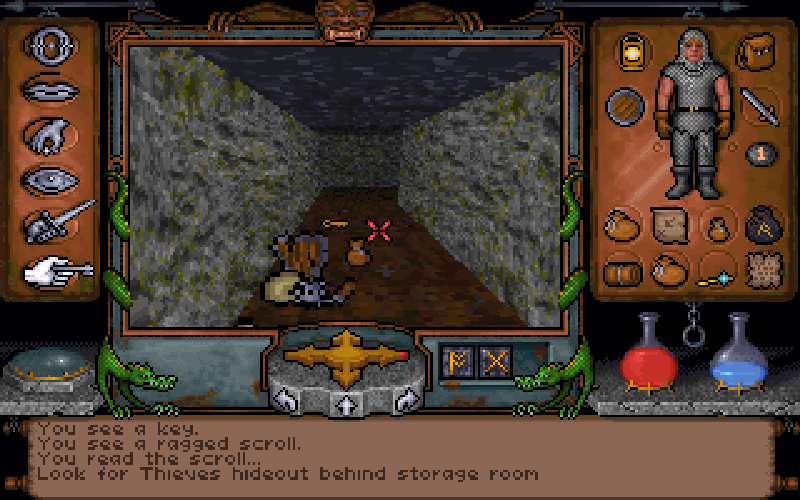 I guess they mean the storage rooms to the south. I have to make a note of it.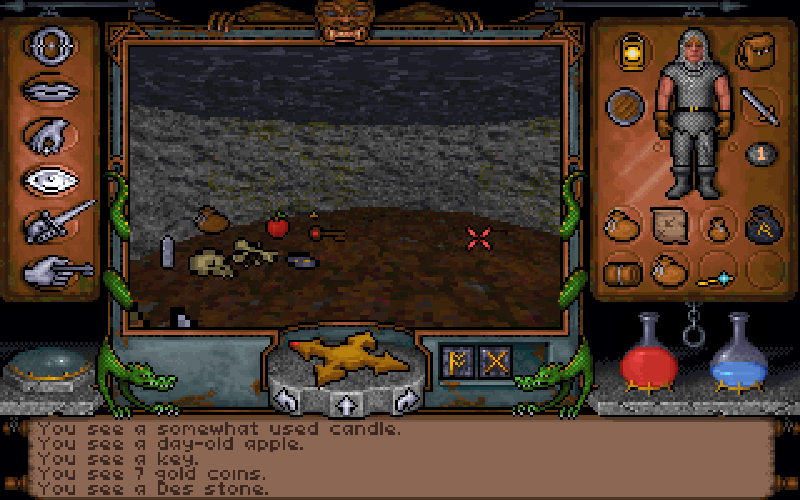 I find a few candles, a ruby-handled key and a Des runestone in an alcove.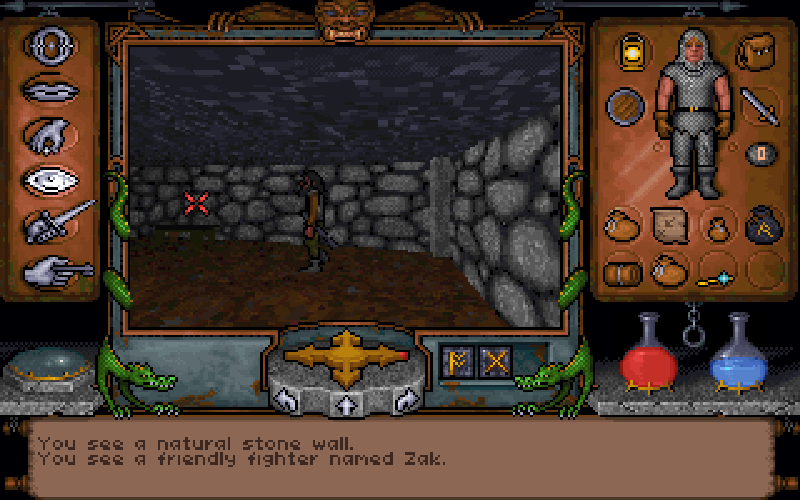 I wander around and find a fellow named Zak.
Hello. My name is Zak. What be thine?
I am Elzair.
Greetings to thee, adventurer. Did I tell thee I am Zak.
Ah, yes. I am pleased to meet thee.
What dost thou fear, Adventurer?
Many things. What frightens thee, Zak?
Oh, I fear only the darkness.
Dost fear the dark, or what might lie within it?
Darkness! It is the root and reason of all fear!
That fear I understand. Hast thou a remedy for darkness?
I collect torches, lamps, and tapers. Wouldst care to see?
Certainly!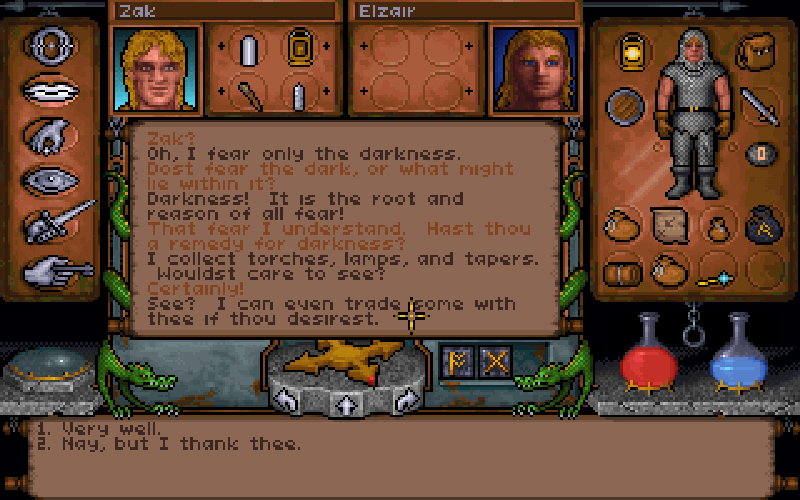 I decide to trade several candles for the taper he has.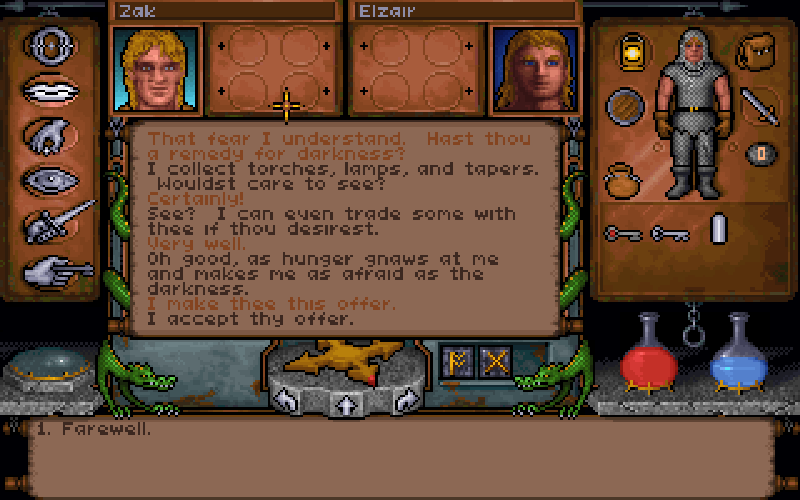 I wonder if there is anything special about it.
Sweet. That has to come in handy.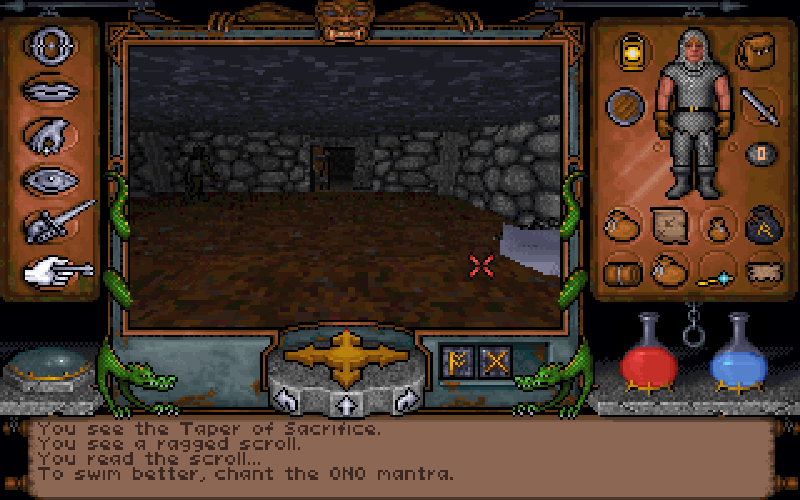 Here is another mantra.
Instead of taking the long way around, I decide to just levitate over the waterfall. Woot!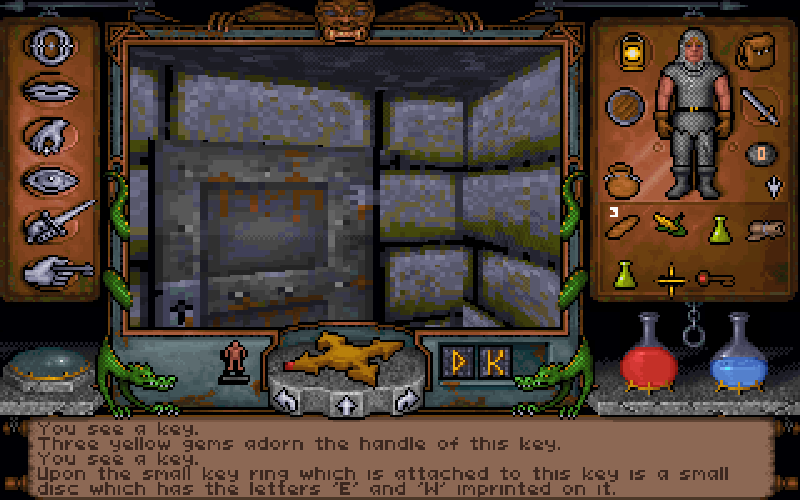 The yellow key probably opens the storehouse doors. I have to find out later, however.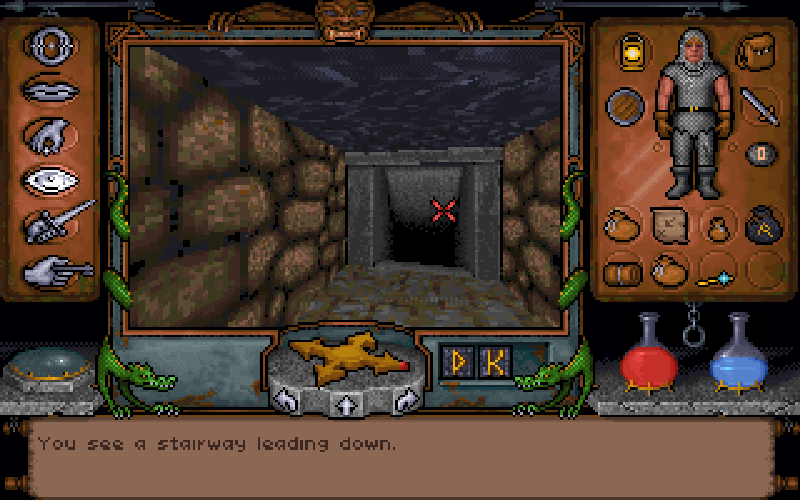 I am bored of this level. Let's head to level four ... next time!