Joined

Jul 11, 2004
Messages

5,673
*
Update 1
- Night Camp
*
Update 2
- Exploring Nadoret
*
Update 3
- Bickerbolds and Big Frogs
*
Update 4
- Mage in training
*
Update 5
- But Thou Must
*
Update 6
- Choice
*
Update 7
- Not The Bees!!
*
Update 8
- Gathering the Crew
*
Update 9
- Foreboding prophecies
*
Update 10
- Sneaking in
*
Update 11
- Kicking the door in
*
Update 12
- Tentacles in the deep
*
Update 13
- Ardo Attacked and Missing Folk
*
Update 14
- Return to Nadoret to find a Vortex
*
Update 15
- You is a warwilf?
*
Update 16
- Trolls at the bridge
*
Update 17
- Water nymphs are all houris
*
Update 18
- The Ox Herder
*
Update 19
- Entering the Thieves' Guild
*
Update 20
- Thieves' Work
*
Update 21
- Rat Diplomacy
It's time for a bit more cRPG in our Let's Plays, and what better RPG than one I recently enjoyed, reviewed, and am finishing up the GameBanshee subsite for: Drakensang: The River of Time.
I'm an old fan of the The Dark Eye PnP system. It was released as Oog Des Meesters in its 2nd edition in the 90s and I didn't half play it to death then. I also greatly enjoyed the old Northland Trilogy, the Realms of Arkania games as the franchise was then called in the US.
Drakensang: The Dark Eye was naturally a bit of a disappointment held up to the standards from PnP and Realms of Arkania, but still a solid RPG in its own right. Trying too hard to imitate big brother BioWare, it lost itself in trash mobs and shitty epic storytelling. I did like what I saw of the 4th edition, and having bought an English language rulebook, I like a lot of the things they did with the rules. It's a great system.
The River of Time took everything that I complained about in my Drakensang: TDE review and removed or improved it. Better travelling system, better encounter design, better quest design, better story, more engaging companions, and so on and so forth. It's not a great RPG by most measures, and certainly not by the Codex' standards, and it really slips and slides at some points, but it's pretty damn good.
One thing it lacks in overall is choices. It's not as bad as some, but it has only a handful of clearly demarcated choices (which do have consequences), for the most part it BioWare-style provides you with false dialog options and the like. Still, forgive it that...
The intro is, typically, not on Youtube, and I lack the means to put it there.
Here
are the first 12 minutes of the game, though I suggest you turn it off after the intro because the video is from someone who can't figure out the controls. Need I say more?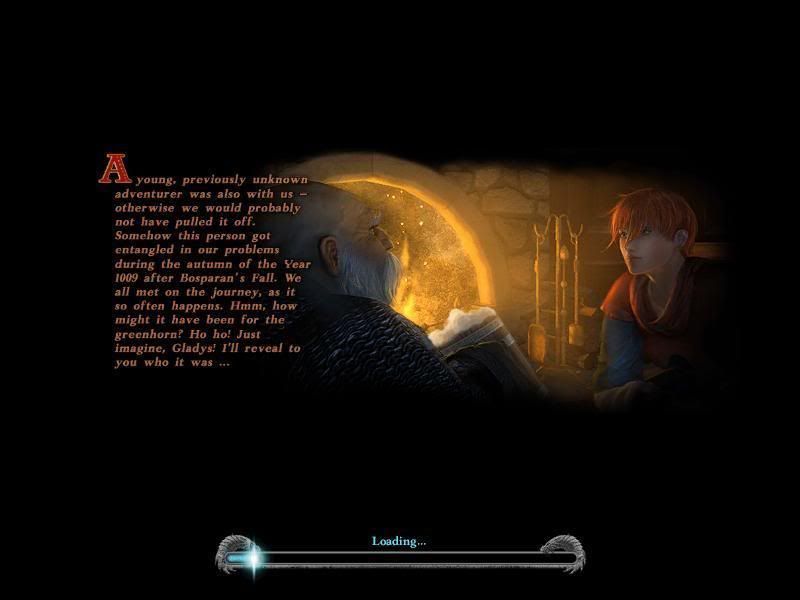 You're plonked into the adventure, and other than this being a prequel to Drakensang: TDE, with two companions from that game (Gladys and Forgrimm) acting as narrators (well, Forgrimm, really), you don't really know much. Not anything, really. That works for me.
Forgrimm's voice actor is one of the better ones to be honest, some of the others (Cano, Beggar Greyhair) are really bad. But it still gets to me when an actor is not properly explained the subject matter. The way he enunciates "1009 after Bosparan's Fall" makes it sound as if this happens just after Bosparan's Fall, but aBF is just TDE's way of counting years (their AD, in other words).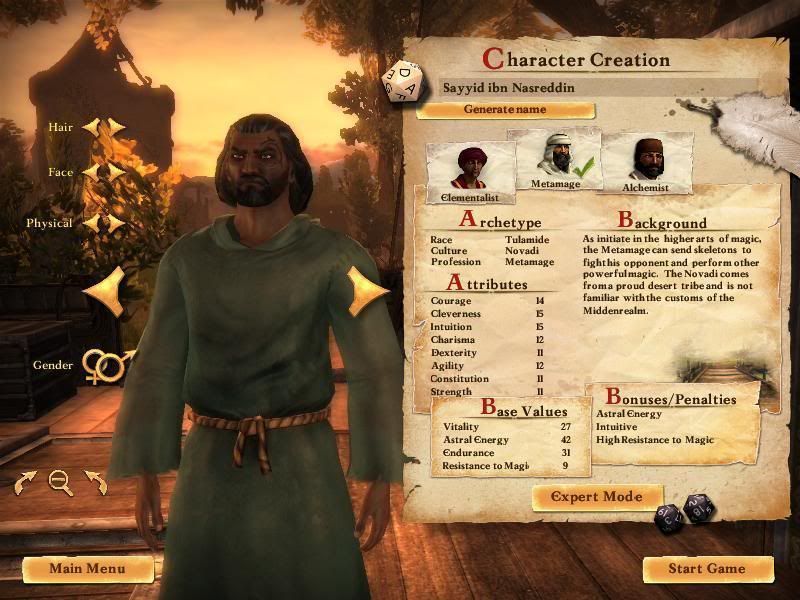 This bad mommojamma will serve as our PC for this adventure. I've finished the game as a Geode (Dwarven druid) and as a Charlatan (rogue/mage multiclass type), so I'm constantly using magic users. Still, can't get much purer in magic users than the Tulamide options the game gives you. The Elemental Mage is cool, but I opted for the Metamage, probably the most dedicated magic class.
He's a Tulamide, a race of humans from the southern parts of the main continent. Darker-skinned, Arab-like, basically. The Mhandistani (Elemental Mage is one) culture are polygamous and fairly carefree. The Novadi worship Rastullah, the One God, where pretty much everyone else worships the Twelve Gods (with Praios as the head maestro). Even dwarves do, though they refer to Ingerrim as Angrosh, the father of all dwarves. Elves don't worship anything because they're snooty douchebags. The Novadi are fairly unique in their faith in this world's version of Allah, believing the Twelve Gods do exist but are mere disciples.
All Tulamides believe women are inferior and property of their men (young Novadi women have a bit of freedom though), which is also a unique attitude in this world because - as the rule book explains - women are not physically inferior to men. Some whim of nature, who knows, but that's how it is. There are still male and female-dominated societies though, and the Tulamides are male-dominated.
The Novadi, furthermore, host more suspect schools of magic, practicing the dark art of Necromancy and the like. Our hero, Sayyid ibn (son of) Nasreddin, studied at such a school, the School of Magic at Mherwed. His teacher (and father?), Nasreddin ben Nazir sal Cherek ben Hamar al-Alam, decided the pupil had learned all he could at this school, and sent him to the mage Master Brookbeard in Nadoret, to put the final shine and polish on the student's training.
And that's where we are, en route and right close to Nadoret. But first, character creation! Naturally I dive into "expert mode" after providing Sayyid with the proper scowly face to suit his angry, infidel-smiting demeanour.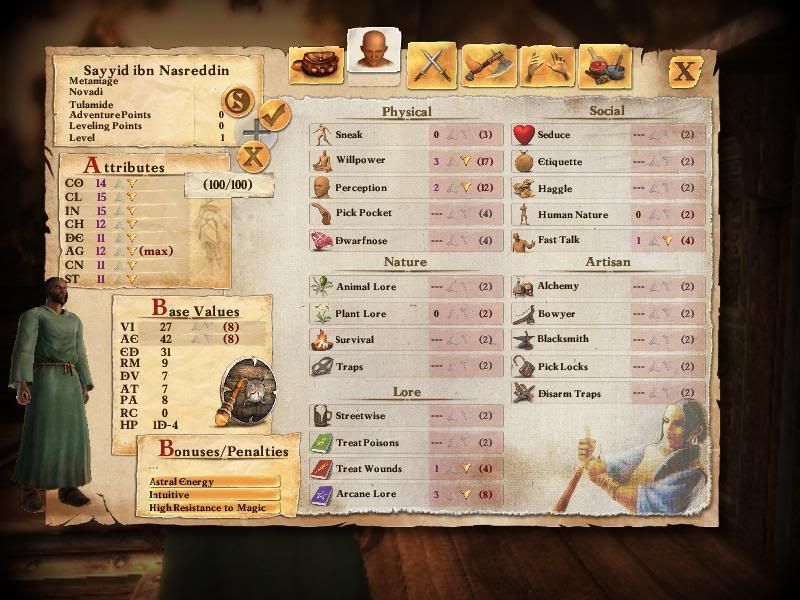 This is your basic setup. You can not learn skills your character does not know from character creation, but everything else can be edited to suit your balancing needs. I took a point from agility to put into intuition since a true mage has no need for agility, and similarly I removed the advantages Intuitive (+1 intuition) and High Resistance to Magic (+3 Magic Resistance). I instead opted for the penalty of "Artisan Talent Penalty" (-2 to all Artisan skills except lock pick) as a true mage blabla you know the drill. This freed up enough leveling points to take the massively useful Rapid AE-Regeneration bonus.
The spells known to this young student. Fastness of Body is a shield spell, the Attributios are temporary buffs, Corpofrigo Cold Shock is a handy penalty-inducing spell for longer fights, Ignafixus is a typical attack spell, handy against some opponents but not too much against others. Light in the Darkness is your basic Light spell. Skeletarius summons a skeleton. Master of Animals converts an animal to your side temporarily. I redistributed some leftover points over the spells, Staves fighting skill and human nature/fast talk.
Oh yeah. Ready to take on this world of infidels. You shall all burn.
First gameplay update tomorrow. Also an odd question: I'm currently running the game with hi-res textures and most other graphical options to max, and the screens of the next few updates will all be at high settings. The game looks better but it's also a bit of a pain to run, not because it runs slowly but because loading screens take a very long time to load. Do you guys mind if I turn down some stuff?