Joined

Nov 24, 2017
Messages

5,149
Location
We don't get enough historical RPGs.
And even when some appear, they mostly take place in medieval setting (Darklands, Kingdom Come: Deliverance, Expeditions: Viking, Konung trilogy and lots of other, more obscure titles). So, a game that takes place the ancient era is at least worth a good try.
Several days ago I decided to begin my adventure with Teudogar and the Alliance with Rome. An indie RPG from 2003, basically a two men project: designed and written by Wolf Mittag, with charming oldschool visuals, clearly inspired by Ultima 7, created by Arne Niemuth. The game begins in year 12 BC in the barbaric lands of Germania. The region, divided between numerous warring tribes, is slowly being conquered by the Roman Empire, which under the rule of Emperor Augustus enjoys the peak of its military power.
Your character is a member of the Cherusci tribe. Your people are divided on the issue of how to deal with the Roman threat. While the chief, Ortwin, wants to wage war against the Empire, even though he knows such an endeaver, if undertaken by one tribe only has to end in bloody massacre. The most influential priest, Teudogar, believes such a war to be folly. He seeks peace and alliance with the masters of the whole world, even if it means being subjugated. The choice you make here will influence your whole campaign and experience.
The game basically has two different paths, with lots of variants later. I heard that the "alliance with Rome path" is quite short, so I decided to pick a longer one and fight for the independence of Germania. Which meant numerous travels between villages and seats of power of different tribes, places of worship, oracles or huts of wise witches. Lots of scheming, diplomacy, corruption, backstabbing, and sometimes open bloodshed.
Even the "war with Rome campaign" is not really long - I managed to beat it in about 8-9 hours. However, once you stop and think about what you have achieved during this period - you find that there is actually more content packed into that time, than into many longer games. There is very little boring filler in Teudogar. The only random encounters appear during travels between major locations (you get ambushed by robbers, or - rarely - by warriors of enemy faction). Most battles are avoidable. During my campaing, despite taking part in two big skirmishes, I only defeated 27 foes and killed 11 people (others I allowed to flee). Usually the alternatives to combat were simply more efficient.
Character creation and development - you command a single character, which you create by picking a name and face. As a young Cherusci male he has basic stats (strentgh, dexterity, intelligence, perception, charisma, faith, knowledge) and skills (fighting with sword, axe, spear, dodge, healing, craft etc), does not know neither thief's abilities nor medicine, does not possess neither the art of magic nor the knowledge of herbs. However, during your travels you will develop the character in numerous ways. Stats and skills increase with use (and are influenced by items like armor weigting you down and decreasing dexterity, while lots of golden jewelry increasing charisma). There are numerous NPCs that can train you in the ways of magic, priesthood, skullduggery. Overall, the power progression is quite satisfying. In the beginning every combat was a nail-biting experience, usually ending with defeat and shame (or brutal death). At the end I was able to challenge and kill a powerful warlord protected by strong magic, and three of his strongest henchman - without a need to rest between those duels.
Combat - while mostly avoidable is quite well developped and simply fun. It's turn-based, strongly reliant on stats and skills, but also on positioning, and reminescent of roguelikes - all the other combatants move at the same time, between your turns, so even big sirmishes don't take too long. You may throw a spear (if you have another weapon, preferable in melee), fight face to face, bless your allies and curse your foes, try to inspire fear in their hearts, or simply dominate them, use protective magic, heal wounds etc. While entering combat, you should be aware of the state of your PC - if he is exhausted, hungry, overencumbered his fighting prowess will suffer, even if he's a swordsmaster. So, preparation for combat is almost as important as the tactics during its course.
Magic - based on the historical accounts of what the ancient Germans actually believed in, is much different from what you experience in other RPGs. Even as a powerful wizard (or propably more appropriate name would be shaman) you will not throw fireballs left and right. There are mostly buffs and debuffs, some induced by drinking potions or eating halucinous mushrooms (my favourite effect is berserk - your PC takes of his armor and attacks nearby enemies naked, roaring like an animal - you loose control over him; it also has its risks - while strenght under berserk is much higher, loosing the protection of armor makes the PC and easy target). You can invoke the gods, but later must sacrifice to them the loot you won by receiving divine aid. It fits the historical atmosphere of the game - you never know if the spells you and the others use are actually real, or they simply work by inspiring the courage of the people who believe in their power.
The game world is not really big. While the map covers most of ancient Germania, there are only several settlements and maybe a dozen special locations scattered around it (I might have missed out on some of the locations you get to visit in the Alliance path - like the Roman forts). However, you journey a lot between those locations. My campaing lasted for 254 days - mostly spent travelling through the wilderness. However, once again, there is no pointless filler. Every place has its role and significance for the main quest or the sidequests. There are very few flavour NPCs. Most of them have something interesting or worthwhile to say.
Quests are varied and have several ways of solving them. For example, I was conducting an investigation concerning the poisoning of a tribal chieftain. I had to look into the chest of his brother - and the new king. However, the chest was locked. I could try to pick locks, pickpocket the key from the king, propably also kill him in combat and collect the key later. In order to establish the location of the chest and its significance in the whole order of things, I had to interrogate two other people. One accepted a bribe, though could propably be convinced otherwise if my charisma was a bit higher, the other I managed to convince by raising moral arguments. The main quest is interesting and has several plot twists, forcing you to act fast and improvise.
Funny thing is you may finish game at any moment and see what fate your actions actually brought upon your fellow tribesmen. You can also play until the very end (the arrival of the Roman army, no matter how ready you are). I actually got one of the best endings - the Germanic federation I forged managed to beat Rome into a standstill and defend its independce. Although one sentence from the ending slides suggested I could have done even better, had I been more ambitious and powerhungry.
Overall Teudogar and the Alliance with Rome offers a very interesting if somewhat short role playing campaign. It provides lots of choices and makes you suffer the consequences. It's a shame this engine and character system - that could power a much bigger game - was not used again. Propably we will never see Darghul, a fantasy RPG that was supposed to use the enhanced Teudogar engine. So, this game will become the sole proof of Wolf Mittag's brilliance. I sincerely reccomend it to any true RPG fan!
BTW, it's freeware now. You can get it here:
http://www.teudogar.com/
(click on the present icon in the upper left corner of the screen. then on the coffee icon. The zip file that will be downloaded is protected by the word Password). Have fun!
And here are some screenshots to show the game in action:
The intro:
PC's home, where you begin the adventure
Dialogue screen
Barter screen
The PC in stolen Roman armor. Lorica segmentata, most likely.
The hall of a king
The hut of the witch. Watch the paper doll, changing not only with different equipment, but also with the state of equipment of level of health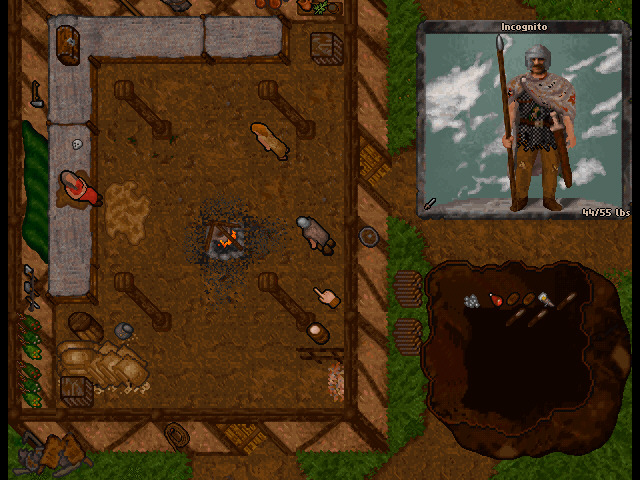 Last edited: