Joined

Jan 28, 2011
Messages

94,089
Kickstarter: https://www.kickstarter.com/projects/criticalforge/forged-of-blood
Steam Greenlight: http://steamcommunity.com/sharedfiles/filedetails/?id=877620687
https://forgedofblood.com
From the Codex inbox:
Hey guys, not sure where to email for press releases or if you guys look at that stuff, but we're working on - what we think is a pretty cool game - called Forged of Blood. I'll copy and paste our latest press release below if that's okay, and would love to get to you guys!

Cheers,

Igor

FOR IMMEDIATE RELEASE

News from Critical Forge

October 19, 2016

New Fantasy Turn-based Tactical RPG IP, Forged of Blood, now in Pre-Alpha.

JAKARTA, INDONESIA, October 20, 2016 - After a rigorous 4 months of prototyping, and 5 months in production, newly formed independent studio Critical Forge has entered its 9th month of work on their brand new fantasy IP: Forged of Blood. Looking to capture the nostalgia of old-school Tactical RPGs, Forged of Blood is the ambitious debut title for the studio.

"... while we want to give our players a plethora of decisions to make, we also want those decisions to carry weight and consequence. That is to say that whenever we ask the player to make a choice, be it on the tactical layer, while leveling up, or on the narrative path; that choice has to have a visible consequence after the fact."

- Joe Peterson Handjaja, Executive Producer

Set in a morally grey fantasy world, Forged of Blood looks to present players with a deeply tactical experience that focuses on meaningful choice and consequence across all gameplay layers. Baked into the narrative experience of the game will be the questions of morality and duty, and the world will serve to explore the themes of racial divide, familial lines, and politics.

"I'll admit to having injected my own personal goals as a writer into the story and the world - exploring racial divide and the shifting greys of morality is something that had always interested me. So, it just made sense to build all that into a fantasy world where we can experience, judge, and drive a whole narrative around it."

- Igor Tanzil, Creative Director

Starting with a small team of designers and programmers in February 2016, the team has since successfully prototyped and established the mechanical design of the core tactical gameplay. As of July 2016, the studio has been expanded to full capacity and pre-alpha production is well underway with the majority of in-game assets completed. As of October 2016, the team has completed a preliminary UI pass, created and tested a number of environments and are looking to polish a vertical slice of the game going into 2017.

Forged of Blood is scheduled to go into Alpha by February 2017, where the studio will seek additional funding to carry the game to completion by mid-2018.

Key Features:

Tactical Fantasy: Take to the field with sword and shield or cast powerful spells in deep turn-based tactical combat against monsters and men.

Classless Warfare: With 9 unique weapons and a vast magic system, Forged of Blood lets you build your characters any way you want - without being constrained by the typical tank/DPS/healer roles.

Science in Magic: Explore the freedom and mysteries of one of the most complex and unique magic systems ever attempted in video games.

Kingdom at War: Command up to three parties of heroic characters on the strategic layer in your fight to reclaim the empire you lost.

Meaningful Choice: Your choices matter. From character building to your choices in the game narrative, your decisions will reverberate across the Strategic and Tactical layers of the game.

Your ends; your means: In a world of grays and unique perspectives, it is up to you to decide what is "right" and "wrong" for the future of Attiras. Forged of Blood will introduce a new Tri-Axis Personality Plot (TAPP) system in lieu of the traditional Good vs. Evil scale common in most RPG settings.

Projected Schedule:

Pre-production: February 2016 – July 2016

Production: July 2016 – October 2017

Post-production: October 2017 – Mid 2018

Game related links:

Forged of Blood Website:

http://forgedofblood.com/

Like us on Facebook:

https://www.facebook.com/fobthegame

Follow us on Twitter:

https://twitter.com/ForgedOfBlood

About Critical Forge:

Critical Forge is a young studio with a old soul, looking to make games we grew up playing. We are a small independent team based out of Jakarta, Indonesia currently in production of a fantasy tactical RPG: Forged of Blood.
http://forgedofblood.com/about/gameplay/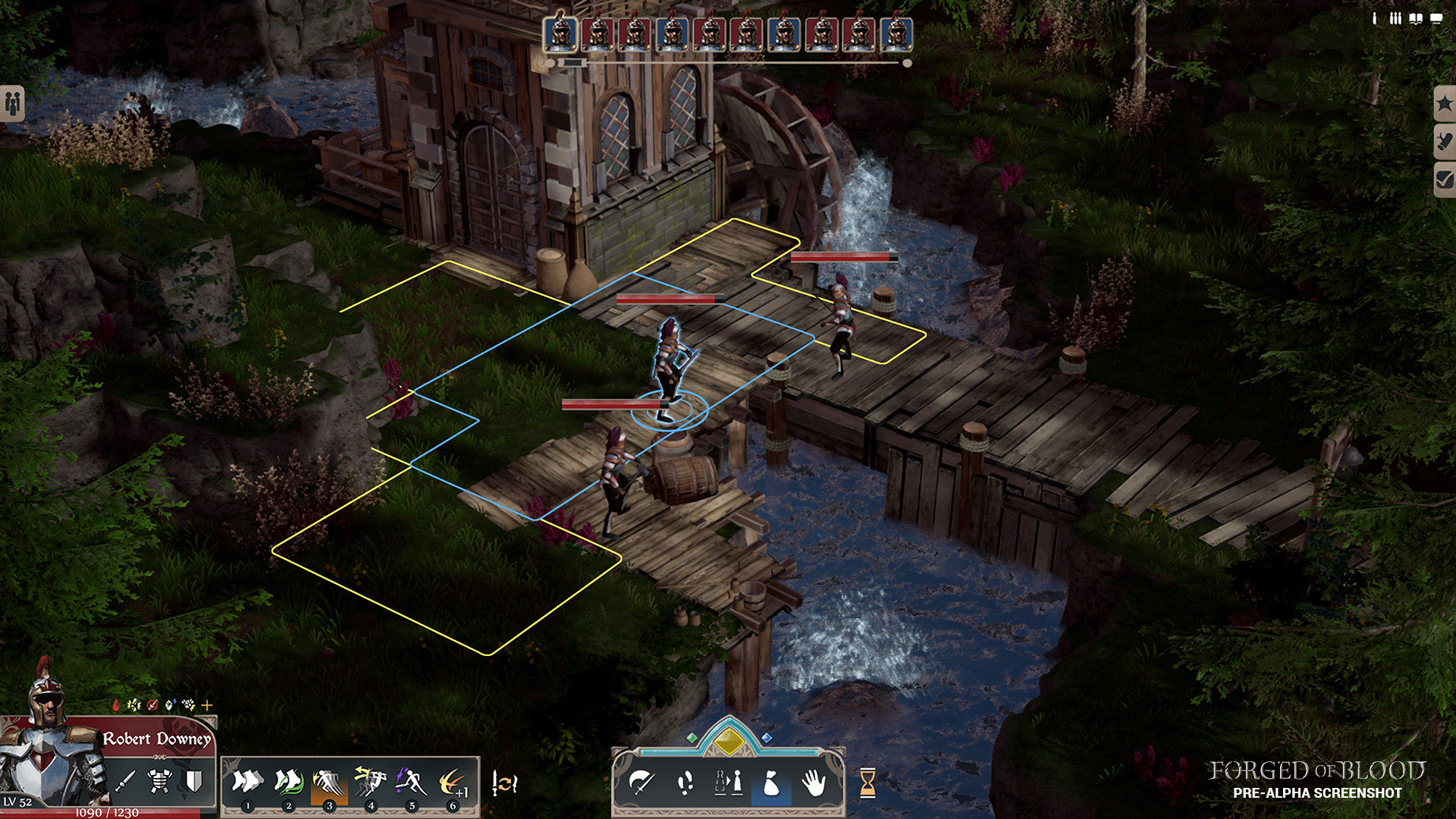 Last edited: