Arcane
Joined

Dec 11, 2016
Messages

3,992
Location
Escape From Ripag's Watch - A chaos Space Marine Quest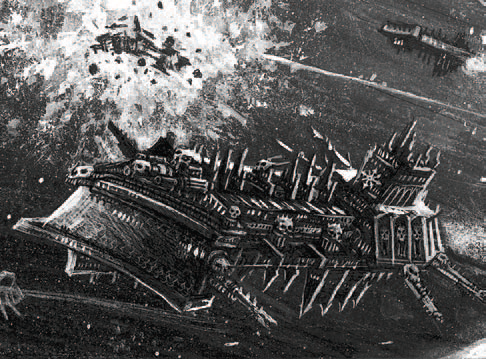 ​
Chapter 1: Planetfall
"Plasma reactor offline. Primary propulsion offline. Switching to emergency power supplies. Error. Full propulsion failure. Uncontrolled planetfall imminent."
You were running toward the bridge after dealing with one of the boarding group, when you had heard the alarming drone of the heretek maintaining your ship. The though that you had been out manoeuvred by mere human scum, sent from the ships who had come to defend the Cadian sector, was infuriating. But you kept you temper in check for the moment, instead continuing toward your objective, the heavy footfalls of your power armour drowning the ruckus of a ailing warship.
Damnation! You should have taken that cursed sorcerer's offer and had your ship possessed by a deamon. Yes, more risks of possession, mutation and madness, but at least the bastards that boarded your ship would be dead by now, instead of running amok and fatally sabotaging it.
You have commanded this Iconoclast-class raider, the
Mortis Ex Astra
, for a few centuries, but it looks like it's the end for it. Abaddon's latest Black Crusade (the ninth, by your reckoning) had gone well, notwithstanding your failure to capture your objective on the fortress world you're about to crash on. Then the signal for retreat had been sent, triggering a flight for the landing crafts. In the confusion, you have even no idea how much of your warband have made it back to the ship.
And then you were boarded while still in the gravity well of the planet, with most of the other Chaos ships blown to pieces by Imperial warships. Between the boarders and the fire from enemy spacecrafts, your ship is going down and with your landing bay wrecked by boarders (and since you skipped on maintaining your escape pods), you had no choice but going down with the ship.
Reaching the bridge, you see pandemonium, with monitors flickering, loudspeaker blaring only static and a mix oil and blood spreading on the floor, both damage from the space battles and recent boarding action. Punching a cogitator until the image stabilized, you saw your projected landing site, in a steep mountain ridge on the Northern continent.
Normal humans would die in a crash like this, but space marines had a good chance of surviving and those blessed by the Dark Gods even more so. And you were a Word Bearer, a scion of Lorgar, the blessings of the Dark Gods were as familiar to you as drugs are familiar to the depraved Emperor's Children! Though lately the favour of the Gods had been somewhat... lacking, which might explain your current predicament. But Faith must always be tested. And you were convinced that perseverance will ultimately bring your justly deserved rewards.
You could even stay in the bridge, which would give you the best protection from the crash. But once on the ground you'd have to find a way to escape that planet, imperial forces will surely try to assault the crash site to purge any survivors. So you might need supplies, which meant going to the armoury, even if there's no telling what's left there. Gazing around, you spot one of the pict-recorder screen showing some boarders two corridors aft of the bridge; even if they likely won't survive the crash, you could still extract some retribution out of their sorry hides.
A) Stay there, which will help in getting a safe landing and a quicker exit.
B) Go to the armoury. Though being stuck next to unstable high-explosive might during a crash might be dangerous.
C) The boarders are dead either way, but you will extract a pound of flesh for their insolence
Name:
Write-in (default: Procrus)

You can also post a picture for your character; I'll either chose one or go with the general consensus if there's one.

––––––––––––––––––––––––––​
The idea of the quest is to be rather short, ending either with the death of your character or your escape against all odds from the planet. I had notes for this, dating back a few years (I started sketching that quest before Mysteries of Brocante), but I've since lost them, but I should be able to reconstruct whatever I need.
Don't hesitate to ask questions (since that idea had been hanging around in my head for a long time, I know it quite well, but that doesn't mean I have though to include all the relevant information)
Edit 2023: well, I decided to continue beyond the original plan, because I'm enjoying that and I have some ideas for the next steps
Last edited: