To begin the comparison, I've extracted the NPC lines from the following games: BG1, BG2, IWD1, IWD2, PST, POE1, NUMENERA and TYRANNY.
I've discarding the PC lines, because it would be unfair to the comparison - the player is not the story teller, he's often brief and to the point.
I've then lemmatized the resulting words, meaning I've extracted their lemmas, which is the form in which a word would appear in a dictionary. This is not a perfect process. The alternative was Porter or Snowball stemming, which are also imperfect.
After lemmatization, a sentence "Harry was in a better shape" will be turned into "Harry be in a good shape".
The goal is to compare unique words (disregarding their varying forms) with TOTAL words, hence the procedure.
Since these games are of a different length, I've decided to cut the comparison at a certain length which many of these games reach. IWDs and BG1 turned out too short to participate. POE1 barely made it.
The results are, unsurprisingly, that Tyranny has the poorest vocabulary of all games, separated by a significant amount. Note that the Y-axis is exponential. It's fair to compare results exponentially, because a 10% difference is exactly what it takes for the text to become livelier and richer. Intersperse every 10th word with a rarer one and you get a smarter text. Tyranny is lagging behind by OVER 10%. It falls behind after 150k total words and never catches up. The difference only grows.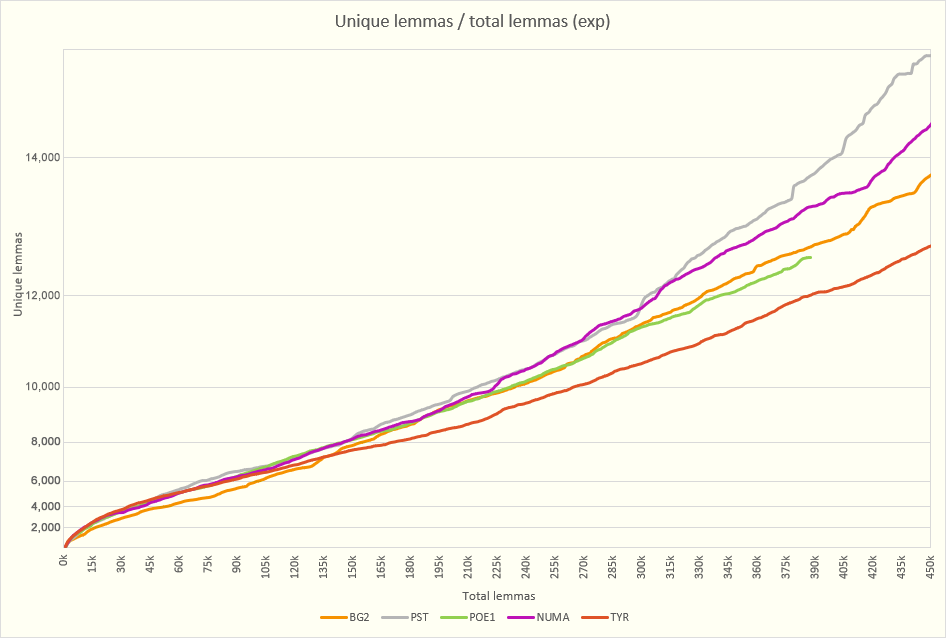 For another comparison, I've extracted the most used words that are over 4 characters long.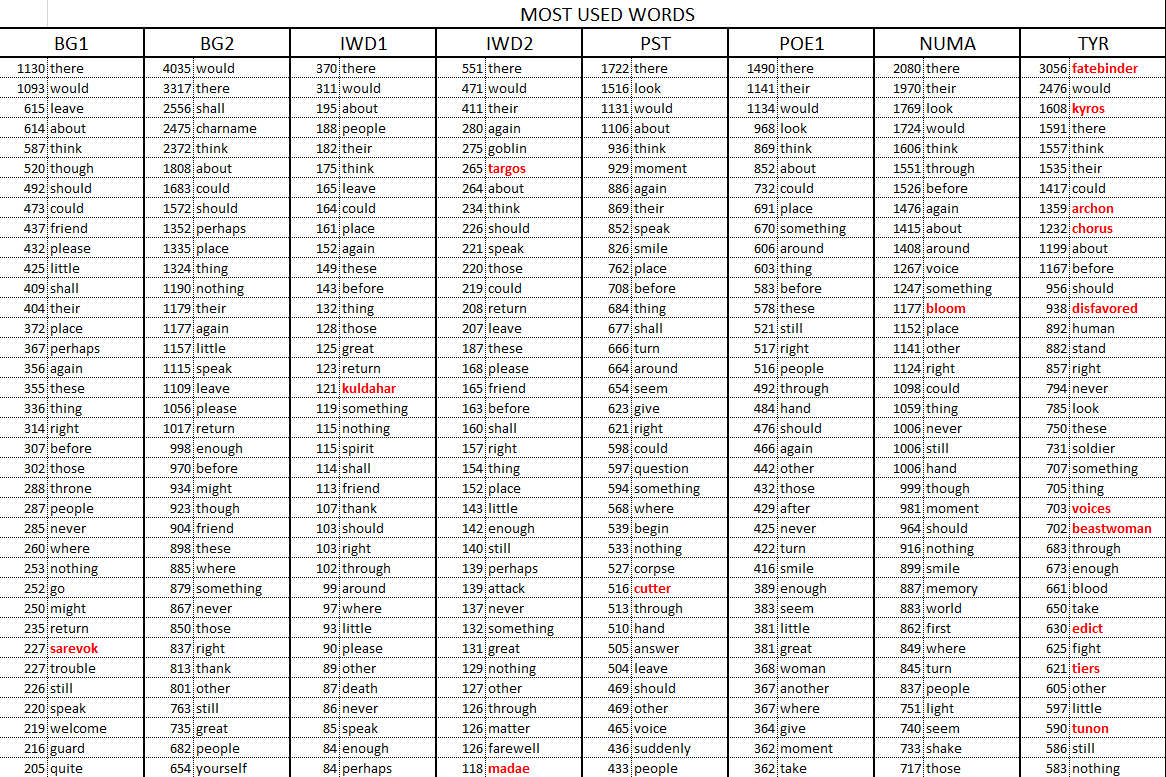 As you can see, all games are very subtle about their vernacular. PST is subtly charming with the heavy usage of "cutter", conveying the exotic setting with a multitude of other words that never repeat themselves. IWDs and NUMA emphase their most important toponym. BG1, 2 and even POE1 (yes, even POE1 despite its fampyrs) never verbally assault you with their unconventional world of magic and monsters.
None of this can be said about TYRANNY which jumps out of the bush and rapes you with the MOST USED WORD fatebinder, followed closely by KYROS, ARCHON, CHORUS, DISFAVORED, BEASTWOMEN and many more. The writers don't even attempt to convey ideas elegantly. They've created a glossary and clumsily handle the narration by dropping the same words on your head over and over again.
It's always been the author's opinion that Tyranny is an affront to any sane person's sensibilities. It has been proven by the numbers now. You can't like Tyranny and claim to be a respectable gentleman. Only a scullion could enjoy something like that.
Last edited: