When I was gathering data to make a
linguistic comparison of IE games
(to prove that Tyranny's writing was terrible), I also gathered some other data about IE games out of curiosity. It was mostly to see how reactive those games are, when compared to each other. I don't think anyone's in for a surprise, but the data is still insightful.
Word Count
(Note that I'm only dealing with dialogue text here, I've excluded item descriptions, quests, etc.)

Unlike what some people believe, PST wasn't that long of a game in terms of writing.
Word count wise, the games are as follows: BG2 > PST > BG1 > IWD2 > IWD1
I remember when Brian Fargo proudly announced that TToN's word count reached 1.2 million words. He saw and marketed it as something grandiose and worthy of celebration. Had he looked at PST's dialogue stats, he would've noticed that something was off.
POE1 is twice as verbose as BG1.
Numanuma is twice as verbose as PST.
Tyranny is somewhere between these two, and is as long as BG2 + ToB.
You can see the trend with these new games. They're unnecessarily twice as verbose than the older RPGs.
At this point I stopped gathering nu-RPGs data and only looked at IE games.
Dialogue Branching

IWD2 actually offers more dialogue branching than any other game with a solid lead. Followed by PST > IWD1 > BG2, and BG1 falling behind everyone else.
Stat checks in dialogues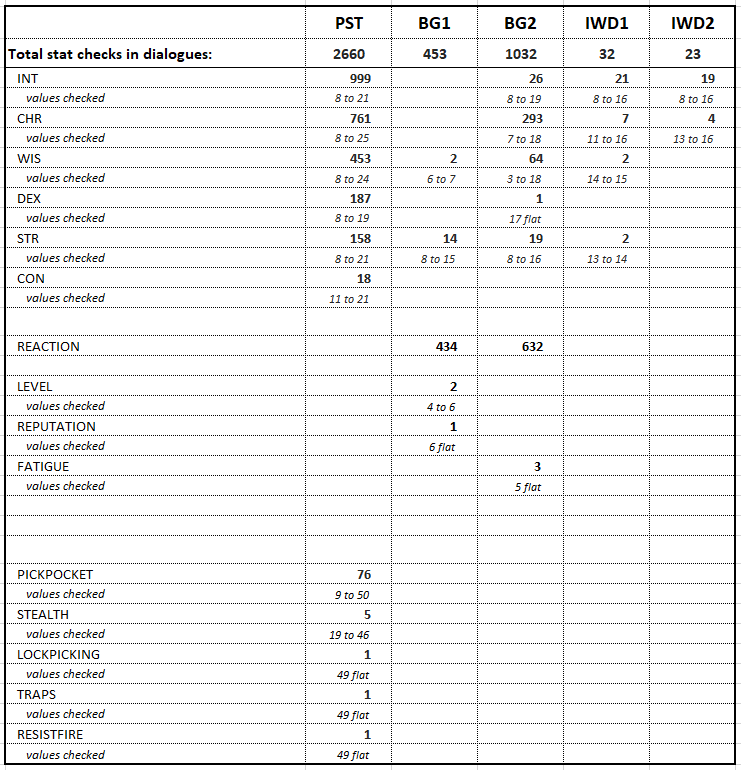 PST has them. Other games not so much, or they offer a semblance of it.
BG1 only checks for one stat and that's Reaction. Most of the time, it determines whether or not the NPC wants to give you a quest, and whether or not he'll give good rewards. Sometimes an NPC will greet you differently depending on reaction, but then the conversation will continue as usual.
BG2 borrowed BG1's reaction checks, but it's also peculiar in its own way: its numbers indicate that there are some checks for other stats under the hood, but on closer inspection, they turn out to be irrelevant in most places. I'll give a few examples.
Intelligence in BG2: 26 checks.
Here's an example of already 3 checks in the same place.
Drow: If I were to speak of the devourers, Veldrin... you would know what of I speak, yes?
- [Int >14] You mean the illithids? Yes, I know what they are.
- [Int 9-14] You mean the mind flayers? Yes, I know what they are.
- [Int <9] Er... are you talking about an otyugh?
This is the only example of an "interesting" INT check in the entire game and it offers Fallout-esque dialogue responses. You should be so lucky if other checks provided fluff like this. Below is another example INT checking.
Smuggler: Thank you for your assistance in this... unpleasant matter. I am sure if Esamon were here himself he would offer his thanks as well.
...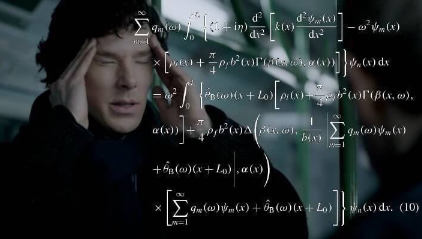 - [Int >14] Esamon? You mean

Saemon Havarian

, don't you?
Brilliant deduction, detective.
In the next example, we're talking with an elf behind the locked gates in Suldanessellar. There's a lot of checks for low values of INT, WIS, CHA, etc to make sure the guy eventually opens the gate for us.
The selected reply requires INT 14. Others are easy to pass, too. In the end, if all else fails and your character is a well-rounded cripple, even having 9 charisma is sufficient for him to cave in. This INT check is meaningless in the bigger picture.

Wilfred in the tent of pleasures in Trademeet boasts being an extraordinary warrior.
If you're a fighter with 15+ intelligence (for whatever crazy reason), you can deal with him like this.

Or if you have 14 Wisdom, you can just call bullshit on what he says and get 1,000XP or 1,000GP. Either way, it doesn't lead anywhere else.
At least 7 separate INT checks happen in this dialogue where the sultry drow matron wants to get into your pants.

Can you tell which ones are intelligent responses and which aren't? I can't.
The first response requires 16+ INT and 12- CHA.
Second response is 16+ INT and 13+ CHA.
Third and fourth responses require 14+ INT with the same checks for CHA.
I don't know why there's this amount of branching here, but in the end, saving your virginity can be done by a character with any stats at all. You can just say you belong to another.
Then there's some 8 silent INT checks during the Bard stronghold quest - they affect how well you rewrite the score. Granted, this is the first real usage of INT.
Another check happens in the Underdark during a conversation with the drow patrol at the gates, which, again, can be solved by any other stat.
The second exceptional place in the entire game where intelligence matters is in a very minor side-quest. You can save Viekang with 18+ int. He's the elf that teleports away when he gets nervous. Melissan made him brave, so now he's stuck in the besieged Saradush. You may suggest to him to get scared by the Spook spell, which helps him get out of there.
The remaining two checks are mostly irrelevant.
Cyric: Now, then. Let's get trivial matters out of the way, first. Do you know who I am?
- [Int <13] You seem...familiar, somehow...

Gythiayanki: (ahem!) You there, <RACE> <MANWOMAN>! My freedom from limbo has a price: I must track down the thief of one of our most holy of holies.
- [Int >9] You don't mean the Silver Sword Blade, do you?
The game raises a philosophical question: if anyone with INT 9 can pass a check, is it even a check?
In the following example, we're jumping over to BG1 for an example of a STR check. For this line to appear, you need to have 10 STR or more. Not a lot of people will notice it, since almost everyone passes.

Tough talk for a guy with 10 STR...
Notice also that BG2 has one check for Dexterity in all of the game. Intrigued yet? Here it is:

This is a stronghold quest "Find Proof of Mae'Var's Treachery", which you can solve by 17+ dexterity, PST-style.
After that, never again will BG2 designers check for dexterity in the entire game.
And as for the 200+ charisma checks in BG2, they're mostly for quest rewards, which only influences how much gold you get. Most people don't know they're even there after many playthroughs.
Checks for party members in dialogues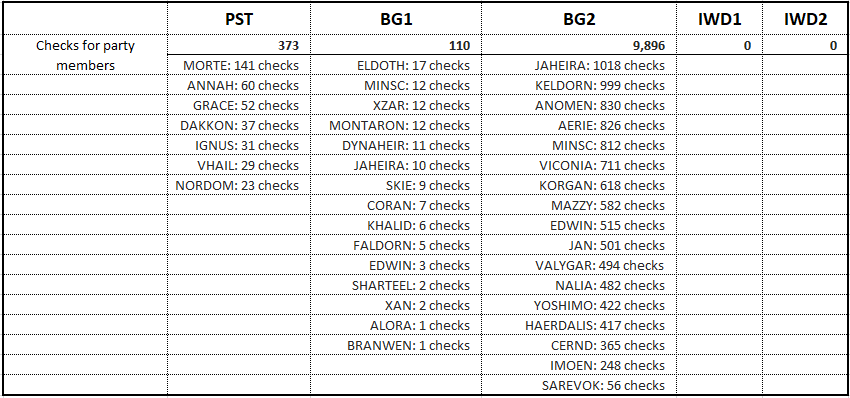 Unsurprisingly, BG2 is where NPCs came alive. This is where they started initiating conversations on their own, getting a form of agency.
Checks for player class in dialogues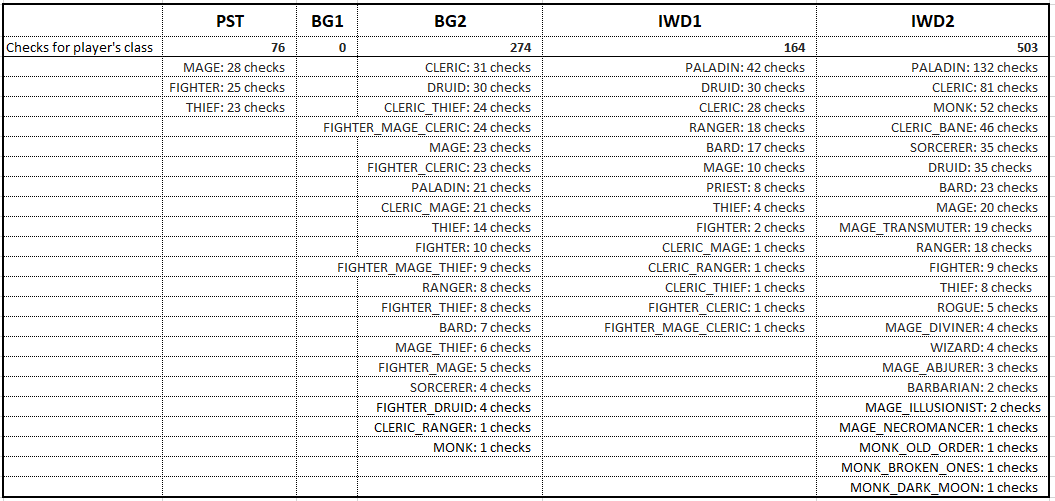 IWD2's efforts in that regard are significant, compared to other games.
I've excluded checks like "not paladin" (there's 500+ of it in IWD2) and only checks for class equality made it in.
Checks for player's god

Note that IWD1:EE offers 41 checks for Tempus.
E.g.:

Checks for player's race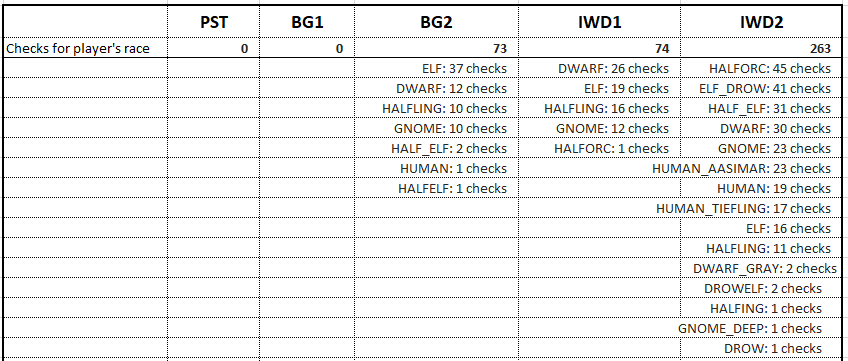 Note that one check ≠ one event. In practice, 73 checks in BG2 = 6 factual events where the race is checked.
Belmin Gergas is a
codexer
human in Athkatla who believes all elves are evil perversions of humanity.

Phrases 1, 2 and 3 check that none of your party members are elves (3 phrases * 6 checks = 18 checks).
If your name is Drizzt and you're an elf, the real Drizzt has something to say about it

You can calm down Yakman if you have 15+ Charisma or you're an elf, because he's an elf too (or you can heal him, or have Keldorn/Aerie/Viconia talk to him, etc... a bunch of solutions)
When you emerge from the Underdark, the elves react to you being an elf, but only in passing. (a dozen checks for elf or not elf)
A duergar in the Copper Coronet talks to you friendlier if you're a dwarf.
Halflings, dwarves and gnomes get a different escort at the Copper Coronet than the tall races. (a bunch of checks here for race and not race -- all halfling and gnome checks happen in this place)
Checks for player's alignment



BG1 ever the monorail game.
IWD2 invests more into checking for evil alignment than any other game.
Checks for player's gender

All checks (except for party members)

Last edited: