Furry Weeaboo Nazi Nihilist
Joined

Feb 24, 2007
Messages

14,111
Thats right. I gave jewgolds to the prestegious Chaosforge and removed from inventory the graphical beta. Which means I can finally do a LP of the game, like I tried to do a while back but couldn't get screenshots to work. Hopefully this doesn't kill my photobcuket account, since these pics are about 10 times bigger than the ones from my other LPs.
Edit: First play post moved to here so the red text shows up better on the darker background. Didn't realize it wasn't showing up very well.
I actually skipped the main title screen. It has modes and scoreboards and stuff. Also, it's slightly more graphical than the rest of the startup. One of the things being worked on.
Edit: Title screen: Chellenge and custom game are greyed out because you aren't permitted to have more than one game save at a time in DoomRL, for silly anticheaty reasons.
HNTR is the baseline difficulty, and I'm pretty confident I can show most, if not all of the special levels on it in a standard game. ITYTD is for pussies and doesn't even include all the special levels, and anything harder has a good chance of killing me before we even reach hell, even without being on a pistols only challenge or anything like that.
We pick the badass class...
And the badass trait. This trait isn't available at level 1 for other classes. Normally you'd need two levels of 'Tough as nails' first. This is a pretty major benefit. Scouts get Intuition, which is great too, but doesn't work properly with graphical mode yet, so we're playing a class I usually don't use. Technicians get extra info from computer maps, which also aren't working properly.
Text dump intro: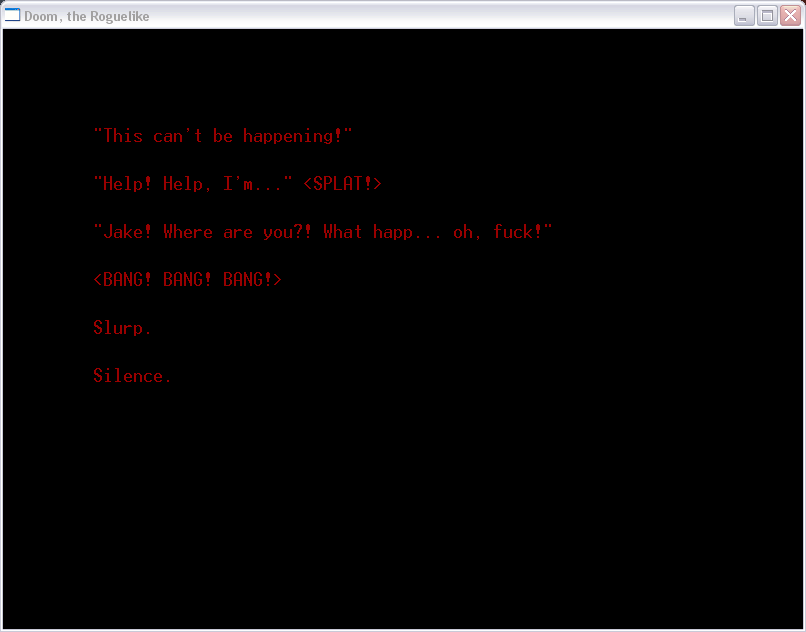 Err. Fuck. Missed a bunch of screens there. Will fix it later and add in the title screen.
Gah, the screenshot of our starting position didn't work either. I missed a bunch of these early ones on the first level before I got greenscreen working properly.
First enemy we encounter. The HUD is pretty self explanatory, aside from 'cautious' which we'll get to eventually.
Fucker had a medkit! Both in fact. Not sure if this was just my bad luck or part of the improved AI.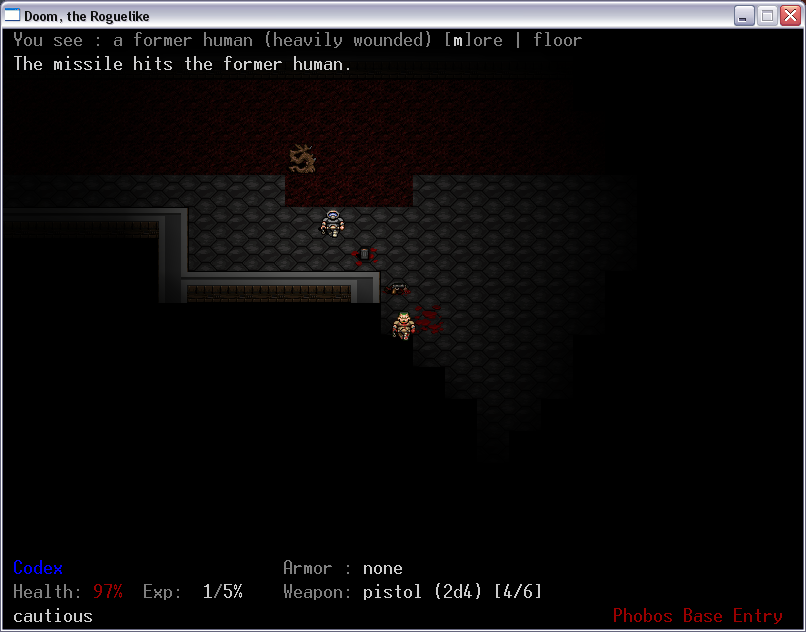 We take him out and work on the next guy in line.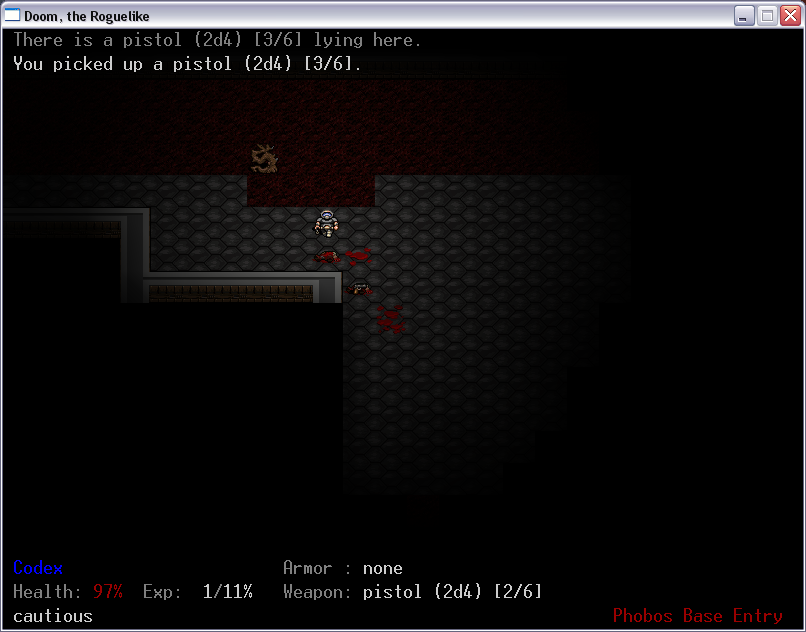 We can't dual wield the extra pistol, but we can prepare it in our offhand slot to save ourselves a bit of time if we need to reload.
Equipment hud also pretty self explanatory.
Stat screen. Note that accuracy +4 on the pistol doesn't translate to 4%. It's based on a roll weighted towards average rolls. So 1 point of accuracy might move you from 50% to 55%, or from 91% to 98%, depending on how much you already have. High accuracy is very good since it drops off at range pretty quickly. And having 98% accuracy at the edge of your sight is a huge advantage.
Behold the glorious bullet!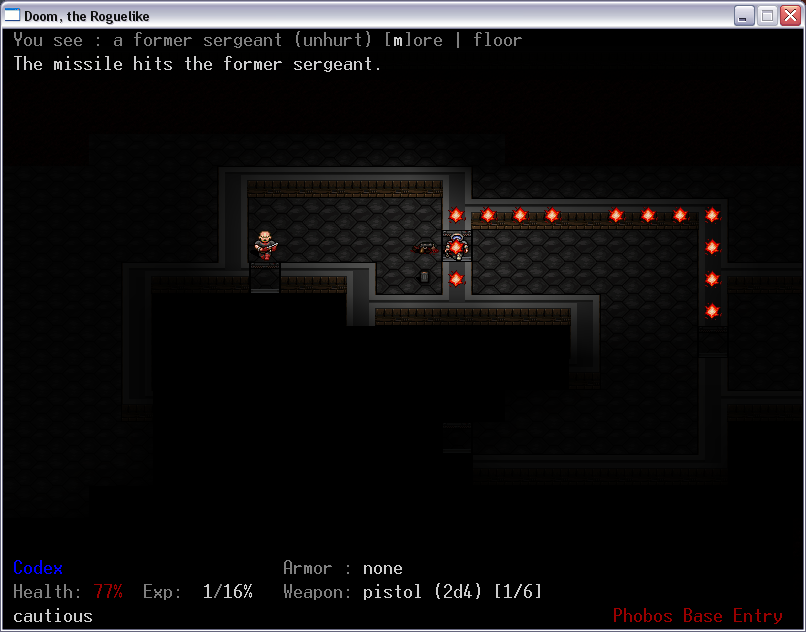 Shotgun is a bit more glorious. The area it covers is actually even wider than that, but I only caught the end of the animation. Fortunately at this range we're only taking about 50% damage from it.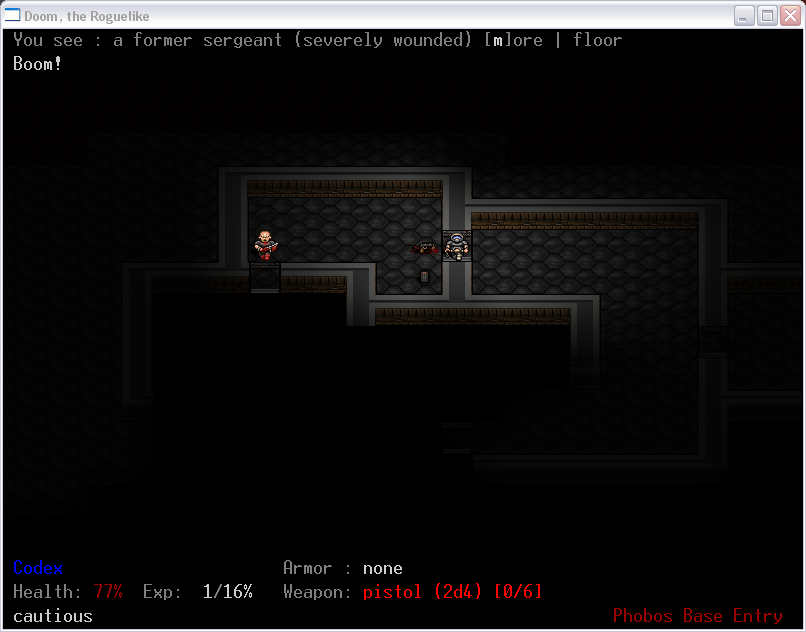 This is like that thing DR was talking about earlier concerning reloading.
Normally reloading a pistol takes a lot longer than a shotgun, we'd have gotten blasted here if we'd just reloaded.
Holding shift lets us use a weapon's alternate fire if it has one; for pistols we get this aimed shot. It has a longer delay after we fire, but a considerable accuracy bonus. Useful for finishing enemies off, especially if they are carrying medkits or are alone.
We reap the rewards of battle from the fallen sergeant.
All weapons have a unique little message like that when you first acquire them. I'll try to get shots of all of them as we play.
Shotgun blasts are pretty fuzzy, and let you do some mean bullshit like firing at this guy, when a direct pistol would hit the wall (though if you manually aim you can get him in the line of fire by aiming behind him.)
Shotguns are very lethal at this range. Damage dropoff is about 7% per tile, and you can see the difference in damage dice compared to the pistol. Plus it never misses. Aside from the damage dropoff, it also takes double armor penalities and needs to be reloaded with every shot, but it's still very effective, especially against multiple enemies.
This is reffered to as corner shooting. Our line of fire isn't actually blocked here, although the enemy's is. This works both ways- you can be shot by an enemy you can't see yet! Hopefully they fix the LoS mechanics some day and get rid of it, because it feels really gamey but is part of the difficulty at this point, so refraining isn't much of an option.
We get a message and the floor description turns blue when all the enemies are dead. We head down the stairs.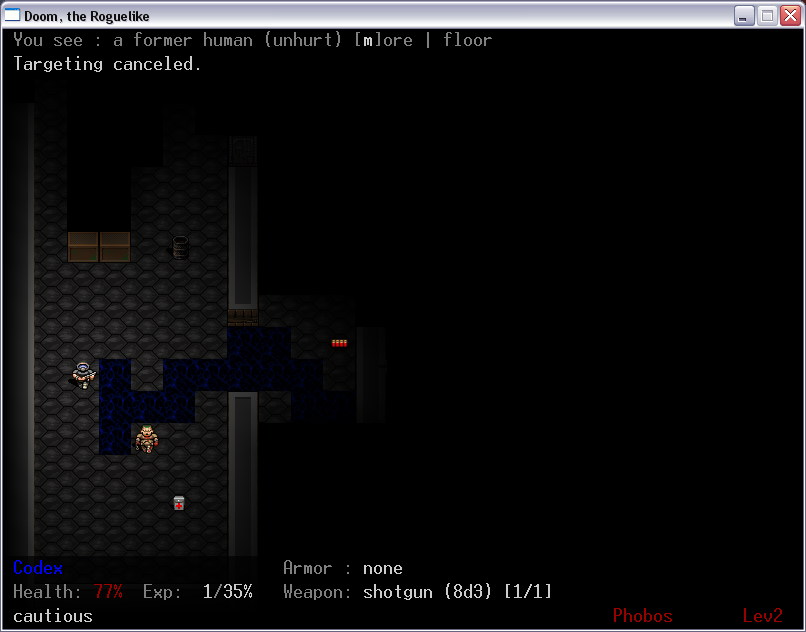 Starting next to an enemy like this is actually kind of lucky, since you get a free action or two before enemies are allowed to mvoe upon entering a level. Of course, if there are enough enemies you can't kill them with those actions, then you're fucked.
I love the way gore actually splatters behind enemies when you shoot them. We grab the medkit here and move up a bit...
You might have noticed this barrel in the previous screenshot. We noticed an enemy while moving to this position (last missed screen I think). Barrels are not just for show.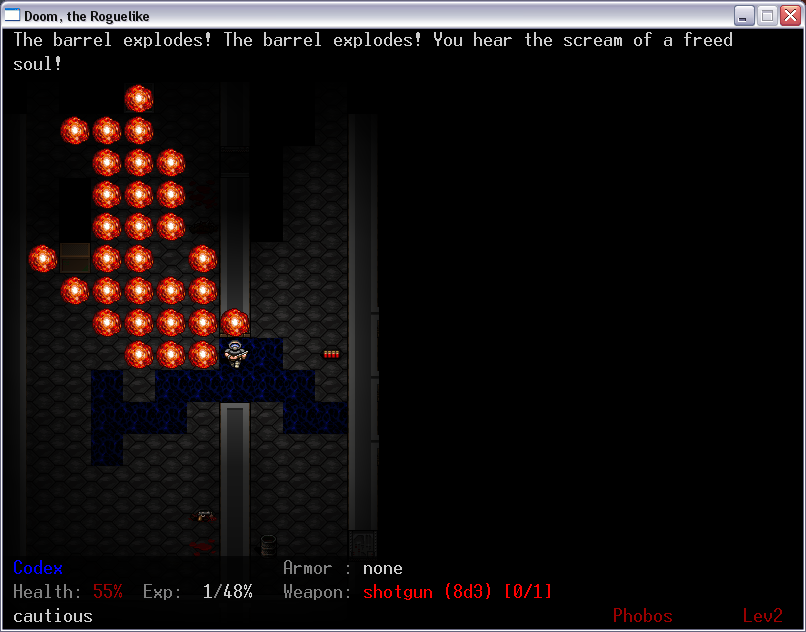 The freed soul message pops up whenever an enemy dies off screen. It's helpful for counting deaths when you know how many enemies are in a room you're firing into blindly. Though for single enemies you can just listen for the sound. You know this game has sound and music right? It's awesome that way.
Someone survived up here and we stupidly forgot to reload before moving upwards.
We back up around this corner to reload, then wait...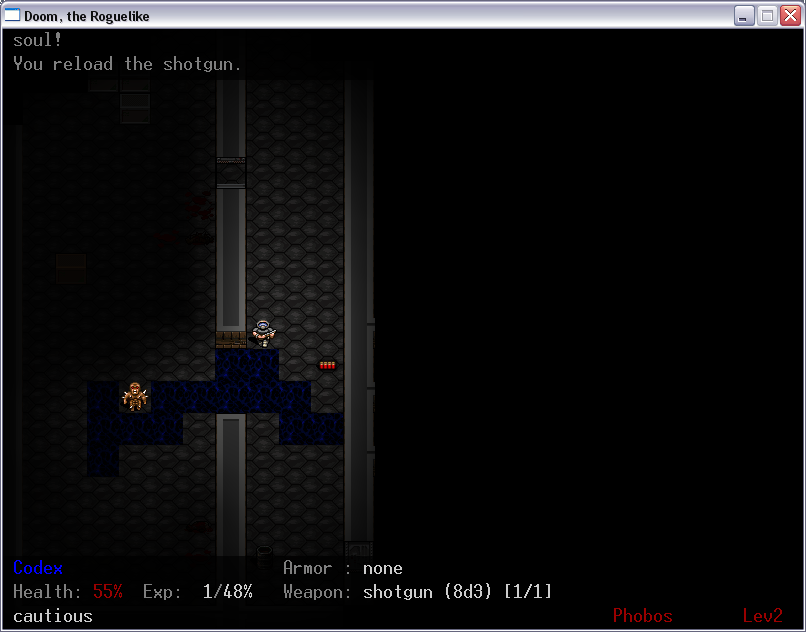 Sucker!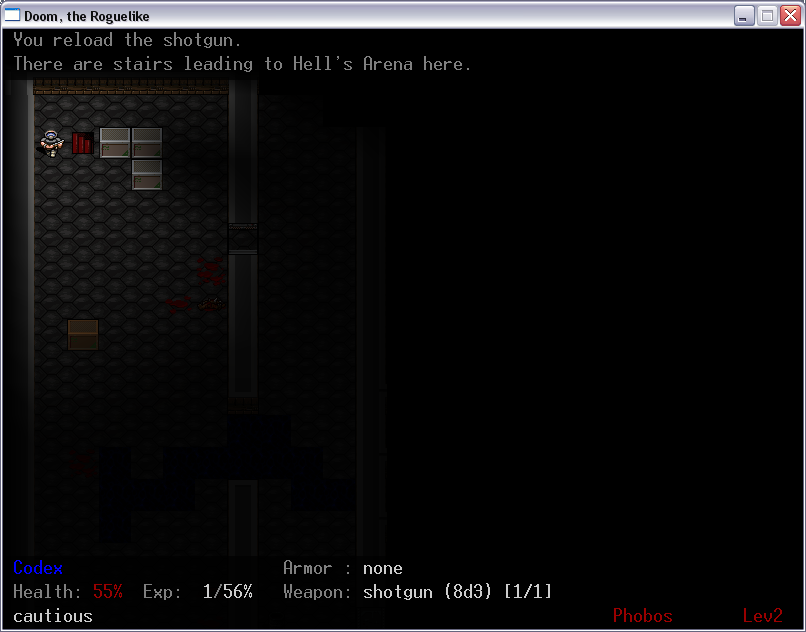 Red stairs like this are stairs to a special bonus level. Levels with red stairs also have normal stairs, in case you don't want to do the level. The arena is actually pretty rough on a lot of challenges.
This is a door. We'll go into a 6 hour lecture on the manifold possibilities of quantum door mechanics in a later update. Or I'm joking.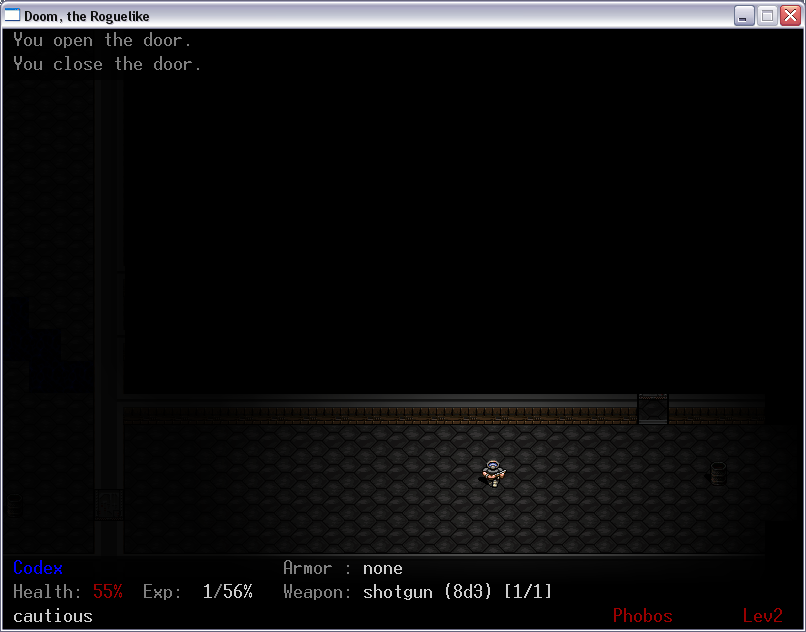 Another barrel. Our health is kind of low though, so we refrain from going all blasty on it, in case there are healthpacks near it.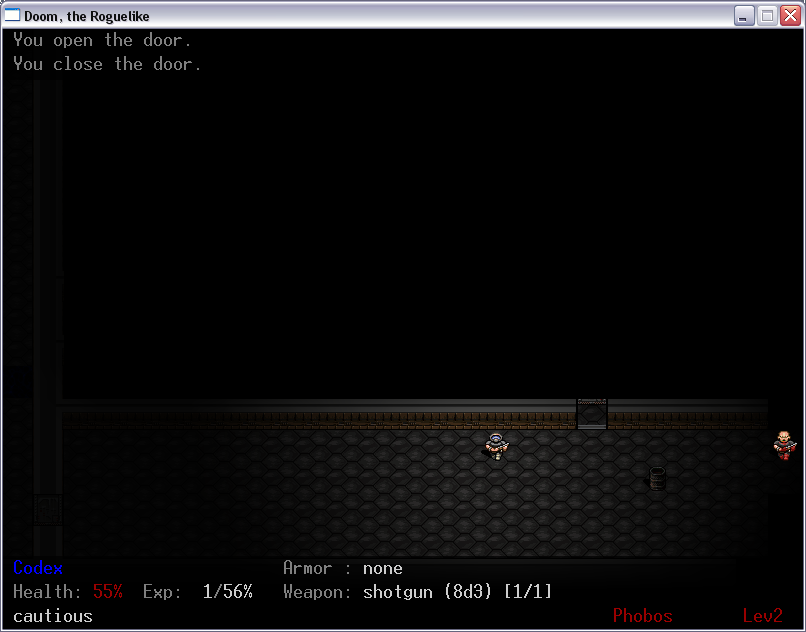 Of course, an enemy is near it. Our shotgun would blow up the fuel barrel, so we opt for plan B: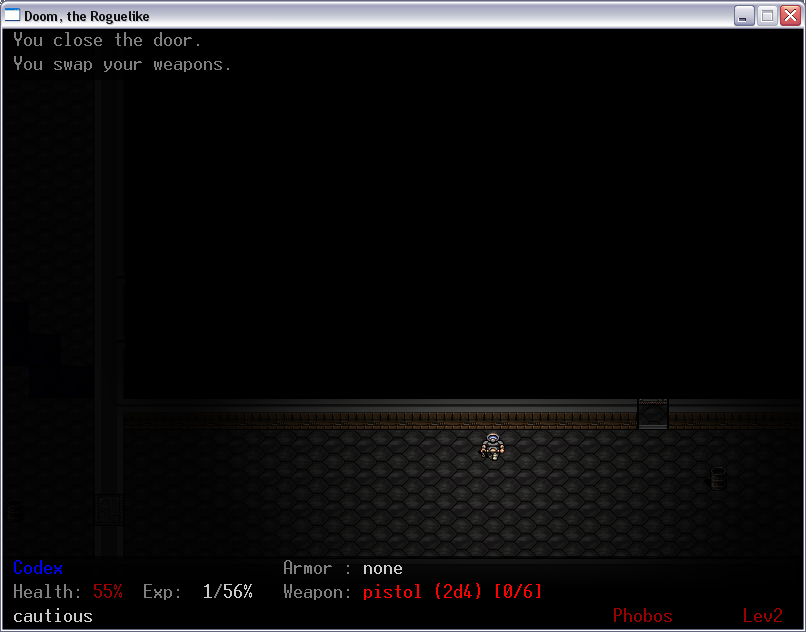 We back up and switch to our pistol (which is empty because we stupidly enver reloaded it earlier)
and commence operation 'attack the darkness'
Operation is successful! The darkness screams in agony. You have an automatic 50% miss chance against unseen targets, but they won't fireback, so it's a good plan if you have the ammo to spare.
We blindly fire our shotgun around these corners in case enemies are down the hall in either direction, and listen for sounds of pain. No dice though.
More corner shooting. Takes a while to get used to when you can can't get free shots off this way. Even worse is that it's assymetrical for some stupid reason.
Precious health at last!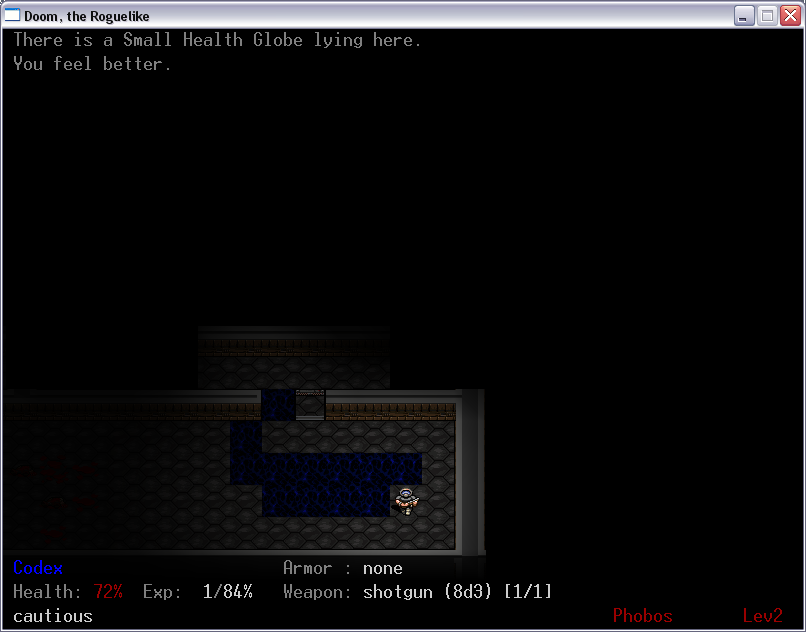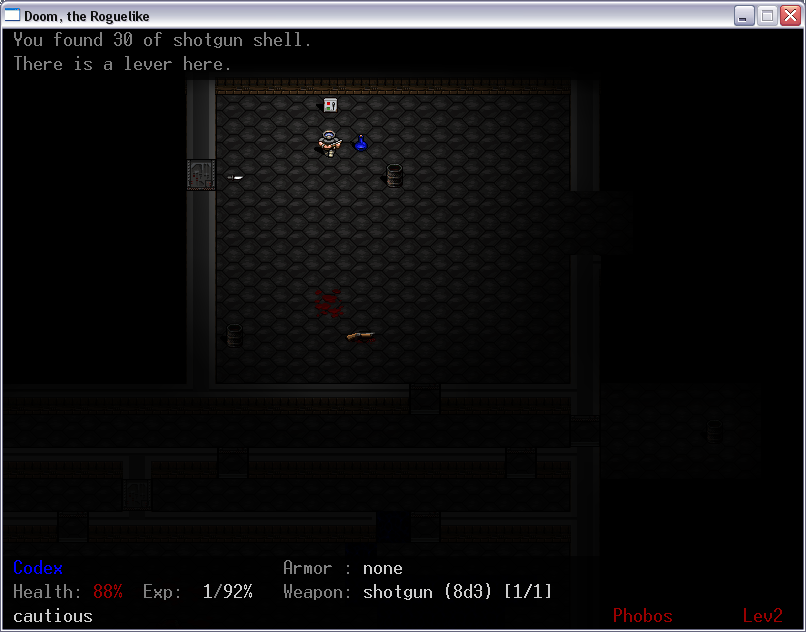 More precious health, and a lever. We grab the health in case the lever does something bad.
Like that for example. We should have pushed the barrels away from us. Intuition trait would have warned us about the lever if we had it.
Lots of enemies are actually weaker in melee than at range. The difference for imps is pretty minor, but the difference between a former human punching you or hitting you with a chaingun or shotgun from a step away is pretty big. We opt for firing our weapons in melee range, since we're not retarded.
That imp is dead and this is just a bug because of the order of events here, with time freezing as we level up. Note the knockback though. Another trait of shotguns, sometimes good and sometimes bad.
I pick this trait because... you'll find out later.
we find the new type of powerup in .9.9.5
Obvious effect is obvious. Hopefully enemies don't magically return fire at shit they shouldn't be able to see when you hit them like they used to when using the trait that has this effect.
We take a look at our inventory to double check that we can handle the arena before heading down the stairs of badassery.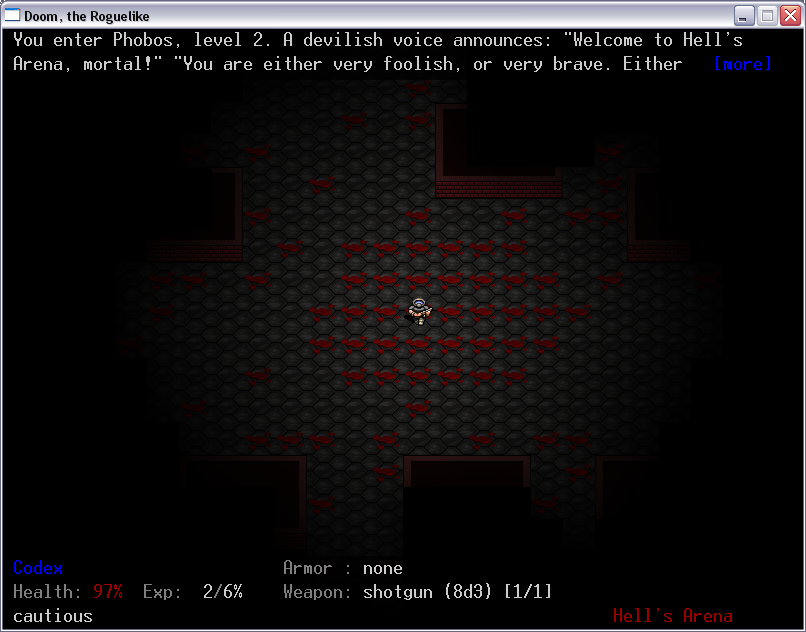 either way I like it!" "And so do the crowds!" Suddenly you hear screams everywhere! "Blood! blood! BLOOD!" The voice booms again, "Kill all enemies and I shall reward thee!"
Ironically the arena is the most text heavy part of the game. Go figure.
We spot an enemy and I erroneously assume it's a cacodemon and bolt for cover.
Turns out they're just lost souls- speedy melee enemies with almost no hp and no armor. Shotgun is perfect for handling them.
We try firing into the darkness but the AI is too smart of that apparently.
This works just as well however.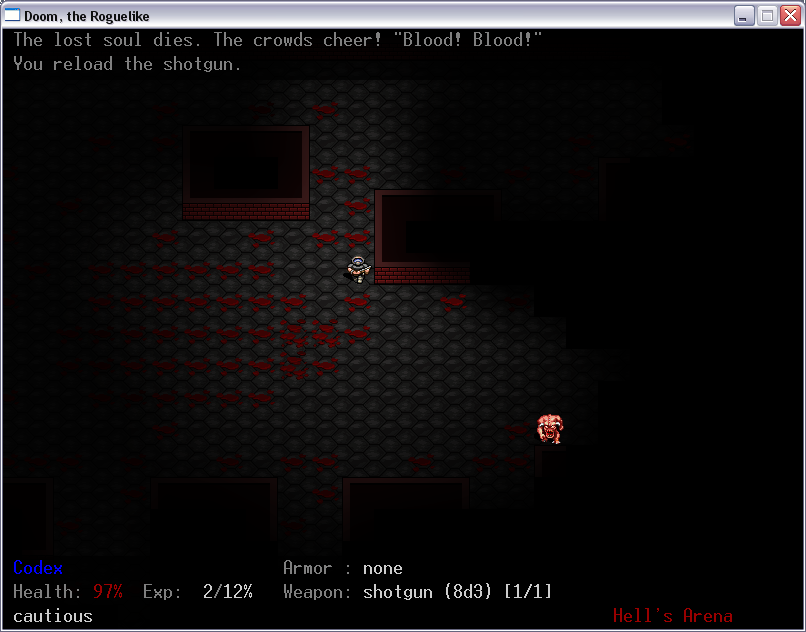 Demons are melee enemies too. Not quite as fast as lost souls, they're still twice as fast as us, and these guys have significant hp and some armor. Still, knockback and close range shotgun blasts make them easy prey.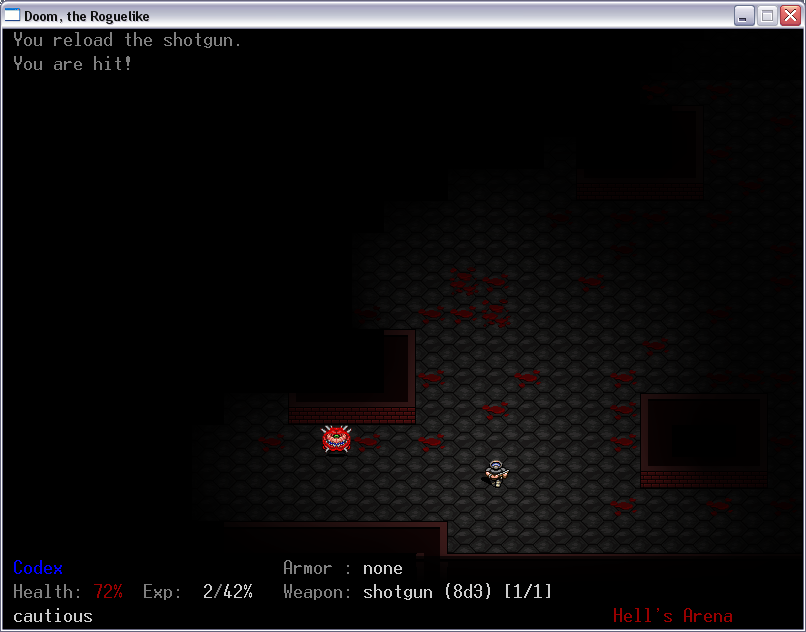 Our first cacodemon. We're rather out of position here. I dash up and to the left to take some cover and kite him around the wall.
determination." You hear screams everywhere! "More blood! More BLOOD!" The voice continues, I can now let you go free, or you may try to complete the challenge!" "Do you want to continue the fight?" [y/n]
Our answer is obvious. If we asked to leave however, he would indeed let us go without spawning any more enemies.
The voice booms, "I like it! Let the show go on!" You hear screams everywhere! "More blood! More BLOOD!"
There's also the option of just running away down the stairs while enemies remain, even though we said we'd fight. But we're a baddass son of a bitch!
In fact, now we're a son of a bitch twice over. I grabbed the same trait with our third level.
everywhere! "More blood! More BLOOD!" "I can let you go now, and give you a small reward, or you can choose to fight the final challenge!" "Do you want to continue the fight?" [y/n]
The small reward is awfully pathetic- a bit of ammo and maybe a medkit. If you've come this far, you should continue the fight, even if you intend to run away before finishing it.
Because THIS baby is the reward we came here for.
Alternate fire for the chaingun (and other rapidfire weapons) is 'chainfire'. As long as you use it consecutively each turn, you fire at 2/3rds the normal rate (I think) on the first turn, then 100%, then from the third turn onwards you fire 50% more shots per turn. There are also some other effects, like being able to walk the chainfire between multiple targets, and interaction with at least one trait.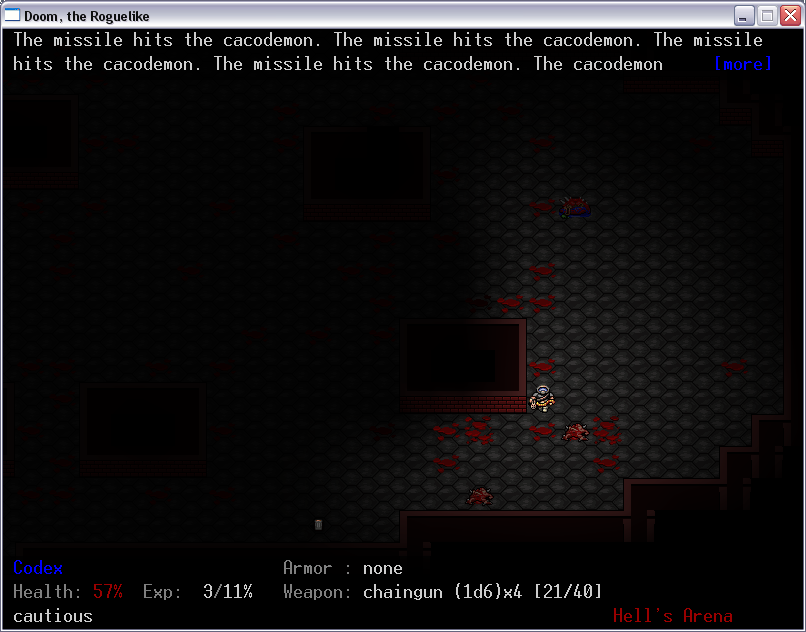 Being hit by 4 chaingun bullets in a single round is bad for one's health. Especially if each bullet is doing 1d6+2 damage.
for you would make a formiddable warrior!" "I grant you the title of Hell's Arena Champion!" "And a promise is a promise... search the arena again..."
This screenshot shows one of the things that still needs to be tweaked with the graphics: areas outside your vision are REALLY dark. Knowing the structure of the map you've revealed so far is pretty damned important, especially on higher difficulties and with certain traits or weapons.
Aside from that, we finally found some armor. Blue armor reduces the damage from all enemies by 2 per hit (until it gets damaged enough to lose effectiveness), along with slowing us down a bit and giving us slight resistance to fire damage.
Like say, when aiming explosive ordinance for example.
Supercharge is especially handy for us, sicne we won't lose any of it until we get damaged thanks to our badass trait.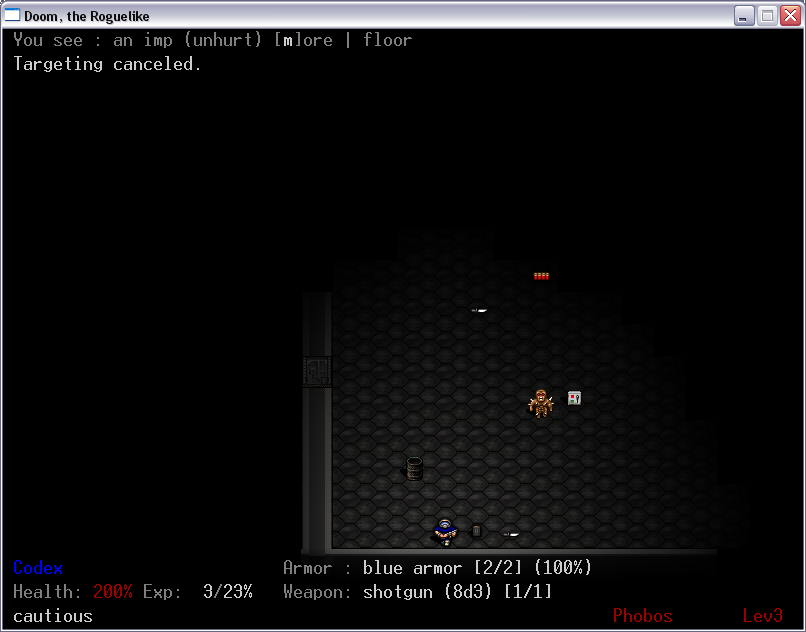 Only like, 30+ more levels to go.