Joined

Jun 4, 2015
Messages

342
GOTY 2022 Game Listing with Clickable Banners (to Store Page)
(for easier voting/recollection on having played before or not/to play consideration)

1. 1428: Shadows over Silesia
2. Absolute Tactics: Daughters of Mercy

3. ANNO: Mutationem
4. Arcanium: Rise of Akhan
5. Asterigos: Curse of the Stars
6. ASTLIBRA Revision

7. Atelier Sophie 2: The Alchemist of the Mysterious Dream

8. Babylon's Fall
9. Baldur's Gate: Dark Alliance II
10. Batora: Lost Haven
11. Betrayal at Club Low

12. Black Geyser: Couriers of Darkness
13. BLACKTAIL
14. Bloody Spell

15. Brigandine The Legend of Runersia

16. Buriedbornes - Dungeon RPG

17. Chained Echoes
18. Chrono Cross: The Radical Dreamers Edition

19. Circus Electrique

20. Citizen Sleeper

21. Coromon

22. CRISIS CORE –FINAL FANTASY VII– REUNION

23. Crystal Project
24. Ctrl Alt Ego
25. Decision: Red Daze

26. Demeo: PC Edition
27. DEMON GAZE EXTRA
28. Devil Spire
29. Digimon Survive

30. Digitizer

31. Disgaea 6 Complete
32. Dolmen

33. Dungeons of Edera

34. Dying Light 2

35. Eiyuden Chronicle: Rising
36. Elden Ring

37. ELEX II
38. Empire of Ember
39. Expeditions: Rome

40. Fabled Lands
41. Fear & Hunger 2: Termina
42. Final Fantasy VI
43. FINAL FANTASY VII REMAKE INTERGRADE

44. Gedonia

45. Gordian Quest

46. Grim Quest - Old School RPG

47. Hard West 2

48. HARVESTELLA

49. Hellslave

50. Hero's Hour

51. Heroine Anthem Zero 2 : Scalescars Oath

52. Home Behind 2
53. Imprisoned Hyperion

54. Infernax
55. Jack Move

56. Jettatura

57. Keplerth

58. King Arthur: Knight's Tale

59. Knights of the Chalice 2: Augury of Chaos
60. Kynseed
61. Loot River
62. Lost Eidolons
63. Lost Epic

64. Made in Abyss: Binary Star Falling into Darkness

65. Makai Kingdom: Reclaimed and Rebound

66. Marvel's Midnight Suns

67. Mary Skelter 2

68. Mech Armada
69. Memoirs of a Battle Brothel
70. METAL MAX Xeno Reborn

71. MONARK

72. Monochrome Mobius: Rights and Wrongs Forgotten
73. MONSTER HUNTER RISE
74. Mount & Blade II: Bannerlord

75. NEO: The World Ends with You
76. Neptunia x SENRAN KAGURA: Ninja Wars
77. Nobody Saves the World
78. Obsidian Prince

79. Once Ever After

80. Out There: Oceans of Time

81. Path Of Wuxia
82. Persona 5 Royal

83. Potato Flowers in Full Bloom

84. Potion Permit

85. Prime of Flames

86. Queen's Wish 2: The Tormentor

87. Realms of Magic

88. Rebellion: A Rogue Souls Like

89. Reverie Knights Tactics

90. Ringlorn Saga
91. Rise of the Third Power

92. Roadwarden
93. Rogue Legacy 2

94. Romancing SaGa -Minstrel Song- Remastered
95. RPG Time: The Legend of Wright
96. Rune Factory 5
97. Salt And Sacrifice
98. Samurai Bringer

99. Sea Horizon

100. Shadows Over Loathing

101. Sir Whoopass™: Immortal Death
102. Sonucido: The Mage - A Dungeon Crawler by Daniel da Silva
103. Soul Hackers 2
104. Soulash

105. Souldiers

106. Source of Madness

107. SpellMaster: The Saga

108. Star Ocean The Divine Force
109. Star Valor

110. Steelrising

111. Stones Keeper
112. Stranger of Paradise: Final Fantasy Origin
113. Sunday Gold

114. Super Lesbian Animal RPG

115. Symphony of War: The Nephilim Saga

116. Tactical Combat Department

117. Tactics Ogre: Reborn
118. Telepath Tactics Liberated

119. The Caligula Effect 2

120. The DioField Chronicle
121. The Dragoness: Command of the Flame

122. The Hand of Merlin
123. The Impregnation of the Elves: Conquest of the Arrogant Fairies by Impregnation

124. The Last Hero of Nostalgaia
125. The Last Oricru
126. The Legend of Heroes: Trails from Zero
127. The Sargosian Abyss

128. The Tarnishing of Juxtia

129. The Valiant

130. The Waylanders
131. There Is No Light

132. This Way Madness Lies

133. Thymesia

134. Tiny Tina's Wonderlands
135. Tinyfolks
136. Tower of Fantasy
137. TRIANGLE STRATEGY
138. Tyrant's Blessing

139. Unexplored 2: The Wayfarer's Legacy

140. Valkyrie Elysium
141. Vampire: The Masquerade - Heartless Lullaby

142. Vanaris Tactics

143. VARIOUS DAYLIFE

144. VenusBlood HOLLOW International
145. Far Away From Home [replaces duplicate entry - Vestaria Saga Gaiden: The Sacred Sword of Silvanister]

146. Vestaria Saga II: The Sacred Sword of Silvanister

147. Voice of Cards: The Beasts of Burden
148. Voice of Cards: The Forsaken Maiden

149. Warhammer 40,000: Chaos Gate - Daemonhunters

150. Warm Snow

151. Warsim: The Realm of Aslona
152. Watcher Chronicles
153. Weird West

154. Wigmund

155. XEL

156. Yaengard

157. Young Souls

158. Zorbus
-------
P.S.
Vestaria Saga Gaiden (145th) is the old title for Vestaria Saga II (146th)
.
Sauce:
https://www.gematsu.com/2022/03/ves...taria-saga-ii-the-sacred-sword-of-silvanister
So, I've
unilaterally replaced the duplicate (145th Gaiden entry) with
another 2022 TRPG:
Far Away From Home
.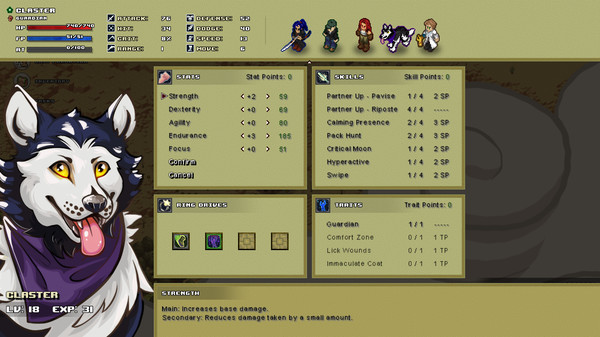 felipepepe
&
Twiglard
Please decide
if anything needs to be done to the duplicate entry (145th).