Joined

Jul 11, 2019
Messages

10,628
Location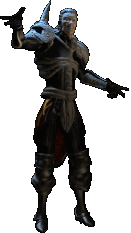 D2's necro
https://diablo.fandom.com/wiki/Necromancer_(Diablo_II)
IMO the games with worst necromancies are DA:I and ESO...The
The best necromancyes in games are IMO Might & Magic VIII, Diablo 2 and pathfinder kingmaker
, I don't like when games limit you to one or two minions and necromancy is too much similar to regular magic. That said, one thing that i love about D2 is that the spells are completely different than "throw damage numbers", you can cast attract in a mob group, iron maiden in another and corpse explosion the screen. Using the enemies against themselves. The progression is also well made. You start with a single weak skeleton and able to create weak clay golems and end the game able to transform items into iron golems, create living fires, reanimate enemies maintaining his proprieties and have a undead army.
On Pathfinder Kingmaker, there are no artificial limitation in how much summons you can have and animate dead allow you to create a lot of undead. Most necromantic offensive spells has FORT save, a amazing save considering that most enemies are fey with poor FORT save. Unfortunately you can't become a undead without mods, despite the undead template being applied to a companion. On Might & Magic VIII, you can nuke cities out of existence, reanimate enemies tied to your dark magic skill, first , only bandits but in end game even dragons, can cast all types of uility spells, enchant a weapon to suck enemy lifeforce, pain reflection to make the enemy damages himself, make enemy casters useless with Dark Grasp, the unique critique is the lack of Finger of Death from M&M VI and the fact that instead of some dark magic spells dealing poison, some magical, etc; all spells on M&M 8 deals "dark" magic. But i still think that 8 is superior to 6 in this aspect(necromancy) by one factor. Lichdoom. 6 is the best in most aspects but not in necromancy.
That said, the things who make good necromancy IMO are
Be distinct mechanic and lore wise than regular magic
Allow you to feel like the master of life and death itself
Allow multiple summons and a progression on summons
Put nasty curses on the enemy or "debuffs"
Become inhuman. Vampire or Lich preferentially
Able to use enemy lifeforce against itself
Have impact on NPC interactions
Of ourse, a game doesn't need to have everything to be a good game in therms of necromancy. For example, Ultima Online probably has the best necormancy among the mmo genre and doesn't have everything that i wan't in a necromancer. To be fair, is superior in some aspects than my favorite RPGs because some spells affect karma and neutral creatures start to become hostile. The world treats you like someone who spreads corruption and i love it. On Age of Conan, you can be a necromancer and walk in lich form in the middle of cities who everyone hates magic users according to the lore. Age of Conan still has one of the best necromancies among the mmo genre but has most post wow mmo flaws(wow style cooldowns/itemization/etc)
Cheb Gonaz has a channel dedicated to only talk about necromancy in video games.
necromancy on age of conan
roguelikes
diablo clones
necromancy on M&B - Phantasy Calradia
Last edited: