Wielder of the Huegpenis
Staff Member
Joined

May 29, 2008
Messages

1,876,753
Location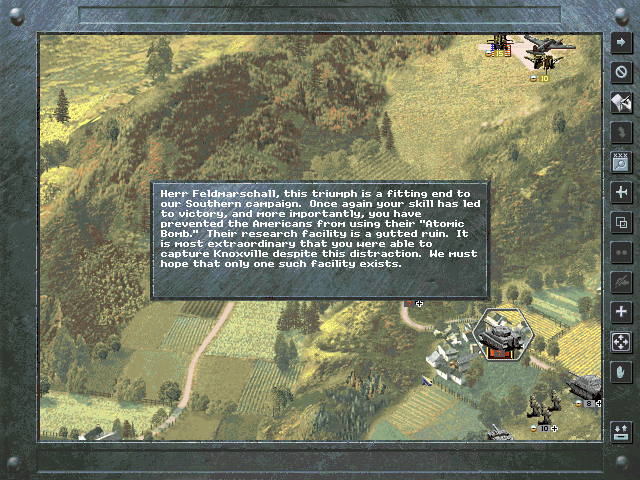 Finished the Blitzkrieg campaign in Panzer General 2. P. cool stuff, though I felt it was much easier than PG1 - particularly the maps in Russia. In PG1 you had to struggle with the fucking weather that made all your shit near-useless all the time, here there was hardly any trouble with that barring two maps maybe.
That said, it's possible that I just snowballed out of control after invading Britain and the RUS)))) cannon fodder just couldn't hope to catch up. But still, apart from Dunkirk and Windsor, I was mostly scoring brilliant victory after brilliant victory with little effort.
Dunkirk was pretty hard because it's a big map with lots of shit to cap, which means you run out of fuel and ammo at the worst possible moment, and then it hinges on luckerfaggotry to chase the niggas away from the final point in the last possible turn.
And then Windsor is just brutal as hell. The Brit units are either on par or better than you, they have AA guns up the ass and their Spitfires turn all your flying stuff into mincemeat, the victory locations are all over the place and heavily guarded, and ofc the AI has unlimited cash that it keeps spending on more and more and more tanks. I don't see how brilliant victory could be got here without extreme luckerfaggotry or developing your army exclusively with this map in mind from the start.
So yeah, Russia folded like a stack of cards after that.
and then
then came fucking kwanzania
KWANZANIA WAS ULTRAVIOLENCE TIER.
By far the worst part of it was the Kwan air superiority. Everything else you can handle sort of reliably with clearly superior tanks and artillery, but achieving air superiority is insanely hard, especially since those American fighters are so incredibly better than your Focke-Wulfs, especially in the first mission - in the second one where you gotta stop them from getting the a-bomb you have noice high-tek messerschmitts and shit that can sort of match them, but it's still brutal. And that's without even mentioning their ridiculously strong bombers that almost invalidate your doom stacks of armour.
Nevertheless, rolling through Kwanzania with all the high-tek German toys that hardly even left prototype stage IRL was very fun.